---
Crew
Director – J.D. Dillard, Screenplay – J.D. Dillard, Alex Hyner & Alex Theurer, Producers – Jason Blum, J.D. Dillard, Alex Hyner, Bill Karesh & Alex Theurer, Photography – Stefan Duscio, Music – Charles Scott IV, Visual Effects Supervisor – Scott E. Anderson, Visual Effects – Crater Studios & Digital Sandbox, Special Effects Supervisor – Adam Howarth, Creature Designed by Neville Page, Creature Suit/Makeup Effects – Weta Workshop Ltd. (Supervisor – Jason Docherty), Production Design – Robbie Porter. Production Company – Blumhouse.
Cast
Kiersey Clemons (Jennifer Remming), Emory Cohen (Lucas Griffin), Hanna Mangan Lawrence (Mia), Andrew Crawford (Creature), Benedict Samuel (Brad)
---
Plot
Jennifer Remming washes up on a tropical island, survivor of a boat that was sunken in a storm. Another survivor Brad washes ashore too but dies shortly after. Jenn finds herself all alone on the island. She is able to eke out a meagre survival from supplies that have washed up and others left by previous people on the island, plus what she is able to fish. She soon finds that at night a creature emerges, snatching any dead or living thing and dragging it off into a hole in the ocean floor. Jenn is able to avoid it by hiding. As two other survivors, Mia and Jenn's boyfriend Lucas, come ashore in a life raft, Jenn has great difficulty persuading them of the threat of the monster and that she is not hallucinating.
---
African-American director J.D. Dillard made an impressive word of mouth debut with the gritty Sleight (2016) about an amateur street magician who becomes a superhero of sorts. This was given a theatrical release by Blumhouse. Dillard also wrote the script Stray (2017) and then returned to direct Sweetheart for Blumhouse. The film had its debut at the 2019 Sundance festival and then lurked in limbo for much of the year before being dumped to streaming.
Sweetheart has a good deal of similarity to Prey (2019) that came out ten months later in the year and was also produced by Blumhouse. Both are desert island survival adventures and have a single character on screen for large stretches of time. Both of the characters are young twentysomething youths discovering how to survive in the wild for the first time. Both are also films where there is something monstrous on the island. The something else also ends up being the least satisfying aspect of either film in that not nearly enough is done to explain what is going on.
Sweetheart is certainly a better made film than Prey was. The survival story is okay – it kept interest up, even if I never felt particularly engaged in the triumphs and failings of Kiersey Clemons. J.D. Dillard creates a reasonable tension despite the fact there is only a single character on screen who gets only half-a-dozen lines for at least the first half of the film. The most drama actually comes not with the monster but when the other two other survivors arrive and Kiersey Clemons is fighting to convince them that they must leave immediately.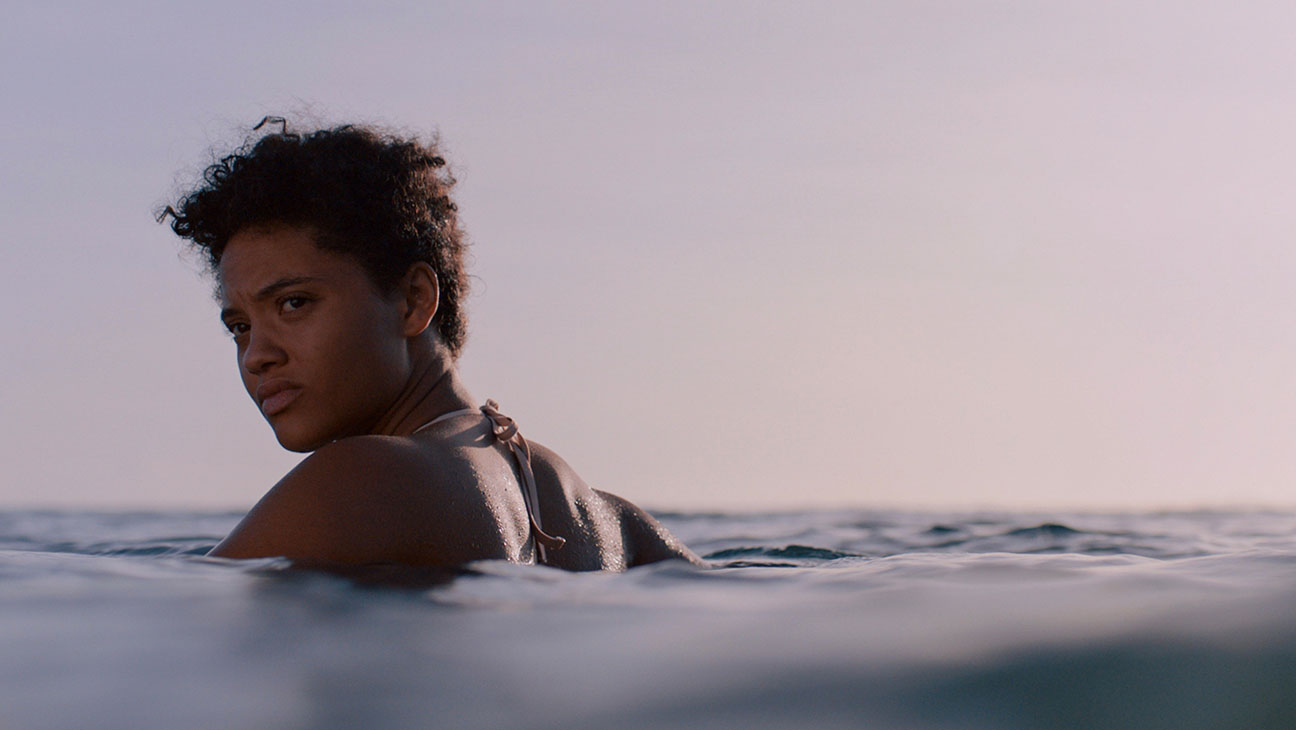 As the film turns into a sort of Predator (1987) by way of Cast Away (2000), you keep wondering where it is going. Weta Workshop create an interestingly different looking monster. But the great frustration of the film is that J.D. Dillard never us tells us a single thing about what the creature is – it collects bodies seemingly unconcerned whether human or animal, dead or alive, drags them town a hole in the seabed, and only comes out at night. We get no clues about whether it is supernatural or alien, where it comes from or anything.
And that creates a major frustration that kills the film – just like the absurd end where Kiersey Clemons kills the monster by setting the entire island afire. While this holds a certain triumph, all you are left thinking at the fadeout is that she has set all of her food and supplies alight but is still stranded on the island.
Jason Blum and his Blumhouse production company have produced a number of other genre films including:- Hamlet (2000), Paranormal Activity (2007) and sequels, Insidious (2010) and sequels, Tooth Fairy (2010), The Bay (2012), The Lords of Salem (2012), The River (tv series, 2012), Sinister (2012) and sequel, Dark Skies (2013), Oculus (2013), The Purge (2013) and sequels, the tv mini-series Ascension (2014), Creep (2014), Jessabelle (2014), Mercy (2014), Mockingbird (2014), Not Safe for Work (2014), Ouija (2014) and sequel, 13 Sins (2014), The Town That Dreaded Sundown (2014), Unfriended/Cybernatural (2014), Area 51 (2015), The Boy Next Door (2015), Curve (2015), The Gallows (2015), The Gift (2015), Jem and the Holograms (2015), The Lazarus Effect (2015), Martyrs (2015), Visions (2015), The Visit (2015), The Darkness (2016), Incarnate (2016), The Veil (2016), Viral (2016), Amityville: The Awakening (2017), Get Out (2017), Happy Death Day (2017), The Keeping Hours (2017), Split (2017), Stephanie (2017), Bloodline (2018), Cam (2018), Delirium (2018), Halloween (2018), Seven in Heaven (2018), Truth or Dare (2018), Upgrade (2018), Black Christmas (2019), Ma (2019), Prey (2019), Don't Let Go (2019), Black Box (2020), The Craft: Legacy (2020), Evil Eye (2020), Fantasy Island (2020), Freaky (2020), The Hunt (2020), The Invisible Man (2020), Nocturne (2020), You Should Have Left (2020), Black As Night (2021), The Black Phone (2021), Dashcam (2021), Firestarter (2022), M3gan (2022), Mr Harrigan's Phone (2022), Nanny (2022), Soft & Quiet (2022), Run Sweetheart Run (2022), Sick (2022), They/Them (2022), The Visitor (2022), Torn Hearts (2022), Unhuman (2022), The Exorcist: Believer (2023), Five Nights at Freddy's (2023), There's Something Wrong With the Children (2023) and Totally Killer (2023).
---
---