---
Crew
Director/Screenplay – Jack Sholder, Producer – Tony Amatullo, Photography – Carlos Gonzalez, Music – David Williams, Visual Effects Supervisor – Marcus Keyes, Visual Effects – Optical Illusions (Supervisor – Jeff Matakovich), Makeup Effects Supervisor – Anthony C. Ferrante, Makeup Effects – SOTA F/X (Supervisors – Roy Knyrim & Jerry Macaluso), Production Design – Alfred Sole. Production Company – Artisan Entertainment.
Cast
Andrew Divoff (Djinn/Nathaniel Demerest), Holly Fields (Morgana), Paul Johansson (Father Gregory), Oleg Vidov (Osip Krezhkov), Tommy 'Tiny' Lister Jr (Tillaver), Robert Lassardo (Gries), Levani Outchaneichvili (Pushkin), Carlos Leon (Webber), Bokeem Woodbine (Farralon), Ryan 'Rhino' Michaels (Butz), Chris Weber (Eric)
---
Plot
Morgana and her boyfriend Greg are caught as they attempt to rob an art gallery. Greg is shot and Morgana gets away but inadvertently succeeds in freeing the djinn trapped in a statue. The djinn stays and claims responsibility for the theft and murders. However, this is only a ruse for the djinn to go to jail, a place that provides him with a ready bank of souls to grant his cursed wishes to so that he can gain the one thousand souls he needs to take over the world. Meanwhile, Morgana struggles to understand what has happened and find a way of combating the djinn.
---
Wishmaster (1997) was an enjoyable formulaic attempt to create another A Nightmare on Elm St-styled effects-driven, one-liner spouting super-villain horror franchise. Wishmaster 2: Evil Never Dies was the first sequel to emerge. It is invariably a lesser sequel, although not entirely an uninteresting one. It is directed and written by Jack Sholder who notedly also directed the first sequel to A Nightmare on Elm Street (1984), A Nightmare on Elm Street Part II: Freddy's Revenge (1985) and whose greatest (and only notable) moment as director has been The Hidden (1987).
The good news is that Wishmaster 2: Evil Never Dies is a better sequel than Freddy's Revenge was. It explores themes from the original more than might be expected of a formulaic run through – at one point, someone has the ingenious idea of stopping the djinn by attempting to shoot the heroine who revived him and who it needs to make a wish. The only person to return from the original film is Andrew Divoff in the title role, whose icy cold, gravel-voiced and darkly magnetic ruthlessness again adds much to the film. The film's novel spin is in placing the character in jail where it is amusing to see him still smiling up against hardened killer-types.
Perhaps the oddest thing about the film is that Jack Sholder has turned it into a parable of moral redemption. One has no idea of Sholder's personal religious persuasions and the term Christianity is never mentioned once throughout but the heroine's basic plot arc becomes a parable about her earning atonement and finding forgiveness for the bad things that she has done. There is a unique scene where in order to combat the djinn she makes an outward display of repentance by taking off her Goth clothing and punkette makeup and dressing as a wholesome girl-next-door type. The only downside is that Holly Fields gives a terribly wimpy non-performance in the part – she is so insipid you cannot even remotely take her seriously as a Goth girl.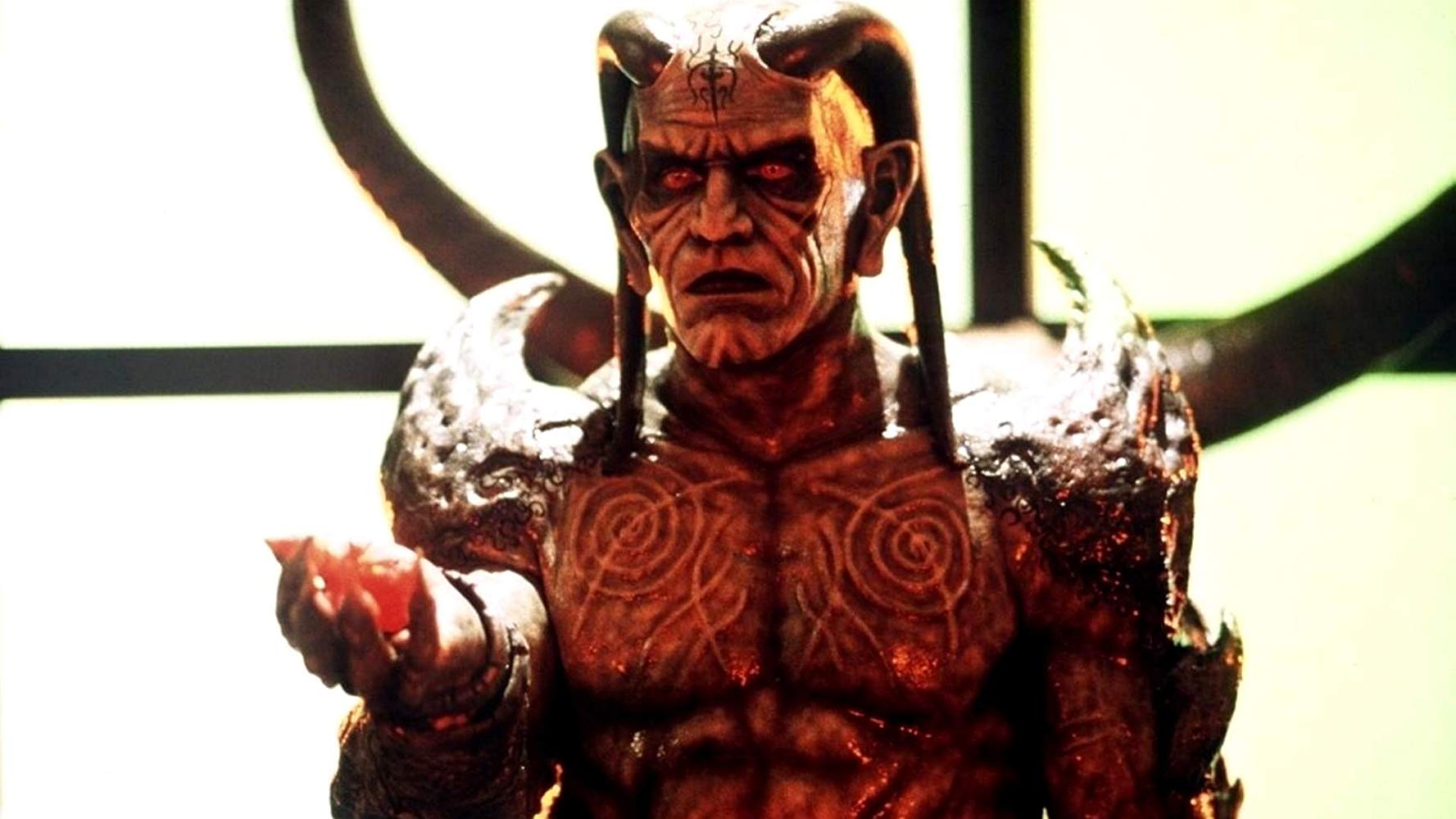 The one other thing that the first film showcased was an extraordinary display of makeup effects. The sequel only intermittently produces these – a cool effect with the Wishmaster rebirthing by emerging out of a wall, a man being squeezed through the bars of a cell – and none with the impact of the opening few minutes of Wishmaster.
Worse, Jack Sholder adds silly sequences that take the film down to about the level of the average Leprechaun (1993) sequel. There is a very silly sequence where a con wishes he could see his lawyer "fuck himself" whereupon we see the lawyer's back bend over and … The climax with the Wishmaster getting loose in a Las Vegas casino – a riff taken directly from Leprechaun 3 (1995) – with a woman excreting coins and people being sliced up with flying playing cards and a razor-tipped roulette wheel – is immensely silly.
There were two further sequels with Wishmaster 3: Beyond the Gates of Hell/Wishmaster III: Devilstone (2001) and Wishmaster: The Prophecy Fulfilled (2002).
Jack Sholder's other films include:- the slasher film Alone in the Dark (1982), A Nightmare on Elm Street Part II: Freddy's Revenge (1985), the alien body-hopping film The Hidden (1987), the nuclear war film By Dawn's Early Light (tv movie, 1990), the timeloop film 12:01 (tv movie, 1993), the cloning film Natural Selection/Dark Reflection (tv movie, 1994), the unsold superhero series pilot Generation X (1995), 12 Days of Terror (tv movie, 2004) about a killer shark and the monster movie Arachnid (2001). Sholder was also responsible for directing uncredited additional footage on the problem-ridden Supernova (2000).
---
---