---
Crew
Director – Allan A. Goldstein, Screenplay – Alan Shearman, Producer – Danny Rossner, Photography – Sylvain Brault, Music – Claude Foisy, Visual Effects Supervisor – Bob Keen, Visual Effects – Image Animation, Digital Effects – Das Werk (Supervisor – Christian Kuenstler), Physical Effects Supervisor – Jacques Godbout, Makeup Effects – Twins F/X II Inc, Production Design – Csaba Kertesz. Production Company – Cinevent/Helkon Pictures 2001 GmB & CoKG/Das Werk/The Jeffrey Konvitz Filmgroup.
Cast
Leslie Nielsen (Marshal Richard 'Dick' Dix), Opehlie Winter (Cassandra Menage), Peter Egan (Dr Griffin Pratt), Damian Mason (The President), Ezio Greggio (Captain Valentino di Pasquale), David Fox (Secretary Osgood), Alexandra Kemp (Dr Uschi Kuenstler), Michel Perron (Luciano)
---
Plot
Dick Dix, a pet hostage negotiator with the Washington Police Department, is sent on a top-secret mission. The luscious Cassandra Menage has discovered that The President has been replaced by an alien clone. Dick is assigned to go undercover and accompany her to the planet Vegan and rescue the real President before international, indeed intergalactic, disaster occurs.
---
2001: A Space Travesty falls into the line of movie spoofs begun with the likes of Airplane/Flying High (1980), The Naked Gun: From the Files of Police Squad (1988), Hot Shots! (1991) et al. It even stars Leslie Nielsen whose presence was almost obligatory in this type of movie spoof, he having appeared in the Airplane, Naked Gun and Scary Movie films, The Creature Wasn't Nice/Spaceship (1981), Repossessed (1990), Dracula: Dead and Loving It (1995), Spy Hard (1996), Wrongfully Accused (1998) and Superhero Movie (2008), among others.
2001: A Space Travesty of course holds itself up as a parody of 2001: A Space Odyssey (1968). 2001 itself has become such a classic that it seems a surprise to realise that nobody has conducted a spoof of it before now (although it has made numerous single-joke appearances in various films). Alas, 2001: A Space Travesty is not a spoof of 2001: A Space Odyssey at all. Indeed, take out the very cheap looking alien makeup effects (uncharacteristically poor work from Image Animation) and the handful of space shuttle shots and there is nothing about the film that would make it science-fiction or differentiate it from an ordinary spy farce.
At most, the 2001 spoof amounts to a couple of scenes. The opening conducts a cruise through the universe where the narrator cracks moronic jokes about the creation of white dwarves (a dancing dwarf), the Stifficus Constellation (a constellation shaped like an erect penis) and moons rising (a bare butt), before ending with a Starchild in a bubble of light – which proves to be a baby with Leslie Nielsen's face. We then cut to an ape jumping up and down and squawking before a black monolith as the voice of God says "Shut up, you stupid ape" and a giant finger flicks the monolith over onto the ape. There is also a spoof of the 2001 space shuttle sequence – here the zero g causes the stewardess's skirt to float up, revealing she is wearing no panties and the scene also contains a surprisingly scientifically accurate demonstration of how to drink beer in zero gravity. However, aside from these two gags there endeth the 2001 connection.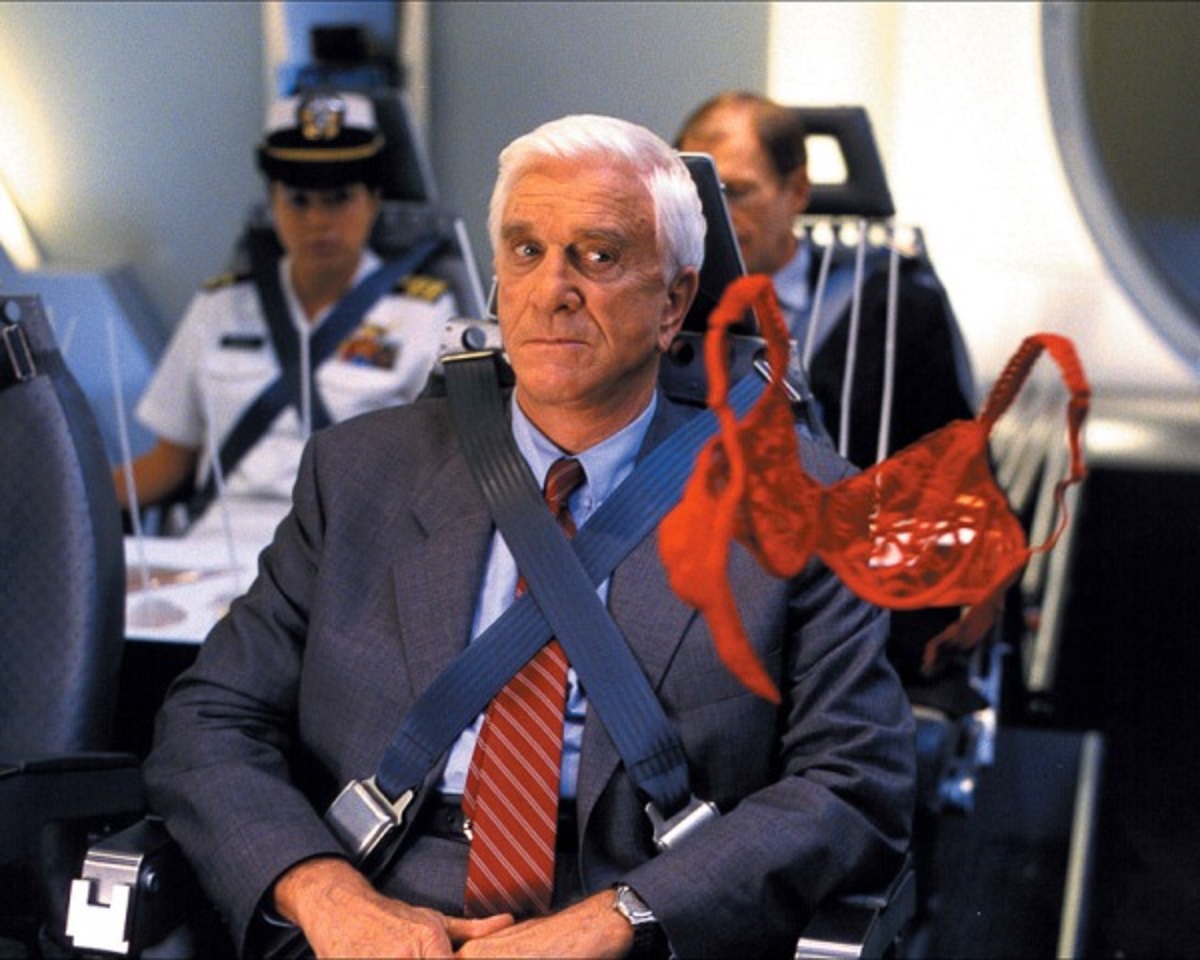 In all other regards, the film is at least accurate in calling itself a travesty. It is not even a movie parody, rather it is a baggy pants comedia dell'arte farce. Director Allan A. Goldstein sets up excruciating slapstick sequences – a cocktail party where the pompous villain's wig is dropped in various dishes of food; Leslie Nielsen in an anti-gravity lift ending up holding a woman with her crotch in his face and her face in his; the break-in to an office where Nielsen's bumbling causes the entire room to nearly be demolished; Nielsen getting both his hands and feet stuck onto sticky messages attached to a door.
Although the scene where the film reaches heights of spectacular tackiness is at the extended climax set in an opera house. It is a sequence that defies any easy description involving to wit:– Nielsen and the villain alternately trampolining out of trapdoors on the stage during a performance; various characters swinging around on half-moon props; goo being splattered everywhere; lookalikes of Bill and Hilary Clinton, Prince, George Bush [Sr], a rapping Pope and The Three Tenors, including a bad-tempered Pavarotti clone who get a large green spike fired out of a cannon and up his ass. We are promised milk and cookies if people stay all the way to the end of the credits, although when we do we are then informed that the caterer forgot to turn up and instead we are treated to a variety of fart sound effects. Mind-boggling.
Allan A. Goldstein is a director who has mostly otherwise made tv movies. His most well-known work was probably Death Wish V: The Faces of Death (1994). He has also made the sf film Memory Run (1995), Jungle Boy (1996), the biowrfare action film Spill/Virus (1996), the modernised adaptation of the Oscar Wilde novel Dorian/Pact with the Devil (2003) and The Snake King/Snakeman (2005).
(Winner Worst Film in this site's Best/Worst of 2001 list).
---
---