aka Naked Space; Spaceship
---
Crew
Director/Screenplay/Songs – Bruce Kimmel, Producer – Mark Haggard, Photography – Denny Lavil, Music – David Spear, Visual Effects – The Magic Lantern (Supervisors – Anthony Doublin, Bob Greenberg, William J. Hedge & Thomas H. Payne), Creature Visualization – Cary Howe, Makeup – Hud Bannon, Prosthetics – Evan Evans, Production Design – Lee Cole. Production Company – Almi Films.
Cast
Cindy Williams (Annie McHugh), Bruce Kimmel (John), Gerrit Graham (Arthur Rodzinski), Leslie Nielsen (Captain James 'Jimmy' Jameson), Patrick MacNee (Dr Stark), Ron Kurowski (Creature)
---
Plot
The spaceship Vertigo and its five-person crew land on a new planet. There they manage to pick up a red jelly-like alien organism, which starts eating its way through the crew.
---
The Creature Wasn't Nice was an attempt at parody on the then prevailing early 1980s science-fiction boom, in particular Alien (1979). (No-one involved seems to have heard of the infinitely superior Dark Star (1974), which The Creature Wasn't Nice bears many similarities to and gives the impression of trying to be).
More so, The Creature Wasn't Nice sees itself as a science-fictional version of Airplane/Flying High (1980). This is most evident in the video release where it was been retitled as Spaceship and given a cover design identical to the poster for Airplane – the Airplane poster had a jet with a knot in it, this has a spaceship with a knot in it. It also stars Leslie Nielsen who played fairly much the same role in Airplane and whose presence is almost requisite for these gag films – he having appeared in the Airplane and Naked Gun films, Repossessed (1990), Spy Hard (1996), various of the Scary Movies and another amazingly unfunny science-fiction farce 2001: A Space Travesty (2001).
As a genre parody, The Creature Wasn't Nice is a disaster. For one, the gags are far and few between – these parody films have no content to them other than the gags so for gags not to come with a machine-gun rapidity almost guarantees disaster. Some of the gags are straight takeoffs – of Alien; of the rotating lift from 2001: A Space Odyssey (1968); a door keypad plays the theme from Close Encounters of the Third Kind (1977) and so on.
Half the film's raison d'etre appears to have been to indulge director/star Bruce Kimmel's apparent liking for song-and-dance numbers – he wrote the songs that are performed throughout. He appears to have regarded the film's one highlight as the part where the alien sings the number I Want to Eat Your Face – it is the film's dubious highlight but more by default than anything else.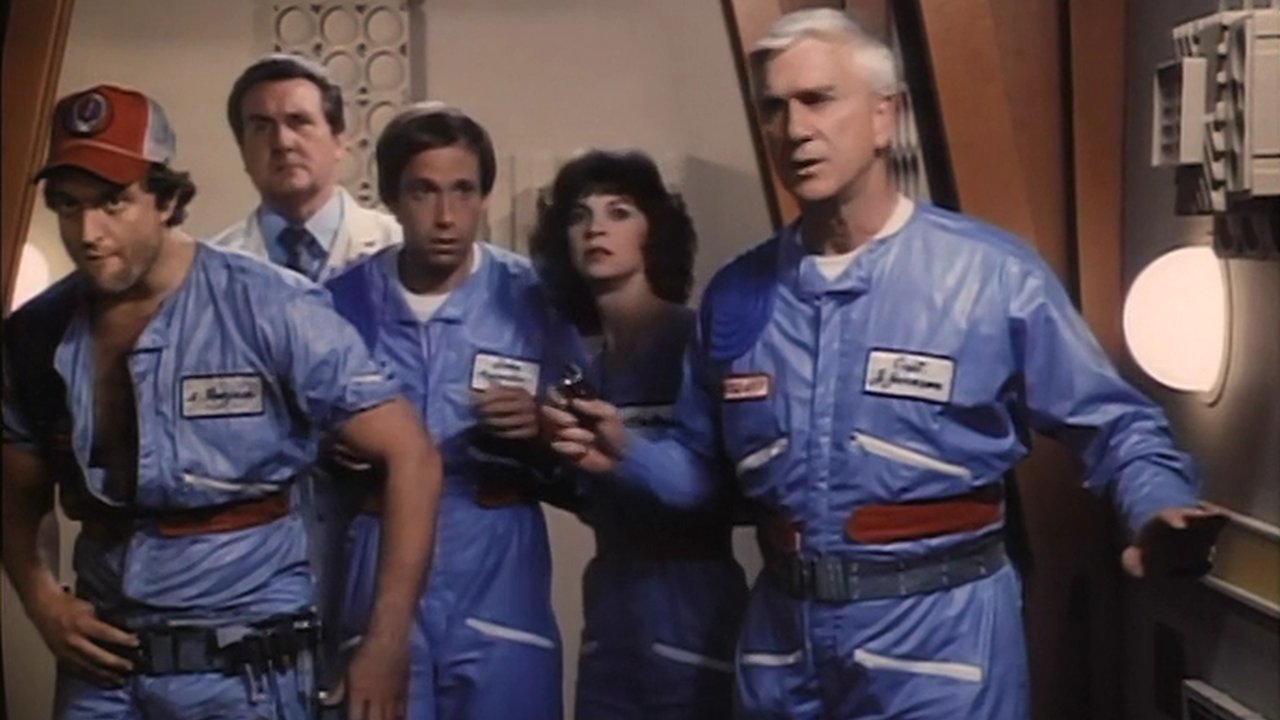 The rest of the film is crass lowbrow humour. There is a plethora of bad taste gags, some of which are astonishingly awful in their loudness and its vulgarity. Others – particularly Bruce Kimmel's parody of tv cooking shows where he attempts to stuff artificial turkey – are ghastly. We are talking here about a film that thinks pushing buttons that go beep is funny.
The film is further hampered by an absolute shoestring of a budget. The sets and effects are painfully cheap – all of the sequences hunting the alien in the latter part of the film take place in the same three sections of corridor. Some of the landscapes of the alien planet are just paintings. The film also makes use of stock footage from old science-fiction films – particularly The War of the Worlds (1953), This Island Earth (1955) and several Japanese monster movies – but to only derogatory purpose. A sequence where we see Leslie Nielsen playing Space Invaders badly dates the film.
Bruce Kimmel is best known as a producer of musical recordings of Broadway shows and has also written a number of books, including a series of mysteries, and appeared as an actor. Since The Creature Wasn't Nice, he has only directed two other psycho-thrillers Prime Suspect/Trauma (1989) and Deceit (2006), although did come up with the story for The Faculty (1998).
---
Trailer here
Full film available online here:-
---