---
Crew
Director – Albert Pyun, Screenplay – Kitty Chalmers, Producer – Tom Karnowski, Photography – Philip Alan Waters, Music – Tony Riparetti & Jim Saad, Special Effects – Ernest Shadday, Production Design – Doug Leonard. Production Company – 21st Century Film Corp.
Cast
Norbert Weisser (Bailey/Farnsworth III), Samantha Phillips (Eve Bendibuckle), Scott Paulin (Brick Bardo), Diane de Foe (Wilma Fernbacker), Christian Andrews (Hiram Whatley)
---
Plot
Eve Bendibuckle is travelling to Vegas with two friends who are planning to get married. They stop to pick up a man on the roadside who needs help after his car has broken down. The man Bailey then says that he is an alien and pulls a gun and shoots the couple. He takes Eve prisoner in a warehouse and makes her undress, saying he wants to have sex with her. She is unsure whether to regard his claims about being an alien on a mission to destroy the Earth as real or the delusions of an escaped madman, which he also claims to be. The matter appears to be settled by the arrival of Bailey's psychologist Brick Bardo – but then Eve finds that Bardo is not being truthful either.
---
Albert Pyun is a prolific director of low-budget sf/action films. Pyun premiered with The Sword and the Sorcerer (1982) and went onto make numerous other films, most of which centre around kickboxing post-holocaust cyborgs. (A full list of Albert Pyun's genre films is at the bottom of the page). Pyun's films of the mid-to-late 1980s are experiments in conceptual wackiness. These include – Radioactive Dreams (1986), a post-holocaust parody of hard-boiled detective thriller; Vicious Lips/Pleasure Planet (1987) about an intergalactic girl rock group; Alien from L.A. (1988), a gonzo spoof of a lost world film, and this.
Deceit is a very strange film. It is a work of minimalist science-fiction – there are no effects and the most overtly fantastical it ever gets is the provision of a single glass cube. It is a two-person character melodrama and uses only a single set – an abandoned warehouse. Mostly it seems like an experimental improvised stage drama. It could almost be one of the 'existential alien visitor' films made around the same time with the likes of Man Facing Southeast (1986) and Friendship's Death (1987) that featured aliens about which there was some ambiguity as to whether they were real or just deranged individuals, and in particular The Caller (1988), an ostensible thriller with two people playing weird psychological games with each other that opened up into a surprise science-fiction twist ending.
That said, Deceit is rather awful. The two-person melodrama goes on for a long time and is terribly indulgent. There is that which strains the patience – the opening shot, for instance, consists of around five minutes of Norbert Weisser twitching and gyrating in the dust in front of a chain link fence outside a factory. There are bizarre pieces of dialogue: "Why blow up the Earth?" "Because it pays well."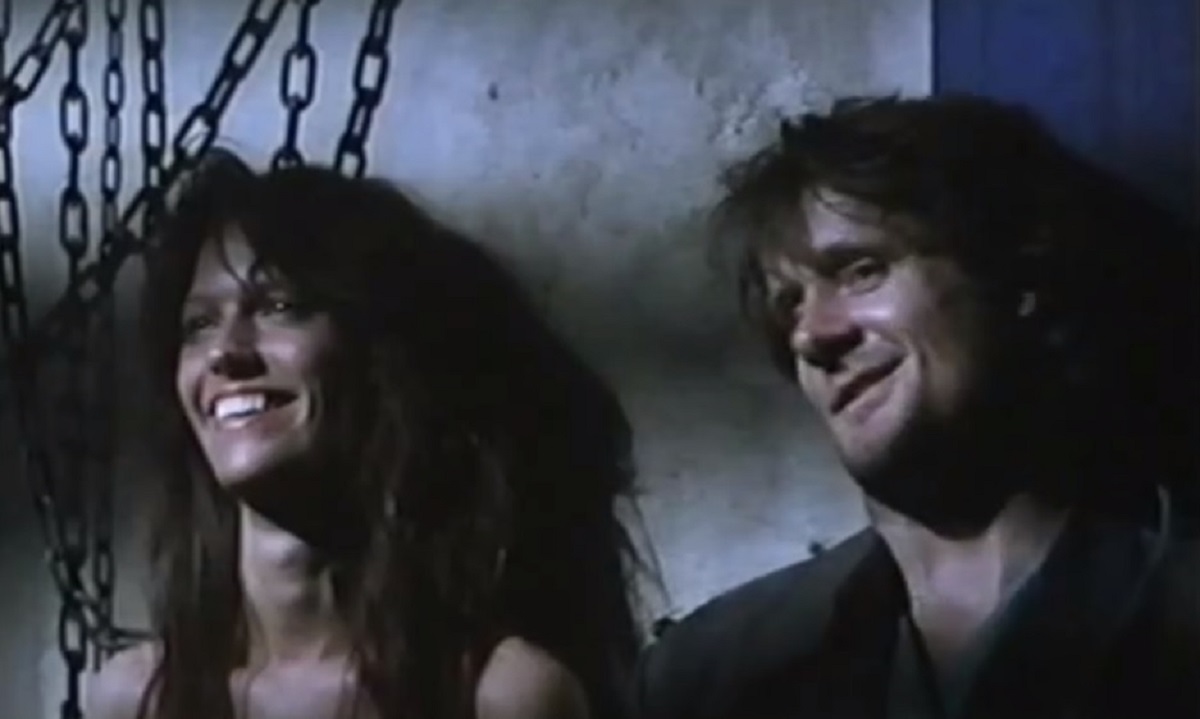 The final climactic showdown is amazingly incoherent and features some very silly and over-the-top acting from Scott Paulin. By this point in the film, Albert Pyun has clearly gone well beyond the point of taking any of it seriously any more. At the end, Diane de Foe's intergalactic cop departs, giving advice to Samantha Phillips: "Today is almost tomorrow. And remember if you're looking for someone to fall in love with – try yourself." "You're pretty philosophical." "I'm a cop." The final shot has Diane de Foe note "Today is tomorrow. And things better get better. Or else," and then turning to look into the camera.
One can also note the appearance of the names of characters that would later reappear in other Albert Pyun films – Scott Paulin plays Brick Bardo (a name that was originally used as a pseudonym by one of the stock players in several Ray Dennis Steckler films) who later became the title intergalactic cop in Pyun's Dollman; while Pyun regular Norbert Weisser's character is also billed as Farnsworth III, which compares to a Farnsworth II who was the killer android in Nemesis 3: Time Lapse (1995).
Albert Pyun's other films are:– The Sword and the Sorceror (1982), Radioactive Dreams (1986), Vicious Lips/Pleasure Planet (1987), Alien from L.A. (1988), the uncredited Journey to the Center of the Earth (1988), Cyborg (1989), Captain America (1990), Dollman (1990), Brain Smasher: A Love Story (1993), Knights (1993), Nemesis (1993), Arcade (1994), Heatseeker (1995), Hong Kong 1997 (1994), Nemesis 2: Nebula (1995), Nemesis 3: Timelapse (1995), Adrenalin: Fear the Rush (1996), Nemesis 4: Death Angel (1996), Omega Doom (1996), Postmortem (1997), Ticker (2001), Infection (2005), Cool Air (2006), Bulletface (2007), Left for Dead (2007), Tales of an Ancient Empire (2010), The Interrogation of Cheryl Cooper (2014) and Interstellar Civil War (2017).
---
---