aka Alien Vs. Alien
---
Crew
Director – Lewis Schoenbrun, Screenplay – Keith Parker & Kenny White, Story – Ted Chalmers, Based on an Idea by David Sterling, Producer – David S. Sterling, Photography – Art Butler, Music – Jason Peri, CG Effects – Jason Peri & Lewis Schoenbrun, Special Effects – Ron Karkoska, Production Design – Greg Caudill. Production Company – Tom Cat Films LLC/Sterling Entertainment.
Cast
Jason Lockhart (Tyler), Cassie Fliegel (Ava), Dylan Vox (Jake), Kim Argentsinger (Jesse), Georgia Tolentino (Crystal), Marlene Mc'Cohen (Tiffany), Ginny You (Dana), Amanda Chism (Sarah), Victoria De Mare (Mandy), Adam Graham (Robotar)
---
Plot
Jake takes his college roommate Tyler on a camping trip in the woods with four girl friends in the hope of pairing Tyler up with Crystal so that he can lose his virginity. However, after wandering away from the camp in search of cellphone reception, Crystal fails to return. When the others go in search of her, they encounter Ava who explains that she is an alien – an avatar projected by her true self in an orbiting spaceship. She has come to Earth to stop a deadly Scythe creature that has escaped. There is only a matter of hours before the Scythe is about to spawn, which will have deadly consequences for the Earth. The only hope of defeating it is for Ava to repair and activate the Robotar battle robot but this has been damaged in the landing. As the group set out to find the Robotar, the Scythe comes in pursuit. With the ability to shapeshift and transform into anything it touches, it is able to pose as any of the group and proceeds to progressively eliminate them along the way.
---
Aliens Vs. Avatars was the fourth film for Lewis Schoenbrun. Schoenbrun had worked as an assistant editor on a number of reasonably well known Hollywood films throughout the 1980s and 90s and as a full editor on several obscure films. From the 2000s, he has branched out as a director of a series of science-fiction and horror films with the likes of Dr Chopper (2005), Slaughterhouse Phi: Death Sisters (2006), Queen Cobra (2007) and The Amazing Bulk (2013), which only seem distinguished by extremely low budgets and not being widely seen.
Aliens Vs. Avatars was Lewis Schoenbrun's most widely released film to date. The title has an amusement – it resembles one of the films conceived by The Asylum with their penchant for 'vs' titles and mockbusters, designed to riff off of James Cameron's two big hits Avatar (2009), which was then in recent memory, and Aliens (1986). For all that, Aliens Vs. Avatars signals a painful cheapness from the opening credits, which consist of visual effects that look as though they have been made on somebody's home computer. (Even more ominously, it is revealed that these are done by Lewis Schoenbrun himself).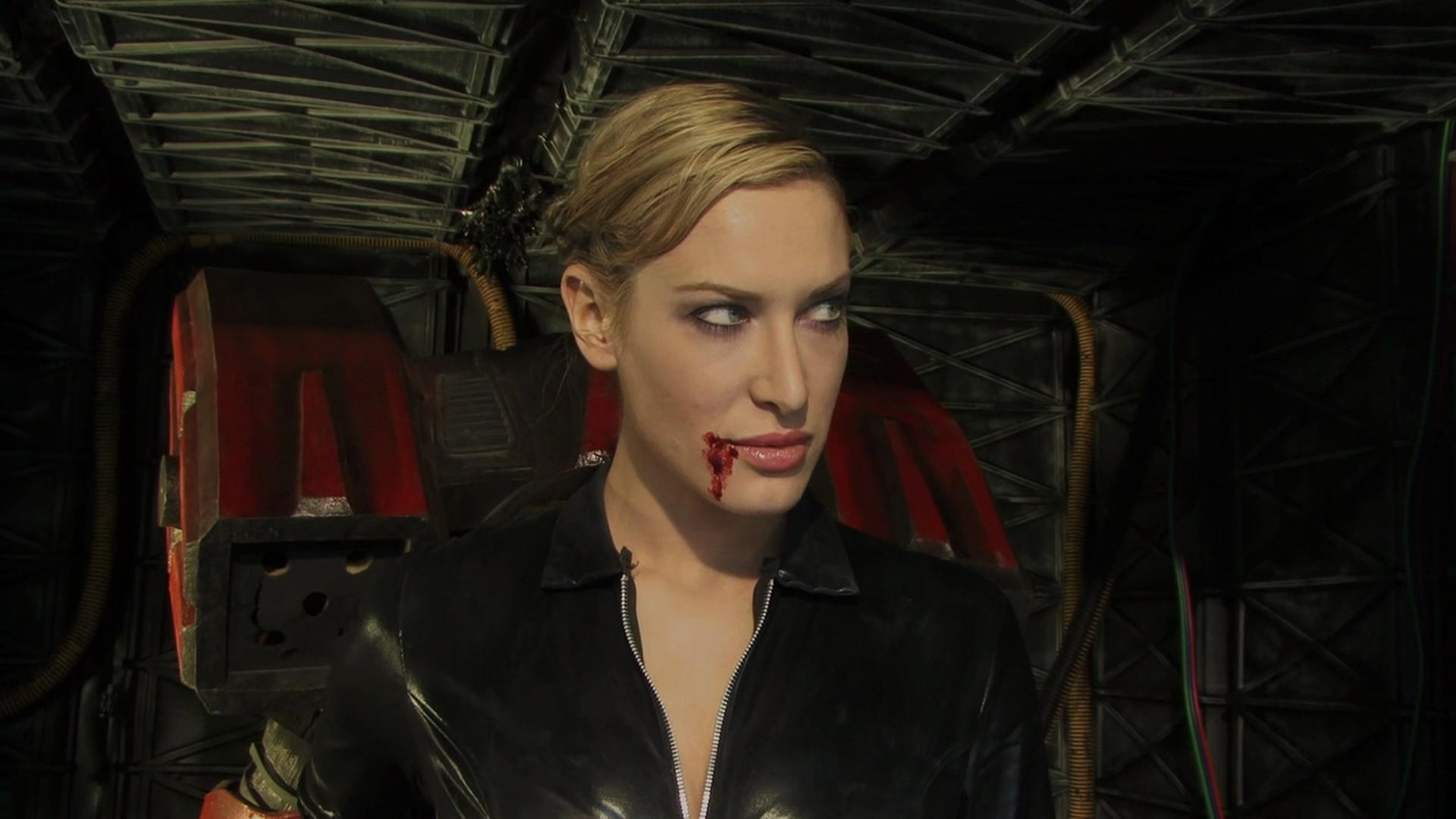 The actors seem to all be amateurs (although Dylan Vox did later become a regular with The Asylum) but at least make some effort and struggle against the inane dialogue. In the case of Georgia Tolentino's Crystal, she seems defined solely by willing to sleep with anyone and constantly complaining at having to dealing with bugs and no cellphone coverage or having to go hiking while wearing heels.
Things fail to improve much with the introduction of the aliens. There are some very cheap gore effects and a clunky looking man in a robot suit at the climax. Much of the action consists of the characters running through the woods. In a move ripped from Predator (1987), the alien hunts them from behind an invisibility cloak – this leads to one rather funny scene wherein Dylan Vox pretends to fight the invisible alien, shadow boxing against it without the slightest conviction. All of which only amounts at best to a marginally better made film of the type that is usually shot on a camcorder over successive weekends by teenage wannabes.
---
---