---
Crew
Director – Shawn Levy, Screenplay – John Gatins, Story – Dan Gilroy & Jeremy Leven, Based on the Short Story by Richard Matheson, Producers – Shawn Levy, Susan Montford & Don Murphy, Photography – Mauro Fiore, Music – Danny Elfman, Visual Effects Supervisor – Glenn Denny & Erik Nash, Visual Effects – Cantina Creative (Supervisor – Stephen Lawes), Digital Domain & Occam's Razor, Animatronics Supervisor – John Rosengrant, Animatronics/Robotic Effects – Legacy Effects, Special Effects Supervisor – Joey DiGaetano, Production Design – Tom Meyer. Production Company – DreamWorks SKG/Reliance Entertainment/21 Laps/Montford Murphy.
Cast
Hugh Jackman (Charlie Keaton), Dakota Goyo (Max Keaton), Evangeline Lilly (Bailey Tallett), Anthony Mackie (Finn), Kevin Durand (Ricky), Leslie Hope (Debra Fowler), James Rebhorn (Marvin Barnes), Olga Fonda (Farra Lemkova), Karl Yune (Tak Mashido), John Gatins (Kingpin)
---
Plot
The 2020s. One of the most popular sports in the world is form of boxing using robots that beat each other into scrap metal in the ring. Charlie Keaton is a former boxer down on his luck who tours the Midwest with an old robot, putting it up in fairground sideshows for prize money, all the while on the run from debtors. After his current robot is destroyed, Charlie is informed that his former girlfriend has died leaving him with custody of an eleven year-old son Max. Max's aunt wants to claim custody of him but Charlie uses the opportunity to put the squeeze on her wealthy husband Marvin Barnes and demand a hundred thousand dollars. Marvin agrees on the condition that Max stays with Charlie for the summer while they go to Italy. Charlie immediately sinks the money into buying a title-class Japanese robot Noisy Boy. Max enthusiastically leaps in to helping – only for Noisy Boy to be trashed the first time that Charlie puts it into the ring. Charlie goes to steal parts from a scrapyard in an attempt to salvage what he has. There Max falls down a pit but is saved by an old robot and insists on taking it with them. They revive the robot, learning that it is an old G2 model named Atom, built for sparring practice and would be useless in the ring. Max insists on readying it for combat and is surprised when moves that he has programmed in using its learning ability end up allowing Atom to win fights. Using Atom, they mount an outside attempt at a comeback where Max's unorthodox moves and Charlie's training Atom to mimic him find a surprise success.
---
Real Steel is an adaptation – 'based in part' the opening credits ominously tells us – of the short story Steel (1956) by Richard Matheson. Matheson is a legendary genre novelist and screenwriter, best known as the author of the original works that formed the basis for The Incredible Shrinking Man (1957), Duel (1971), What Dreams May Come (1998) and I Am Legend (2007). (See below for Richard Matheson's other genre credits). Matheson also adapted his short story as Real Steel, one of the episodes of the original The Twilight Zone (1959-63). Real Steel has undergone a number of changes since these original versions. Both versions of the story similarly feature a down on his luck former boxing champ touring the boondocks with a boxing robot. However, the original story differs in that it is based around the champ disguising himself as the robot after it is damaged and going up against a real robot in the ring.
The most important of the changes is that Real Steel is now an avatar film. It follows on from a spate of films that came out in 2009 – Gamer (2009), Surrogates (2009) and of course the mega-success of James Cameron's Avatar (2009) – all about humans inhabiting bodies that they move via telepresent remote control. Like Avatar in particular, Real Steel seems to have been conceived – and indeed changed over the Richard Matheson story – in order to make it into a vehicle for performance capture visual effects. (There are no robots that work by remote control in the original short story or the Twilight Zone episode). This is no particular surprise as Real Steel is executive produced by Robert Zemeckis who has had a good deal of success in recent years with productions based on performance capture animation – see directorial efforts such as The Polar Express (2004), Beowulf (2007), A Christmas Carol (2009), Welcome to Marwen (2018) and Pinocchio (2022), as well as Zemeckis-produced efforts like Monster House (2006), Mars Needs Moms (2011) and another robot film Finch (2021).
In truth though, Real Steel owes itself to a far older form of story than either Avatar or the original Richard Matheson short story. It goes all the way back to perhaps the first boxing movie ever made and raids cliches wholesale from half-a-dozen other sports genres. It is the story of the contender's comeback. The script – which comes from Jeremy Leven, the writer of the great and overlooked Creator (1995) and director of one of Johnny Depp's finest moments Don Juan de Marco (1995) – leaves no cliche unturned. There is the ex-champ battling the bottle, debtors and a run of bad luck touring the boondocks trying to make ends meet who could only get back on his feet if he believed in himself again; there is the good-hearted girl who stands by the fallen champ's side in a prickly love-hate relationship; there is the cute kid who inspires and turns the champ's luck around; the big all-or-nothing climactic battle; while in almost every bout, the champ's small undersized robot is almost battered into complete scrap iron but makes a miraculous move that turns the match around. Even the photography seeks to tap cinematic American heartland nostalgia by quoting winsome Midwest landscapes and sunsets.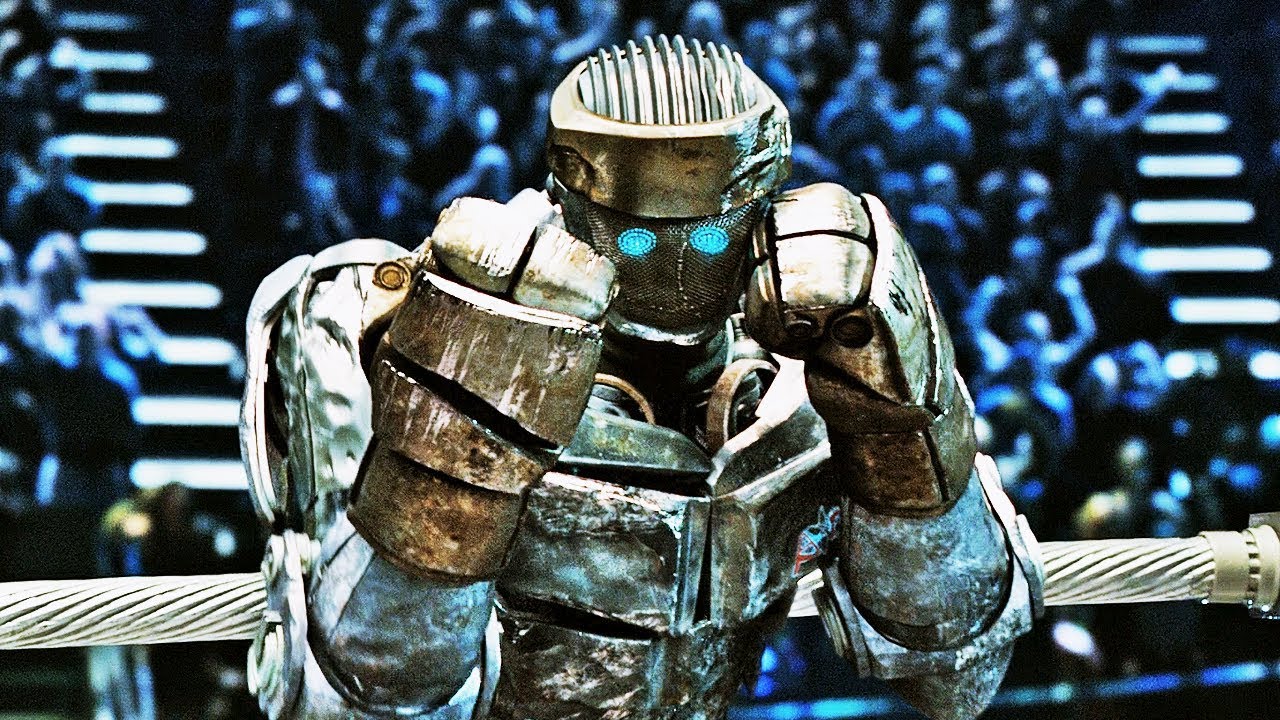 Real Steel is directed by Shawn Levy, a director who has yet to make a single film I have liked – see Big Fat Liar (2002), Cheaper By the Dozen (2003), Just Married (2003), Night at the Museum (2006), The Pink Panther (2006), Night at the Museum 2 (2009), Date Night (2010), The Internship (2013), This is Where I Leave You (2014), Night at the Museum: Secret of the Tomb (2014), Free Guy (2021) and The Adam Project (2022). Levy has fared better as a producer with genre efforts like The Watch (2012), the Young Adult The Darkest Minds (2018), Denis Villeneuve's Arrival (2016) and Crater (2023) and the tv series' Stranger Things (2016– ) and Shadow and Bone (2021– ).
I do have to give him Levy due here. For all that you can predict every move that Real Steel makes, you cannot deny that it is slickly put together and works upon all the emotional cues and triumphal surges that the filmmakers want you to. It is a film designed entirely as mainstream entertainment and works well at exactly that. The robots, which are motion capture animated from real boxers as choreographed by Sugar Ray Leonard, steal the show and contain some top-notch work from the effects department. The cast all do capably in very undemanding roles, while everybody gets rings run around them by the kid, newcomer Dakota Goyo, one of the brightest and most enthusiastic child performers to appear on screen in ages. Even star Hugh Jackman is frequently left nonplussed and playing second fiddle to the kid.
Ultimately, Real Steel is a film that has no greater ambitions than being entertainment than can be liked and understood by everybody. It lives in one of those futures where apart from some transparent digital display radios and dashboard consoles there appear to be no other technological and social advances other than the central one required by the premise. The film never specifies a date but we assume it is sometime in the 2020s (the 43 year-old Hugh Jackman is said to have had his first bout in 2007, which we assume would be a point when he would have been around the age of twenty). Elsewhere though, the vehicles and clothing styles are all contemporary – it is disappointing that the film has made no more effort to assume any changes than that. What will surely date Real Steel well and truly by the time the real 2020s roll around however is the blatant product placements for contemporary brand names such as Sprint, ESPN, Bing and Dr Pepper.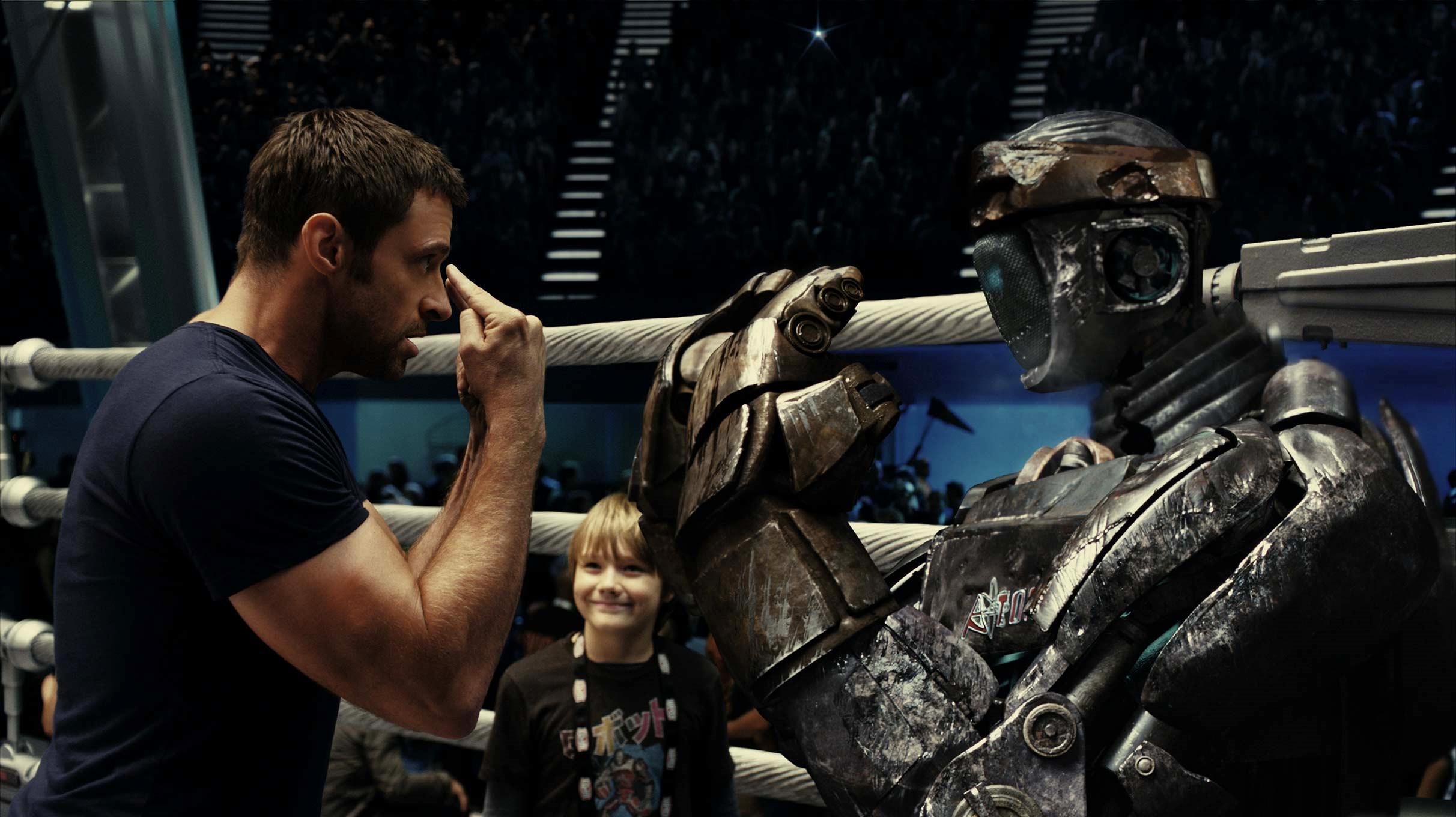 Another aspect of the film that bugged me was the constant ambiguous suggestion of anthropomorphism – the suggestion that Atom understands more than it does, has genuine feelings and most absurdly how the scars that it collects across its visor during the course of combat eventually come to resemble facial features. Real Steel is not a film that needs something like this – it takes it close to the realm of mawkish cute robot films such as Short Circuit (1986) and Bicentennial Man (1999). It is akin to having a film where a kid wins a videogame tournament on his PC or Xbox against incredible odds and the film then has to suggest that the computer or Xbox was alive all along.
Richard Matheson's other genre works include:- The Incredible Shrinking Man (1957) based on his own novel, Roger Corman's Edgar Allan Poe adaptations The House of Usher/The Fall of the House of Usher (1960), Pit and the Pendulum (1961), Tales of Terror (1962) and The Raven (1963), the Jules Verne adaptation Master of the World (1961), the occult film Night of the Eagle/Burn, Witch, Burn (1961), the Corman-produced mortician's comedy The Comedy of Terrors (1963), The Last Man on Earth (1964) based on his novel I Am Legend (1954) concerning a world taken over by vampires, the Hammer psycho-thriller The Fanatic/Die, Die, My Darling (1965), the classic Hammer occult film The Devil Rides Out/The Devil's Bride (1968), the historical biopic De Sade (1969), Steven Spielberg's first film Duel (1971), The Night Stalker (1972) and The Night Strangler (1973) tv movies, the haunted house film The Legend of Hell House (1973) from his novel, the tv adaptation of Dracula (1974), the tv movies Scream of the Wolf (1974), The Stranger Within (1974), Trilogy of Terror (1975), Dead of Night (1977) and The Strange Possession of Mrs. Oliver (1977), the tv adaptation of Ray Bradbury's The Martian Chronicles (1980), the time travel romance Somewhere in Time (1980) from his own novel, Jaws 3-D (1983), Twilight Zone – The Movie (1983), and numerous classic episodes of The Twilight Zone, Thriller and Star Trek. Works based on his novels are The Omega Man (1971) from his I Am Legend, the afterlife fantasy What Dreams May Come (1998), the fine ghost story Stir of Echoes (1999), I Am Legend (2007) and The Box (2009).
(Nominee for Best Supporting Actor (Dakota Goyo) and Best Special Effects at this site's Best of 2011 Awards).
---
---