---
Crew
Director – Kaos [Wych Kaosayananda], Screenplay – Alan McElroy, Producers – Kaos, Chris Lee & Elie Samaha, Photography – Julio Macat, Music – Don Davis, Music Supervisor – Michael Lloyd, Visual Effects Supervisor – Joan Collins Carey, Visual Effects – Digital Dimension (Supervisor – Benoit 'Ben' Girard), Pacific Title & Arts (Supervisor – Mark Freund) & Zen Kitty (Supervisor – Robert Emrich), Special Effects Supervisor – R. Bruce Steinheimer, Production Design – Doug Higgins. Production Company – Chris Lee/Franchise Pictures/MHF Erste Academy Film GmBh & Co Produktions KG.
Cast
Antonio Banderas (Jeremiah Ecks), Lucy Liu (Sever), Gregg Henry (Robert Gant/Agent Clark), Talisa Soto (Vinn Ecks Gant), Ray Park (Agent A.J. Ross), Miguel Sandoval (Julio Martin), Terry Chen (Agent Harry Lee), Aidan Drummond (Michael Gant)
---
Plot
Burned-out FBI agent Jeremiah Ecks is lured back into action by his former boss on the promise of information that shows that Ecks' former wife Vinn was not killed in a bomb explosion as he has believed. In return, Ecks is asked to find a mysterious female assassin known as Sever. Sever has abducted the son of Robert Gant, a shadowy international arms dealer who has obtained a much sought-after microscopic robotic assassination tool known as Softkill. Sever is a former employee of Gant's and is seeking retribution against him for the murder of her child. As the battle against Gant becomes larger in scale, Ecks and Sever find themselves teaming up on the same side.
---
Ballistic: Ecks vs. Sever has certainly been put together with a decent budget. Just about every action star under the sun – Chow Yun Fat, Vin Diesel, Jet Li, Wesley Snipes, Sylvester Stallone and Michelle Yeoh – was mentioned in either of the central roles at one point or another, before the film was finally cast with Antonio Banderas and Lucy Liu. The idea of Antonio Banderas as a burned-out and dangerous FBI agent seems promising – Banderas when he wants, case in point being Robert Rodriguez's El Mariachi films, can project an electrifying presence and a dangerous sexuality.
However, Ballistic: Ecks vs. Sever sits there and refuses to become come to life – indeed, for awhile it ranked highly in the Internet Movie Database's 250 Worst Films list. Thai director Kaos (real name Wych Kaosayananda) mounts some spectacular action sequences – various martial arts combat sequences, Antonio Banderas shooting while skidding along on the roof of an overturned prison bus, he flying off a motorcycle while two cars crash in mid-air above his head, a massive battle in a railway yard, and a big-scaled shootout at the Vancouver Public Library (which, with its striking Coliseum-like design, seems a peculiar target for action films, having been previously blown up in The 6th Day [2000]).
However, while mounted with a clearly lavish budget, the film comes strangely without enervation. Kaos fails to inject an essential dynamism into any of it – Ballistic feels like an action film going through the moves rather than one that holds any exhilaration and kinesis.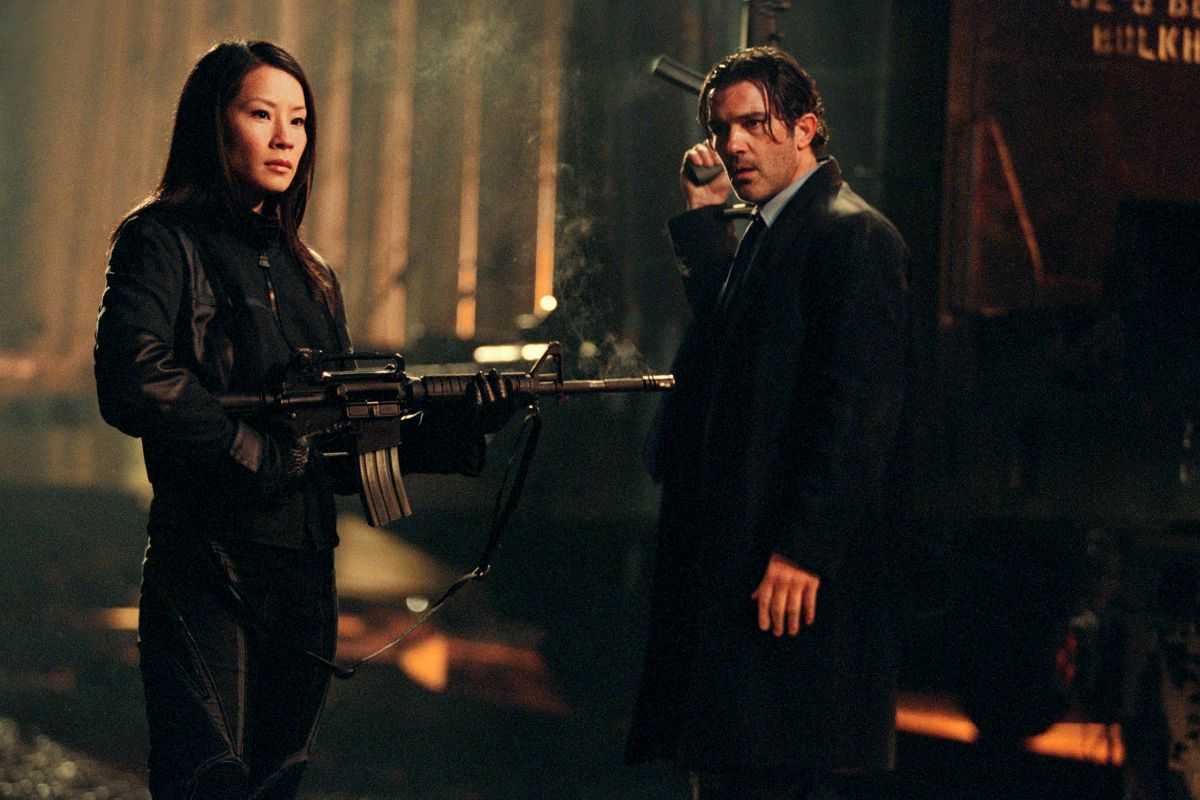 Moreover, while Ballistic comes offering the interesting premise of two top highly-trained and lethal spies pitted against one another in Antonio Banderas and Lucy Liu, this is a promise that fails to emerge. Banderas and Lucy Liu settle their differences fairly quickly and are soon off into action together. [Banderas also appeared in Assassins (1995) opposite Sylvester Stallone, which had a near-identical premise of two assassins hunting one another and was an even worse film than Ballistic].
The rest of the film is taken up by a dull plot about Antonio Banderas obtaining revenge on the gangster who took his wife. Banderas seems to walk through his part, disinterested in the film, while the diminutive Lucy Liu presents only occasional menace. Ballistic is routine and formulaic on every level.
It was a decade before Wych Kaosayananda returned to direct another film. His subsequently returned to genre material with Tekken: A Man Called X/Tekken 2: Kazuya's Revenge (2014) based on the video combat game, the zombie film The Driver (2019) and the End of the World film Two of Us (2020).
Screenwriter Alan B. McElroy has an interesting number of films to his credits including Halloween 4: The Return of Michael Myers (1988), Wheels of Terror (1990), Spawn (1997), Left Behind (2000), Wrong Turn (2003), Thr3e (2006), Tekken (2010), The Perfect Guy (2015), Fractured (2019) and Wrong Turn (2021), while he has also worked as a producer on Star Trek: Discovery (2017– ).
---
---