---
Crew
Director – Robert Asher, Screenplay – Henry Blyth, Jack Davies & Norman Wisdom, Producer – Hugh Stewart, Photography (b&w) – Jack Asher, Music – Philip Green, Art Direction – Harry Pottle. Production Company – Hugh Stewart.
Cast
Norman Wisdom (Norman Puckle)
---
Plot
Rejected by his girlfriend, Norman Puckle is about to jump from a cliff and end it all when a passing sailor tells him of the exotic life that could be his in the Royal Navy. Puckle decides to enlist. However, once aboard ship, his bumbling results in absolute chaos. He is then recruited for the Navy's planned rocket launch where the Admiralty intends to prove that any man is capable of doing the job.
---
Norman Wisdom was a popular comedic figure in England in the 1950s and 60s who first appeared on the tv series Wit and Wisdom (1950) and then in about a dozen films. Wisdom's performances consist solely of an abrasive nasal whine and a series of hapless facial shrugs – one wonders what possible appeal he could have had for an audience. It is a real endurance test to watch his exploits.
With Norman Wisdom joined a number of other popular comics of the era that ventured into taking on the Space Race. Other comics to venture forth included Abbott and Costello in Abbott and Costello Go to Mars (1953), The Three Stooges in Have Rocket — Will Travel (1959) and The Three Stooges in Orbit (1962), Bob Hope and Bing Crosby in The Road to Hong Kong (1962), Frankie Avalon in Sergeant Deadhead (1965), Doris Day in The Glass Bottom Boat (1966), Soupy Sales in Birds Do It (1966), Jerry Lewis in Way … Way Out (1966) and Don Knotts in The Reluctant Astronaut (1967).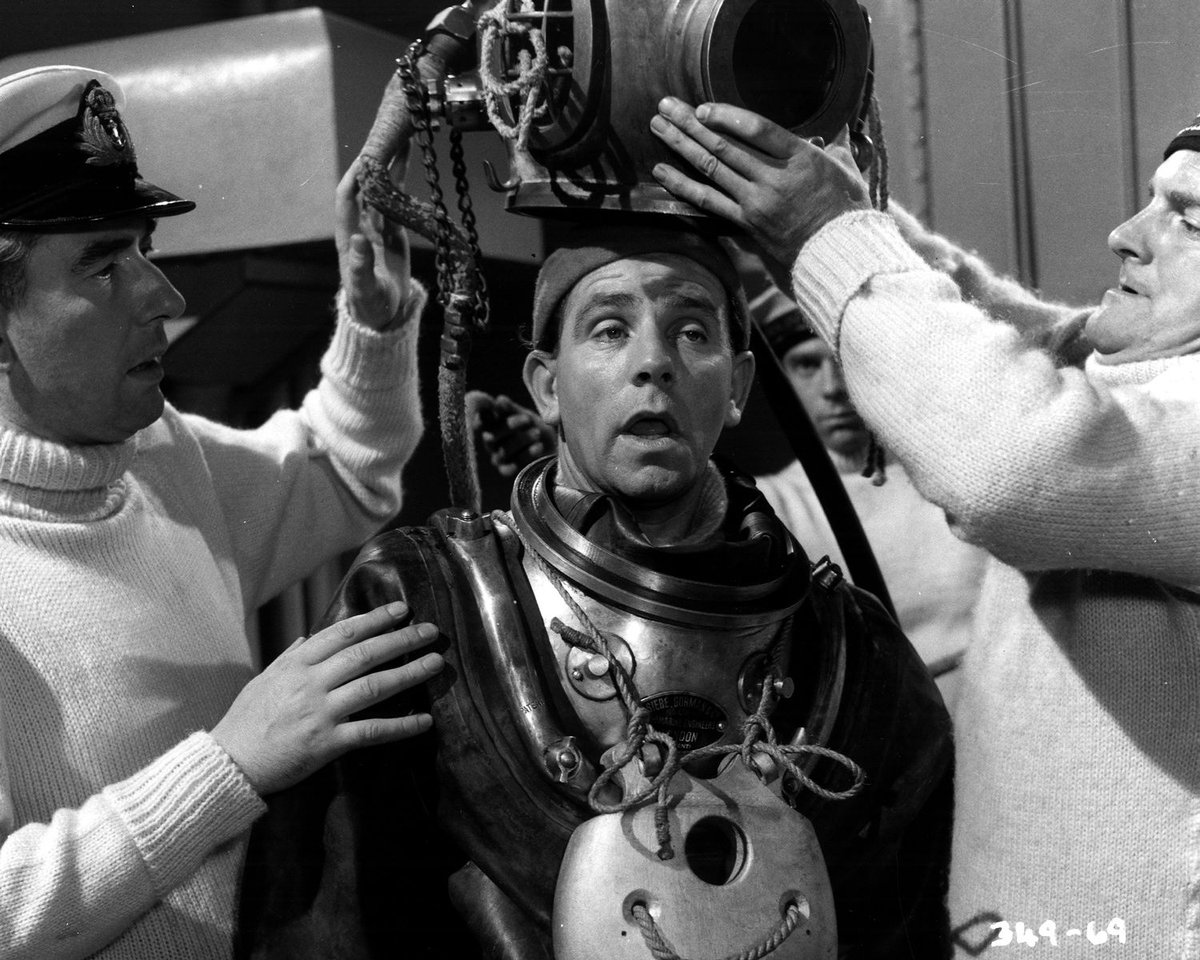 To its credit, a certain nonchalant humour infects some of the running gags in this film – which are really all that the plot consists of – like Wisdom forced to skip after a departing speedboat with his foot caught in an anchor rope, or a series of fades on him painting the side of a ship as the tide rises, finally having to emerge from beneath the water to grab a breath of air and a brushful of paint. That said, the bulk of the gags – an inordinate number of which seem to endlessly play on various people being pushed into the water – are much more tiresome.
The science-fiction angle (whereby the film is included here) is minimal. This comes out disappointingly – not that one expected more – with the final rocket launch being represented only by cartoon animation.
---
---