---
Crew
Director – John Landis, Screenplay – Dan Aykroyd, Lowell Ganz & Babaloo Mandel, Story – Dan Aykroyd & Dave Thomas, Producers – George Folsey Jr & Brian Grazer, Photography – Robert Paynter, Music – Elmer Bernstein, Visual Effects – Ira Curtis Coleman, Special Effects – Brian Johnson & Derek Meddings, Production Design – Peter Murton. Production Company – Warner Brothers.
Cast
Chevy Chase (Emmett Fitzhume), Dan Aykroyd (Austin Millbarge), Donna Dixon (Karen Boyer), Steve Forrest (General Sline), Bernie Casey (Colonel Rhombus), Bruce Davison (Mr Ruby), William Prince (Mr Keys), Tom Hatten (General Miegs), Charles McKeown (Charles Hadley)
---
Plot
Two incompetent applicants, Emmett Fitzhume and Austin Millbarge, are chosen from a CIA recruitment program. They are parachuted into Pakistan and eventually end up in Afghanistan, chased by the Russians. There they learn that they are being used as decoys to draw out the Soviet missile system and test the new US orbital defence laser.
---
Spies Like Us is a depressingly bad film. Firstly so, in that some talented people, director John Landis, who had previously made The Blues Brothers (1980) and An American Werewolf in London (1981), and Lowell Ganz and Babaloo Mandel, who had just been Oscar nominated for their Splash! (1984) script, are involved in such tedious lowbrow nonsense, along with Dn Aykroyd who co-writes/stars in this just off the back of the massive hit of Ghostbusters (1984). Secondly, that major studios would bankroll the then sizable $17 odd million budget. Thirdly, that audiences flocked to see the film at all – it ended up being the 20th highest grossing film of 1985.
A few decades earlier, Spies Like Us could almost have been one of the Bob Hope-Bing Crosby Road movies. (Hope makes a cameo in the film to make the homage overt). However, what is on screen never even comes remotely near the level of cleverly self-effacing wit in that duo's films and is only bumbling lowbrow slapstick. The exam sequence and the scenes where Chevy Chase and Dan Aykroyd are forced to pose as doctors and conduct an operation are mind-numbingly awful – the two actors mug in a way that makes Three Stooges look like art.
For what is supposedly a slapstick action film, John Landis's pace moves as though through treacle. (You can maybe excuse Landis as being distracted as he was in the midst of the manslaughter trial over the deaths on the set of Twilight Zone – The Movie (1983) at the time). Elmer Bernstein's score thumps away with an overblown ghastliness. The storyline is a mishap but the worst part is when it decides to take itself seriously in the last five minutes – there comes the sudden threat of world annihilation but suddenly all parties find love in one another's arms in a heavy-handed message of East-West cooperation, before a groan-inducing moment where Dan Aykroyd suddenly remembers the missile can be reprogrammed.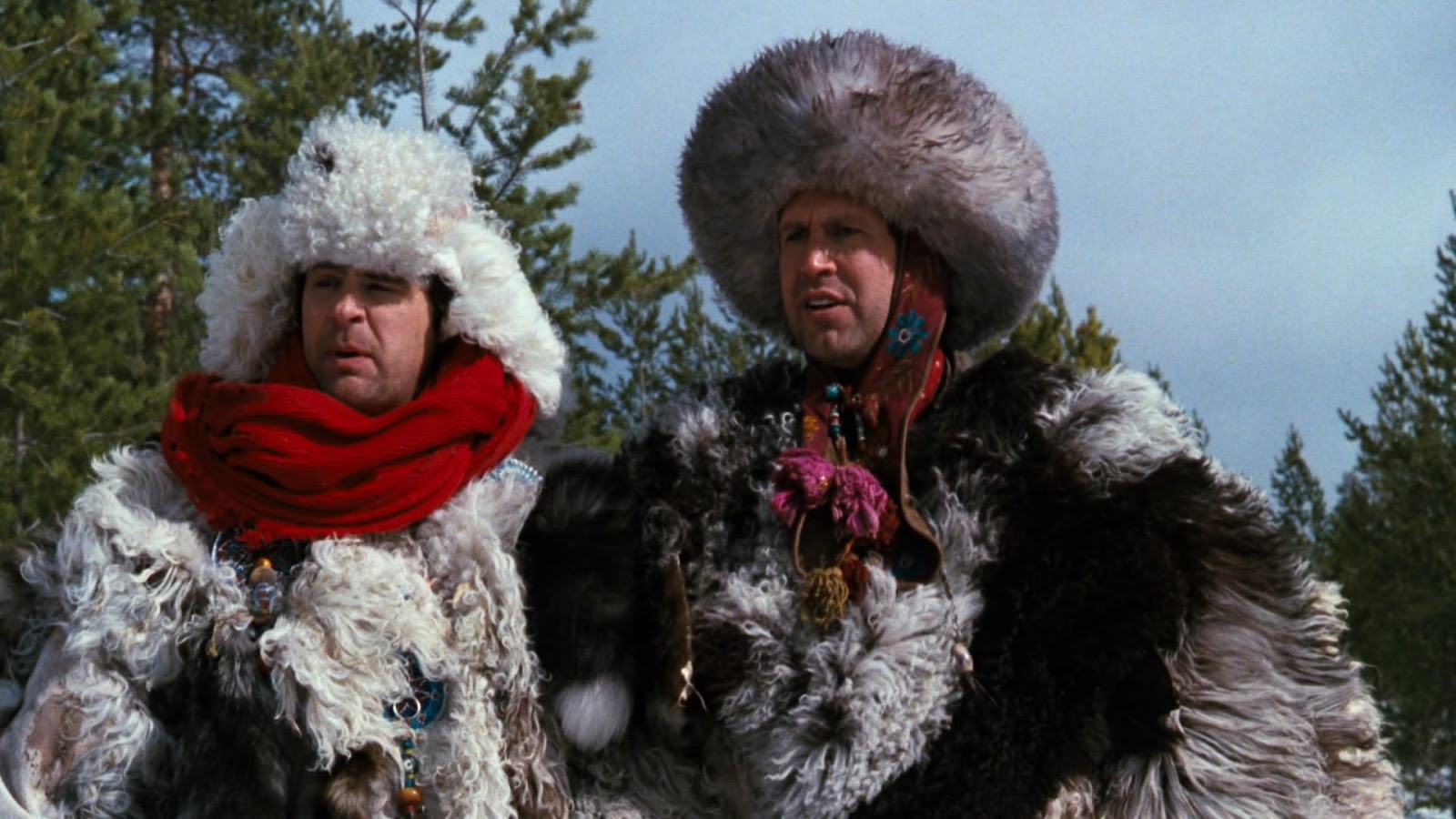 Like many of his other films, John Landis packed Spies Like Us with cameos that run like a trivia list – director Terry Gilliam, cult special effects artist Ray Harryhausen and Gilliam's Brazil (1985) co-writer Charles McKeown appear as the doctors in the desert, and there are appearances from Muppeteer Frank Oz (who has made cameos in all of John Landis's films), director Costa-Gavras of Z (1969) and Missing (1981) fame, director Larry Cohen of It's Alive (1974) cult, James Bond effects man Derek Meddings and the film's cinematographer Bob Paynter packed away somewhere.
John Landis has had a number of other genre films including:- the monster movie parody Schlock (1973), An American Werewolf in London (1981), the infamous first segment of Twilight Zone – The Movie (1983), the famous MTV video for Michael Jackson's horror movie homage Thriller (1983), episodes of Amazon Women on the Moon (1987), the Mafia vampire film Innocent Blood/A French Vampire in America (1992), the gonzo comedy The Stupids (1996), Blues Brothers 2000 (1998) and a comedy version of the true-life grave robbers Burke & Hare (2010). Landis has also produced various genre tv series such as Weird Science (1994-6), Honey I Shrunk the Kids (1997) and The Lost World (1999).
---
---