---
Crew
Director – Jon Cassar, Screenplay – Lucian K. Truscott IV, Producer – Mary Pantelidis, Photography – Derick Underschultz, Music – Norman Orenstein, Visual Effects – Daft and Sexy @ The Post Group Canada, Special Effects Supervisor – Laird McMurray, Production Design – Rupert Lazarus. Production Company – Carlton America/Tele München Gruppe/Hamdon Entertainment.
Cast
Casper Van Dien (Commander Miles Sheffield), Gerald McRaney (Admiral Eugene Justice), Stewart Bick (Lieutenant-Commander Albert Kenner), Vincent Corazza (Lieutenant-Commander Eric Watkins), Ron White (CPO Pete La Croix), Tammy Isbell (Lieutenant Claire Halliday), Dominic Zamprogna (AS Ryan Alford), Jim Thorburn (AS Matt Rockwell), Brad Austin (PO3C Ross), Paul Essiembre (St1 Tony Martinez), Justin Peroff (Lieutenant Howard Lowenstein), Kim Poirier (Lisa Alford), Joel Gordon (PO3C Terry Peel)
---
Plot
Miles Sheffield is given his first naval command – the captaincy of the nuclear submarine USS Lansing. Just as they put out to sea, North Korea announces that they have nuclear weapons and the Lansing is ordered to the area. As they surface off the coast, a planned Korean nuclear missile test goes awry and the warhead detonates in the upper atmosphere creating an electromagnetic blast that blinds the Lansing's equipment. Because of the atmospheric disturbance, they are unable to contact Naval Command. Sheffield urges caution but his second-in-command, the hardline Albert Kenner, believes that a full nuclear war has broken out and wants to launch an attack back on North Korea. When Sheffield falls ill, having inhaled irradiated air, Kenner uses the opportunity to take command of the Lansing by force. He then determines to fire the submarine's nuclear payload on North Korea.
---
Danger Beneath the Sea is a submarine drama that was released directly to US cable tv. As it starts in, Danger Beneath the Sea does not look very promising. Even its title seems entirely generic. There are cliche scenes of the young wet-behind-the-ears rating leaving behind his pregnant wife. As they set sail, Casper Van Dien stands in profile and comments: "It's a fine day to put out to sea," which gets the straight-faced reply: "Every day's a fine day to defend your country, captain."
All of which suggests that Danger Beneath the Sea is shaping up to be one of the gung-ho American militaristic action fantasies as regularly made by Royal Oaks Entertainment – see the likes of Crash Dive (1996), Black Thunder (1998) and Freedom Strike (1998) – and in more recent years by director Peter Berg.
It is not long in before one realises that Danger Beneath the Sea is a blatant copy of Crimson Tide (1995). Crimson Tide concerned the crew of a US nuclear submarine who are faced with a communications blackout where they could not be sure if a breakaway Russian republic had fired a nuclear missile and an ensuing battle of wills between the traditional hardline captain (Gene Hackman) who wanted to attack back and his bookish second-in-command (Denzel Washington) who urged caution; Danger Beneath the Sea by comparison features a US nuclear submarine that faces a communications blackout after North Korea detonates a nuclear weapon and a battle of wills between the young sensible-headed commanding officer (Casper Van Dien) and his hard-line second-in-command (Stewart Bick) who urges immediate retaliation. Danger Beneath the Sea is a film where every move is completely predictable if one has seen Crimson Tide – about the only major difference the plot offers is to make the captain the bookish liberal who urges caution and the second-in-command the militaristic hothead rather than vice versa in Crimson Tide.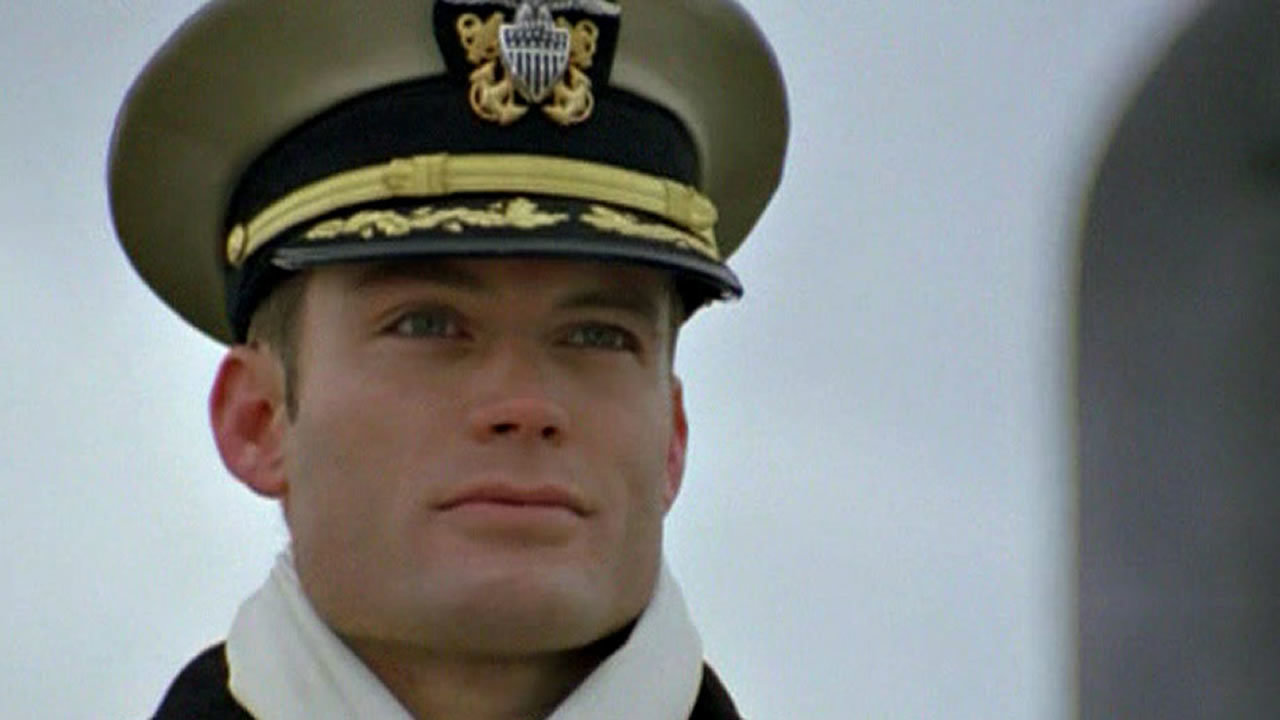 For all of its derivativeness, one has to also admit that Danger Beneath the Sea is competently well made. All of the principal actors are believable in their roles and director Jon Cassar does a more than credible job of establishing an authentic-seeming feel of a busy submarine and keeping the drama tight. (About the only minus is the surprising lack of almost any external visual effects shots of the submarine at sea or underwater).
Certainly, Danger Beneath the Sea is a far better film than any of Royal Oaks' pro-military action films and comes free of their red-blooded action movie machismo – by contrast a Royal Oaks film would almost certainly have sided with the second-in-command and his desire to mutineer against the sensible, cautious and clearly liberal Casper Van Dien.
Jon Cassar is a Maltese-Canadian director/sometimes producer who has worked extensively in US television since the 1990s. This has included work on shows like La Femme Nikita (1997-2001), 24 (2001-10) and The Kennedys (2011), among numerous others. His one other genre work was the psycho-thriller When the Bough Breaks (2016).
---