---
UK. 1962.
Crew
Director – Terence Young, Screenplay – Joanna Harwood, Richard Maibaum & Berkely Mather, Based on the Novel by Ian Fleming, Producers – Albert R. Broccoli & Harry Saltzman, Photography – Ted Moore, Music – Monty Norman, Special Effects – Roy Field & Frank George, Mechanical Effects – John Stears, Production Design – Ken Adam & Syd Cain. Production Company – Eon Productions.
Cast
Sean Connery (James Bond), Ursula Andress (Honeychile Rider), Joseph Wiseman (Dr No), John Kitzmiller (Quarrel), Jack Lord (Felix Leiter), Anthony Dawson (Professor Dent), Zena Marshall (Miss Taro), Bernard Lee (M), Lois Maxwell (Miss Moneypenny)
---
Plot
British intelligence agent James Bond is dispatched to Jamaica to investigate the disappearance of a fellow agent who was sent to locate the source of something in the area that has been interfering with US rocket launches. The trail leads Bond to Crab Key, which is filled with radioactive rocks and haunted by what locals report as a dragon. There Bond and Honeychile Rider, a beautiful conch-diver who gets innocently caught up in the action, are captured and taken to the lair of the steel-clawed master criminal Dr No who is bent upon world domination.
---
This is where it all began. Dr No was the very first of the James Bond films. It would inspire a series that would still be reigning at the box-office five decades later and with six actors having passed through the role of Bond. James Bond had of course first been invented by Ian Fleming in a series of novels beginning with Casino Royale (1953). (None of the books were ever filmed in the order that Ian Fleming wrote them and Dr No (1958) was in fact the fifth book in terms of published chronology).
Dr No makes for interesting re-reviewing. It lacks the polish of the later films in the series but this is both to its advantage and its disadvantage. Much of what would later become identified as the formula of the James Bond series is lacking. The gadgets had not yet crept in – the only gadget Bond ever gets is a geiger counter – and there is no Q, only armourer Major Boothroyd (Peter Burton) who outfits Bond with his Walther PPK. The puns and double entendres are relatively restrained.
The opening shot looking down the gun barrel at the silhouette of Bond who then turns and shoots at the audience before blood drips down the screen is there, as is Monty Norman's signature Bond theme, but there is no Maurice Binder credits sequence with silhouetted figures of dancing women twirling around gun barrels and the like, and no title song. Both Bernard Lee's M and Lois Maxwell's Miss Moneypenny make the first of their long-running appearances in the series here.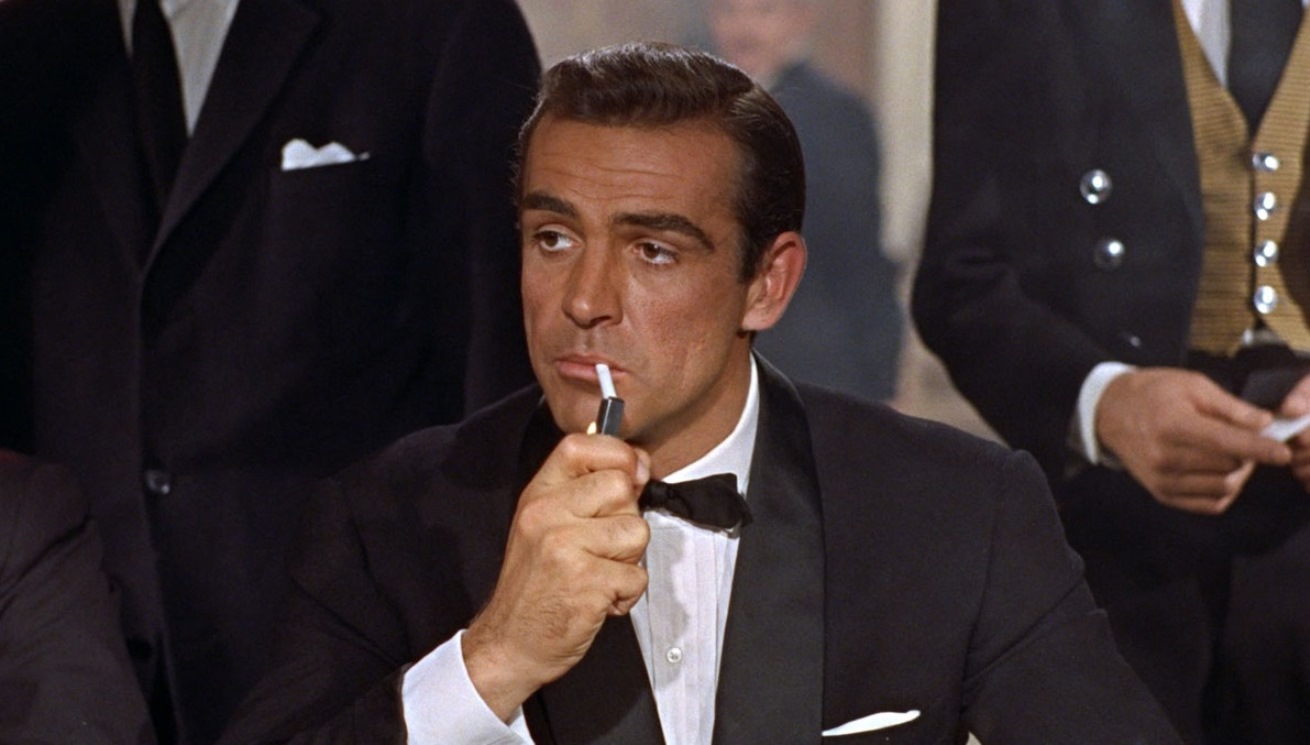 On the other hand, the action is not as spectacular or as over-the-top as it would become in later entries. The climax is a rather ho-hum set-piece, over and done with in no time at all. Nevertheless, director Terence Young delivers a far grittier sense of action and works hard at convincing one that Sean Connery is in real danger of his life during the crossing of the island, the venture through a ventilation pipe and especially the scene where Connery wakes to find a scorpion crawling up his body.
Certainly, what is well in place at this point is exactly what it was that James Bond represented. James Bond was always a man's man fantasy. The films came out at the same time as Hugh Hefner entered the publishing industry and essentially created an image that said it was okay to smoke, drink, gamble and womanise, which is essentially the very same masculine fantasy appeal that the James Bond films hold.
Again, Dr No has not quite polished the Bond playboy image as much as later entries would. Nevertheless, there is no doubt about what he is up to and the cold-blooded ruthlessness of the character must have been an undeniable shock to a generation that had come to regard the likes of Cary Grant and James Stewart as their heroes. It is a scorning of the heroic decency that they embodied. In fact, if you see Dr No after having seen some of the other James Bond films, it comes as somewhat of a shock. Bond is shown with a ruthlessness that takes one aback – in one scene, Sean Connery shockingly shoots a man (Anthony Dawson) in cold blood. This outraged audiences at the time and was a side of Bond that was watered down in subsequent entries.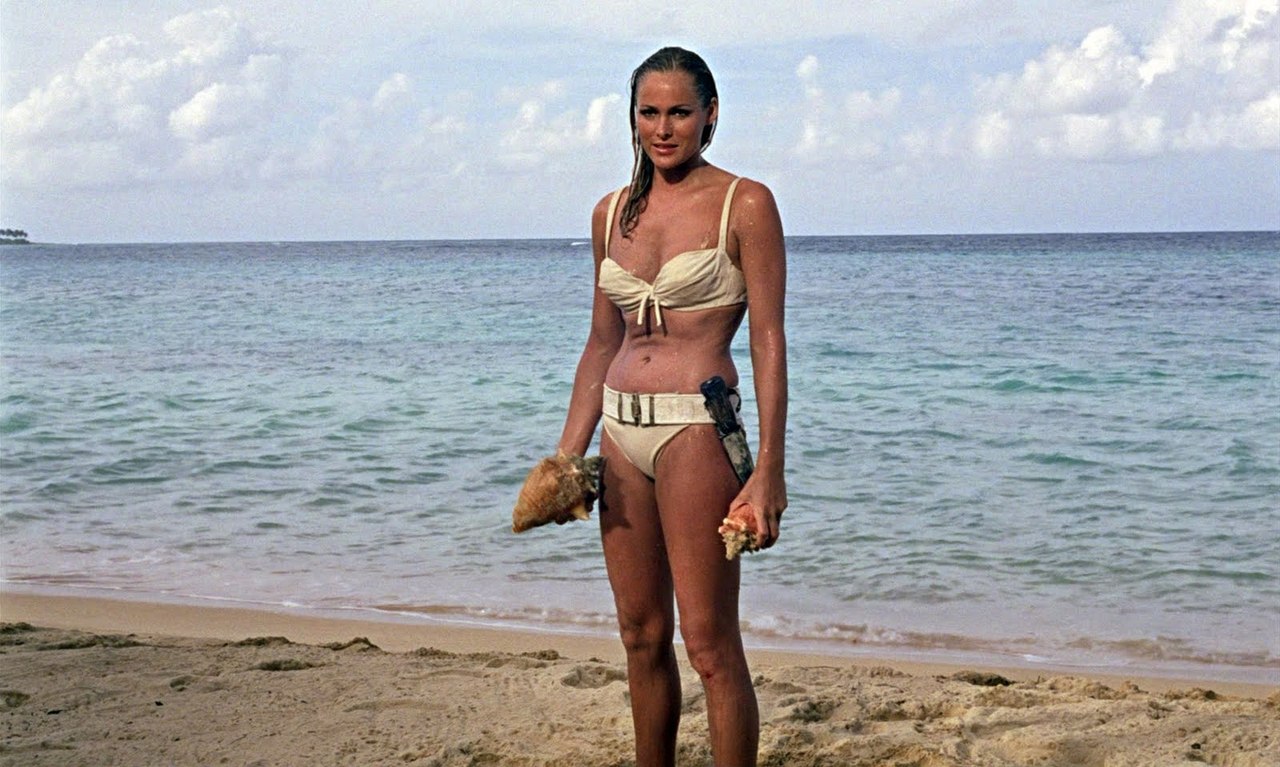 Of course, Dr No also put Sean Connery on the map as an actor. There is a great thrill that comes in seeing Connery for the first time seated as a cardtable and uttering the immortal opening line: "[The name's] Bond. James Bond." With some irony, Ian Fleming had originally wanted Roger Moore in the part but Moore had just committed to the tv series The Saint (1962-9), which in turn came to borrow considerably from the appeal of the James Bond films. (Cary Grant and David Niven were also other early casting possibilities). Fleming also wanted his cousin Christopher Lee, who had just come to fame in Hammer's Dracula films around the same time, to play Dr No, but was overruled. [Lee would later play a Bond villain in The Man with the Golden Gun (1974)]. Sean Connery would appear in seven James Bond films, during which he indelibly cast himself as a major star. Indeed, even into his 60s, Connery was still receiving titles like 'The Sexiest Man Alive'.
Swiss-born actress/model Ursula Andress was the first of the Bond girls. Ursula Andress is not a particularly great actress but she does have an unforgettable entrance walking up the beach out of the surf in a white bikini, a single scene that is always associated with Andress and has often been parodied. In fact, Ursula Andress is consistently voted the most popular of the Bond girls among the series' fans.
Joseph Wiseman was the first of the Bond villains and one of the best too. (Although surprisingly, unlike later entries in the series, it is not until at least two-thirds of the film in that No is introduced). The battle of wits between Dr No and Bond brims with some of the most memorable of dialogue in a Bond movie. With grandiloquent regard, No dismisses political allegiance: "East, West, just points of the compass, each as stupid as the other" and puts Bond down as "just a stupid policeman." It is never entirely clear what Dr No's scheme of disrupting American rocket launches is trying to achieve and notedly this has been upped from the book to add a nuclear angle, reflecting the then-contemporary immediacy of the Cuban Missile Crisis.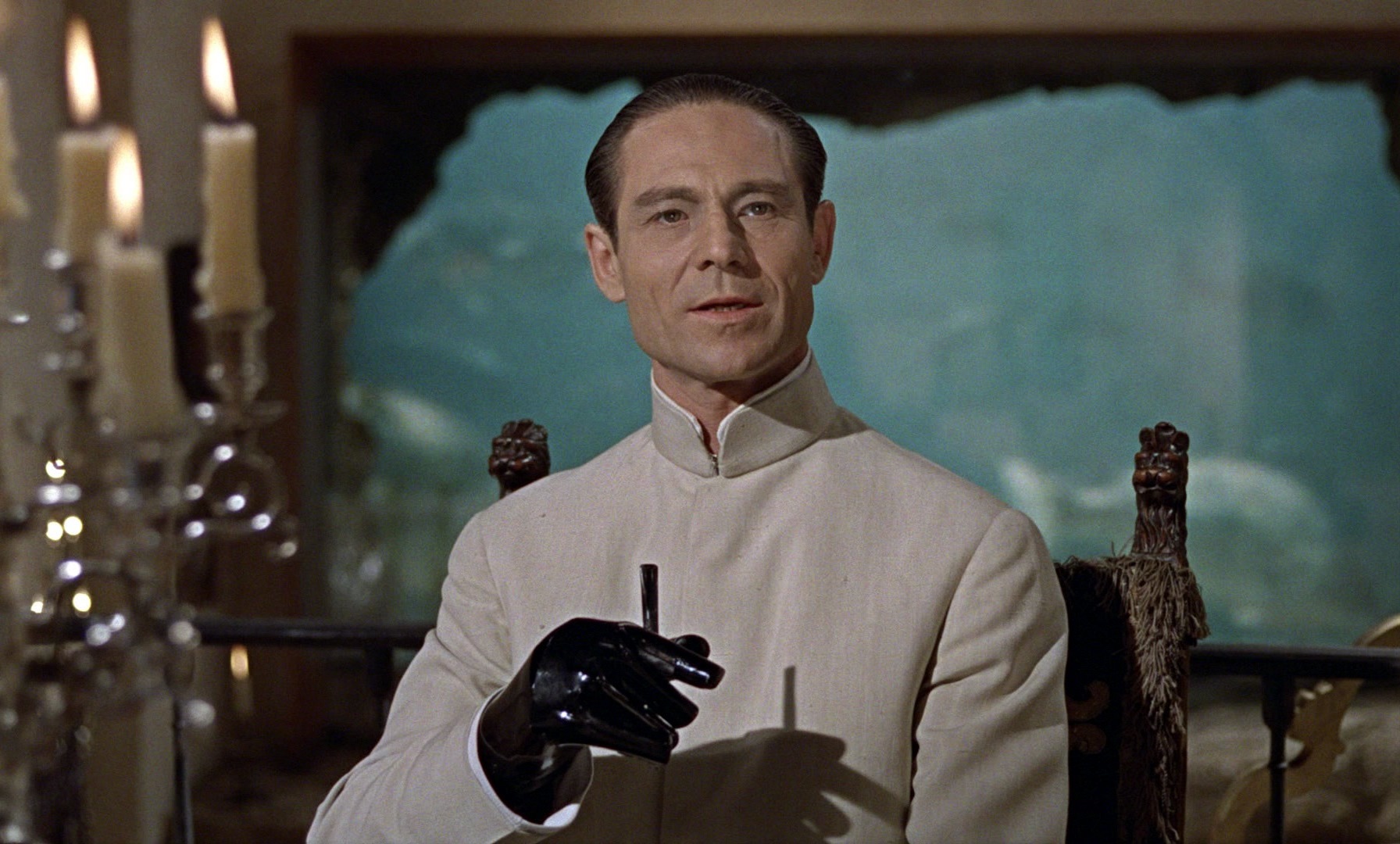 The other James Bond films are:– From Russia with Love (non-genre, 1963), Goldfinger (1964), Thunderball (1965), You Only Live Twice (1967), On Her Majesty's Secret Service (1969), Diamonds Are Forever (1971), Live and Let Die (1973), The Man with the Golden Gun (1974), The Spy Who Loved Me (1977), Moonraker (1979), For Your Eyes Only (non-genre, 1981), Octopussy (1983), A View to a Kill (1985), The Living Daylights (non-genre, 1987), License to Kill (non-genre, 1989), GoldenEye (1995), Tomorrow Never Dies (1997), The World is Not Enough (1999), Die Another Day (2002), Casino Royale (non-genre, 2006), Quantum of Solace (non-genre, 2008), Skyfall (non-genre, 2012), Spectre (2015) and No Time to Die (2021).
Sean Connery played Bond in all of the films through to You Only Live Twice, was then replaced by Australian model George Lazenby for On Her Majesty's Secret Service, but returned for Diamonds Are Forever. The part was then taken up by Roger Moore who played in all of the films from Live and Let Die through to A View to a Kill. Timothy Dalton then took up the part in The Living Daylights and License to Kill, Pierce Brosnan assumed it with GoldenEye through to Die Another Day and was replaced by Daniel Craig in Casino Royale. Producer Albert R. Broccoli produced all of the Bond films through to License to Kill and his death in 1996 after which the series was inherited by his daughter Barbara, while co-producer Harry Saltzman bowed out of the series after Golden Gun. Bernard Lee played M up until Moonraker and died in 1981, Lois Maxwell played Miss Moneypenny in an unbroken run through to A View to a Kill, after which she was replaced with younger actresses.
The scorpion scene was parodied in If Looks Could Kill/Teen Agent (1991) and Ursula Andress's bikini-clad entrance parodied in The Loves and Times of Scaramouche (1976) and Austin Powers: The Spy Who Shagged Me (1999). Everything or Nothing (2012) is a documentary about the Bond series.
There have also been two rogue James Bond entries, not produced as part of the Broccoli-Saltzman series, but both based on Ian Fleming novels. These are Casino Royale (1967), which was mounted as a sprawling spoof of the whole cycle. The rights to Casino Royale were originally purchased and made as a one-hour tv special as part of the tv series Climax (1954-8) starring Barry Nelson and were then resurrected to make the film during in the midst of the Bond fad. The other was Never Say Never Again (1983), a remake of Thunderball, which brought Sean Connery back to the role. The novel Thunderball (1961) has originally been drafted as a screen treatment by Ian Fleming and writers Kevin McClory and Jack Whittingham and when Fleming turned the material into the novel Thunderball, McClory and Whittingham sued to get their part of the story and due to a complicated legal battle were allowed to make films based on their part of the Thunderball story. A number of films had been announced out of this material over the years but were always quashed due to lawsuits and now appear to have faded away following the deaths of the various parties.
Terence Young directed two other James Bond films, From Russia with Love and Thunderball, although his greatest moment was the Audrey Hepburn psycho-thriller Wait Until Dark (1967).
---
---