---
UK. 1983.
Crew
Director – John Glen, Screenplay – George MacDonald Fraser, Richard Maibaum & Michael G. Wilson, Based on the Short Stories Octopussy & The Property of a Lady by Ian Fleming, Producer – Albert R. Brocoli, Photography – Alan Hume, Music – John Barry, Song An All-Time High by Rita Coolidge, Special Effects Supervisor – John Richardson, Production Design – John Lamont. Production Company – Danjaq.
Cast
Roger Moore (James Bond), Maud Adams (Octopussy), Louis Jourdan (Kamal Khan), Kristina Wayborn (Magda), Steven Berkoff (General Orlov), Kabir Bedi (Gobinda), Robert Brown (M), Desmond Llewellyn (Q), Walter Gotell (General Gogol), Lois Maxwell (Miss Moneypenny)
---
Plot
James Bond is sent to investigate after Agent 008 is killed near the Berlin Wall with a replica of the fabulous jewelled Faberge Egg in his hand. The trail leads Bond to India where he meets the deadly prince Kamal Khan, as well as the beautiful Octopussy and her all-female army. In West Berlin, Bond must stop a crazed Russian general's plans to stage a nuclear war in Europe using the circus of Octopussy, who runs a diamond-smuggling operation between East and West Germany, to transport nuclear weapons across the border.
---
Octopussy was the thirteenth of the James Bond films, the fifth of the Roger Moore entries. The Roger Moore entries had become silly cartoon films detached from any semblance of reality, something that reached its nadir with Moonraker (1979). For Your Eyes Only (1981), the entry that preceded Octopussy, was the best of the Roger Moore Bonds. It featured the debut of director John Glen had previously worked as editor and second-unit director on On Her Majesty's Secret Service (1969) and The Spy Who Loved Me (1977). With For Your Eyes Only, it seemed that was John Glen taking the James Bond series back toward a relative realism that had marked the Sean Connery entries.
Alas, with Octopussy, John Glen put the series back on track to the same elaborate and silly cartoon show. The action is gaudy and colourful and the stunt-work dazzling, but the entire debacle has become divorced from the remotest shred of realism – when Roger Moore jumps around a speeding train or hangs from a plane going off a cliff, it is not Moore there, just the stunt people. When he gets out of a sticky situation with a tiger by telling it to sit or gives a Tarzan cry as he swings from vine to vine, what you are seeing is a series that has become burlesque and does not care about taking it or its audience seriously any longer.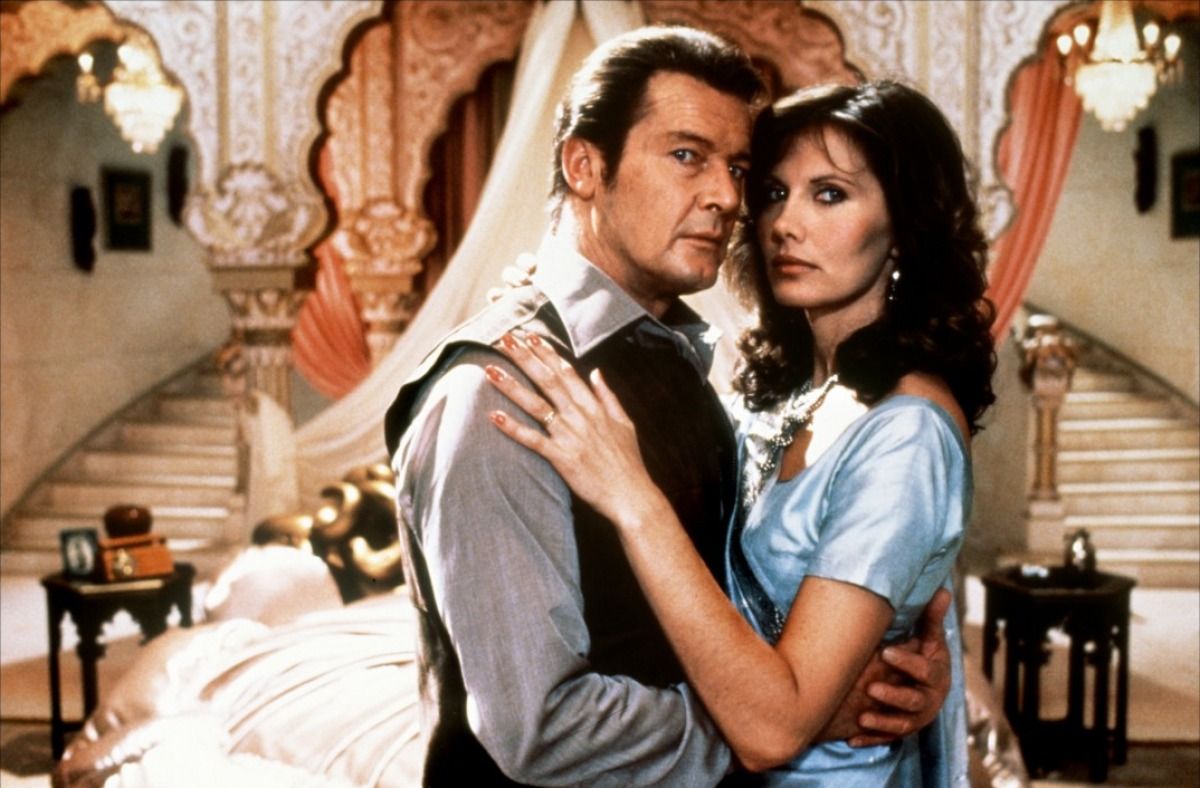 Maud Adams, in her second appearance as a Bond girl – she also appeared in The Man with the Golden Gun (1974) – is bland and Louis Jourdan's villain make almost no distinction. The same year Sean Connery returned to the fold in the rogue Bond entry Never Say Never Again (1983), easily one of the best Bond films in the better part of more than a decade, and showed just how a James Bond film should be done.
Up until the remake of Casino Royale (2006), Octopussy was the last canonical James Bond film to be based on an Ian Fleming book, his short story collection Octopussy (1967). The film script is loosely taken from two Ian Fleming short stories in the Octopussy collection – Octopussy itself, which is a short story where Bond must kill a guilty British major who has a liking for octopi (the essence of that story is retold in the film as having happened to Maud Adams's father), and of the story The Property of a Lady about the auction of a Faberge Egg at Sotherbys.
The other James Bond films are:– Dr No (1962), From Russia with Love (non-genre, 1963), Goldfinger (1964), Thunderball (1965), You Only Live Twice (1967), On Her Majesty's Secret Service (1969), Diamonds Are Forever (1971), Live and Let Die (1973), The Man with the Golden Gun (1974), The Spy Who Loved Me (1977), Moonraker (1979), For Your Eyes Only (non-genre, 1981), A View to a Kill (1985), The Living Daylights (non-genre, 1987), License to Kill (non-genre, 1989), GoldenEye (1995), Tomorrow Never Dies (1997), The World is Not Enough (1999), Die Another Day (2002), Casino Royale (non-genre, 2006), Quantum of Solace (non-genre, 2008), Skyfall (non-genre, 2012), Spectre (2015) and No Time to Die (2021). Casino Royale (1967) and Never Say Never Again (1983) are non-series Bond films. Everything or Nothing (2012) is a documentary about the Bond series.
---
Trailer here
---