---
Crew
Director – Terence Young, Screenplay – John Hopkins & Richard Maibaum, Based on the Novel by Ian Fleming (From a Story by Ian Fleming, Kevin McClory & Jack Whittingham), Producers – Kevin McClory, Albert R. Broccoli & Harry Saltzman, Photography – Ted Moore, Music – John Barry, Special Effects – Roy Field & John Stears, Production Design – Ken Adam. Production Company – Eon Productions.
Cast
Sean Connery (James Bond), Claudine Auger (Domino Derval), Adolfo Celi (Emilio Largo), Luciana Paluzzi (Fiona Volpe), Rik Van Nutter (Felix Leiter), Bernard Lee (M), Martine Beswick (Paula), Guy Doleman (Count Lippe), Desmond Llewellyn (Q), Lois Maxwell (Miss Moneypenny)
---
Plot
The criminal organisation SPECTRE conducts a daring hijack of a NATO bomber containing two atomic bombs. They then deliver a ransom demand for a hundred million dollars to the world. British Secret Service calls in all Double-0 agents. On a hunch, James Bond goes to the Bahamas on the trail of the dead bomber pilot's sister Domino Derval. There he comes up against SPECTRE agent Emilio Largo, SPECTRE's No 2 agent and the mastermind behind the scheme.
---
Thunderball was the fourth James Bond film. If Thunderball had been the first or the second Bond film, it might be a greater entry in the series than it seems. Alas, it had the misfortune to be the entry that came straight after Goldfinger (1964). Goldfinger was the very zenith of the Sean Connery Bond films, the one film where not only all the elements of the formula ended up working perfectly and in retrospect was the one that defined the formula. All subsequent Bond films ended up one way or another either mimicking Goldfinger or attempting to one-up it in terms of spectacularity.
As is the problems of thinking with almost any sequel, Thunderball merely attempts to up the scale of its predecessor. It constructs some massive sets; adds a bevy of new gadgets – including rocket jetpacks, a yacht that sheds its tail and takes off as a hydrofoil, motorcycle sidecars mounted with rockets; offers four instead of merely two women; and even ups the visual scale of the film by shooting in the widescreen Panavision process.
While Thunderball has upped the scale of the series seemingly by ten times, it is conducted with less than half the panache than it was in Goldfinger. As opposed to Goldfinger, and a fault shared by almost all of the subsequent entries, there is nothing that impels Thunderball from scene to scene.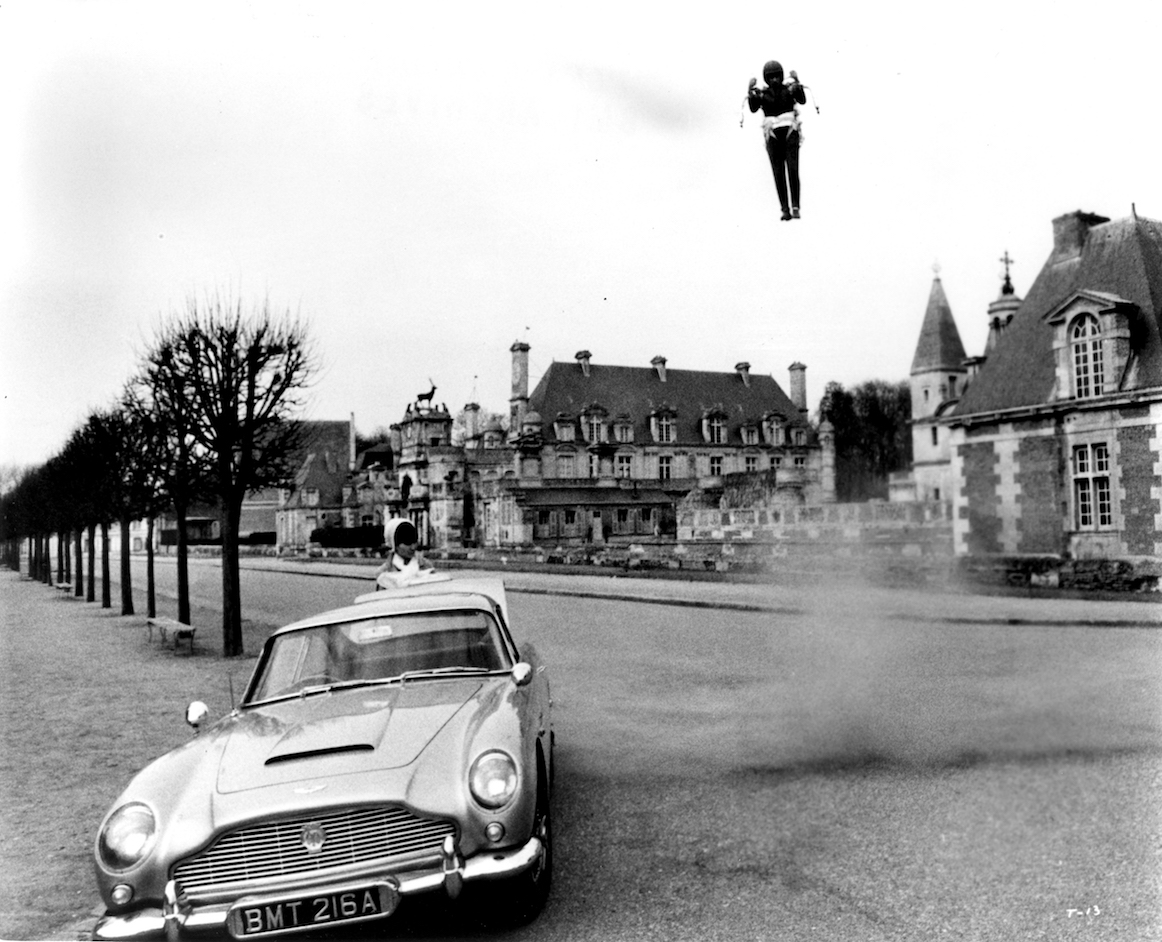 The film certainly starts well with the elaborate theft of the Vulcan bomber and the spectacular sequence where it is crashed at sea; followed by the introduction of SPECTRE gathered around the control room where a failing member is electrocuted in his chair; while the announcing of the extortion plot – the demand of a $100 million ransom that is to be confirmed by the ringing of Big Ben seven times at 6pm – is perfectly tongue-in-cheek.
It is just that when Thunderball reaches the Bahamas it slows right down. It merely becomes a collation of giant-size set-pieces. Certainly, some of these are in themselves excellent – the pre-credits sequence with Bond engaged on a mission at a chateau and making an escape by strapping on a rocket jetpack and flying away; the scenes with the double stealing the plane and landing it at sea on an underwater runway; Bond trapped under the cover in Largo's shark-infested swimming pool. However, while individual sequences in the latter half are absorbing, there are several underwater sequences that slow the pace right down. The en masse scuba fight climax should be a show capper but instead it drags.
Adolfo Celi plays well but the film never stages the confrontations between he and Sean Connery with any electricity – contrast his humdrum villain with Klaus Maria Brandauer's magnetic essayal of the role of Largo in Never Say Never Again (1983). Ditto former Miss France Claudine Auger as the Bond girl, who is requisitely beautiful but never fills the role with anything other than her looks. (Luciana Paluzzi as the deadly red-haired SPECTRE assassin inflates her brief part with far more sizzle).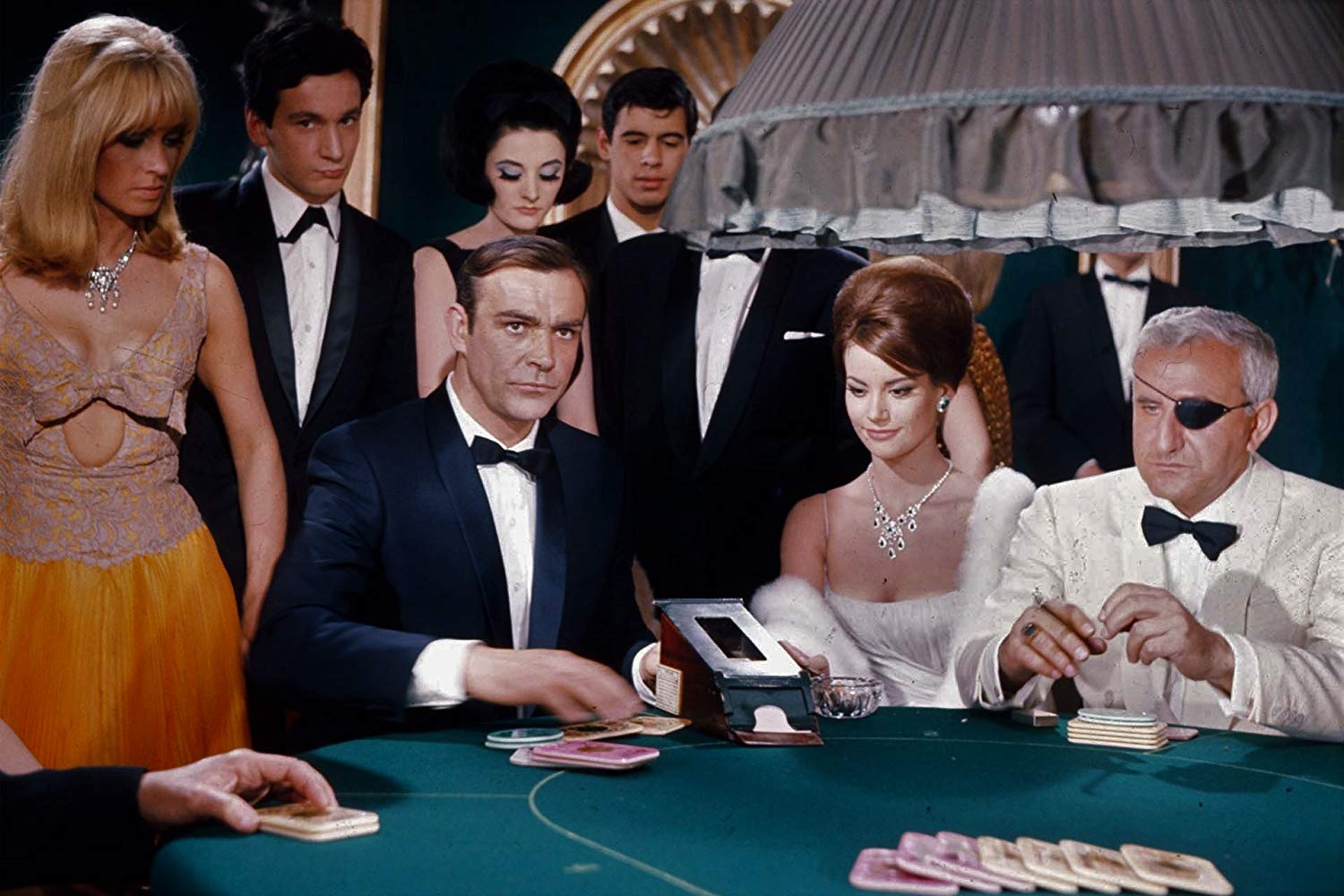 To be fair, Thunderball has a small coterie of admirers that insist that it is the best of the Bond films. Certainly, Thunderball was the most financially successful of the Bond films until Moonraker (1979) a decade-and-a-half later and is still the biggest earning Bond film in terms of actual number of theatrical ticket sales.
There is an interestingly complicated backstory behind the genesis of Thunderball. Thunderball (1961) was the ninth of Ian Fleming's Bond novels and emerged out of talks between Fleming and screenwriters Kevin McClory and Jack Whittingham who proposed the idea of making a Bond film to Fleming in 1960, two years before Albert R. Broccoli and Harry Saltzman started the Bond series off with Dr No (1962).
During this time, they came up with the plans for the plot of Thunderball. When they failed to get their film project (which would have starred Richard Burton as Bond) off the ground, Ian Fleming went away and turned the ideas into a novel. McClory and Whittingham sued and obtained story credit on the novel and the cinematic rights to Thunderball and the script ideas that they had created with Fleming, which included the creation of SPECTRE and the character of Blofeld.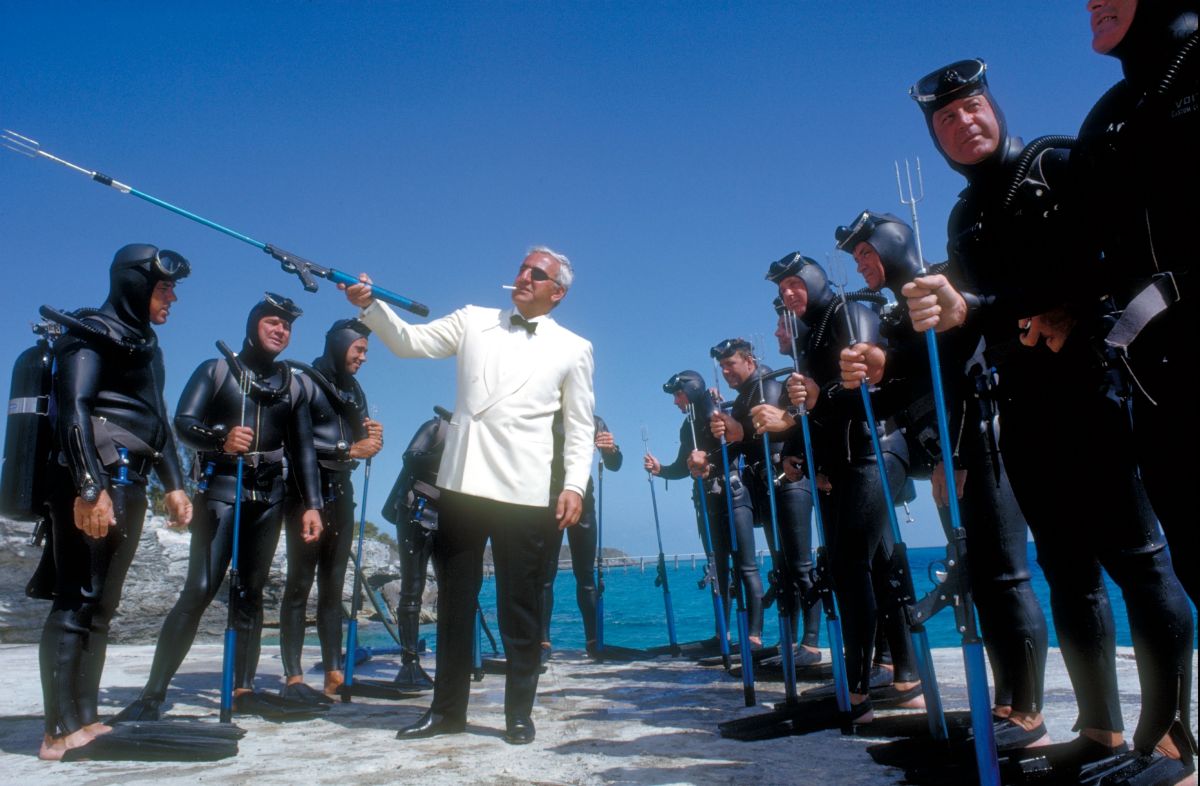 A series of bitter legal battles ensued between Kevin McClory and producers Salztman and Broccoli, with McClory attempting to mount his own Bond films, they attempting to prevent him and he counter-suing over their use of Blofeld and SPECTRE. Although McClory announced numerous plans to make Bond films based on his Thunderball ideas, the only one to ever emerge up until his death in 2006 was Never Say Never Again (1983), which is a substantially better version of Thunderball than this film. Blofeld and SPECTRE were written out of the series after Diamonds Are Forever but following McClory's death, his estate made settlement with the Bond franchise and Blofeld and SPECTRE made reappearances in Spectre (2015).
The other James Bond films are:– Dr No (1962), From Russia with Love (non-genre, 1963), Goldfinger (1964), You Only Live Twice (1967), On Her Majesty's Secret Service (1969), Diamonds Are Forever (1971), Live and Let Die (1973), The Man with the Golden Gun (1974), The Spy Who Loved Me (1977), Moonraker (1979), For Your Eyes Only (non-genre, 1981), Octopussy (1983), A View to a Kill (1985), The Living Daylights (non-genre, 1987), License to Kill (non-genre, 1989), GoldenEye (1995), Tomorrow Never Dies (1997), The World is Not Enough (1999), Die Another Day (2002), Casino Royale (non-genre, 2006), Quantum of Solace (non-genre, 2008), Skyfall (non-genre, 2012), Spectre (2015) and No Time to Die (2021). Casino Royale (1967) and Never Say Never Again (1983) are non-series Bond films. Everything or Nothing (2012) is a documentary about the Bond series. Many elements of Thunderball – the villain's control room, the character of Blofeld, the extortion plot – was parodied three decades later in Austin Powers, International Man of Mystery (1997).
---
---