---
Crew
Director – Peter Hunt, Screenplay – Richard Maibaum, Additional Material – Simon Raven, Based on the Novel by Ian Fleming, Producers – Albert R. Broccoli & Harry Saltzman, Photography – Michael Reed, Music – John Barry, Special Effects – Roy Field & John Stears, Production Design – Sydney Cain. Production Company – Eon Productions.
Cast
George Lazenby (James Bond), Diana Rigg (Countess Tracy Vicenzo), Telly Savalas (Ernst Stavro Blofeld), Gabriele Ferzetti (Marc-Ange Draco), Ilsa Steppat (Irma Bunt), Angela Scoular (Ruby), Bernard Lee (M), Lois Maxwell (Miss Moneypenny), Desmond Llewellyn (Q)
---
Plot
AWOL from the British Secret Service in his search for Blofeld, James Bond becomes involved with the worldweary Countess Tracy Vicenzo after he saves her from trying to drown herself. The two fall in love. Tracy's father, the international criminal Draco, approaches Bond, offering him knowledge of Blofeld's whereabouts in return for Bond's agreeing to marry Tracy. Acting on Draco's information, Bond poses as an expert on British peerages and travels to Blofeld's Swiss mountain-top sanitarium, ostensibly to satisfy Blofeld's egomaniacal search for a title. There he uncovers Blofeld plan to use the female patients whose allergies he is treating to carry deadly germs to the nations of the world.
---
On Her Majesty's Secret Service was the sixth James Bond film. No other James Bond film polarises Bond fandom between dislike and praise more than this one. Producers Albert R. Brocoli and Harry Saltzman tried some ambitious things with On Her Majesty's Secret Service – in turning away from the gadgetry and epic-size spectacle that had begun to dominate the previous Bond films. Most of all, On Her Majesty's Secret Service was the series entry made just after the point when Sean Connery abruptly cancelled his run in the role for the last five films and was replaced after a much-publicised worldwide search with everybody's instant trivia question George Lazenby. The results were poorly received, with On Her Majesty's Secret Service being the lowest grossing James Bond film up until the mid 1980s.
George Lazenby proved to be a James Bond of almost universal unpopularity. Born in Australia, Lazenby was a former car salesman who was working as a male model in London and bluffed his way into Harry Saltzman's office and won the part. Lazenby had never acted prior to the part and it shows on screen. There has been a great deal of pro and con debate for and against George Lazenby. Whatever is said, he is bland and lacks the suave cool that Sean Connery had in the role – the one-liners fall flat under his delivery. In his favour, Lazenby is at least serviceable in the part and demonstrates enough aplomb to give a competent run through. Although seeing a James Bond with an Australian accent is surely unforgivable.
At the outset, George Lazenby was seen as a promising newcomer but befell a combination of bad luck and bad decisions. First, he had the ill fortune of succeeding a very popular actor, Sean Connery, in the central role in a hugely popular series – whatever Lazenby did, it was only going to be judged in reference to Connery. The gossip columns reported much dislike between he and Diana Rigg and it was claimed that he and director Peter Hunt feuded so badly that many of Lazenby's scenes had to be handled by second-unit director John Glen. It is hard to know how much of this was real and how much manufactured by the gossip columnists. Even before On Her Majesty's Secret Service was released, Lazenby announced he would not be returning in the part of Bond. (He has later claimed that this was due to bad advice, with people telling him that the James Bond films had no future).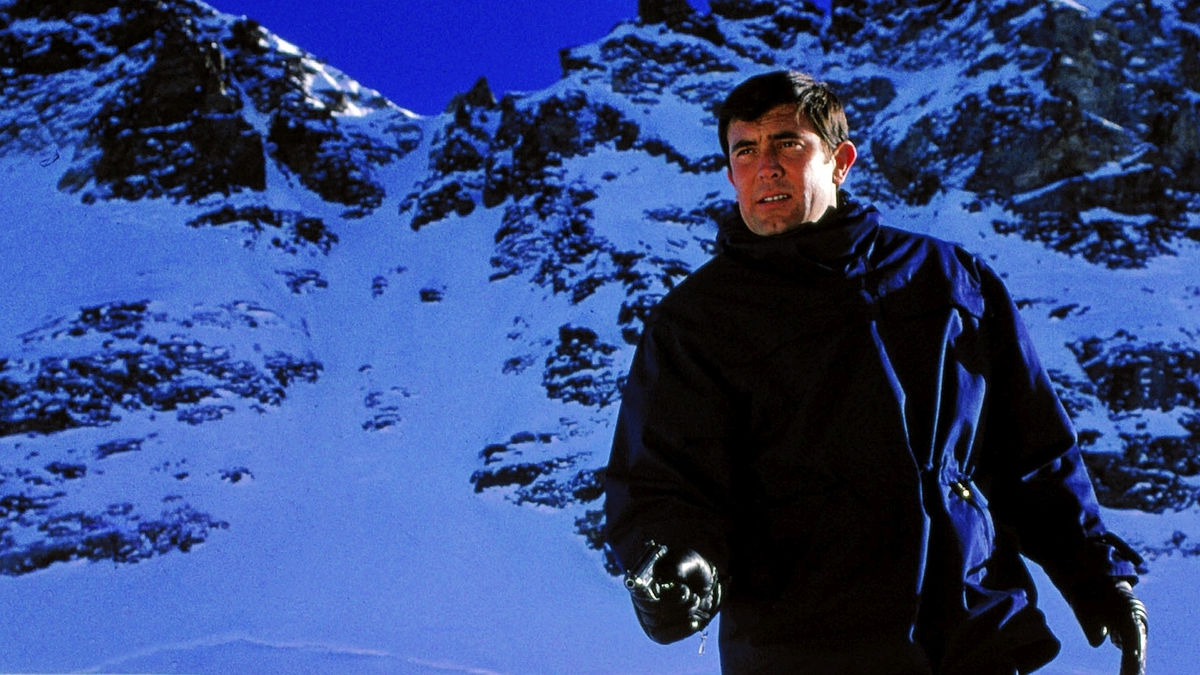 George Lazenby has almost completely vanished as a name after this. Indeed, Lazenby's career went into so much of a dive after On Her Majesty's Secret Service that the only other work he appeared in was in Hong Kong kung fu features, the softcore Emmanuelle films and occasional efforts that draw upon his association with the James Bond role like The Return of the Man from U.N.C.L.E.: The Fifteen Years Later Affair (1983) and Never Too Young to Die (1986). Certainly, Lazenby has yet to appear in anything that has either the budget or the high-profile of On Her Majesty's Secret Service. Lazenby tells his side of the story with highly entertaining regard in the documentary Becoming Bond (2017) where he claims that his real reasons for quitting were his refusal to sign a multi-film contract.
What the detractors neglect is that On Her Majesty's Secret Service is good Bond, damn good Bond. Following Sean Connery's departure, On Her Majesty's Secret Service seemed to be an attempt to turn the Bond series in newer directions and away from the spectacular oversized formula that had started to set into the previous two entries Thunderball (1965) and You Only Live Twice (1967). There are no gadgets in On Her Majesty's Secret Service and the film eschews the colossal size sets and spectacular action set-pieces that had come to dominate the preceding two entries. Blofeld's world domination scheme is relatively more modest than the outrageous ones that had started to creep into the series.
Rather than cast Bond as a ladykiller once again, On Her Majesty's Secret Service made an attempt to invest the character with depth and give him a serious relationship. The romance is a surprisingly strong element to the film – it is nearly the full running length of a standard film before get to the main part of the story involving Blofeld (which tends to unbalance it somewhat – and at 140 minutes makes it the longest of the James Bond films). Most Bond films are light fantasies but On Her Majesty's Secret Service comes to a tragic downbeat ending where we even see Bond cry. Contrast On Her Majesty's Secret Service to an entry like The Spy Who Loved Me (1977) where a potentially strong character like Anya Amasova is swept under the carpet and you see just what a difference this is as a Bond film. Moreover, On Her Majesty's Secret Service is the one James Bond film that bears the greatest resemblance to its 1963 Ian Fleming source novel.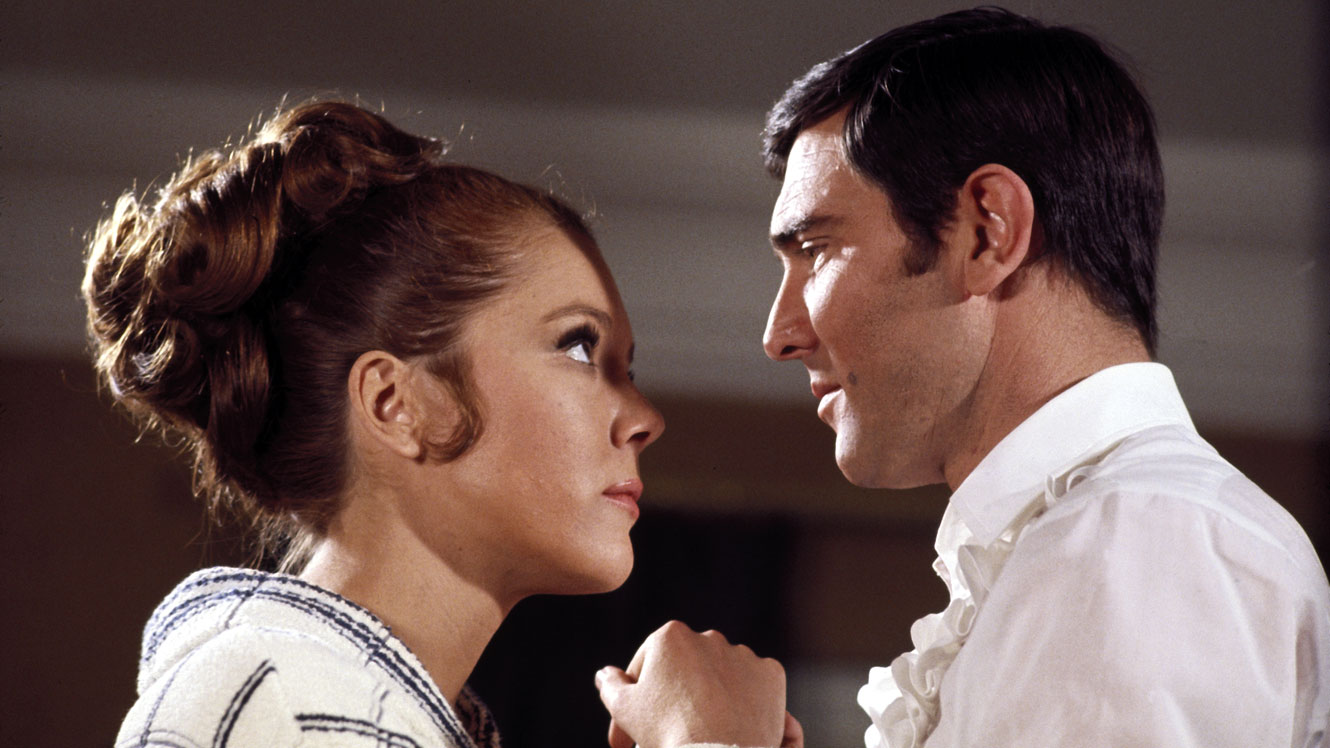 Alas, On Her Majesty's Secret Service's problem is in trying to take James Bond in a much more character driven direction when it had an actor who was clearly not adequate for the complexities required. The way Bond was interpreted here required a greater acting stretch than Sean Connery was ever asked to play in the entire length of his run in the role – and if you consider that George Lazenby had never acted before, you can understand why the film comes up a little short in the delivery. One suspects if On Her Majesty's Secret Service had been made with a more character-driven Bond like Pierce Brosnan or the more romantic Bond of the vastly underrated Timothy Dalton in the part, it would have been one of the recognised classics of the series.
There are other times the film seems to be trying too hard to differentiate itself. There is a line in the pre-credits teaser where George Lazenby has a girl run away from him and turns to the camera and shrugs "This never happened to the other fella." It is a cutely self-referential moment but it falls flat because it too obviously draws attention to the fact that this is not Sean Connery. In so doing, the film places itself in a subconscious position of inferiority to the Sean Connery films. Similarly, the film seems to be trying to consciously carve continuity to the rest of the series with quotes from the scores of the other films. During the scene where Bond quits the service, we also see him taking away a prop from each of the foregoing films as he clears out his desk.
Diana Rigg, like Honor Blackman before her, was another Bond girl recruited from the cultish Bond-influenced tv series The Avengers (1962-9), where she had caught everyone's attention as the chicly sexy leather clad Mrs Peel. (In a trivia note, one can also note another Avengers girl, Joanna Lumley, in a minor part as one of the girls at Blofeld's sanitarium). Outside of a part like Mrs Peel, Diana Rigg tends to be a rather arch actress. In the part of Tracy, a much more passive role where Rigg is only required to romantically play off Bond, she cannot help quash associations with the much tougher Mrs Peel. Rigg seems to want to open up with the coquettish flirtatiousness that characterised Mrs Peel but is forced to play it straight. She rarely suggests any of the bored melancholy of the rich and reckless suicide that Tracy is described as being.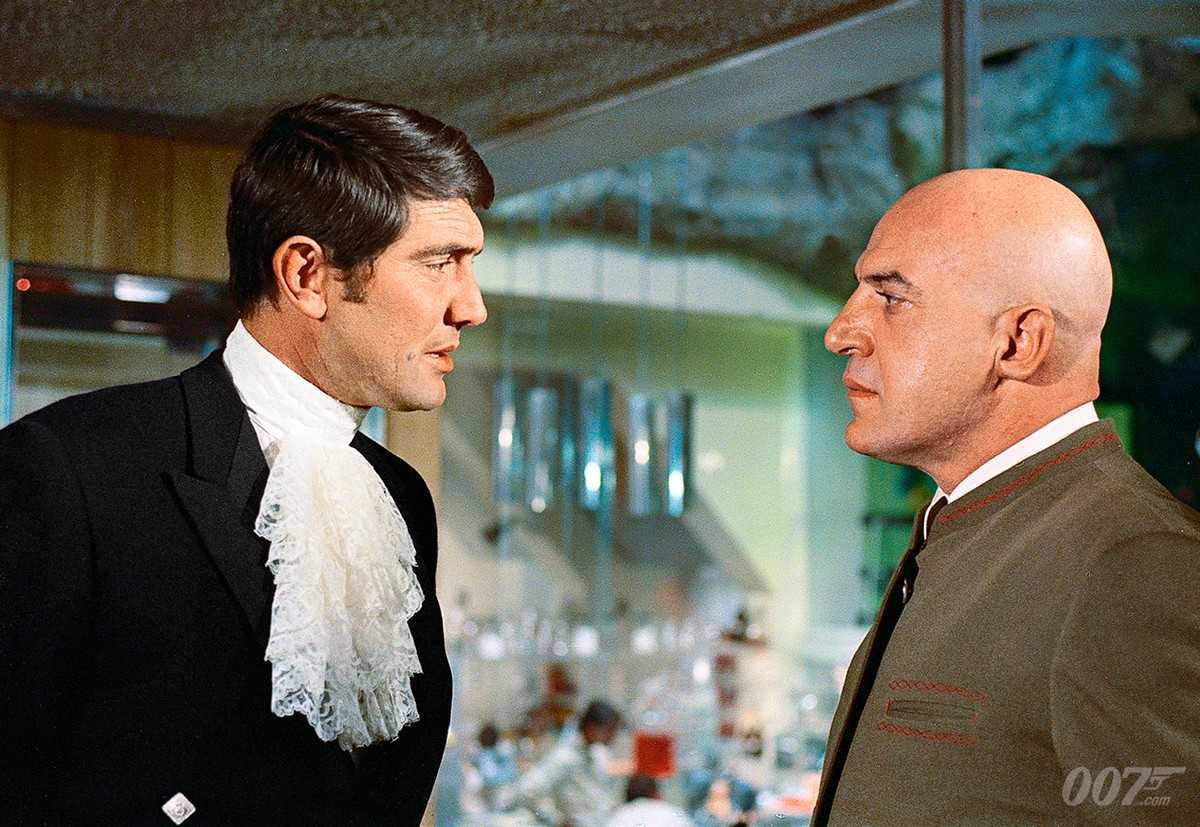 The handling of Blofeld is also a disappointment. Telly Savalas plays the part like Blofeld were a common Mafia hoodlum. Furthermore, the continuity between films is slipping in that Blofeld has somehow managed to lose a scar on his face since we last saw him in You Only Live Twice (1967), not to mention the fact that he now fails to recognise Bond when meeting him face to face. The film is not exactly helped by a world domination scheme that seems sketchy – it feels only a couple of notches above the silliness of the schemes that turn up in the awful Dr Goldfoot and the Bikini Machine (1965) Bond spoof. The Ruby character and her absurd talk of chicken allergies jars badly with the attempts to instil the Bond character with depth.
Where On Her Majesty's Secret Service works the best is the action sequences under the hand of the series former editor/second unit director Peter Hunt. The commando attack on the sanatorium, the ski chases and particularly the high-speed run down the bobsled course with Telly Savalas trying to mash George Lazenby's head into the ice are the some of the most exciting action sequences to ever grace a James Bond film. Contrast the breathlessly kinetic realism of these to the increasingly ludicrous set-pieces that inhabited the John Glen-Roger Moore Bond films, which seemed only like cartoon sequences being enacted by the stunt people and have all the dramatic substance of candyfloss.
Unfortunately, Peter Hunt's career since On Her Majesty's Secret Service has been almost as downward a slide as George Lazenby's. He went onto make adventure films like Shout at the Devil (1976) and Wild Geese II (1985), a partially animated Belgian adaptation of Gulliver's Travels (1977) and at last notice prior to his death in 2002 directed the atrocious cute alien film Hyper Sapien: People from Another Star (1986).
The other James Bond films are:– Dr No (1962), From Russia with Love (non-genre, 1963), Goldfinger (1964), Thunderball (1965), You Only Live Twice (1967), Diamonds Are Forever (1971), Live and Let Die (1973), The Man with the Golden Gun (1974), The Spy Who Loved Me (1977), Moonraker (1979), For Your Eyes Only (non-genre, 1981), Octopussy (1983), A View to a Kill (1985), The Living Daylights (non-genre, 1987), License to Kill (non-genre, 1989), GoldenEye (1995), Tomorrow Never Dies (1997), The World is Not Enough (1999), Die Another Day (2002), Casino Royale (non-genre, 2006), Quantum of Solace (non-genre, 2008), Skyfall (non-genre, 2012), Spectre (2015) and No Time to Die (2021). Casino Royale (1967) and Never Say Never Again (1983) are non-series Bond films. Everything or Nothing (2012) is a documentary about the Bond series.
---
---