---
USA/UK. 1997.
Crew
Director – Roger Spottiswoode, Screenplay – Bruce Feirstein, Producers – Barbara Broccoli & Michael G. Wilson, Photography – Robert Elswit, Music – David Arnold & Frank Denson, Miniature Effects Supervisor – John Richardson, Digital Effects – Cinesite (Europe) Ltd & The Computer Film Co, Production Design – Allan Cameron. Production Company – Eon Productions/United Artists.
Cast
Pierce Brosnan (James Bond), Jonathan Pryce (Elliot Carver), Michelle Yeoh (Wai Lin), Teri Hatcher (Paris Carver), Judi Dench (M), Gotz Otto (Stamper), Desmond Llewellyn (Q), Samantha Bond (Miss Moneypenny), Ricky Jay (Henry Gupta), Geoffrey Palmer (Admiral Roebuck), Joe Don Baker (Jack Wade), Vincent Schiavelli (Dr Kaufman)
---
Plot
A British destroyer is lured into South Vietnamese waters by a stealth submarine that is able to alter the ship's Global Positioning System to make the crew think they are elsewhere. Once there the destroyer mistakenly shoots down two Chinese fighters. With an international incident is about to erupt, M sends James Bond into action. Bond discovers the media baron Elliot Carver printed headlines about the incident before it happened. He realizes that Carver is now trying to provoke a war in order to get his cable tv services into China.
---
The James Bond myth was always one born more out of Hugh Hefner's self-conscious creation of the Playboy image in the late 1950s than it ever was of Cold War politics. Bond the debonair, ruthless, gambling, hard-living womaniser – it is hard to believe the image shocked people in the 1960s but when you compare Bond to the action heroes of the preceding decade – people like Cary Grant and John Wayne, maybe at their toughest someone like Robert Mitchum – you see how startling a reversal of traditional heroism that Bond came to represent.
Unfortunately, after Bond's first screen appearance in Dr No (1962), the character's ruthlessness was watered down and the series gradually taken over by lavish scale action and effects sequences. After Roger Moore assumed the role in Live and Let Die (1973), the series plummeted to its nadir with the James Bond films becoming little more than live-action cartoons that no longer took themselves seriously and Moore's Bond less of a dangerous international playboy than a foppish lounge lizard.
By the time the attempt was made to scale back the extravagances with Timothy Dalton's inheritance of the role in The Living Daylights (1987), the James Bond series suddenly found that Glasnost had arrived in the real world and effectively emasculated its milieu. The subsequent entries in the series were left trying to scour the world for new threats – international arms dealers, Colombian drug lords, the post-Soviet Russia, South Korea and here, with appropriate topicality, the media. Even the image of James Bond seemed outmoded by then – Licence to Kill (1989) ignominiously included a Surgeon General's warning that the smoking portrayed in the film was not recommended for one's health.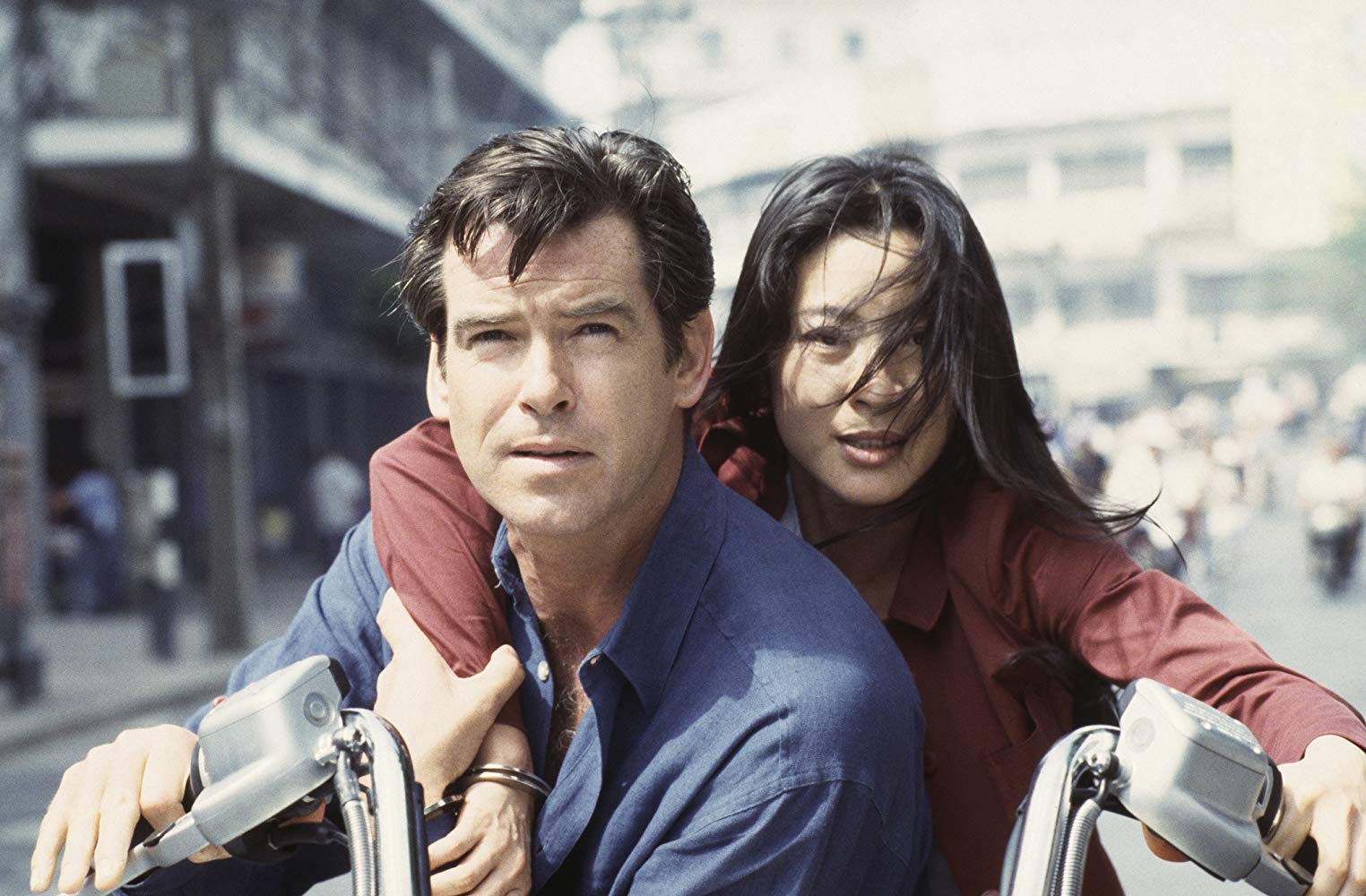 Licence to Kill suffered from poor box-office returns and was believed to be the end of the series. However, the 1990s brought a startling new revival of the James Bond series in GoldenEye (1995). GoldenEye's ingenuity was to recognise the outmodedness of both the Bond character and his milieu and reconstruct Bond for the post-Cold War era. Pierce Brosnan offered a startling new take on the character that quite took one aback – the return of Bond to the ruthless cold-blooded killer he was initially seen as back in 1962 and the investiture of the character with a dazzlingly cruel sexuality, while at the same time openly recognizing the underlying misogyny that the series had always contained.
In many other respects, GoldenEye was one of the weaker Bond films, being surprisingly tame when it came to the action scenes. The good news is that Tomorrow Never Dies, the second Pierce Brosnan James Bond film, takes the revisionism that GoldenEye introduced and runs with it. Pierce Brosnan's performance again has breathtakingly cool ruthlessness. The action sequences are some of the best of any Bond film since at least On Her Majesty's Secret Service (1969) and come with a gritty realism that is thankfully not watered down by campy cartoonishness. The sequence with Bond escaping on a motorcycle while being pursued by a helicopter that is tilting to use its blades to chew up a street is seat-edge stuff. Sheryl Crow's theme song is one of the best in ages. The gadgets, always one of the essential aspects of a James Bond film, are an enormous deal of fun (even if Desmond Llewellyn as the series gadget-master Q is starting to look rather long in the tooth at age 82).
Tomorrow Never Dies is not 100% perfect. The Brosnan Bond films never quite cracked the business of plots (not that plots have ever served as much more than devices to string international locations, action sequences and bedroom scenes together for the James Bond series). For most of the film it is never clear what villain Jonathan Pryce's world domination scheme is – something to do with manipulating GPS to start an international incident in order to be able to get rights to broadcast his cable-news network news into China, while at the same time stealing the headlines from the war.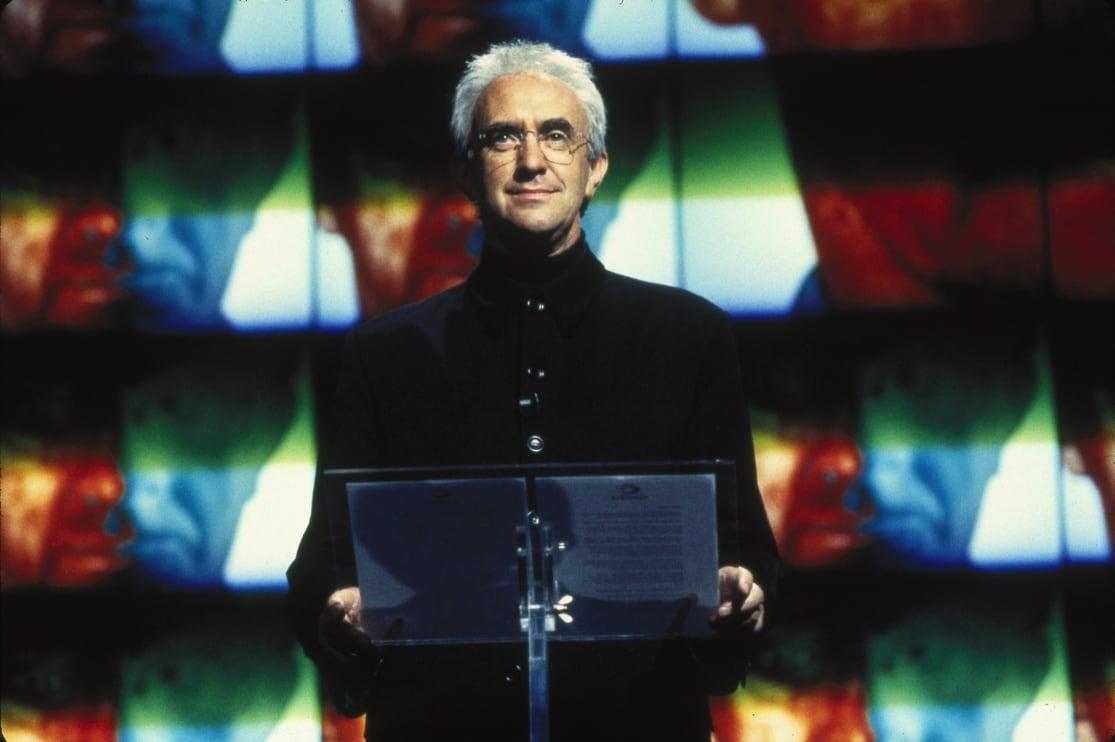 Plus Jonathan Pryce is badly miscast in a super-villain role (one that seems to have been modeled on Rupert Murdoch). Pryce, more used to roles among the Merchant-Ivory crowd, usually plays neurotic finicky tightasses and his attempt to do a larger-than-life super-villain role comes out as miscalculated wimpiness. The other less welcome aspect of Tomorrow Never Dies is its return to cracking excruciating puns – not even Roger Moore at his indulgent worst would have come out with the 'cunning linguist' pun. Nevertheless, Tomorrow Never Dies is still a worthwhile entry in the James Bond series.
British-born but Canadian based director Roger Spottiswoode has made a career mostly with action films and thrillers such as Turner & Hooch (1989) and Air America (1990), gaining critical acclaim with his war correspondent film Under Fire (1983). Spottiswoode has also ventured into genre material with the slasher film Terror Train (1980); Mesmer (1994), a biopic of the 19th Century hypnotist/healer; and the Arnold Schwarzenegger cloning/action film The 6th Day (2000).
The other James Bond films are:– Dr No (1962), From Russia with Love (non-genre, 1963), Goldfinger (1964), Thunderball (1965), You Only Live Twice (1967), On Her Majesty's Secret Service (1969), Diamonds Are Forever (1971), Live and Let Die (1973), The Man with the Golden Gun (1974), The Spy Who Loved Me (1977), Moonraker (1979), For Your Eyes Only (non-genre, 1981), Octopussy (1983), A View to a Kill (1985), The Living Daylights (non-genre, 1987), License to Kill (non-genre, 1989), GoldenEye (1995), The World is Not Enough (1999), Die Another Day (2002), Casino Royale (non-genre, 2006), Quantum of Solace (non-genre, 2008), Skyfall (non-genre, 2012), Spectre (2015) and No Time to Die (2021). Casino Royale (1967) and Never Say Never Again (1983) are non-series Bond films. Everything or Nothing (2012) is a documentary about the Bond series.
---
---