---
Crew
Director – Irvin Kershner, Screenplay – Lorenzo Semple Jr, Story – Ian Fleming, Kevin McClory & Jack Whittingham, Producer – Jack Schwartzman, Photography – Douglas Slocombe, Underwater Photography – Jordan Klein, Music – Michel Legrand, Visual Effects – John Dykstra & Dave Dryer, Special Effects – Ian Wingrove, Makeup – Robin Grantham, Production Design – Stephen Grimes & Philip Harrison. Production Company – Taliafilm.
Cast
Sean Connery (James Bond), Kim Basinger (Domino), Klaus Maria Brandauer (Emilio Largo), Barbara Carrera (Fatima Blush), Bernie Casey (Felix Leiter), Edward Fox (M), Alec McGowan (Q), Rowan Atkinson (Nigel Small-Fawcett), Gavin O'Herlihy (Jack Petachi), Max Von Sydow (Ernst Stavro Blofeld), Pamela Salem (Miss Moneypenny)
---
Plot
The criminal super-organization SPECTRE steals two nuclear missiles from a NATO bomber on training maneuvers, using a pilot with a copy of the US President's retina to pass security procedures. They then issue an announcement, demanding that every country in the world pay 25% of its GNP as ransom. James Bond has unknowingly seen the pilot while on a health rest at a sanatorium. He follows the trail to the brilliant but crazy SPECTRE agent Emilio Largo who is masterminding the scheme in the Bahamas.
---
The 1983 box-office held an interesting competition. It was a competition between two different James Bonds. In one corner there was Octopussy (1983) featuring Roger Moore in the role and made by Albert R. Broccoli, who had produced all the canonical Bond films since the very start. In the other corner there was the rogue entry Never Say Never Again, which boasted the original James Bond Sean Connery, whom many consider to be the only Bond, back in the role after twelve years absence.
It was an interesting competition, one where neither film substantially won out over the other – in terms of box-office revenue, both were about neck-in-neck with Octopussy coming out only slightly ahead in terms of overall worldwide box-office receipts. Never Say Never Again was generally better received by critics, although received a surprisingly negative reception from the majority of James Bond fans. However, it was also a competition that in a wider sense not only pitted the two James Bond actors against one another but also pitted the styles of either Bond against one another – the cartoony camp spectacles that the Roger Moore films had turned into versus a return to the 'real' Bond as was originally conceived by Ian Fleming.
The genesis of Never Say Never Again is complicated. Never Say Never Again is often called a remake of Thunderball (1965) but, while both share the same plot and characters, this is not strictly accurate. In fact, Never Say Never Again emerges out of an exceedingly lengthy court battle that was bitterly fought between Albert R. Broccoli and screenwriters Kevin McClory and Jack Whittingham for the better part of thirty years. The essence of what happened is that in 1959, Kevin McClory, who had worked as assistant director on Around the World in 80 Days (1956) and Moby Dick (1956) and had directed one film, the little-seen The Boy and the Bridge (1959), approached Ian Fleming with the idea of creating a James Bond film.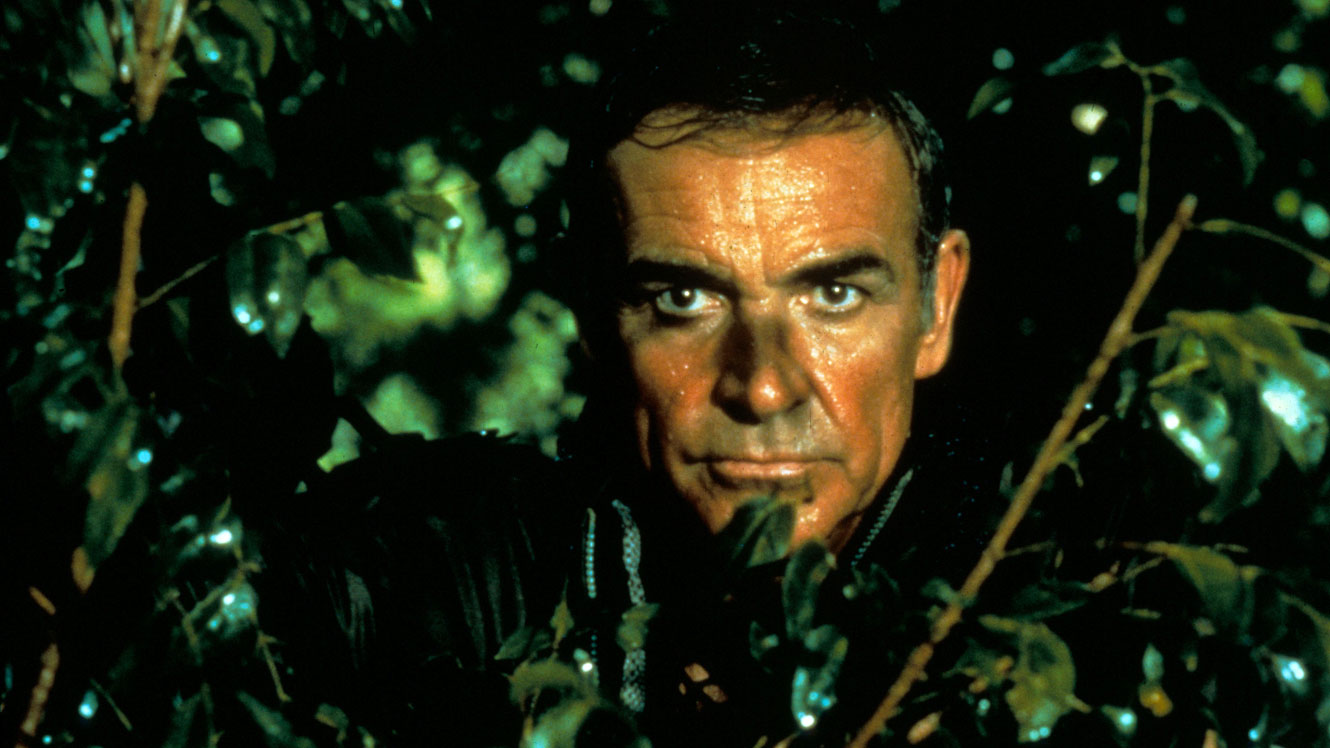 Prior to this Ian Fleming had shopped the James Bond books around various studios without any interest. Kevin McClory decided that Fleming's problem was that he needed a larger-than-life villain and a world-threatening plot. McClory brought in screenwriter Jack Whittingham and between 1959 and 1960 they and Fleming came up with ten script drafts for a potential James Bond film. Among these drafts they created the super-criminal organisation SPECTRE and the character of Ernst Stavro Blofeld. However, McClory and Whittingham were unsuccessful in getting their James Bond film off the ground. In the meantime, Ian Fleming incorporated the idea of SPECTRE and Blofeld into his novel Thunderball, which he published in 1961.
Along came Albert R. Broccoli and his producing partner Harry Saltzman who purchased the rights to the books, made Dr No (1962) to resounding worldwide success and launched the James Bond film franchise that we still have today. In 1963, Kevin McClory sued Ian Fleming for stealing his and Jack Whittingham's ideas in Thunderball. A settlement was reached with Fleming where McClory and Whittingham would receive credit on future publications of the book and that they could retain the screen rights to make a James Bond film using any of the ideas developed out of the ten screen treatments. Broccoli and Saltzman had originally intended to make Thunderball the first Bond film but backed off as soon as the legal bickering began. They however reached a legal agreement with Kevin McClory to make the Thunderball film, with McClory leasing them the rights to the story for one film only, after which they would revert to him.
Ian Fleming died in 1964 and in his absence the legal battle over Thunderball became bitter and entrenched. Jack Whittingham died in 1972, after which Kevin McClory made a number of attempts to mount his own James Bond film based on the various screen treatments. McClory announced various projects throughout the 1970s and 80s under titles such as Warhead, James Bond of the Secret Service, SPECTRE vs the World and as recently as 2000 with Warhead 2001. These were fought every step of the way by Albert R. Broccoli and United Artists who did everything they could to prevent McClory getting these films into production.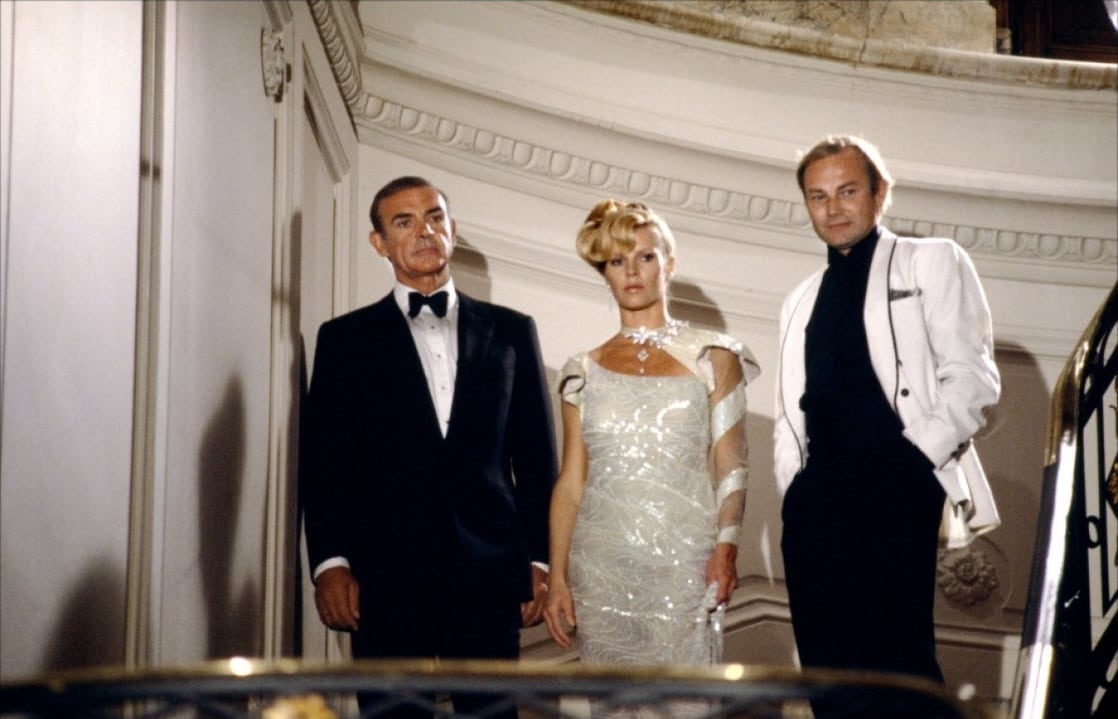 Equally so, McClory fought back and successfully sued Broccoli and co for infringing his copyright and using the SPECTRE organisation and the character of Blofeld in several other Bond films without obtaining his permission. This caused the substantial rewriting and removal of Blofeld from at least two of their films and Blofeld and SPECTRE have never appeared since in the Bond series since Diamonds Are Forever (1971) apart from a throwaway gag in For Your Eyes Only (1981) where the Blofeld character, although never actually named, perhaps symbolically ended up being dumped down a chimney.
Kevin McClory died in 2006 and it appears that all of his plans for a rogue Bond film died with him. The copyright holders of the Bond series however reached a settlement with his estate and Blofeld (now played by Christoph Waltz) and SPECTRE made their first reappearance in 44 years in Spectre (2015).
Kevin McClory was eventually successful in getting Never Say Never Again off the ground and managed to inveigle Sean Connery back to the role. (The title refers to Connery renouncing his claim that he had said "never again" to the role). It is notable that Never Say Never Again is the only of Kevin McClory's oft-announced James Bond films that he managed to get filmed. (Although the defender of the underdog in one also remembers that somewhere out there someone – ie. not the Broccoli estate – also had the film rights to Casino Royale, which was filmed for tv in 1954 and then as a spoof of the spy cycle, Casino Royale (1967) – should they ever decide to mount a production. This was eventually done so by the Broccoli estate and mounted as Casino Royale (2006). Not to mention that the film rights to Kingsley Amis's Bond novel Colonel Sun (1968) and all the John Gardiner books must be available somewhere. 1983 was also notedly the point that Albert R. Broccoli had finally run out of original Ian Fleming books to adapt to the screen – both Octopussy and For Your Eyes Only had been stretching it as they were taken from the titles of Fleming's Bond short story collections. Subsequent Bond films borrowed occasional fragments from Ian Fleming's short stories, and two titles From a View to a Kill and Quantum of Solace (2008), but are otherwise entirely original works).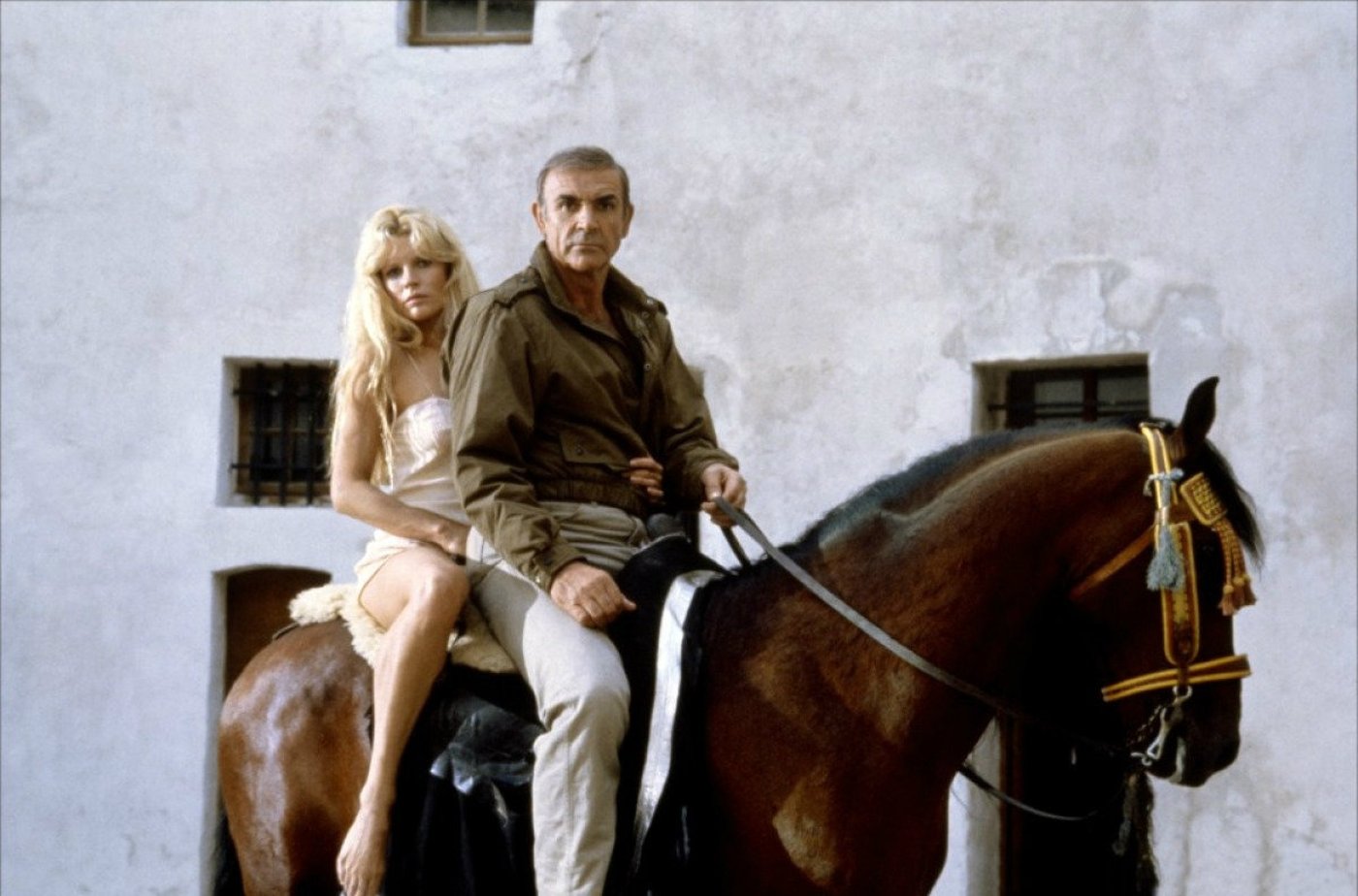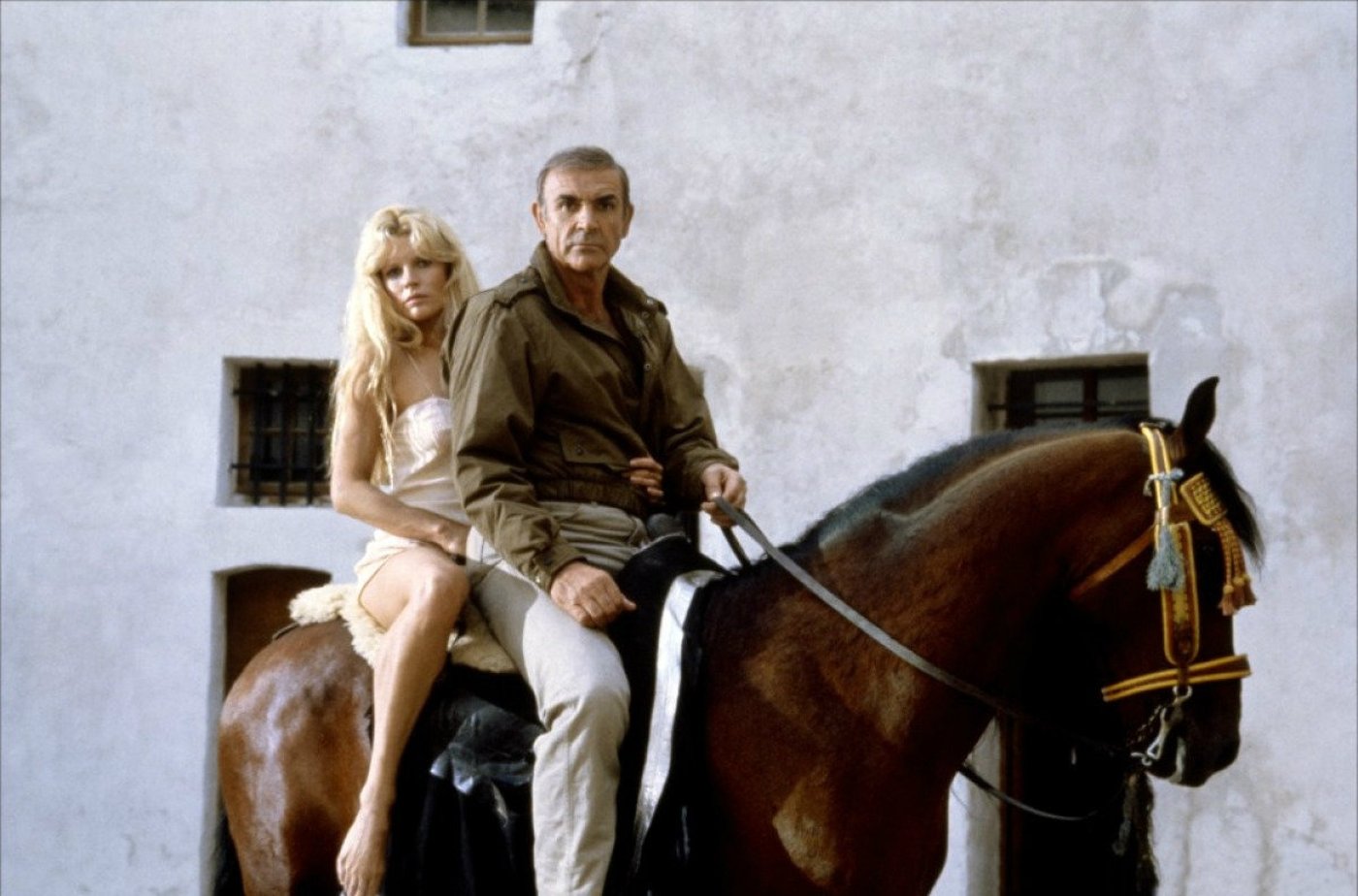 One's idea of what a good James Bond film is is always determined by the series two greatest heights, From Russia with Love (1963) and Goldfinger (1964). Later Bond films tended to become increasingly more obsessed with action spectacle and big sets, often to the detriment of the plot. With Roger Moore's entry into the part, the tongue-in-cheek element came to dominate the series. Indeed, Never Say Never Again's competition Octopussy is a perfect example of the absurdly cartoonish self-parody the Bond film became during the Moore era. Never Say Never Again feels like a return to a real James Bond film. As Alec McGowan's new Q perfectly sums it up, "With you back on the job, Mr Bond, we can look forward to some good healthy sex and violence."
That is what is so good about Never Say Never Again. All the credulity-defying action, the absurdly over-the-top gadgetry, the grotesque double-entendres, the super-sized sets, the poolside scenes with fashion models everywhere one looks have been discarded. Never Say Never Again is a James Bond film that has been stripped back to basics and modelled on earlier entries like Dr No, From Russia with Love and the character-driven On Her Majesty's Secret Service (1969), which featured a minimal number of gadgets and extravagant sets.
Here there are no over-the-top action sequences with cars blown in half careening through the streets and the like, instead Bond wades in and gets his hands and dinner-jacket dirty and wins out through the use of his fists. The most spectacular the action gets here is a motorcycle chase sequence. It is all that the James Bond films had been missing for the previous decade – is there any time one can remember Roger Moore ever getting in a fistfight or even getting ruffled in action, for instance? The sole exception might be a silly scene where Bond faces Largo over a holographic videogame, something that was trendy at the time but has now dated the film. It is a scene that holds nothing to the battle of wits a confrontation between Bond and villain over a game of baccarat might hold in an Ian Fleming book.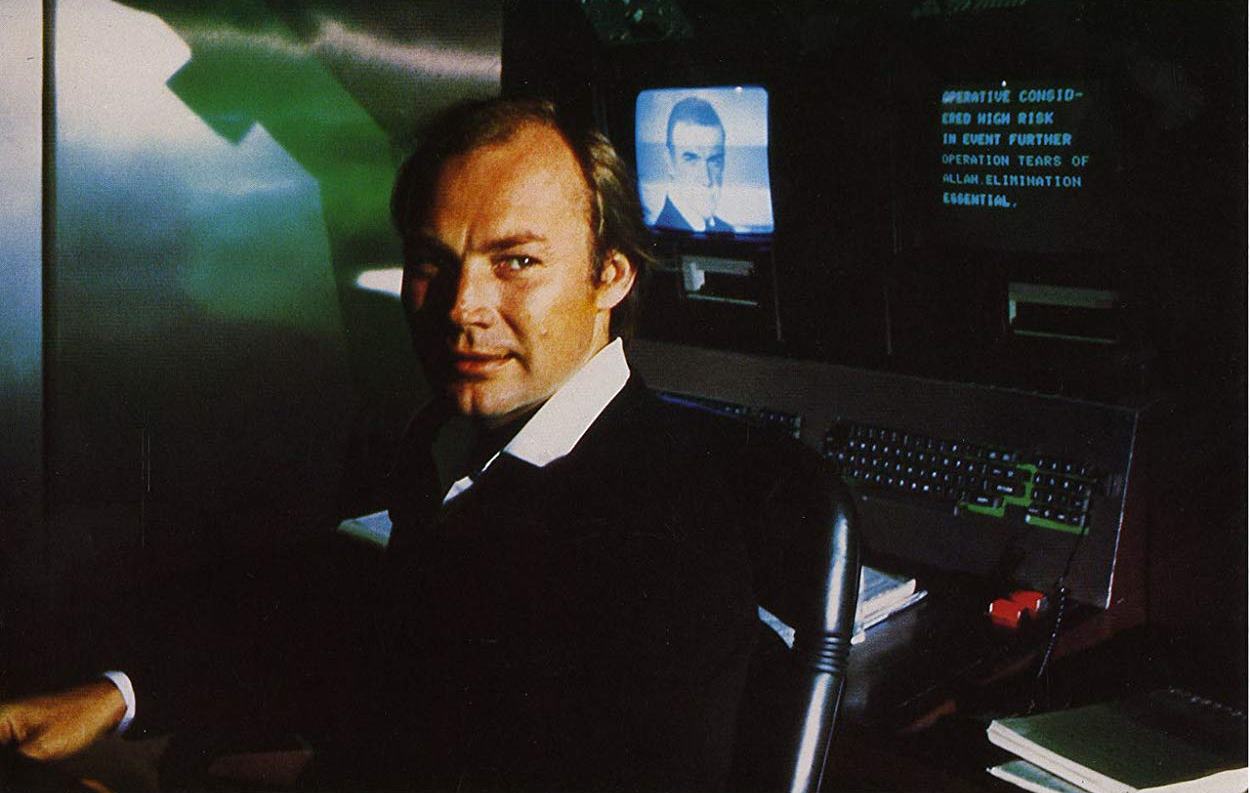 The best part about Never Say Never Again is the casting, which is simply the best ever for a James Bond film. Barbara Carrera camps it up joyously and exudes a real animal eroticism. Kim Basinger, who was then only emerging as a name, is the Bond girl and radiates a beautifully natural sensuality. The scene-stealer is Austrian actor Klaus Maria Brandauer who plays with a deadly and glittering mercurial flash. Brandauer's Largo is a villain who is not a comic-book figure but has a dangerously real psychopathic depth. Whenever he is around, Brandauer holds the screen with a magnetic intensity. This is a villain that outclasses every James Bond villain since at least Goldfinger. The only out of place element is the silly comic relief cameo from Rowan Atkinson as an embassy attaché.
Certainly, the name of Lorenzo Semple Jr on the credits made one sink in dismay. Lorenzo Semple Jr was responsible for the scripts of the Dino De Laurentiis remakes of King Kong (1976) and Flash Gordon (1980), both of which betray a lack of respect for their source material and camp either film up as wildly as possible. Thankfully, Lorenzo Semple is kept in check here. There is none of the atrocious puns that infect the worst Roger Moore entries and, while Semple does not particularly light his rehash of the Thunderball story up in any startling way, the script is a competent run through. The major minus points about Never Say Never Again in comparison to the Albert R. Broccoli films is a not-particularly memorable score and the lack of a distinctive Bond-styled credits sequence.
It is difficult to know why so many people hate Never Say Never Again. A surf through the Internet Movie Database User Comments section reveals some interesting things though – some people give dismissive comments for its rehash of Thunderball, unaware of the complicated genesis of the film. A more common comment is on the basis of the lack of action, gadgetry and fantasy stunt-work that marked Octopussy and the rest of the Roger Moore films. The point that should perhaps be made is that Never Say Never Again was trying to strip Bond back to something more realistic.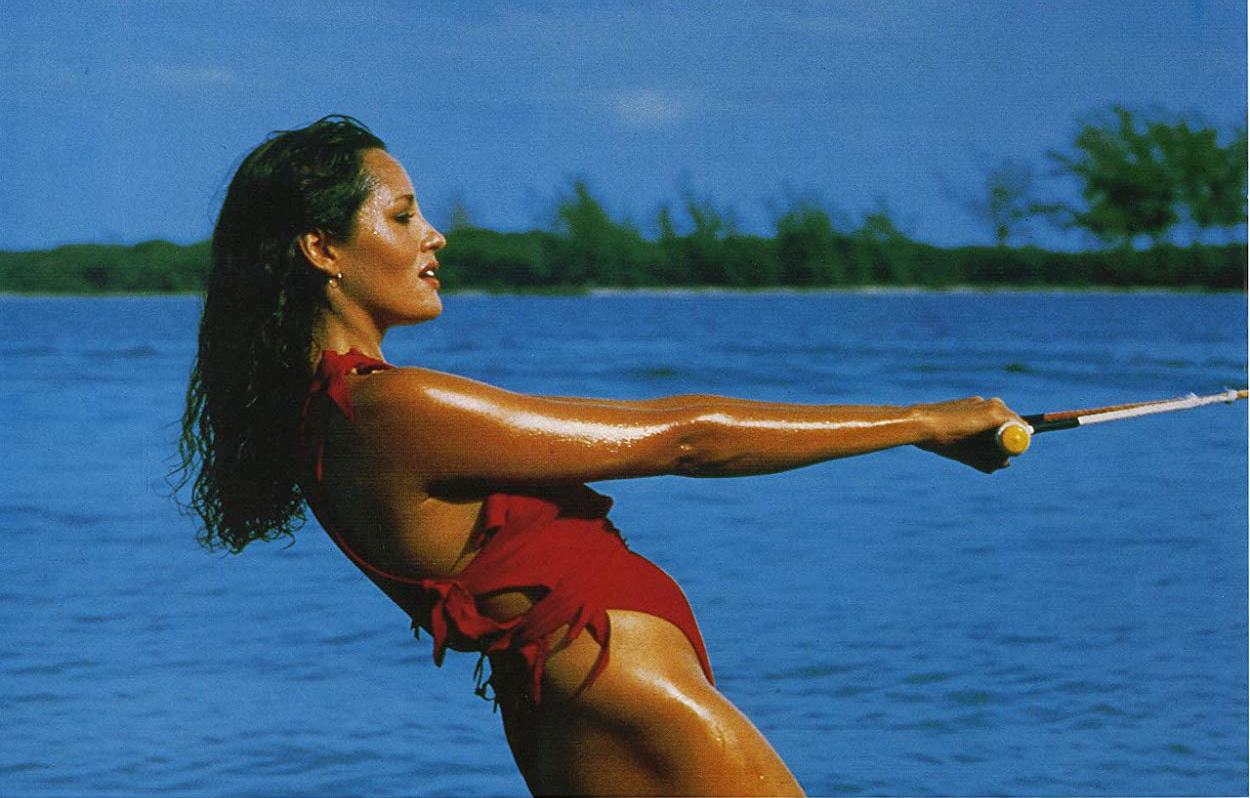 The other unflattering comments made are usually about Sean Connery's age. What is not mentioned is that Sean Connery is actually three years younger than Roger Moore who went onto make one more James Bond film following this. Part of the pleasure of Never Say Never Again is that it acknowledges and makes a joke out of Sean Connery's then 53 year-old age and no longer being as young as he used to be. Such wryly reflective acknowledgement of the hero's age is certainly nowhere to be found in any of the Roger Moore Bond films.
The canonical James Bond films are:– Dr No (1962), From Russia with Love (non-genre, 1963), Goldfinger (1964), Thunderball (1965), You Only Live Twice (1967), On Her Majesty's Secret Service (1969), Diamonds Are Forever (1971), Live and Let Die (1973), The Man with the Golden Gun (1974), The Spy Who Loved Me (1977), Moonraker (1979), For Your Eyes Only (non-genre, 1981), Octopussy (1983), A View to a Kill (1985), The Living Daylights (non-genre, 1987), License to Kill (non-genre, 1989), GoldenEye (1995), Tomorrow Never Dies (1997), The World is Not Enough (1999), Die Another Day (2002), Casino Royale (non-genre, 2006), Quantum of Solace (non-genre, 2008), Skyfall (non-genre, 2012), Spectre (2015) and No Time to Die (2021). Everything or Nothing (2012) is a documentary about the Bond series.
Irvin Kershner was a commercial director who has racked up a number of genre credits, mostly directing sequels to other successful films. He has made Star Wars Episode V: The Empire Strikes Back (1980) and RoboCop 2 (1990), as well as the clairvoyance thriller Eyes of Laura Mars (1978). He also produced the excellent psycho-thriller American Perfekt (1997).
---
---