---
Crew
Director – Charles Russell, Screenplay – Walon Green & Tony Puryear, Story – Walon Green, Tony Puryear & Michael S. Chernuchin, Producers – Anne Kopelson & Arnold Kopelson, Photography – Adam Greenberg, Music – Alan Silvestri, Visual Effects Supervisor – John S. Sullivan, Visual Effects – Industrial Light and Magic, Illusion Arts, Mass.Illusion & Warner Digital Studios, Special Effects Supervisor – Terry Frazee, Makeup Effects – Steve Johnson's XFX Inc, Animatronic Crocodiles – Kurtzman, Nictotero and Berger EFX, Production Design – Bill Kenney. Production Company – Warners
Cast
Arnold Schwarzenegger (John Krueger), James Caan (Robert DeGuerin), Vanessa Williams (Lee Cullun), Robert Pastorelli (James Casteleone), James Coburn (Arthur Beller), Andy Romano (Under Secretary Daniel Harper)
---
Plot
John Krueger is a Marshal with the FBI Witness Protection program whose job is to wipe out all trace of the lives of the people he relocates. He is assigned to protect Lee Cullun, a secretary with the Cyrez corporation who has offered the FBI proof that Cyrez is selling hi-tech weaponry to foreign countries. As someone starts eliminating relocated witnesses, Krueger must go on the run from his own corrupt boss in order to protect Lee from people that want her erased.
---
'Schwarzenegger is back' the publicity campaign for Eraser informed us. Not that one was aware that Arnold Schwarzenegger had been away – he had not made a film since Junior (1994) but one-and-a-half years hardly counts as an absence. Nevertheless, Eraser was part of a concerted effort to convince us that we were seeing a new, more serious Schwarzenegger. In truth, there was little that seemed much different to the old Schwarzenegger of his Commando (1985), Raw Deal (1986), Predator (1987), The Running Man (1987) and Red Heat (1988) heyday.
What Eraser did unwittingly presage though was the beginning of Arnold Schwarzenegger's fall from box-office stardom. From around 1985 through to 1991, Schwarzenegger was the No. 1 action star. In the 1990s and onwards, after successive flops like Batman & Robin (1997), End of Days (1999), The 6th Day (2000) and Collateral Damage (2002), Schwarzenegger's stature started to seem far less than what it had once been.
Eraser is directed by Charles Russell. Russell, who had previously been credited as Chuck Russell, had directed effects-heavy genre vehicles such as A Nightmare on Elm Street III: Dream Warriors (1987), The Blob (1988) and The Mask (1994), and would go onto the unexceptional likes of Bless the Child (2000), The Scorpion King (2002) and I Am Wrath (2016). Eraser came with a budget that topped the $100 million mark. Schwarzenegger and a mega-budget – this was the same mix of ingredients that had made Terminator 2: Judgment Day (1991) and one sat down expecting to be totally blown away in their seat. The only thing one didn't expect with such a combination is that Eraser would be the mega-bore that it is.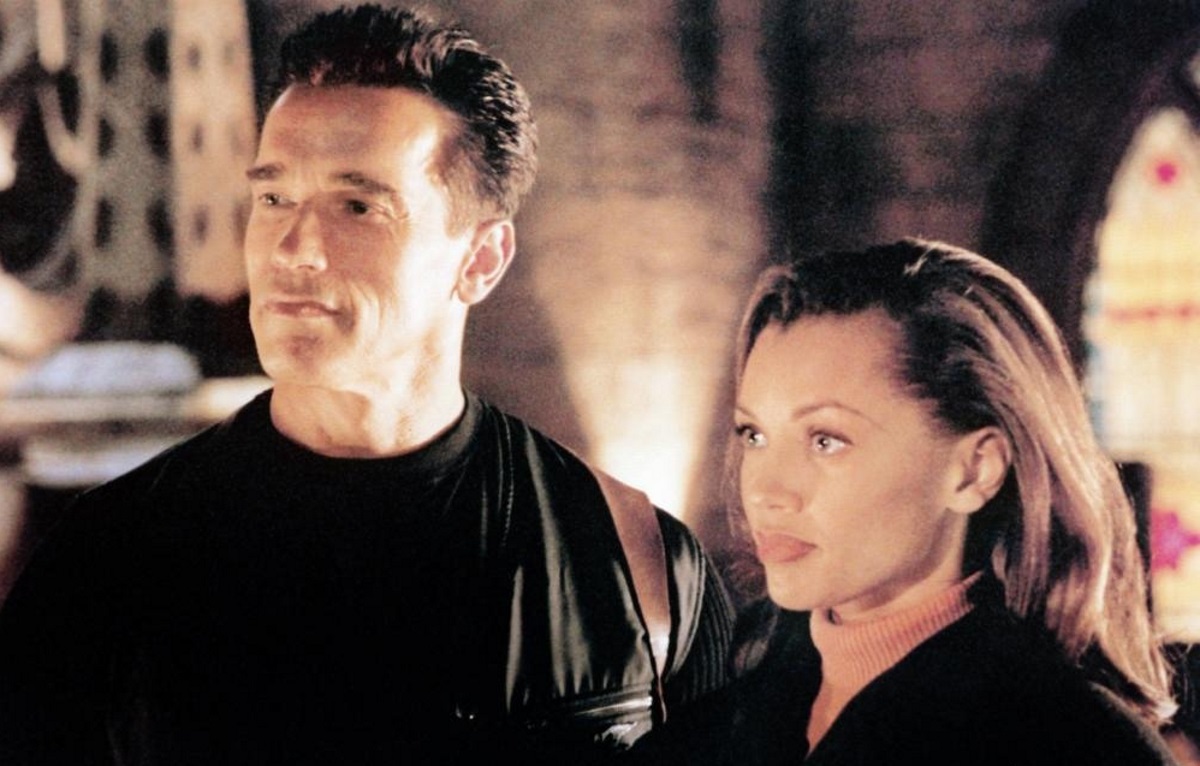 Eraser is a film that has been designed as a series of spectacular self-contained set-pieces. No problem with that – that is the way most big-budget action films are designed these days. Some of these sequences are impressive in themselves. One sequence in particular, no doubt borrowed from the James Bond film Moonraker (1979), involving Arnold Schwarzenegger jumping out of a plane without a parachute, had one on the edge of the seat. There is another impressive sequence later on with a series of attacking crocodiles loose at the New York zoo.
In both cases, the spectacular persistence of these scenes is undercut by their very improbability. The parachute sequence descends into the very silly with Schwarzenegger succeeding in single-handedly holding off an oncoming jetliner with a mere handgun and then surviving a fall out of a plane without a parachute by landing onto the roof of a car. Similarly the crocodile sequence is impressive but improbability keeps intruding – most zoos keep their wild animals overfed to avoid them attacking patrons and it is not believable that a horde of unleashed crocodiles would suddenly attempt to eat every person in sight.
At other times, the film descends into complete silliness. There is one sequence with Robert Pastorelli faking a heart attack only to find himself being fibrillated by paramedics while still conscious – the idea that health professionals would apply a fibrillator to a person who is not only conscious but also yelling at them is absurd.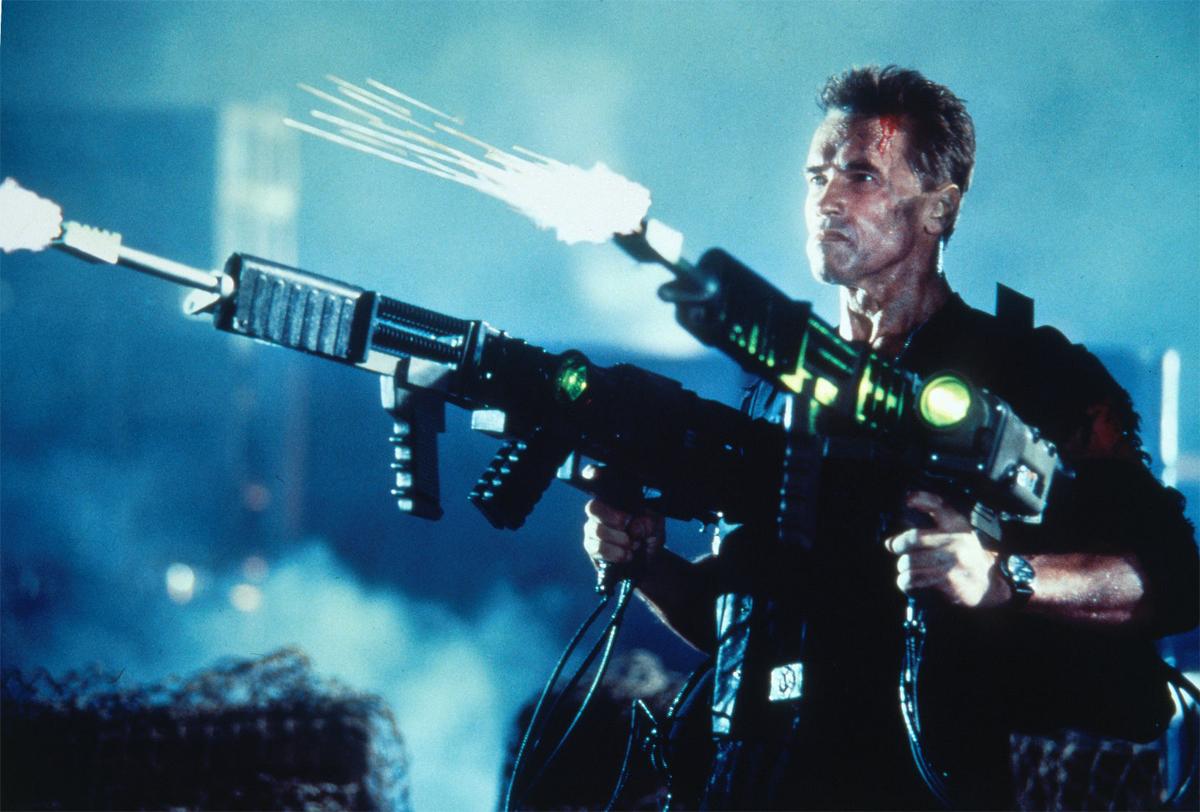 Aside from the parachute sequence and the crocodiles (somewhat), the rest of the action is utterly routine. There are numerous explosions, a climactic fight in the air over the docklands and a hi-tech energy weapon that looks impressive, but it is all forgettable. Certainly, it leaves one wondering where the $100 million ended up being spent. Many direct-to-video action films do considerably more with budgets fifty times less than this.
Arnold Schwarzenegger plays a little more seriously than usual. But not too much – the one-liners eventually creep back in and his performance is still one-note, a considerable call from the reinvention of his image that some tried to call the film. Vanessa Williams makes almost zero impression. All the fun in the film is had by James Caan who puts everything he can into the villainy and succeeds in effortlessly dominating the show.
Eraser: Reborn (2022) was a sequel starring Dominic Sherwood.
---
Trailer here
---