---
USA. 1996.
Crew
Director – Michael Apted, Screenplay – Tony Gilroy, Based on the Novel by Michael Palmer, Producer – Elizabeth Hurley, Photography – John Bailey, Music – Danny Elfman, Production Design – Doug Kraner. Production Company – Castle Rock Entertainment/Simian Films.
Cast
Hugh Grant (Dr Guy Luthan), Gene Hackman (Dr Lawrence Myreck), Sarah Jessica Parker (Jody Trammel), David Morse (Special Agent Frank Haire), Paul Guilfoyle (Dr Jeffrey Meade), John Toles-Bey (Bob), Bill Nunn (Detective Burke), Debra Monk (Judith Krycinski)
---
Plot
Guy Luthan, an intern in the ER room at New York's Grammercy Hospital, is baffled when a man is brought in undergoing a metabolic meltdown of unexplainable causes. In his attempts to solve the mystery – even to locate the body afterwards – Luthan runs up against a conspiracy within the hospital. The conspiracy retaliates by having him framed for drug possession and then fired. Guy continues to investigate regardless, slowly uncovering the existence of a series of illicit experiments using the homeless as test subjects.
---
Extreme Measures reads very much like a Robin Cook medical conspiracy thriller. The story wields many elements that are familiar to Cook and his production-line series of best-sellers, the best known of which is Coma (1976), filmed as Coma (1978) and its later tv mini-series remake Coma (2012). The invariable Cook formula has a lone intern uncovering a conspiracy within the hospital system involving illegal medial experimentation that the medical establishment is determined to keep covered up. The early scenes with Hugh Grant discovering someone is covering something up and keeping coming up against an official blank wall are tedious because of their over-familiarity through Cook's work.
The dialogue is often corny and Hugh Grant struggles with it but he is more of a light comedy actor and seems out of place during the would-be fly-on-the-wall ER scenes. The script also cheats somewhat in order to give the impression it is a wide-ranging conspiracy thriller involving government and police cover-ups. The conspiracy, once unravelled, is not as far-reaching as the film tries to suggest. There are some aspects the script leaves hanging – you are never certain who David Morse and Bill Nunn's cop and FBI agent are meant to be. Are they heavies employed by Gene Hackman? Are they real FBI and police? If so, as the film appears to say, how do they get away with so much moonlighting?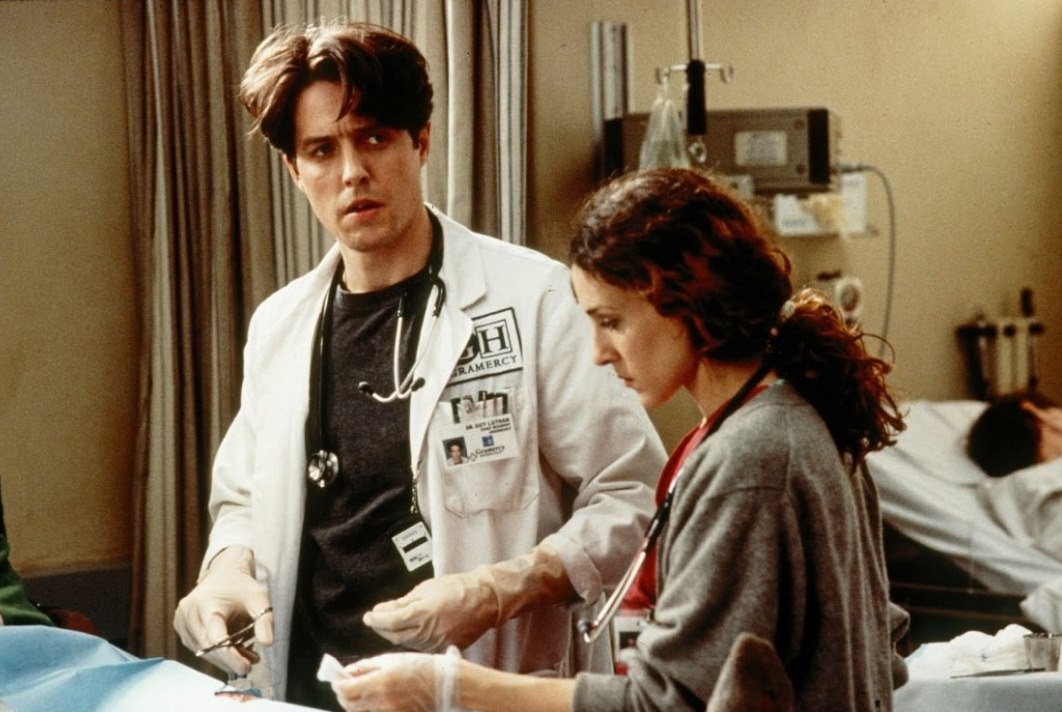 Despite the clunkiness of the script, Michael Apted expends effort to make a worthwhile film. The chase scenes are suspensefully put together. Apted creates some surprisingly effective touches – there is nothing that more effectively conveys Hugh Grant's sense of helplessness when he is briefly paralysed than one shot where a fly lands on his hand and he is unable to do anything to brush it off. Another immensely effective scene is the climactic one where Hugh Grant and Gene Hackman stand off debating the ethics of what Hackman is doing where the hopes of what Hackman could do are silently reflected across the face of a woman in a wheelchair in the middle. Apted is also a director who can create a convincing human portrait – he steadfastly refuses to characterise David Morse and Bill Nunn as cliched supporting heavies but goes into their homes and shows them caring for their families too.
Michael Apted is better known as a director of serious dramas such as Coal Miner's Daughter (1981), Gorillas in the Mist: The Story of Dian Fossey (1988) and Nell (1994) and thrillers like Gorky Park (1983), Blink (1994) and Enigma (2001). His other genre films include the James Bond film The World is Not Enough (1999), the revenge film Enough (2002) and the epic fantasy The Chronicles of Narnia: The Voyage of the Dawn Treader (2010). If one looks carefully, they can spot cult genre director David Cronenberg in a cameo as the hospital board member who fires Hugh Grant.
(Nominee for Best Supporting Actor (Gene Hackman) at this site's Best of 1996 Awards).
---
---