---
Crew
Director/Story – Steven Spielberg, Screenplay – Melissa Mathison, Producers – Steven Spielberg & Kathleen Kennedy, Photography – Allan Daviau, Music – John Williams, Visual Effects – Industrial Light and Magic (Supervisor – Dennis Muren), Mechanical Effects – Carlo Rambaldi, Production Design – James Bissell. Production Company – Universal/Amblin.
Cast
Henry Thomas (Elliott), Dee Wallace (Mary), Robert MacNaughton (Michael), Drew Barrymore (Gertie), Peter Coyote (Keys)
---
Plot
A small three-foot tall alien is left behind on Earth after government agents spot its spaceship and its companions are forced to take off. The alien is befriended by Elliott, a lonely boy who takes it home and hides it in his house away from his mother. Elliott sets about trying to help the alien, which he names E.T., to build a device to communicate with its people and a find a way back home. An empathic link grows between the two of them. Soon though the Earth environment begins to have an effect on E.T. who becomes increasingly ill.
---
Steven Spielberg had become one of the hottest directorial talents in the world after the No. 1 worldwide box-office sensation of Jaws (1975). That was something that Spielberg followed up with the equally sizeable hits of Close Encounters of the Third Kind (1977) and Raiders of the Lost Ark (1981), with only the minor dip of his flop screwball comedy 1941 (1979) in between. At the same time that he made E.T. – The Extra-Terrestrial, all of Steven Spielberg's films from Jaws through to Raiders of the Lost Ark had gone way over-budget – in the case of 1941 disastrously so. Beginning with Raiders, Spielberg started to make a concerted attempt to scale the size of his films back down. Mindful of this, Spielberg said his next project would be just 'a little film'. With considerable understatement, Spielberg's 'little film' became the runaway hit of 1982, knocking Star Wars (1977) from the numero uno spot on the box-office lists and solidifying Spielberg's reputation thereafter as synonymous with childhood innocence.
E.T. – The Extra-Terrestrial is a film that is difficult to criticise objectively – to criticise the film draws up a line that insists on casting one into the position whereby they either accept it wholeheartedly or do not and run the risk of being regarded as a heartless cynic. To call E.T. simple-minded is to ignore the faultless craftsmanship that makes it work. And yet for all that, E.T. – The Extra-Terrestrial is a film whose appeals are simplistic emotional ones – it is not a science-fiction film brimming with deep message.
Steven Spielberg is a filmmaker who composes and edits in soft-edged images the way classical arts masters compose tableaux. In Spielberg's tableaux, there is a naked emotionalism. There are few other filmmakers who can craft film in such simple but deep-felt images of the heart. Spielberg is also a relentlessly visual filmmaker in a way that the classic tearjerkers never were. There are images in E.T. – The Extra-Terrestrial that seem written in a deep, innately emotional language that speaks way beyond pictures and dialogue – like the moment E.T. puts its arms around Henry Thomas, closes his eyes and simply rests its head; or the pitiful silent plea for help the ailing E.T. makes the moment Dee Wallace walks into the bathroom to discover it for the first time. It is an extraordinary performance that Spielberg has managed to obtain in rendering such emotion out of Carlo Rambaldi's latex and hydraulics. Other times Spielberg can create images with a resplendent magic that can make one sing with joy – like the moment the bicycle takes to the air and hangs momentarily illuminated in silhouette against a giant-size full moon.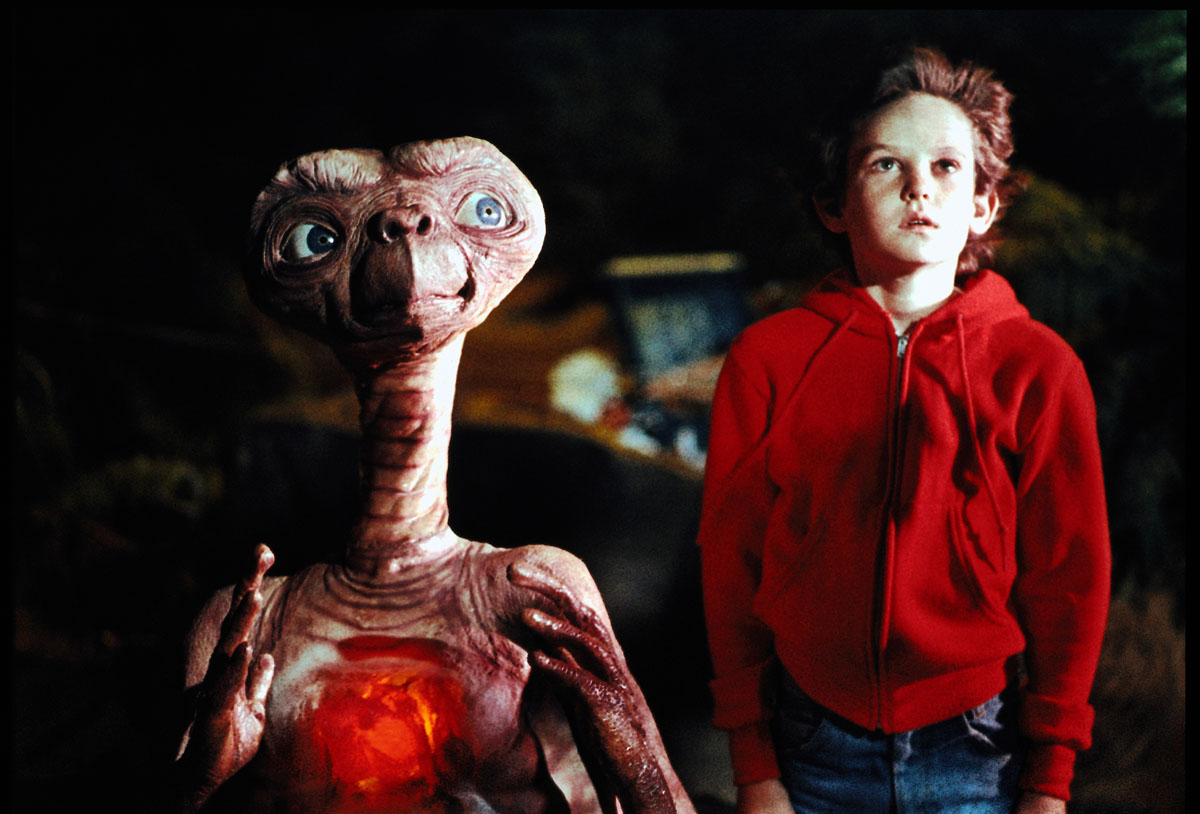 Steven Spielberg's greatest downfall as a director is that he has a broad and cartoonish hand with slapstick. When he is forced to rely on this alone, as in 1941 and the Indiana Jones sequels or much of Hook (1991), the enthusiasm and child-like fun dissolves into noisy unsubtle chaos. Here there are certainly times he does not always know when to call it a day, like the scene where E.T. gets drunk and empathically effects Elliott, causing him to grab and kiss a girl in the classroom as E.T. sees the same at home on the tv.
E.T. – The Extra-Terrestrial was celebrated by much of Middle-America who saw it as holding quasi-Christian allegories – E.T. does miracles, affects the lives of others, and most notably dies and is resurrected, and there is a mother named Mary floating around on the edge of the film. These are coincidences that Steven Spielberg assiduously denies – he after all comes from a Jewish background – and one tends to believe him. [The Day the Earth Stood Still (1951) did the alien visitor as Christ and death/resurrection theme first and far more overtly than E.T.]. E.T. is less a fable of coded religious affirmation than it is a fable of healing a lonely childhood ache. For Steven Spielberg, the greatest happiness in the world is the enclosure of a happy family. The quest of a lonely child simply finding his way home again or a family completing togetherness, is something that runs through almost all of Spielberg's films from The Sugarland Express (1974) to Empire of the Sun (1987), Hook, A.I. (Artificial Intelligence) (2001) and War of the Worlds (2005). Never is this more evident though than in E.T. – Spielberg himself has said that E.T. was really the story of his own childhood.
E.T. – The Extra-Terrestrial headed a wave of films in the 1980s that recolonised science-fiction and fantasy themes for the baby boomer generation, where the limits of the visible horizons were suburban tract housing and whose history seemed rooted in pop culture. They were films that dreamed a pure and simple dream of an infinite galaxy stretching beyond but whose conceptual stretch was one that ultimately served to heal the angst of the baby boomers. The fantasy filmmakers who emerged out of the 1950s and 60s and found their head in the 1980s were all kids born of pop culture and dreaming the faraway dreams of the world beyond the suburban universe, dreams that all came informed by B movies – for George Lucas, it was swashbuckling dreams from old adventure serials and space operas; for Joe Dante, it was a heaven of endless B movie reruns; for Steven Spielberg, it was dreams of Disney and a united family. As always in the 1980s, contemporary pop culture underlay the meeting with human and alien – it was seen as friendly, a benevolent, taming force with the power to reduce the mysterious and alien to the cute – thus E.T. comes surrounded by Star Wars toys, reruns of This Island Earth (1955) and The Quiet Man (1952) on tv, Buck Rogers comic-strips in newspapers, Reese's Pieces, games of Dungeons and Dragons, and blends in with kids going to a Halloween party by dressing as Yoda.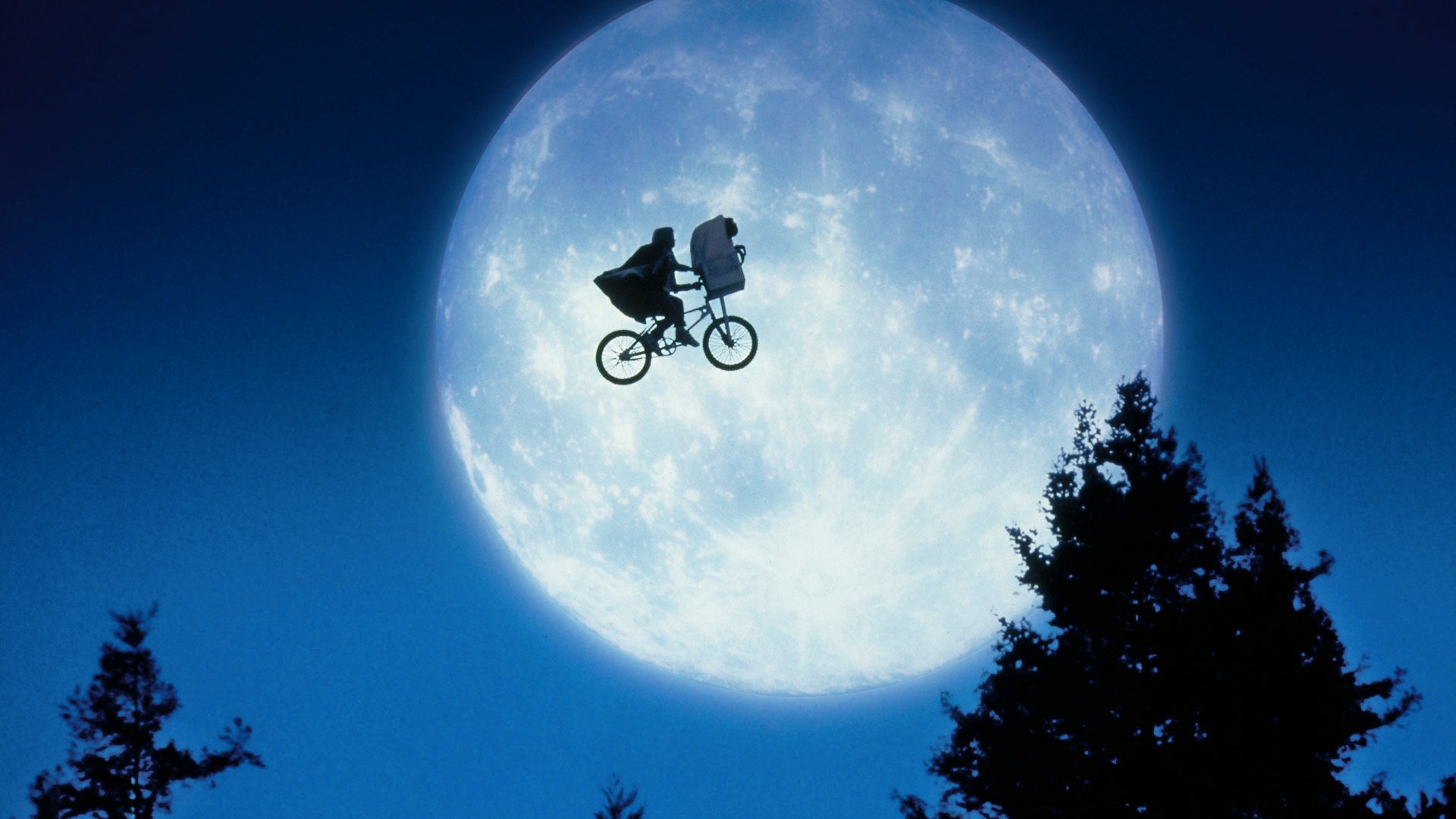 There is a certain frustration that comes in trying to read E.T. – The Extra-Terrestrial as a science-fiction film. For all its science-fiction trappings, E.T. operates more as a fantasy film than as science-fiction. However, in reading E.T. as science-fiction rather than as pure fantasy, we come to see how frequently manipulative it is. Ideas are used only in terms of the result they produce, rather than logical strength. Steven Spielberg's world is not unakin to the one of Disney Studios who believe that no character should ever be killed off if they are a good person. The biggest cheat in E.T. is when the film drags us through the heart-rendering death of its central character and then tosses that sympathy away and with no explanation resurrects E.T.. Similarly so with its scientists, which the film wavers back and forward between being sinister and then changing them to sympathetic and then back whenever it suits the needs of the story at a particular moment.
With both Close Encounters and E.T. – The Extra-Terrestrial, Steven Spielberg reversed the expectations of 1950s science-fiction, which saw the universe beyond the limitations of 'this island Earth' as being inherently hostile. Spielberg by contrast sees the universe as benign and friendly, full of a transcendent heart-transforming magic. In Close Encounters, the universe arrives in shining lights to carry us away from mundane banality, and in E.T. it comes full circle to heal lonely hurts. Ultimately though, you can also see that Steven Spielberg's life-affirming vision of the universe beyond is a naively child-like one – it is one that can only be appreciated in terms of emotion and wonderment, rather than with a more adult attitude of rationalism and scientific, logical enquiry. E.T. – The Extra-Terrestrial makes no apology for this and in the long-run the only justification it offers is that it works. And it should be said, beautifully so.
Certainly, the film is flawless in almost all aspects. Allen Daviau's photography is filled with images of extraordinary illuminated beauty – like one beautifully crafted shot that pans from the shadow of Dee Wallace reading to the children reflected on the wall over to E.T. at work in the closet.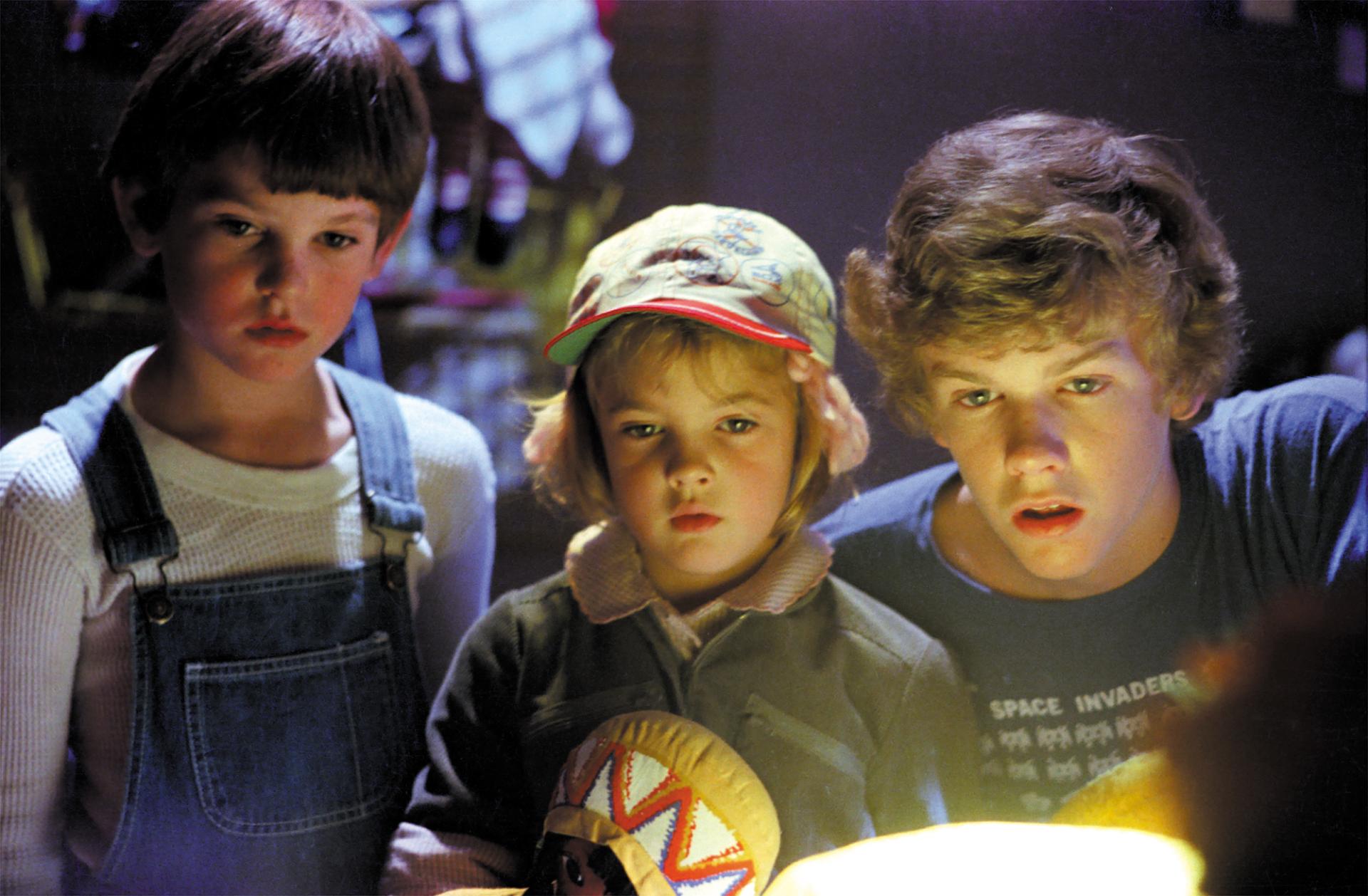 Spielberg elicits great performances from his entire cast, including Henry Thomas, Robert MacNaughton and especially a seven-year old Drew Barrymore who steals the show. Dee Wallace also has an amusing comic part, managing to walk through almost the entire film oblivious to the creature around her. Sadly, the only one of the these who managed to go onto a substantial career of any note was Drew Barrymore, who played several kid parts then became a troubled teenage alcoholic (before even hitting the legal drinking age), then in the late 1990s reinvented herself as an adult actress in various light romantic comedies. (It should be said that Barrymore's child performances are actually better than her adult ones).
Dee Wallace appeared in a number of other films typecast as an archetypal Mom; Henry Thomas makes occasional films; Robert MacNaughton made only one other film – I am the Cheese (1983) – and now works for the US Postal Office. Indeed the actress who plays the girl that Henry Thomas briefly kisses while under E.T.'s influence at school, a 13 year-old Erika Eleniak, went onto even greater notice than Thomas himself did, first as a Playboy model, before going onto tv's Baywatch (1992-2001) for three seasons and a career in various B-movies.
There exist several different versions of E.T. – The Extra-Terrestrial in release. For many years, Steven Spielberg had an annoying habit of tweaking his films after they were released, most notably the Special Edition of Close Encounters of the Third Kind. The 1991 laserdisc and the 2002 theatrical re-release of E.T. erases all reference to the kids dressed as terrorists during the Halloween scenes. Even more irritating, the 20th Anniversary re-release in 2002 digitally replaces the guns held by the pursuing NASA officials with walkie-talkies and deletes the reference where Elliott calls his brother 'penis-breath'. The re-release also adds two scenes that Spielberg had originally junked because the effects were not up to it, something the CGI revolution has allowed him to go back and polish.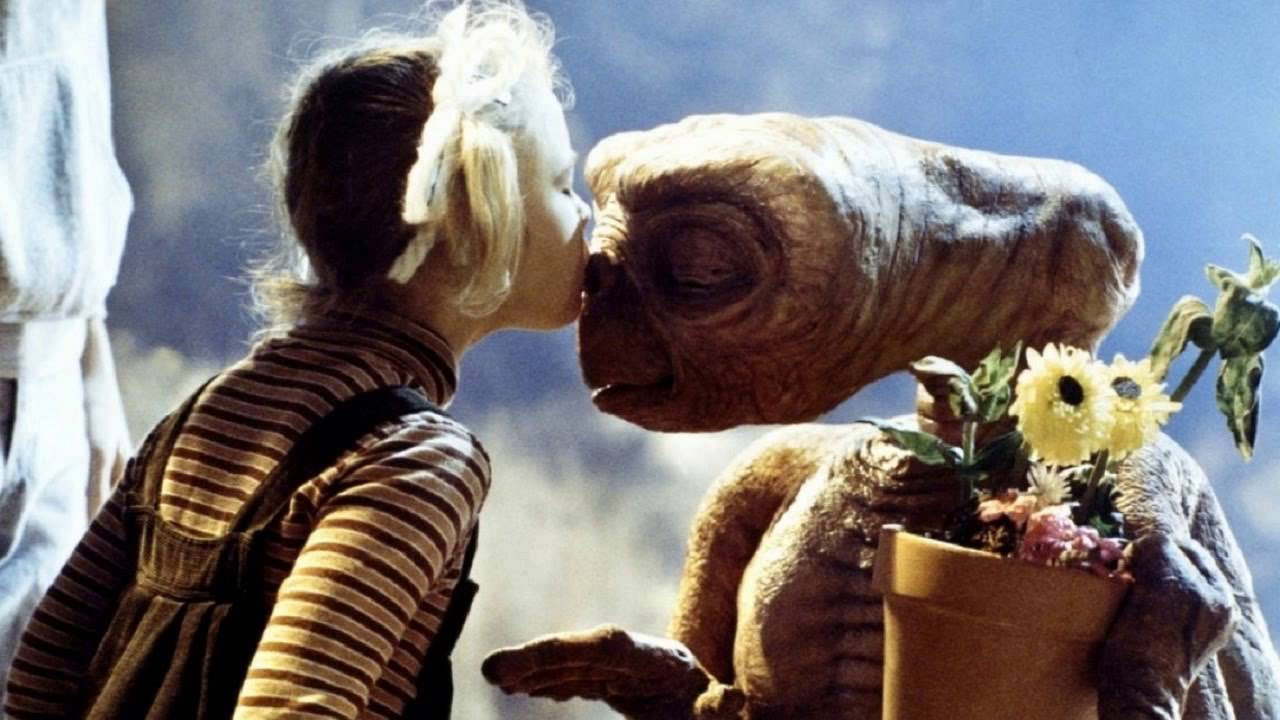 E.T. – The Extra-Terrestrial was nominated for Best Picture Oscar, as well as Best Director, Best Original Screenplay, Best Cinematography and Best Editing, but won only in technical categories for Best Music, Best Sound and Best Visual Effects, with all the major nods going to Richard Attenborough's far more self-important Gandhi (1982).
E.T. was spoofed in Young Doctors in Love (1982), Airplane II: The Sequel/Flying High II: The Sequel (1982), Planet 51 (2009) and Paul (2011), as well as the interesting Hong Kong comedy CJ7 (2008), which conducts a deconstruction of the fantasy of E.T.. In the next few years, there were an enormous number of copycat cute alien visitor films, stretching from the serious and more adult, including Starman (1984) and Cocoon (1985), to juvenile copies such as Wavelength (1983), tv's ALF (1986-90), Hyper Sapien: People from Another Star (1986), Identified Flying Object (1985), the Spielberg produced Batteries Not Included (1987), Mac and Me (1988), Purple People Eater (1988) and Stranded (1988), even a Bollywood film Koi … Mil Gaya (2003), among others. Of course, there was a subsequent spate of anti-E.T. movies with Gremlins (1984) and Critters (1986), both of which deliberately bit into Spielberg's morally upbeat world with a dark malice, offering up a vision of suburbia where the visitors from elsewhere proved rather more vicious.
Steven Spielberg's other genre films as director are:– Duel (1971), Jaws (1975), Close Encounters of the Third Kind (1977), Raiders of the Lost Ark (1981), Twilight Zone – The Movie (1983), Indiana Jones and the Temple of Doom (1984), Indiana Jones and the Last Crusade (1989), Always (1989), Hook (1991), Jurassic Park (1993), The Lost World: Jurassic Park (1997), A.I. (Artificial Intelligence) (2001), Minority Report (2002), War of the Worlds (2005), Indiana Jones and the Kingdom of the Crystal Skull (2008), The Adventures of Tintin (2011), The BFG (2016) and Ready Player One (2018). Spielberg has also acted as executive producer on numerous films – too many to list here. Spielberg (2017) is a documentary about Spielberg.
---
---