---
Crew
Director – Joel Schumacher, Screenplay – Peter Filardi, Producers – Rick Berber & Michael Douglas, Photography – Jan de Bont, Music – John Newton Howard, Visual Effects Supervisor – Peter Donen, Special Effects – Philip Cory & Hans Metz, Production Design – Eugenio Zanetti. Production Company – Stonebridge Entertainment.
Cast
Kiefer Sutherland (Nelson Wright), Kevin Bacon (David Lobraccio), Julia Roberts (Rachel Mannis), William Baldwin (Joe Hurley), Oliver Platt (Steckley), Joshua Rudoy (Billy Mahoney), Kimberly Scott (Winnie Hicks)
---
Plot
Med student Nelson Wright persuades four of his friends to help in an illicit experiment – that of stopping his heart and then restarting it thirty seconds later, leaving him medically dead during the time so that he can observe the afterlife. The experiment is a success, with Nelson reporting remarkable experiences as he leaves his body. The others quickly clamour for a chance to explore the afterlife, with each of them competing with the other to up the duration of time they are dead. What none of them realise is that in doing so each of them bring back with them the sins of their past given physical personification.
---
1990 was a year that brought a sudden new interest in afterlife themes with the high profile, Award-winning Ghost (1990), as well as Adrian Lyne's overlooked Jacob's Ladder (1990), and Flatliners.
Flatliners came from director Joel Schumacher. Joel Schumacher was a former window dresser who broke into film as a costume designer and is probably the worst director ever allowed loose on an A-budget. Schumacher had debuted on cinema screens with the likable The Incredible Shrinking Woman (1981), then gone onto the success of the bland Brat Pack film St Elmo's Fire (1985) and the inanely silly teen vampire effort The Lost Boys (1987). Still ahead for Schumacher would be the various John Grisham adaptations The Client (1994) and A Time to Kill (1996), the offensively redneck Falling Down (1993), two excruciating ventures into the Batman movie franchise, Batman Forever (1995) and Batman & Robin (1997), the snuff movie thriller 8MM (1999), the semi-okay psycho-thriller Phone Booth (2002), the musical adaptation of The Phantom of the Opera (2004). (See below for Joel Schumacher's other genre films).
The problem with Joel Schumacher is that he is a competent MTV director – where he has often worked with groups like INXS – who has exceeded his level of competence by trying to tackle plot and drama. Schumacher's entire effect comes in the look of a film, the lighting and set design, yet he has absolutely no concept of dramatic sincerity. Even when Schumacher tries to make a stripped-back, handheld camera film like Tigerland (2001), all he produces is a handful of Vietnam War/bootcamp cliches.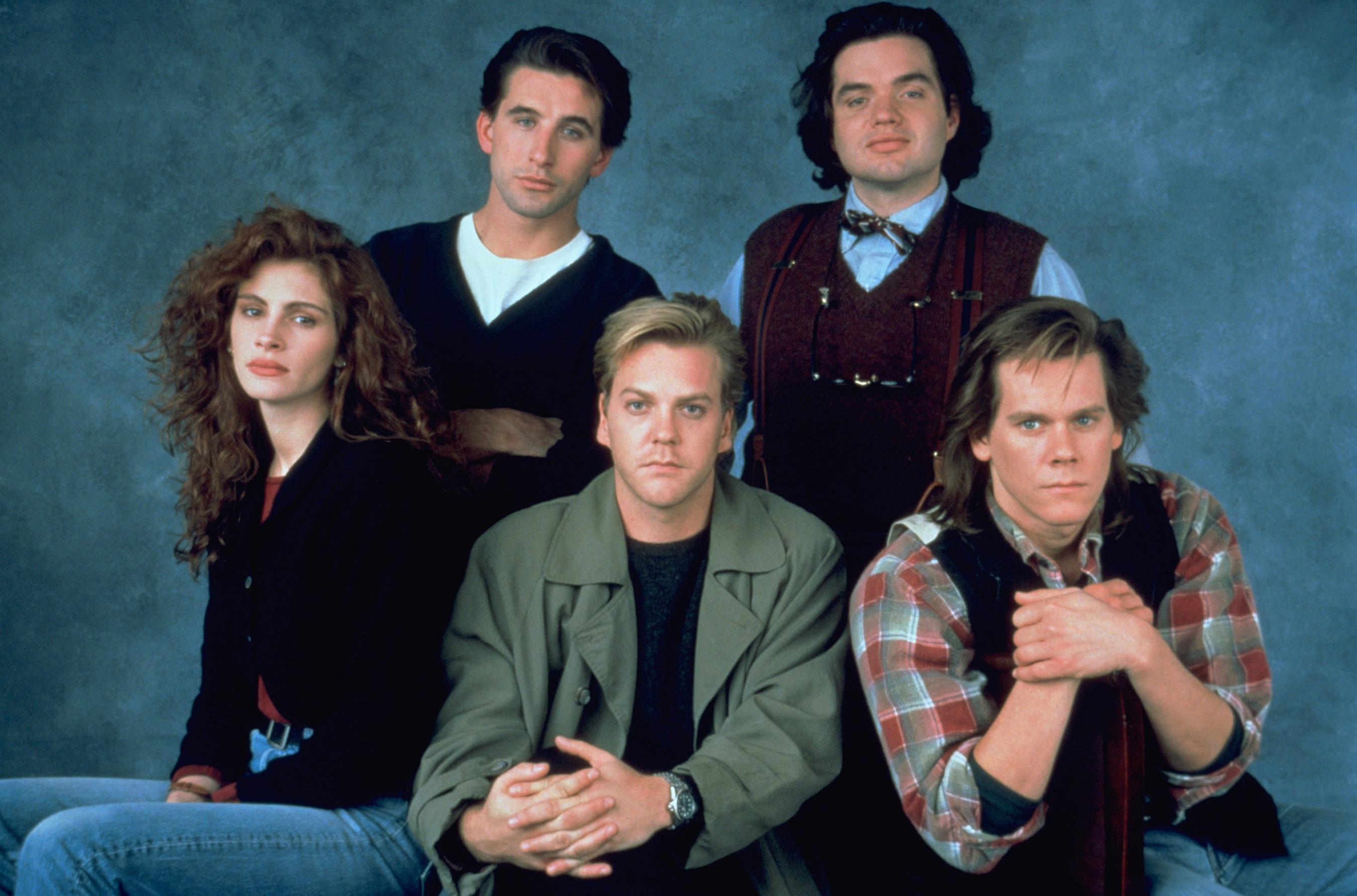 You cannot deny that Schumacher and photographer Jan de Bont – who also turned out to be a director as bad as Schumacher – see Speed 2: Cruise Control (1997), The Haunting (1999) and Lara Croft, Tomb Raider: The Cradle of Life (2003) – fail to make an exquisitely lovely film out of Flatliners. They invest it with a dark Mediaeval atmosphere, all cavernous Gothic hospitals and beautifully lit cathedralar architecture – this is a hospital where giant classical statues just lie about in basements. The soft and evocative, almost candle-lit photography is exceptional, and the classical score excellent.
When it comes to the horror scenes, Schumacher pumps up a dynamic medley of flashing light and steam effects a la the Scott Brothers, Ridley and Tony. Schumacher is even capable of producing some eerie images when he wants to – the way a set of blinking construction lights can take on sinister overtones, or how a school of passing night cyclists momentary seem like phantoms. However, you are never more than aware that Schumacher has designed the entire film for effect rather than rationale – like when we get to Kiefer Sutherland's apartment, which is decorated in ankle-height neon strips for no reason other than the lighting effect it provides. It is exactly the result you might get when you allow a window dresser to direct a horror film.
While Flatliners is worth watching for the atmosphere that Joel Schumacher and Jan de Bont evoke alone, it seems ultimately irrelevant. The film has a premise that has immensely exciting promise to it. Up until the story gets back from the beyond and turns into horror film – about a third of the way in – it continues to convey promise. However, all of it – the scientific quest into the afterlife, even the spooky horror elements – eventually transpire as being no more than a twentysomething sensitivity and angst film.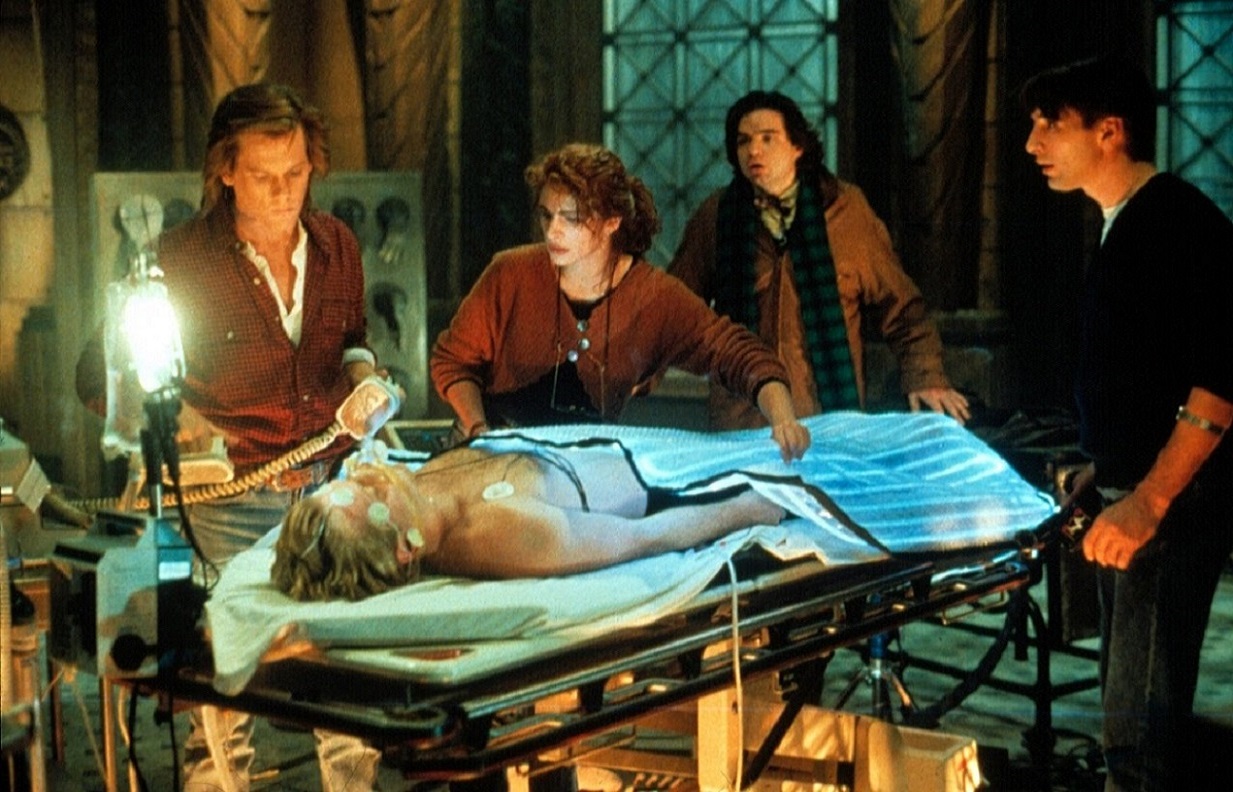 It is as though Joel Schumacher has crossbred St Elmo's Fire with Altered States (1980) or the climactic afterlife trip from Brainstorm (1983). The sum profundity of tackling such an epic issue as life after death is for William Baldwin to say sorry for secretly making videotapes of the women he beds, for Kevin Bacon to apologise to a girl he was mean to growing up, and for Julia Roberts to come to terms with her father who committed suicide. Flatliners operates on the infuriatingly banal presentiment that all the problems of the past can be solved by warm fuzzy feelgood cliches. It is sad to think that when it comes to taking on the great challenge of asking what lies after death all that Flatliners can end up doing is to resolve everything on a figurative group hug.
Flatliners (2017) was a remake.
Joel Schumacher's other genre films are:– the script for the all-Black musical Wizard of Oz revamping The Wiz (1978) and as director of The Incredible Shrinking Woman (1981), the teen vampire film The Lost Boys (1987), the redneck psycho film Falling Down (1993), the Batman films Batman Forever (1995) and Batman & Robin (1997), the snuff movie thriller 8MM (1999), the psycho-thriller Phone Booth (2002), the screen adaptation of the musical The Phantom of the Opera (2004), The Number 23 (2007) featuring a numerologically obsessed Jim Carrey and Town Creek (2009) about a Nazi vampire.
Screenwriter Peter Filardi later wrote the witchcraft film The Craft (1996) and the tv remake of 'Salem's Lot (2004), as well as directed Ricky 6 (2000) about true-life Satanists.
---
---