aka Gas-s-s
---
Crew
Director/Producer – Roger Corman, Screenplay – George Armitage, Photography – Ron Dexter, Music – Country Joe and the Fish, Additional Music – Barry Melton, Makeup – Dean Cundey, Art Direction – David Nichols. Production Company – San Jacinto/AIP.
Cast
Robert Corff (Coel), Elaine Giftos (Cilla), Ben Vereen (Carlos), Cindy Williams (Marissa), Alex Wilson (Jason), Bud Cort (Hooper), Tally Coppola (Coralie), Lou Procopio (Marshall McLuhan), Phil Borneo (Quant), Alan Braunstein (Dr Drake), Bruce Karcher (Edgar Allan)
---
Plot
During the christening of a new chemical warfare laboratory, a bottle of nerve gas is accidentally swapped with the champagne bottle. Upon being broken, it unleashes a gas that kills everyone in the world over the age of 25. When a fascist policeman overtakes Dallas, Coel and his girlfriend Cilla decide to go to New Mexico to find a pueblo where everybody is getting together. Various others join them on the road but their journey is threatened by the strange new societies that have emerged.
---
Roger Corman has never made a bad film (at least as director) – although Gas; or It Became Necessary to Destroy the World in Order to Save It is certainly he at his most bizarre and indulgent. Gas was made at a time when Easy Rider (1969), made by several former Corman proteges – Peter Fonda, Jack Nicholson and Dennis Hopper – had struck big and created a counter-culture cinema overnight. Corman had of course been there first, tapping the new counter-culture with the biker film The Wild Angels (1966) and then the hilarious LSD trip film The Trip (1967).
Subsequent to Easy Rider, studios were throwing money at young filmmakers without any clear understanding of what they were making. Amidst this there were several hippie end of the world films, including Glen and Randa (1971), The Omega Man (1971) to some extent, Idaho Transfer (1973) and Gas, and various other efforts such as Popdown (1968) wherein aliens come to induce altered states of consciousness.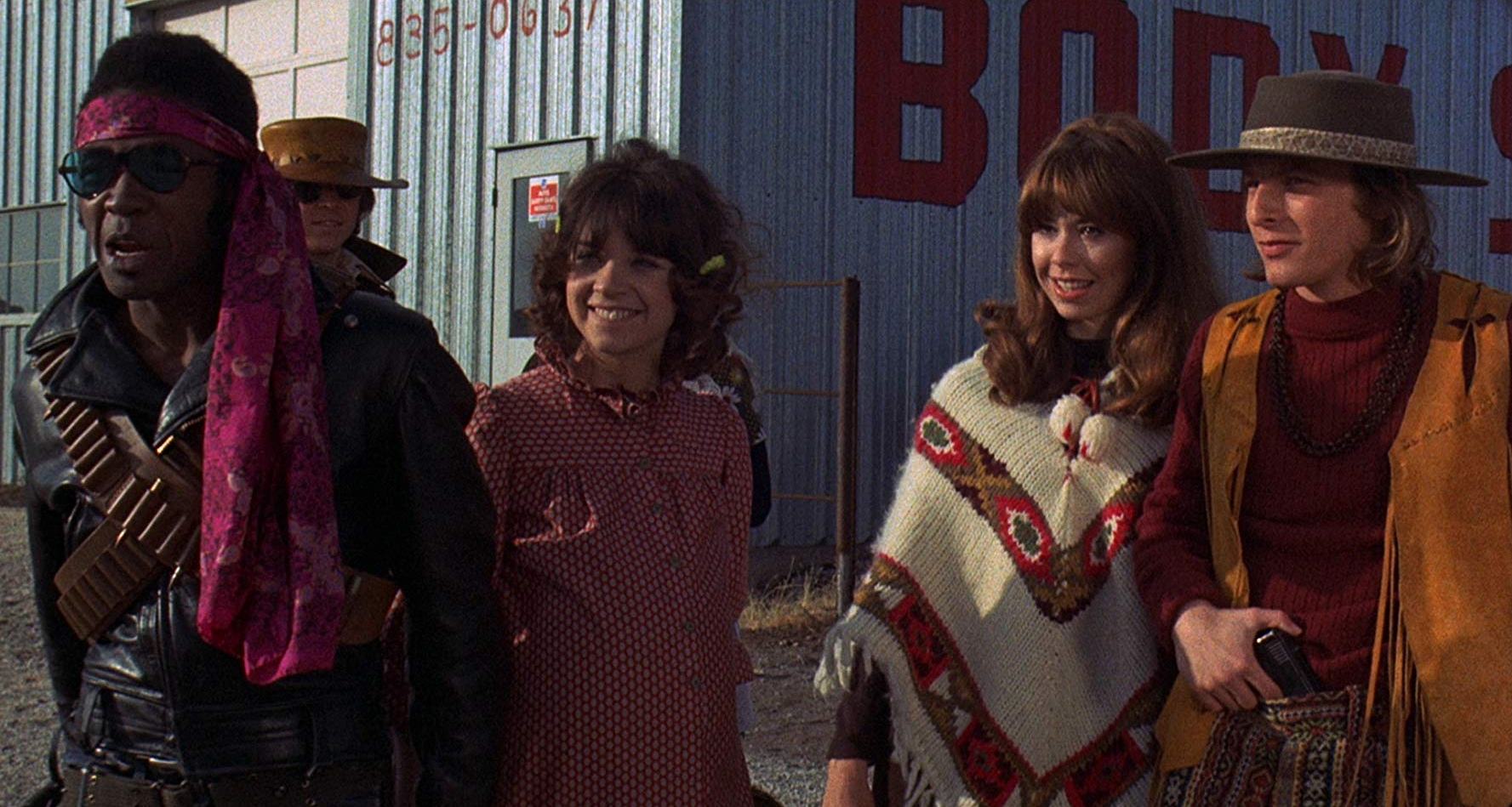 Gas seems to have started out as a hippie end of the world film and ended up a freewheeling parody of every genre that Roger Corman has moved through in the past – end of the world films, biker films, acid trip films, even his Edgar Allan Poe series. It is a giant self-satire and in retrospect a moot one for this was the last film that Roger Corman ever made at AIP, where he had worked for the last fifteen years, before leaving to found New World Pictures, all ironically over clashing with AIP management who did not understand Gas.
The film is largely a plotless ramble. However, Roger Corman has a sophisticatedly droll sense of humour, which is often missed by many people who regard him as only an exploitation producer – he did after all make The Little Shop of Horrors (1960). Gas comes full of sly, offbeat gags (albeit of questionable taste today) – like the victim that faces her rapists demanding to know who is first and ends up quoting Kinsey at them; or the posters in a church that proclaim "Happiness is Sally Field as the Flying Nun". The film gains its greatest amusement out of the reversal of then contemporary youth culture – one where the Hell's Angels become the new conservatives and the football jocks become marauding gangs, practicing their tackles for raping victims.
Gas is more bizarre than anything else – Edgar Allan Poe turns up at various intervals on a motorcycle with Lenore riding pillion passenger to deliver auguries of doom like some narrator in Greek tragedy; God delivers frequent voice-overs; and at the end a divine lightning bolt causes every other character in the film to emerge from the ground, where they are joined by a truckload of people wearing oversized masks of John F. Kennedy, Eisenhower, Martin Luther King, Che Guevera and Alfred E. Neumann.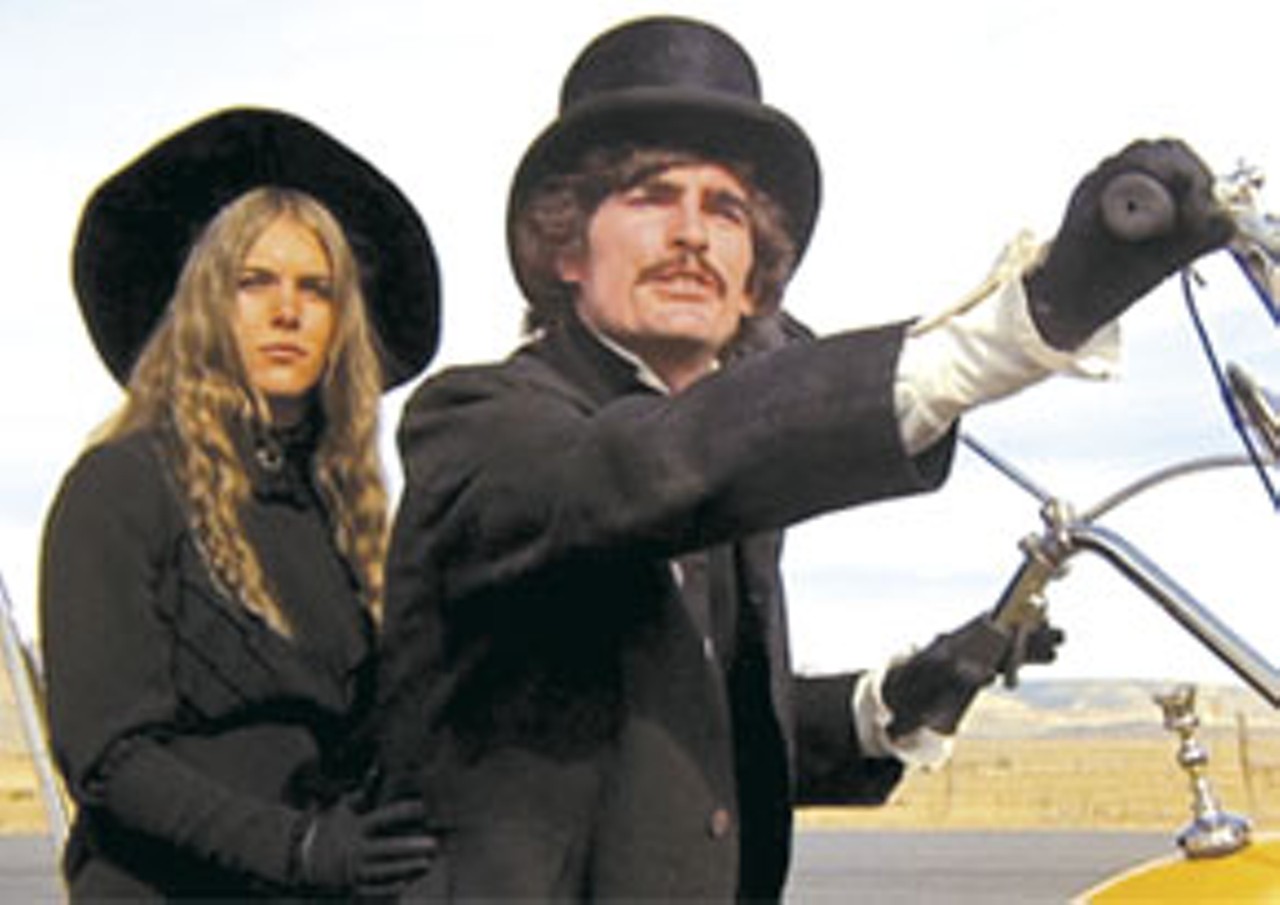 For all its silly, seemingly made-up-on-the-spot nonsense, Gas is a surprisingly well made film. The photography of the wide-open countryside and particularly the background view from the pueblo anchors the film in an often-lyrical milieu. Another plus is Country Joe McDonald's score – the images of a dead city with Country Joe, accompanied by a hypnotic organ drone, singing "When you bury my body, don't bury my soul," are particularly vivid and memorable.
Roger Corman's other genre films as director are:– Day the World Ended (1955), It Conquered the World (1956), Attack of the Crab Monsters (1957), Not Of This Earth (1957), The Saga of the Viking Women and Their Journey to the Waters of the Great Sea Serpent (1957), The Undead (1957), Teenage Caveman (1958), War of the Satellites (1958), A Bucket of Blood (1959), The Wasp Woman (1959), The House of Usher/The Fall of the House of Usher (1960), Last Woman on Earth (1960), The Little Shop of Horrors (1960), Creature from the Haunted Sea (1961), Pit and the Pendulum (1961), Premature Burial (1962), Tales of Terror (1962), Tower of London (1962), The Haunted Palace (1963), The Raven (1963), The Terror (1963), X – The Man with X-Ray Eyes (1963), The Masque of the Red Death (1964), The Tomb of Ligeia (1964), The Trip (1967) and Frankenstein Unbound (1990). Corman's World: Exploits of a Hollywood Rebel (2011) is a documentary about Corman's career.
---
---