(L'Umanoide)
---
Crew
Director – George B. Lewis [Aldo Lado], Screenplay – Aldo Lado & Adriano Bolzoni, Story – Adriano Bolzoni, Producer – Giorgio Venturini, Photography – Silvano Ippoliti, Music – Ennio Morricone, Special Effects Supervisor – Anthony M. Dawson [Antonio Margheriti], Process Photography – Jan W. Jacobsen, Miniatures – Emilio Ruiz, Makeup – Giannetto de Rossi, Scenic Design – Enzo Bulgarelli, Art Direction – Giacomo Carlo Carducci. Production Company – Merope.
Cast
Richard Kiel (Inspector Golob), Leonard Mann (Nik), Corinne Clery (Barbara Gibson), Marco Yeh (Tom-Tom), Arthur Kennedy (Kraspin), Ivan Rassimov (Lord Graal), Barbara Bach (Lady Agatha), Massimo Serrato (Great Brother)
---
Plot
Lord Graal, the evil brother of the Great Brother who rules Metropolis (as Earth is now known), escapes from exile. He steals the substance Capitron from a research institute and fires it at the spaceship of the peaceful police inspector Golob, mutating him into a super-strong humanoid that is invulnerable to all firepower. Graal then places a control device on Golob's forehead and sends him to kill The Great Brother.
---
There is something in Italian popular film culture that compulsively apes American models – witness the spaghetti Western. Even in the fantastic genre Italian filmmakers have latched onto and churned out cheap copies of films like The Exorcist (1973), Dawn of the Dead (1978), Mad Max 2 (1981) and Conan the Barbarian (1982) with a relish far greater than any other country in the world. In the late 1970s-early 80s, fantastic cinema proved a veritable gateshed for Spaghetti filmmakers with an endless cycle of Star Wars (1977) ripoffs. Here The Humanoid joins the likes of Cosmos – War of the Planets (1977), War in Space (1977), Star Crash (1978), War of the Robots (1978), Star Odyssey (1979) and other downmarket Italian George Lucas clones.
In the title role, The Humanoid imports Richard Kiel who achieved a small amount of fame around the time as the comic steel-toothed henchman in the James Bond films The Spy Who Loved Me (1977) and Moonraker (1979). Staying with the Bond films, The Humanoid also brings in Barbara Bach and Corinne Clery who played love interests in the aforementioned Bond films as well.
Sometimes the Star Wars parallels in The Humanoid become merely tedious – the lookalike Darth Vader villain, the lookalike Star Destroyers conducting copycat moves with shots as they pass over the camera, even a sequence shooting down tiny pursuing enemy fighters that directly copies the design of the gun turrets from the Millennium Falcon. However, the film is a juvenile fantasy without any serious view of its elements – the script plods in a way that cannot permit anything else – and as such, it shouldn't be considered too badly. It is certainly a more polished film than many of the other abovementioned Italian Star Wars copies.
The sets, effects and costumes are not too bad on the whole. Expectedly there are some shoddy opticals but generally the effects (which are supervised by veteran Italian B-movie director Antonio Margheriti) are fair – the models are okay as long as they aren't used in closeup. The scenes with Richard Kiel throwing people about comes plainly assisted by wires and one scene where he swings a person around by their feet is all too obviously just a dummy.
The costumes have a flat anonymity – we are once again amongst the science-fiction that considers that all people of the future will wear jumpsuits, robes and capes. Only Barbara Bach emerges with any sartorial elegance in an impressive gilt-edged V-neck dress and a hairdo with an afroed fringe at one point. Ennio Morricone slums it attempting to conduct a John Williams symphonic score on a four-track synthesizer, which, apart from some nice heavy Gothic organ-lines, sounds expectedly ratty.
What we could have done without is the robot dog, clearly a copy from Doctor Who (1963-89)'s K9, which cutely bleeps, wags its tail and a flap over its mouth while going 'ooh-ah, ooh-ah' – one cannot work out if the robot has any particular practical function, although it does urinate motor-oil to cause the baddies to slip up at one point.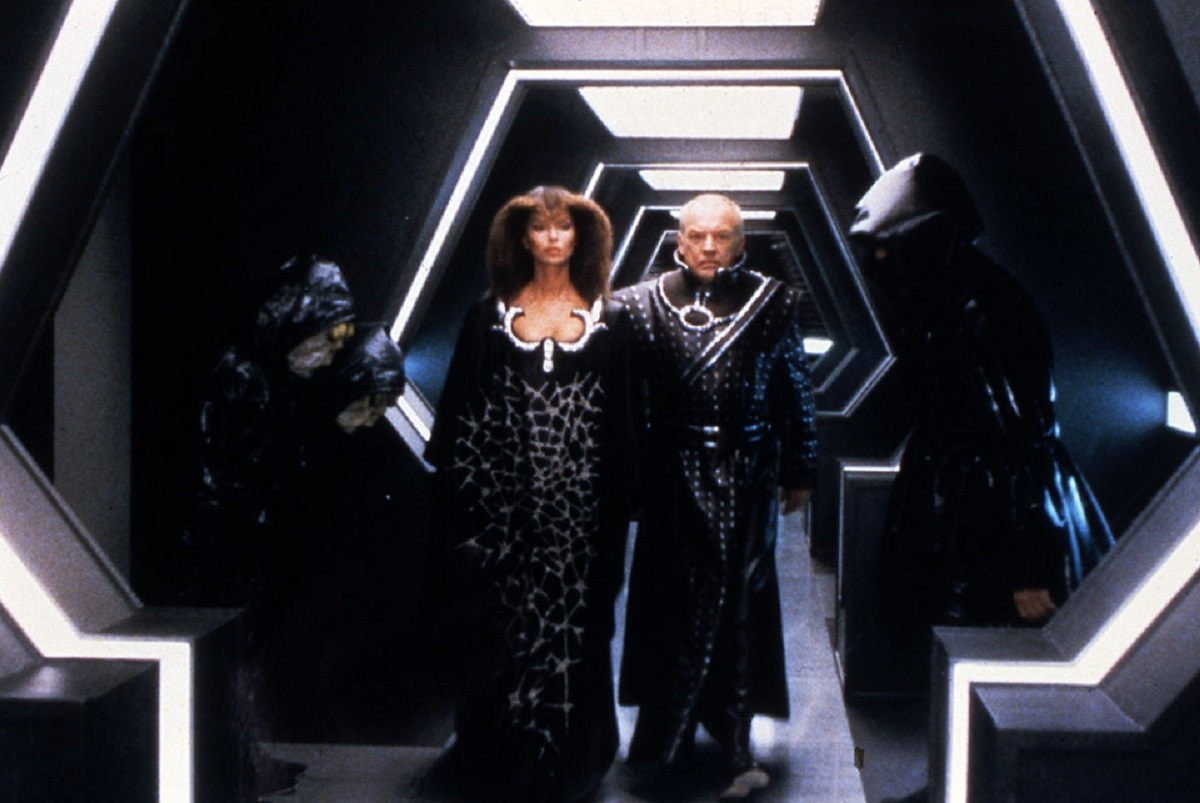 The filmmakers' attempts to create a verbally sparring Han Solo/Chewbacca relationship between Kiel and the robot dog does cause one to groan (although one must admit that it gives Kiel his most likeable screen moments – in moving him from a friendly hulk to a monster, the film not only wastes him but also manages to switch off any interest the character has). The Tom-Tom character, who uses the Buddhist mantra 'Om Mani Padme Hum' as a magic spell (to the accompaniment of a music-box tinkle) and in the end goes off to the Sacred Land of Tibet (!!) is pretty funny.
Hiding behind the Anglicised name of George B. Lewis is Italian director Aldo Lado. Lado has also made a couple of giallo films with The Short Night of the Butterflies (1971) and Who Saw Her Die? (1972), the psycho film Night Train Murders (1975) and he true-crime Love Ritual (1989) about a Japanese man who killed and ate his girlfriend.
---
Trailer here
Full film available online here:-
---