---
Crew
Director – Jim Mickle, Screenplay – Geoff Tock & Gregory Weidman, Producers – Rian Cahill, Brian Kavanaugh-Jones, Jim Mickle, Linda Moran & Ben Pugh, Photography – David Lanzenberg, Music – Jeff Grace, Visual Effects – Mr. X (Supervisor – Dominic Remane), Special Effects – Acme FX (Supervisor – John McGillivray), Prosthetics – MastersFX (Supervisor – Zane Knisely), Production Design – Russell Barnes. Production Company – 42 Productions/Automatik Productions/Nightshade Productions.
Cast
Boyd Holbrook (Thomas Lockhart), Cleopatra Coleman (Rya), Bokeem Woodbine (Winston Maddox), Michael C. Hall (Brian Holt), Rudi Dharmalingam (Professor Naveen Rao), Sarah Dugdale (Amy Lockhart Aged 18/27), Quincy Kirkwood (Amy Aged 9), Rachel Keller (Jeanette Lockhart), Al Maini (Old Naveen), Tony Nappo (Clark), Philippa Domville (Arleen Nowak)
---
Plot
Philadelphia, 1988. Police officer Thomas Lockhart and his partner Winston Maddox attend several crime scenes where different people have died all around the same time. Lockhart sees a connection in that all of the bodies have three punctures wounds at the back of the neck and the victim's brains have exploded. One victim is still alive and identifies the perpetrator as a girl in a blue hoodie. Lockhart and Winston encounter the girl and pursue her down into a subway station. Lockhart corners her at gunpoint but is startled that she knows his name, congratulates him on the birth of his as yet unborn daughter and apologises for the death of his partner. They fight and she tries to flee only to be hit by the train. Lockhart emerges to find his wife has gone into labour, giving birth to a daughter before dying. Nine years later in 1997, Lockhart is now a detective. More of the deaths occur on the same day and the same girl is spotted on surveillance video. Lockhart traces clues to an airfield where the girl appears, shoots Winston and flees. Nine years later in 2006, Lockhart has become obsessed with the case to the point of all else. Tracking down clues, he encounters the girl just having murdered another victim and gives pursuit only to see her vanish in a time machine. The obsession with trying to find and stop the time-travelling girl causes him to become homeless and neglect his now grown daughter.
---
Jim Mickle is a director whose name has been on the rise in recent years. Mickle first appeared with Mulberry Street (2006) about an outbreak of human-rat mutations and then made the excellent vampire film Stake Land (2010). He received great word of mouth for the English-language remake of the cannibal family film We Are What We Are (2013) and the adaptation of the Joe R. Lansdale thriller Cold in July (2014). Subsequent to this, Mickle went on to the tv works like the Joe R. Lansdale adapted Hap and Leonard (2016-8) and Sweet Tooth (2021- ) about post-apocalyptic animal hybrids.
The best way to watch In the Shadow of the Moon is not knowing anything at all about it. I went in with no more than a two-sentence description of its plot – and the results were quite astonishing. For the first 31 minutes, we become involved with beat cop Boyd Holbrook and his tracking of the killer. The strangeness of the set-up – a series of simultaneous deaths of unconnected people around the city, the three puncture wounds at the back of the neck that have caused their brains to explode, the possible significance of the full moonlight – give the suggestion that one is watching some kind of supernatural horror film. The tone throughout these scenes is that of a gritty urban cop show, all darkly lit night-shot action on the mean streets.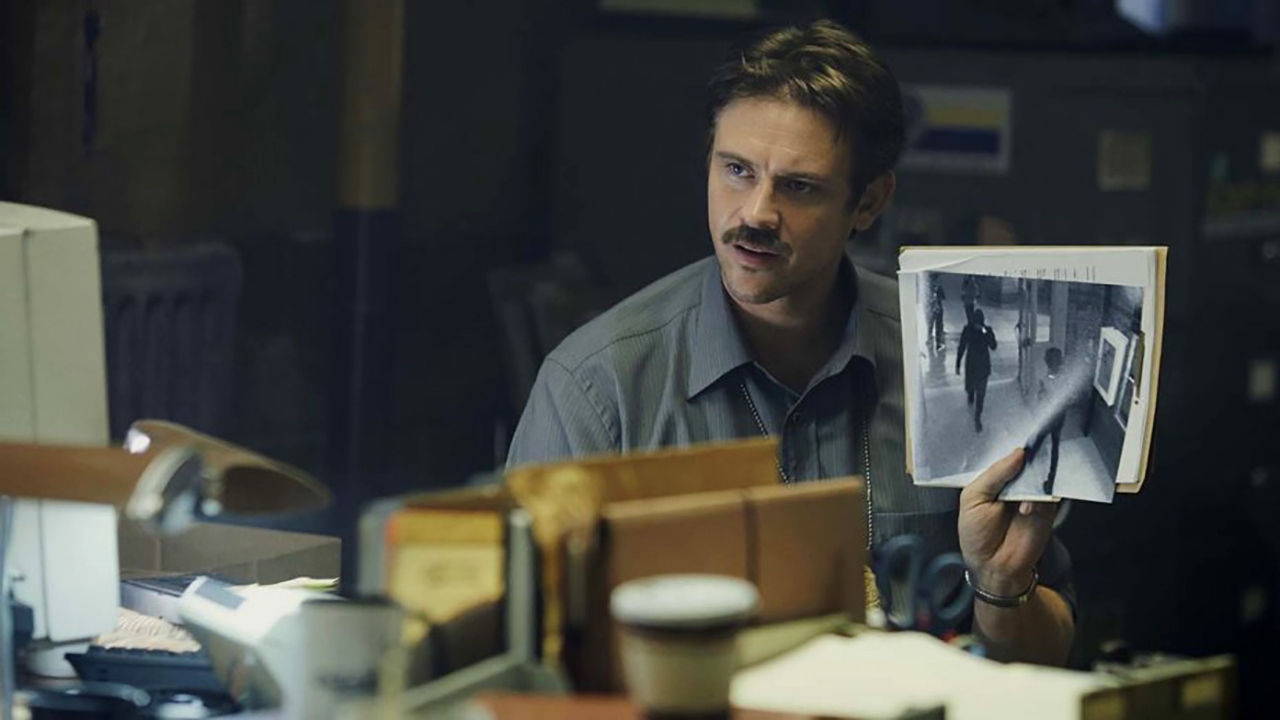 Then comes the moment that makes what seems like a regular horror film stand still in its steps – Boyd Holbrook pulls up Cleopatra Coleman, the girl he is pursuing, in the subway station and she turns and says "Hello, Tom. Congratulations on your daughter" – who hasn't even been born yet – "I want you to know, I am sorry about your partner, I never meant to…" – who is still alive with a broken leg one level up, before the two of them fight and she tries to make a getaway only to be hit by an oncoming train. It's a scene that entirely spins the film around on itself and leaves you stunned.
The script then takes the fascinating path of being told over the space of 33 years at nine-year intervals each of which presages the reappearance of the mystery girl, more murders, a full moon and the birthday of Boyd Holbrook's daughter. Watching Holbrook's progression from a rookie cop to a detective to burnout case and then homeless and alienated from his daughter is saddening to see. (Although part of me did strain a little at the improbability of a mere beat cop making all the key discoveries in a murder case, which are incredibly enough overlooked by assigned detective Michael C. Hall). Boyd Holbrook does a solid job in the lead, while the increasingly underrated Cleopatra Coleman has an aloof and alien presence as the mystery girl.
The twists and turns that come are immensely satisfying. This is a film where the grip it gets on you all lies in the turnings of a superbly tuned script. I want to discuss the twists but they are so neatly done that doing so removes any of the pleasure you might experience in watching the film. I can say I have never seen another work that starts out travelling in one direction and then so completely reverse its sympathies by the end of the show. The final revelation that comes is quite jaw-dropping.
(Winner in this site's Top 10 Films of 2019 list. Nominee for Best Original Screenplay at this site's Best of 2019 Awards).

---
---