aka The Doctor's Horrible Experiment; Experiment in Evil
(Le Testament du Docteur Cordelier)
---
Crew
Director/Screenplay – Jean Renoir, Based on the Novel The Strange Case of Dr Jekyll and Mr Hyde by Robert Louis Stevenson, Photography (b&w) – Georges Leclerc, Music – Joseph Kosma, Production Company – R.T.F./S.O.F.I.R.A.D./Compagnie Jean Renoir.
Cast
Jean-Louis Barrault (Dr Cordelier/Mr Ophale), Teddy Bilis (Joly), Jean Topart (Désiré), Michel Vitold (Dr Lucien Severin), Jacques Dannoville (Commissaire Lardaut), Andre Certes (Inspector Salbris), Micheline Gary (Marguerite)
---
Plot
The lawyer Joly is perturbed when his friend, the psychologist Dr Cordelier, asks to write out his will to leave everything to the mysterious Mr Ophale. Joly is then witness from out his window as a man brutally beats a young girl and then flees through the back gate of Cordelier's home. He learns that the assailant is Ophale. Cordelier later explains that he needs Ophale who is central to his experiments in understanding the human mind. However, Joly learns that Ophale is responsible for crimes of assault, rape and murder all across Paris. In pushing to help his good friend be rid of the thrall of this blackguard, he discovers that in his experiments Cordelier has created a potion that brings out the bestial side of human nature.
---
Jean Renoir (1894-1979) is considered one of the greatest of all film directors. The son of the celebrated Impressionist painter Pierre-August Renoir, Jean discovered cinema while recuperating from wounds accrued serving as a pilot during World War I. In the 1930s, Renoir made his best works, Le Grande Illusion (1937), La Bete Humaine (1938) and The Rules of the Game (1939), which are often considered among some of the greatest works of cinema in various critics' polls. Renoir had a none-too-happy venture to Hollywood during the 1940s and thereafter returned to France. The Testament of Dr Cordelier is Renoir's only venture into genre material – although Dejeuner Sur le Herbe (1959) does have a plot about artificial insemination – and is one of his less well-regarded works.
The Testament of Dr Cordelier – also known as Experiment in Evil and the more sensationalistic The Doctor's Horrible Experiment – is an adaptation of Robert Louis Stevenson's The Strange Case of Dr Jekyll and Mr Hyde (1886), a classic story that plumbs the divide of human nature between socialisation and animal instinct. Dr Jekyll and Mr Hyde remains the second most filmed story ever in fantastical cinema (see below for other adaptations of the story).
The Testament of Dr Cordelier first aired on the French television channel R.T.F. in 1959 and was subsequently given a cinematic release in 1961. It was unusual during this period for a celebrated director to be venturing into television, which was seen as a lesser competitor to cinema for a number of years. Certainly, Alfred Hitchcock had paved the way with the tv series Alfred Hitchcock Presents (1955-62). The film makes a big thing out of this with an introduction where we see Jean Renoir arriving at the tv studio, being greeted as a celebrity by the production crew and then sitting down at a desk to direct the show as it plays out on tv monitors before us. (The fact that the film is not a live studio performance and is being shot on exterior locations during many scenes seems to have escaped Renoir here – the opening is a great piece of self-importance and serves to inflate a mere work for tv to the status of an event).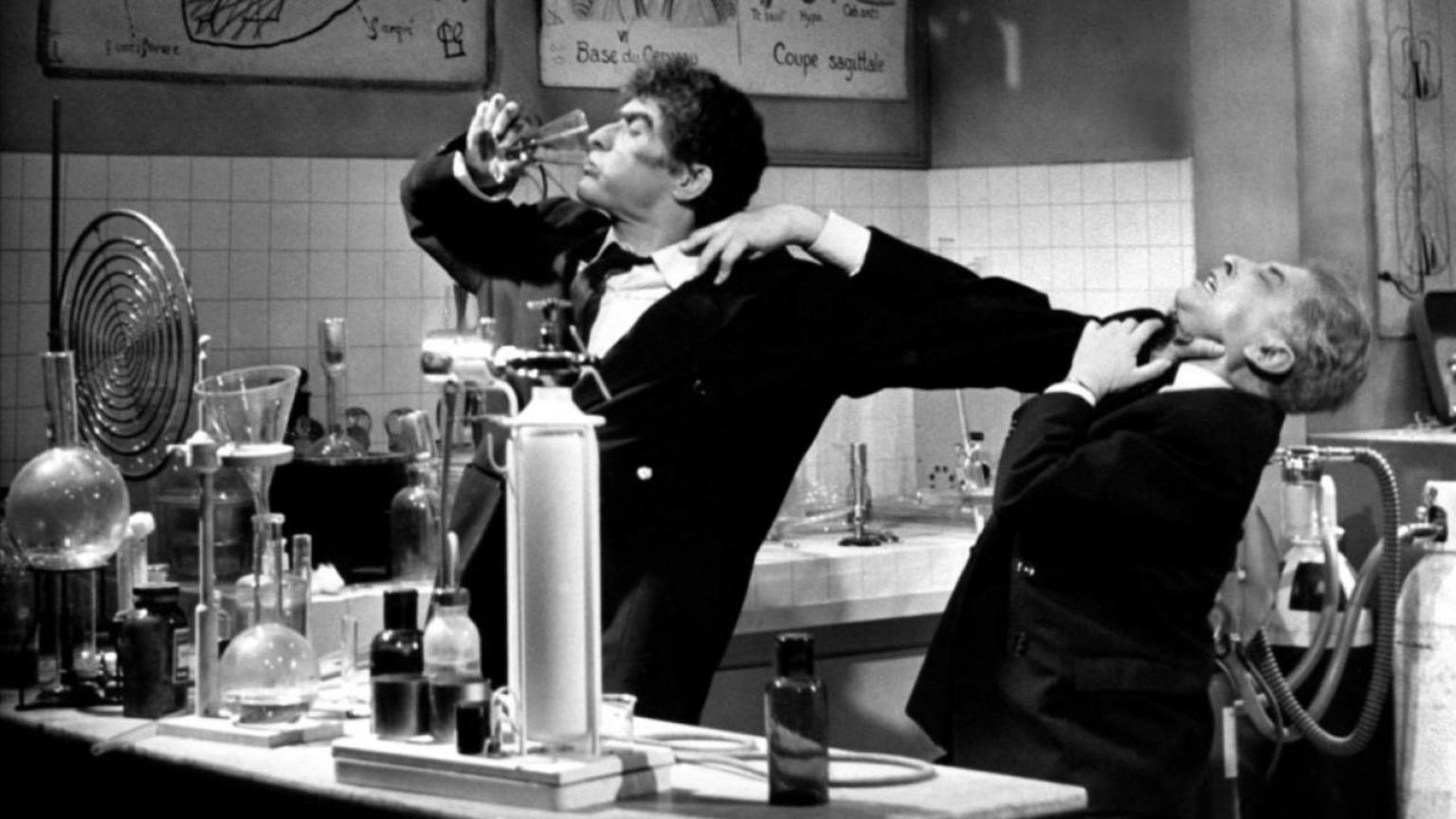 Though it changes the names of all the principals, The Testament of Dr Cordelier is an extremely faithful adaptation of Dr Jekyll and Mr Hyde. Indeed, coming as the tenth film production of the story, the third of the sound era, it would have to count as the most faithful rendition of Stevenson out of all the versions made up to that date. (On some points, it still holds that distinction). It opens as Robert Louis Stevenson had the story doing on the changing of the will and then moves to the scene where Mr Hyde/Monsieur Ophale beats the little girl in the street before being pursued back to Jekyll/Cordelier's place by an angry mob. Almost every film version has the transformation from Jekyll into Hyde occur early in the show but it should be noted that this is an invention of film and The Testament of Dr Cordelier has it, as Stevenson did, a surprise that is kept unto the end where the dying Jekyll/Cordelier tells Joly/Utterson what he did and the transformation is recounted in a flashback.
The downside of The Testament of Dr Cordelier is that Jean Renoir has no interest in making a horror film. This is a work that is a straight drama, although by no means an uninteresting one. Renoir's visual style is unexceptional, rather it is the telling of the actual story that carries the show. Certainly, Renoir does give us the suggestion of some of Hyde/Ophale's vices more so than any other film up to that point – during a visit to his flat, the police pick up a flogger and whips. Renoir also digs into Jekyll/Cordelier's motivations to create the potion – his feeling of social shame at having an affair with a maid and his being driven to molest a female patient while she was under anaesthetic (something the film doesn't seem too perturbed about).
The transformation scene is unexceptional, certainly nothing compared to the famous one Fredric March underwent in Dr. Jekyll and Mr. Hyde (1931). The other downside of the film is Jean-Louis Barrault's performance as Ophale. This seems to be conducted as something that falls halfway between Charlie Chaplin and Larry Talbot. As Ophale, Barrault is decked out in a suit several sizes too large and gives a fey and awkward performance that seems comic more than the threatening beast he is described as being. This also seems unwound by the playing of a jaunty comical score after Barrault is first transformed into Ophale.
A full discussion of Jekyll and Hyde films is here under the Theme Essay Jekyll and Hyde Films. Other versions of Dr Jekyll and Mr Hyde are:– Dr Jekyll and Mr Hyde (1908); Dr Jekyll and Mr Hyde (1910) with Alvin Neuss; Dr Jekyll and Mr Hyde (1912) with James Cruze; Dr. Jekyll and Mr. Hyde (1913) with King Baggott; Dr. Jekyll and Mr. Hyde (1920) with John Barrymore; Dr Jekyll and Mr Hyde (1920) with Sheldon Lewis; the classic Dr. Jekyll and Mr. Hyde (1931) with Fredric March; Der Januskopf (1920), a lost German version with Conrad Veidt; Dr Jekyll and Mr Hyde (1941) with Spencer Tracy; The Two Faces of Dr Jekyll (1960), the Hammer version with Christopher Lee; Dr Jekyll and Mr Hyde (tv movie, 1968) with Jack Palance; I, Monster (1971) also with Christopher Lee; The Man with Two Heads (1972) with Denis DeMarne; Dr Jekyll and Mr Hyde (tv movie, 1973), a musical version with Kirk Douglas; Walerian Borowczyk's Dr Jekyll and His Women (1981) with Udo Kier; Dr Jekyll and Mr Hyde (tv movie, 1981) with David Hemmings; a 1985 Russian adaptation starring Innokenti Smoktonovsky; Edge of Sanity (1989) with Anthony Perkins; The Strange Case of Dr Jekyll and Mr Hyde, an episode of the tv series Nightmare Classics (1989) with Anthony Andrews; Jekyll and Hyde (tv movie, 1990) with Michael Caine; My Name is Shadow (1996), a Spanish version starring Eric Gendron; a bizarre tv pilot Dr Jekyll and Mr Hyde (1999), which combined the story with Hong Kong martial arts and featured Adam Baldwin playing a Jekyll as a superhero in the Orient; Jekyll & Hyde: The Musical (2001) with David Hasselhoff; Dr Jekyll and Mr Hyde (2002) directed by and starring Mark Redfield; the excellent British tv reinterpretation Dr Jekyll & Mr Hyde (2002) with John Hannah; The Dr. Jekyll and Mr. Hyde Rock'n'Roll Musical (2003) with Alan Bernhoft; the modernised Jekyll + Hyde (2006) with Bryan Fisher; The Strange Case of Dr. Jekyll and Mr. Hyde (2006) with Tony Todd; the modernised BBC tv series Jekyll (2007) with James Nesbitt; Jekyll (2007) starring Matt Keeslar where Hyde becomes a virtual creation; and the modernised Dr. Jekyll and Mr Hyde (2008) starring Dougray Scott.
Other variations include the would-be sequels Son of Dr Jekyll (1951), Daughter of Dr Jekyll (1957) and Dr Jekyll and the Wolfman (1972); the comedy variations Abbott and Costello Meet Dr Jekyll and Mr Hyde (1953), The Ugly Duckling (1959), the Italian My Friend, Dr Jekyll (1960) and The Nutty Professor (1963) with Jerry Lewis and its remake The Nutty Professor (1996) with Eddie Murphy; versions where Dr Jekyll turns into a woman with Hammer's Dr Jekyll and Sister Hyde (1971), the Italian comedy Dr Jekyll and the Gentle Lady (1971) and Dr Jekyll and Ms Hyde (1995); the gender-reversed Madame Hyde (2017); a Looney Tunes cartoon Dr Jekyll's Hide (1954) where Sylvester the Cat transforms into a dog after taking the formula; the erotic/adult versions The Naughty Dr. Jekyll (1973), The Erotic Dr Jekyll (1976), Jekyll and Hyde (2000), Dr. Jekyll & Mistress Hyde (2003) and Jacqueline Hyde (2005); Dr Black and Mr Hyde (1976), a Blaxploitation version where Jekyll is a Black man who turns into a white-skinned monster; the amusing send-up Jekyll and Hyde … Together Again (1982); a wacky children's tv series Julia Jekyll and Harriet Hyde (1995); Killer Bash (1996) set in a frat house with an avenging female Jekyll; the excellent deconstruction Mary Reilly (1996), which tells the story from the point-of-view of Jekyll's maid; while the tv series Jekyll and Hyde (2015) concerns Jekyll's grandson (Tom Bateman) hunted by various parties during the 1930s. Dr Jekyll appears as a character in The League of Extraordinary Gentlemen (2003) played by Jason Flemyng, in the tv series Penny Dreadful (2014-6) played by Shazad Latif and in The Mummy (2017) played by Russell Crowe, which all feature team-ups between Famous Monsters, while the animated The Pagemaster (1994) features a Dr Jekyll voiced by Leonard Nimoy.
---