---
Crew
Director – John S. Robertson, Screenplay – Clara Beranger, Based on the Novel The Strange Case of Dr Jekyll and Mr Hyde by Robert Louis Stevenson, Producer – Alfred Zukor, Photography (b&w) – Roy Overbaugh, Art Direction – Robert M. Haas. Production Company – Famous Players-Lasky Corporation.
Cast
John Barrymore (Dr Henry Jekyll/Edward Hyde), Martha Mansfield (Millicent Carew), Brandon Hurst (Sir George Carew), Nita Naldi (Gina), Charles Lane (Dr Richard Lanyon), George Stevens (Poole), J. Malcolm Dunn (Utterson), Cecil Clovelly (Edward Enfield), Louis Wolheim (Music Hall Owner)
---
Plot
In Victorian London, Dr Henry Jekyll is an upstanding surgeon who tirelessly works to help the poor. At a dinner party, Sir George Carew, the father of Jekyll's fiancee Millicent, taunts Jekyll that every man has a dark side. Sir George then takes Jekyll to visit a disreputable dancehall where Jekyll is bewitched by the Italian dancer Miss Gina. He returns to his laboratory and feverishly works on perfecting a formula that will allow his baser nature to roam free. Upon drinking it, he is transformed into something bestial. Calling himself Edward Hyde, he runs out and freely cavorts with Miss Gina, leaving her a ruined woman. Jekyll soon becomes tainted by the actions of his other half as Hyde tramples a child to death and then flees back to Jekyll's house. As those around him have difficulty understanding how he can associate with such a monster, Jekyll finds the lure of the formula difficult to resist.
---
Robert Louis Stevenson's novel The Strange Case of Dr Jekyll and Mr Hyde (1888) has the distinction of being the most ever filmed horror story – more so than even the various adaptations of Frankenstein (1818) and Dracula (1897). This production is one of seven different versions of the story that were made during the silent era – indeed, this was one of no less than three versions produced in 1920 alone, alongside a version starring Sheldon Lewis and the German Der Januskopf (1920) from director F.W. Murnau starring Conrad Veidt, although this version is the only one of these still in existence today. (See below for other film versions of Dr Jekyll and Mr Hyde).
This version has gained a reasonable and possibly overrated reputation among genre historians, particularly in regard to the performance of John Barrymore (the grandfather of Drew). Being familiar with the story through seeing numerous other versions, not to mention sequels and parodies, it is difficult to view the film with the freshness it must have had on the screen back then. Or for that matter to watch the transformation scene without comparing it to the classic scene in the still definitive Fredric March version of the story Dr. Jekyll and Mr. Hyde (1931).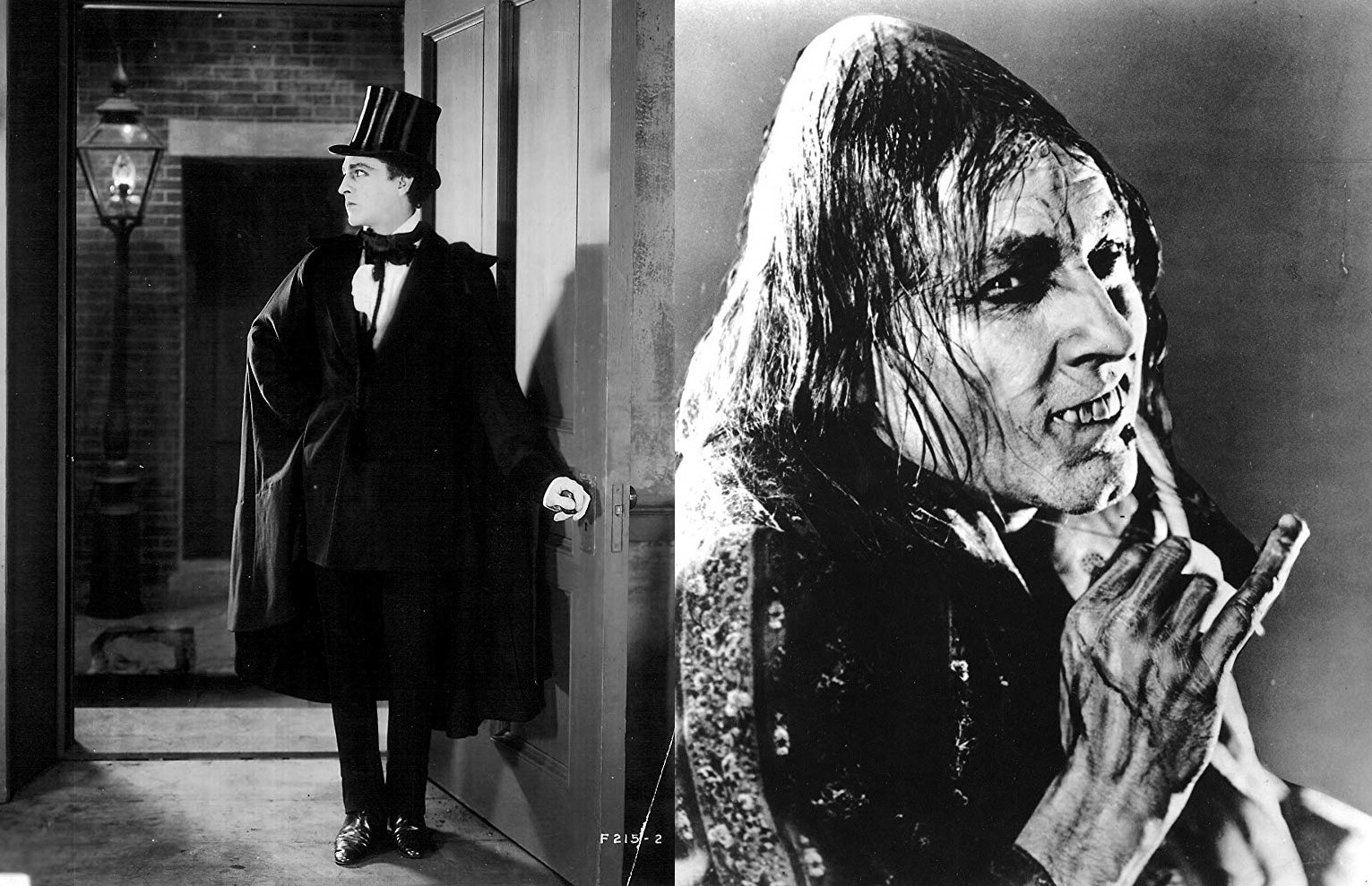 The film is extremely faithful to the Robert Louis Stevenson novel, whereas many of the earlier silent versions usually stripped it down to several highlight scenes. Certainly, the film makes some small and interesting changes. Much more emphasis is placed on Dr Jekyll's good half than it is in any other version of the story, where he is portrayed with near saintly virtue and with sentimentalised cuts away to vignettes of him ministering to the poor. The other change that this version introduces, something that has been copied by a number of subsequent adaptations, is the dancehall girl that Mr Hyde consorts with – a character clearly intended to represent loose carnal temptation in contrast to the virtuous good and, by implication, acceptability of marriage represented by Jekyll's fiancee. One intriguing addition is the fiancee's father who initially drags Jekyll to the dancehall who is portrayed as a Victorian gentleman with a taste for vice.
The film is a reasonable run through the story, although perhaps not a truly standout one. (This criticism of course being mindful of the fact that one is watching it after having seen some half-dozen other versions of the story). Director John S. Robertson has a fine grasp of mise-en-scene. The sets and set-ups have a richness of texture and detail, with even the background characters being given life. Robertson also chooses to set the film period in the Victorian gaslight era with all the requisite stovepipe hats, hansom cabs and fog-laden streets. (It should be noted that at the time the film was made, the image of what we regard as a standard Victorian gaslight setting today was recent history ie. only twenty years in the past). Also amusing is when the intertitle cards attempt to replicate a Cockney accent: "Shut your fice – you're 'iding the stige" or "Lidies and gents – allow me to interduce the fimous h'Italian dancer – Miss Gina."
The transformation scene is tame today, with most of this being achieved through John Barrymore's highly melodramatic acting. Barrymore gives the Mr Hyde role a creepy crepuscularity. The makeup people have given Hyde leering demoniac features and an absurd peaked skull that makes him look like a pinhead. It is, one suddenly realises, really a Lon Chaney [Sr] performance, a role that has been specifically designed to play into the silent era's fascination with on-screen grotesqueries and actor undergoing a remarkable physical transformation for the part.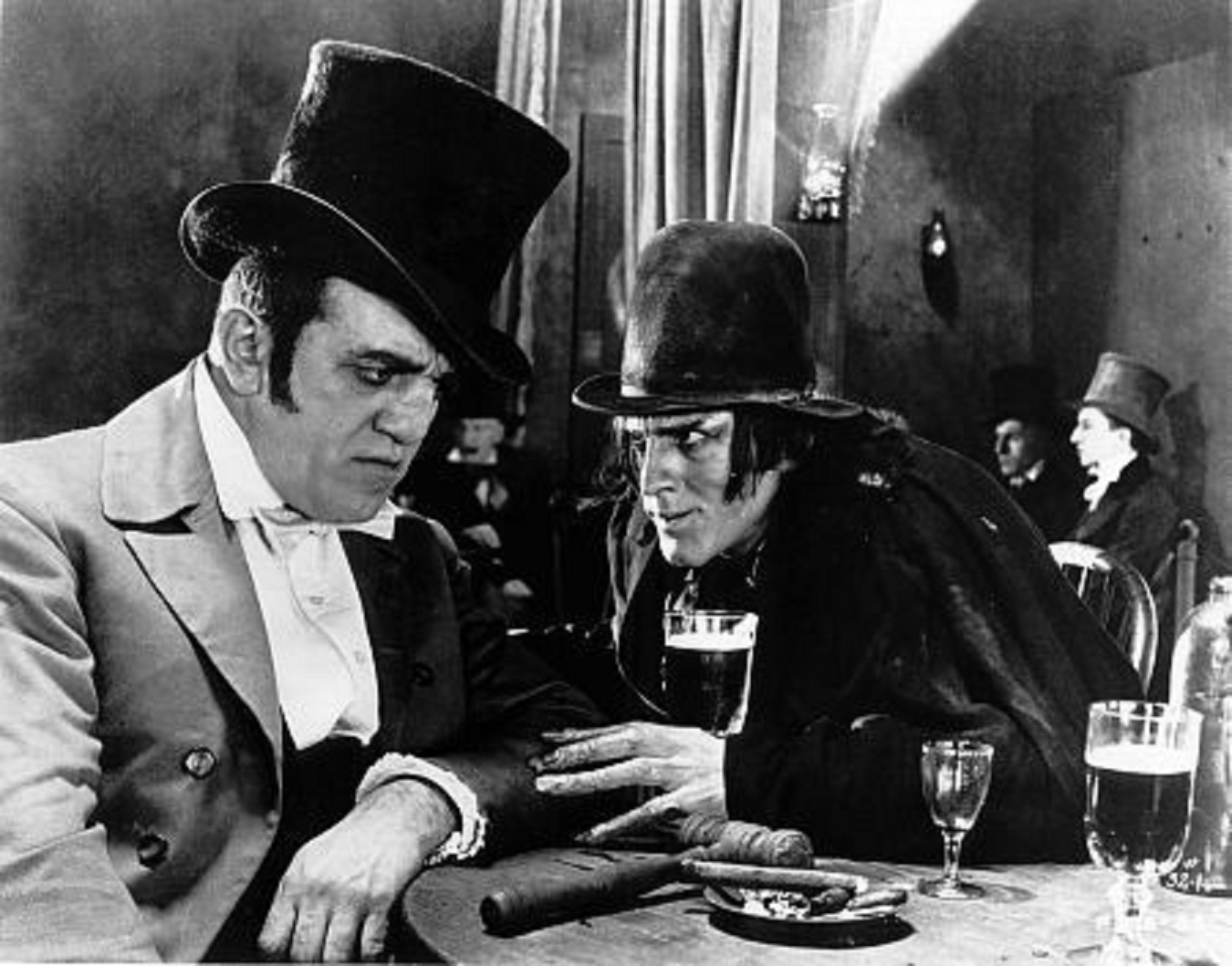 A full discussion of Jekyll and Hyde films is here under the Theme Essay Jekyll and Hyde Films. Other versions of Dr Jekyll and Mr Hyde are:– Dr Jekyll and Mr Hyde (1908); Dr Jekyll and Mr Hyde (1910) with Alvin Neuss; Dr Jekyll and Mr Hyde (1912) with James Cruze; Dr. Jekyll and Mr. Hyde (1913) with King Baggott; Dr Jekyll and Mr Hyde (1920) with Sheldon Lewis; Der Januskopf (1920), a lost German version with Conrad Veidt; the classic Dr. Jekyll and Mr. Hyde (1931) with Fredric March; Dr Jekyll and Mr Hyde (1941) with Spencer Tracy; Jean Renoir's The Testament of Dr Cordelier (1959) with Jean-Louis Barrault; The Two Faces of Dr Jekyll (1960), the Hammer version with Christopher Lee; Dr Jekyll and Mr Hyde (tv movie, 1968) with Jack Palance; I, Monster (1971) also with Christopher Lee; The Man with Two Heads (1972) with Denis DeMarne; Dr Jekyll and Mr Hyde (tv movie, 1973), a musical version with Kirk Douglas; Walerian Borowczyk's Dr Jekyll and His Women (1981) with Udo Kier; Dr Jekyll and Mr Hyde (tv movie, 1981) with David Hemmings; a 1985 Russian adaptation starring Innokenti Smoktonovsky; Edge of Sanity (1989) with Anthony Perkins; The Strange Case of Dr Jekyll and Mr Hyde an episode of the tv series Nightmare Classics (1989) with Anthony Andrews; Jekyll and Hyde (tv movie, 1990) with Michael Caine; My Name is Shadow (1996), a Spanish version starring Eric Gendron; a bizarre tv pilot Dr Jekyll and Mr Hyde (1999), which combined the story with Hong Kong martial arts and featured Adam Baldwin playing a Jekyll as a superhero in the Orient; Jekyll & Hyde: The Musical (2001) with David Hasselhoff; Dr Jekyll and Mr Hyde (2002) directed by and starring Mark Redfield; the excellent British tv reinterpretation Dr Jekyll & Mr Hyde (2002) with John Hannah; The Dr. Jekyll and Mr. Hyde Rock'n'Roll Musical (2003) with Alan Bernhoft; Jekyll (2004) starring Matt Keeslar; the modernised Jekyll + Hyde (2006) with Bryan Fisher; The Strange Case of Dr. Jekyll and Mr. Hyde (2006) with Tony Todd; the modernised BBC tv series Jekyll (2007) with James Nesbitt; Jekyll (2007) starring Matt Keeslar where Hyde becomes a virtual creation; and the modernised Dr. Jekyll and Mr Hyde (2008) starring Dougray Scott.
Other variations include the would-be sequels Son of Dr Jekyll (1951), Daughter of Dr Jekyll (1957) and Dr Jekyll and the Wolfman (1972); the comedy variations Abbott and Costello Meet Dr Jekyll and Mr Hyde (1953), The Ugly Duckling (1959), the Italian My Friend, Dr Jekyll (1960) and The Nutty Professor (1963) with Jerry Lewis and its remake The Nutty Professor (1996) with Eddie Murphy; versions where Dr Jekyll turns into a woman with Dr Jekyll and Sister Hyde (1971), the Italian comedy Dr Jekyll and the Gentle Lady (1971) and Dr Jekyll and Ms Hyde (1995); the gender-reversed Madame Hyde (2017); a Looney Tunes cartoon Dr Jekyll's Hide (1954) where Sylvester the Cat transforms into a dog after taking the formula; the erotic/adult versions The Naughty Dr. Jekyll (1973), The Erotic Dr Jekyll (1976), Jekyll and Hyde (2000), Dr. Jekyll & Mistress Hyde (2003) and Jacqueline Hyde (2005); Dr Black and Mr Hyde (1976), a Blaxploitation version where Jekyll is a Black man who turns into a white-skinned monster; the amusing send-up Jekyll and Hyde … Together Again (1982); a wacky children's tv series Julia Jekyll and Harriet Hyde (1995); Killer Bash (1996) set in a frat house with an avenging female Jekyll; the excellent deconstruction Mary Reilly (1996), which tells the story from the point-of-view of Jekyll's maid; while the tv series Jekyll and Hyde (2015) concerns Jekyll's grandson (Tom Bateman) hunted by various parties during the 1930s. Dr Jekyll appears as a character in The League of Extraordinary Gentlemen (2003) played by Jason Flemyng, in the tv series Penny Dreadful (2014-6) played by Shazad Latif and in The Mummy (2017) played by Russell Crowe, which all feature team-ups between Famous Monsters, while the animated The Pagemaster (1994) features a Dr Jekyll voiced by Leonard Nimoy.
---
---