---
USA. 2013.
Crew
Director – Jason Bourque, Screenplay – Rafael Jordan, Producer – Kim Arnott, Photography – Brenton Spencer, Music – James Jandrisch, Visual Effects – Encore Post (Supervisors – Ivan Hayden & James "Bones" Rorick), Special Effects Supervisor – David Barkes, Production Design – Terry Lewis. Production Company – Two for the Media Money/Syfy.
Cast
Paul Johansson (Joe Randall), Sebastian Spence (Lee Carlton), Miranda Frigon (Maddy), Jessica McLeod (Megan Randall), Dylan Schmid (Jackson Randall), Thea Gill (Tara Laykin), William B. Davis (Ben)
---
Plot
In Boston, former volcanologist turned high-school science teacher Joe Randall is pressed into action to investigate as large rocks start falling from the sky across the city. He is joined by his old college friend Lee Carlton, now a tv weather presenter, who is seeking to do a piece. Together they realise that the city is being hit by a freak tornado that has sucked up rocks from a recent volcanic turbulence, something that they nickname a stonado. Due to a freak mix of weather conditions, the rocks are coming down cold to the touch and exploding soon after striking. As the storm moves inland and the boulders come down en masse, Joe races to save his daughter and son after they are caught in the midst of the storm at the stadium, as well as to launch a radical, untested solution to stop the stonado.
---
Stonados is another of the disaster movies that are regularly churned out for the Syfy Channel. See also the likes of Path of Destruction (2005), The Black Hole (2006), Meltdown: Days of Destruction (2006), Lava Storm (2008), Annihilation Earth (2009), Ice Twisters (2009), Megafault (2009), Arctic Blast (2010), Polar Storm (2009), Ice Quake (2010), Meteor Storm (2010), Quantum Apocalypse (2010), Stonehenge Apocalypse (2010), Behemoth (2011), Collision Earth (2011), Earth's Final Hours (2011), Mega Cyclone (2011), Metal Tornado (2011), Seeds of Destruction (2011), Miami Magma (2011), Super Eruption (2011), Super Tanker (2011), 2012 Ice Age (2011), Alien Tornado (2012), Seattle Super Storm (2012), 500 MPH Storm (2013), Jet Stream (2013), 100° Below 0 (2013), Asteroid vs Earth (2014), Christmas Icetastrophe (2014), Crystal Skulls (2014), Firequake (2014), LA Apocalypse (2014), San Andreas Quake (2015), Stormageddon (2015), Geo-Disaster (2017) and Oceans Rising (2017). (I have a more in-depth essay on these here at Disaster Movies).
Stonados hits all the formula buttons for the Syfy Channel disaster movie. There is the hero who is a former top scientist who is (for reasons never made too clear) now in quasi-disgrace; he has a radical, untested theory that could save the day; there is the government bureaucracy – the fictional Federal Oceanic Agency – that denies the existence of the problem until faced with hard evidence; there is the hero's two kids written in for the express purpose of ignoring parental orders and wandering away to become caught up in the middle of the disaster in a situation that forms the B plot. William B. Davis, the Cigarette Smoking Man from tv's The X Files (1993-2002, 2016-8), even turns up as a lighthouse keeper who becomes one of the early victims of the stonados in a minor subplot unrelated to anything else.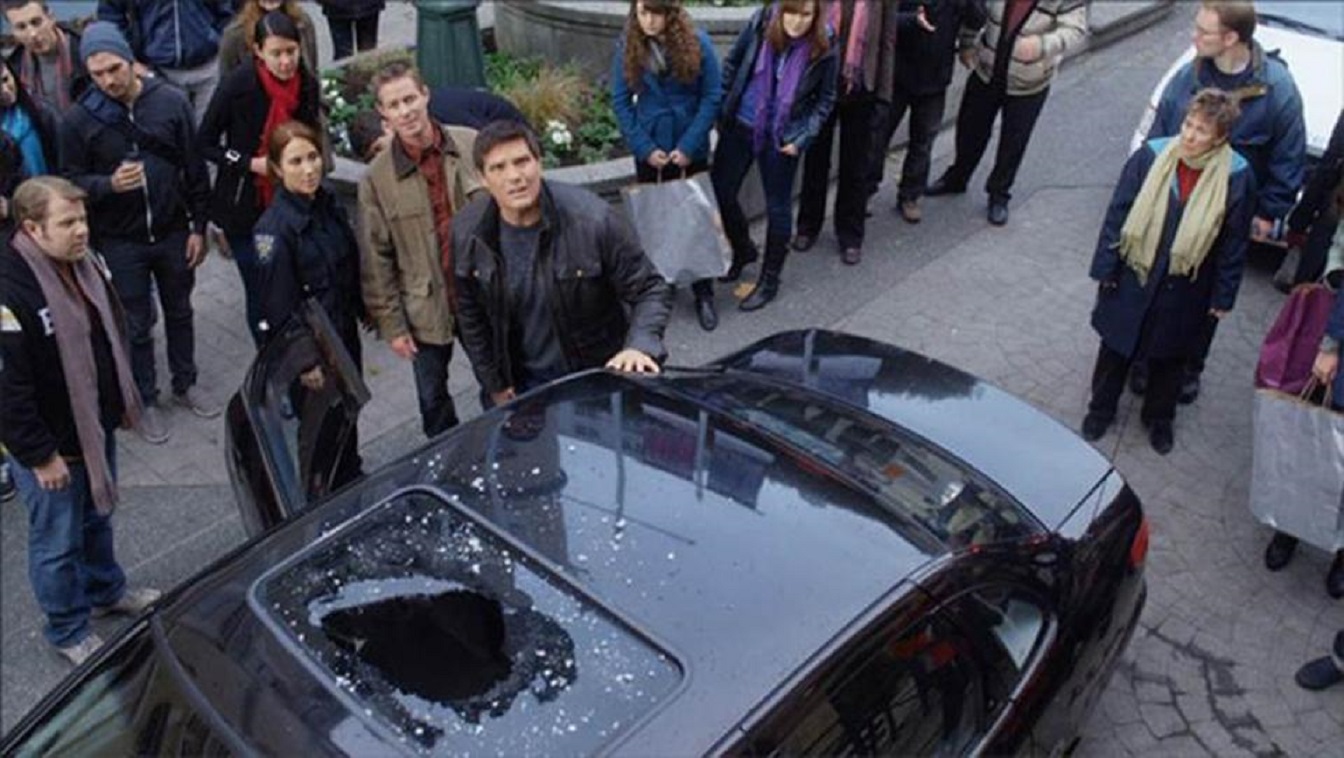 As usual with these films, the disaster is relayed by sub-par digital effects that have been produced on the cheap – throughout we keep cutting back to what looks like the same piece of tatty digital footage of the tornado with boulders swirling around in mid-air repeated over. Some of the principal dramatic scenes of the film rather amusingly involve the heroes driving a van down back alleys at about 5 mph where they have to avoid boulders that for added drama are given to randomly explode – the result feels exactly like a videogame in slow-motion. The concluding drama features a preposterous scheme that involves talk about "creating global warming on a small scale" to deal with the issue and the hero(es) having to drive a vehicle into the midst of the vortex.
Director Jason Bourque has made a seeming career out of low-budget disaster movies, having also been responsible for Wildfire 7: The Inferno (2002), Dark Storm (2006), Doomsday Prophecy (2011), Seattle Super Storm (2012) and Meteor Assault (2015), and other genre films such as Maximum Surge (2003), Termination Point (2007) and Crash Site (2011).
---
Trailer here
---