---
Crew
Director – John Guillermin, Screenplay – Lorenzo Semple Jr, Based on the 1933 Film Written by James Creelman & Ruth Rose, Producer – Dino De Laurentiis, Photography – Richard H. Kline, Music – John Barry, Visual Effects – Frank Van Der Veer, Mechanical Effects – Carlo Rambaldi, Special Effects – Lou Lichtenfield, Barry Nolan, Glen Robinson & Harold Wellman, Makeup Effects – Rick Baker, Production Design – Mario Chiari & Dale Hennesy. Production Company – Dino De Laurentiis Corporation.
Cast
Jeff Bridges (Jack Prescott), Jessica Lange (Dwan), Charles Grodin (Fred Wilson), Rene Auberjonois (Bagley), John Randolph (Captain Ross)
---
Plot
The Petrox oil company mounts an expedition to a remote island. They are joined by stowaway palaeontologist Jack Prescott, come to protest against environmental despoliation. Out at sea, they pick up shipwrecked Hollywood starlet Dwan. On the island, Dwan is kidnapped by the natives and given in sacrifice as bride to a giant forty-foot ape Kong. Prescott ventures through the jungle to rescue her. The expedition captures Kong and return with it to New York where they plan to exploit it as part of the oil company's advertising campaign. Instead, Kong gets free and rampages through the city in search of Dwan.
---
This infamous remake of King Kong (1933) is perhaps a perfect demonstration of the old adage that once is usually leaving well enough alone. King Kong 1976 was universally hated by almost everybody who ever loved the original King Kong, which is an unquestionable genre and cinema landmark. The remake rated highly in the public vote section of The Golden Turkey Awards (1980) and for many years stood as an example of how not to conduct a remake.
The King Kong project was well heralded. At one point, there were two competing King Kong projects – the other one was mounted by producer Jon Peters to have been called The Legend of King Kong and to have starred Barbra Streisand. A legal battle ensued and was eventually won by producer Dino De Laurentiis. Up until that point, Dino De Laurentiis was regarded as a mogul in his native Italy, having produced the neo-realist classic Bitter Rice (1949), Fellini's Nights of Cabiria (1957), epics like The Bible (1966) and the delightfully cheeky comic-book adaptations Danger: Diabolik (1967) and Barbarella (1968). De Laurentiis had broken into American production with Serpico (1973).
It was King Kong that single-handedly gave Dino De Laurentiis a reputation as a producer of notorious tackiness. De Laurentiis subsequently went onto make a number of other disasters such as The White Buffalo (1977), Orca (1977), The Hurricane (1979), Ragtime (1981) and Madonna's Body of Evidence (1983) and generally ill-regarded genre efforts such as the remake of Flash Gordon (1980), David Lynch's Dune (1984) and Stephen King's Maximum Overdrive (1986). He formed The De Laurentiis Entertainment Group in the mid-80s, producing a number of Stephen King adaptations, and in his favour made a few good films such as Michael Cimino's The Year of the Dragon (1985), David Lynch's Blue Velvet (1986), the original Hannibal Lecter film Manhunter (1986) and William Friedkin's Rampage (1987), not to mention Bill and Ted's Excellent Adventure (1989). By the end of the 1980s, De Laurentiis's extravagance had caught up with him and DEG financially collapsed. Up until his death in 2010, De Laurentiis sporadically worked as an independent producer.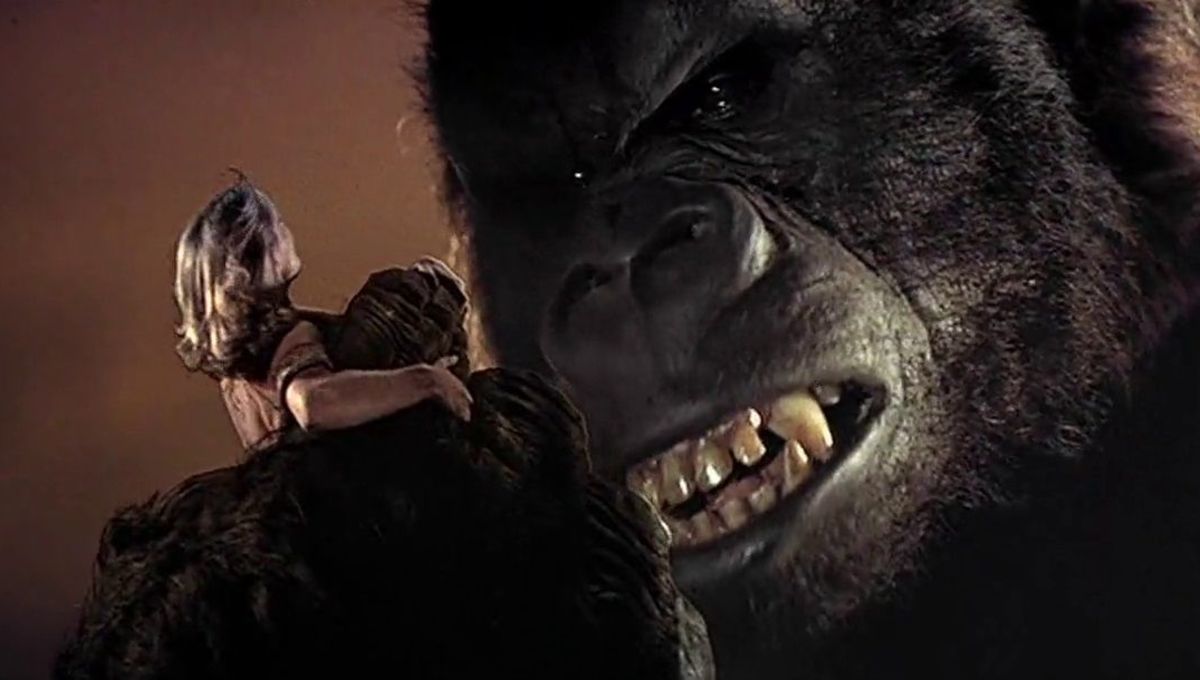 Dino De Laurentiis's King Kong is a film that lives in infamy. Something started to go wrong when Dino De Laurentiis decided to approach it as a disaster film. The script was handed over to Lorenzo Semple Jr who had previously performed duties as script editor on tv's high camp Batman (1966-8) and subsequently worked on films such as Flash Gordon (1980) and Sheena (1984), all of which betray a campy approach that holds the original source material in ridicule. The director was British director John Guillermin, who had made a number of British crime thrillers and war films, a couple of Tarzan films but was then most well known as the co-director of The Towering Inferno (1974). Pre-production was a farce, with a big stir being caused when De Laurentiis's son Federico advertised for a Black man to play the role of the ape on the reasoning that Blacks were closer to primate origins. And then there was the $1.7 million mechanical ape that was built by Carlo Rambaldi and only used for one brief scene. The publicity campaign tried to make the claim that the mechanical ape had been used throughout the entire film when in fact Kong was played by Rick Baker in his ape suit. The film was also charged with trade practices contravention when the advertising poster showed a picture of Kong straddling the World Trade Towers crushing fighter planes in his hands, when no such scene appears in the film.
De Laurentiis lavished a then sizable $25 million budget on King Kong. In many respects, King Kong starts out a promising film. There is an impressive lavishness of scenery – the film was shot in Hawaii, whereas the original never strayed beyond New York and L.A. The build-up to and even Kong's entrance is well handled. It is just that after Kong and the girl get together, the film takes a nosedive right to the bottom. Rather than the original's dreamy fairytale-like crafting of the relationship between girl and ape, the relationship has now been construed by Lorenzo Semple as a ghastly post-Sexual Revolution one. She is painted as a 70s flower child and comes out with lines like: "You chauvinist pig ape"; "It's a sign of insecurity – like when you knock over trees"; "I'm a Libra, what are you?" When it comes to the scene like where Kong holds a muddy Dwan under a waterfall to clean her and then blows her dry, you realize that King Kong is a film that is not taking itself seriously and one that holds its audience in contempt for even thinking about doing so. At another point, Kong's finger comes bursting through saloon doors like a Western gunfighter.
What outraged fans of the original was the replacement of Willis O'Brien's stop-motion animation with Rick Baker in an ape suit. Certainly, on a technical level, Rick Baker's ape suit fulfills the job competently and is not as bad as had been made out. More so, it is representative of the thorough poverty of imagination on display in the film – like the reduction of the marvellous battle between Kong and the triceratops in the original to a mere wrestling match with a rubber snake. When the film has a budget like does and this is all that you end up with, the shabbiness of imagination is sad. The production seems ashamed of Rick Baker's work and even tries to maintain the fiction of a giant mechanical Kong in the end credits where Baker's work is deliberately downplayed – "the production wishes to acknowledge that King Kong has been designed and engineered by Carlo Rambaldi, constructed by Carlo Rambaldi and Glen Robinson, with special contributions by Rick Baker."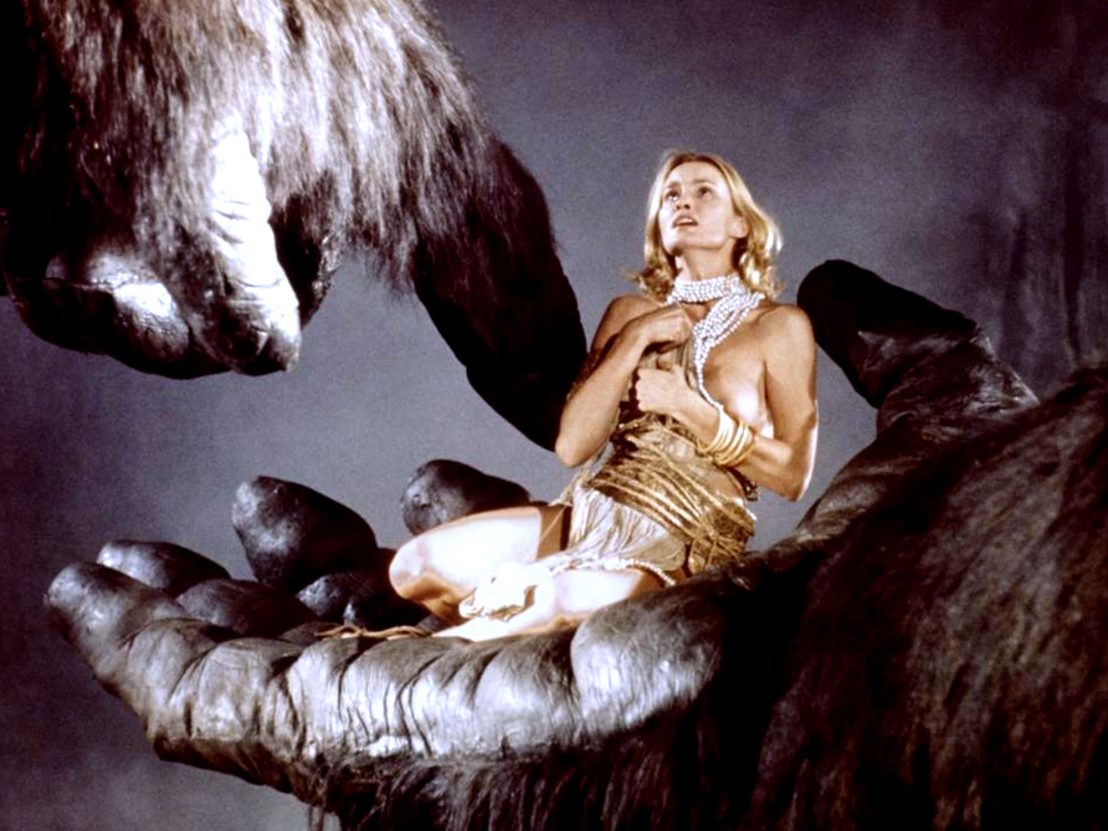 One delight about the film is Jessica Lange. Previously a model, Lange won the part after others, including Cher, turned it down. She adds a charm and pixie freshness to the otherwise thorough awfulness of the part. Of course, after the critical drubbing that was languished on King Kong, Jessica Lange's career was nearly over. To some surprise, she proved herself a few years later as an actress of considerable worth in the remake of The Postman Always Rings Twice (1981) and then won Best Actress Oscars for Tootsie (1982) and Blue Sky (1994), as well as accruing three other Academy Award nominations. Elsewhere, Jeff Bridges makes for a reasonably assertive hero, although both Charles Grodin and Rene Auberjonois barnstorm with appallingly OTT regard in supporting parts.
Although, King Kong was hated by all fans of the original, it was popular with some critics. Variety, for example, gave it a glowing review. Bizarrely, the film ended up winning that year's Academy Award for Visual Effects, much to the disgust of stop-motion animator Jim Danforth who loudly resigned from the Academy in disgust.
King Kong was certainly a box-office success. Dino De Laurentiis planned a sequel for several years, at one point toying with the idea of teaming Kong up against the whale from his production of Orca (1977). Eventually, De Laurentiis, director John Guillermin and Carlo Rambaldi teamed up to make the laughably bad King Kong Lives (1986), which was an unqualified disaster – although interestingly this time Carlo Rambaldi didn't attempt any full-size mechanical suits but relented to use the same Rick Baker techniques that this film seemed ashamed of. When King Kong came out, a number of other films attempted to quickly cash in on it, including the sex-reversed parody Queen Kong (1976), A.P.E./Attack of the Giant Horny Gorilla (1976) and The Mighty Peking Man (1977).
The other King Kong films are:
John Guillermin was a British director who directed two of the Sy Weintraub Tarzan films with Tarzan's Greatest Adventure (1959) and Tarzan Goes to India (1962). Guillermin went onto other big adventure films, war films and spectacles such as Guns at Batasi (1964), The Blue Max (1966), The Bridge at Remagen (1969) and Shaft in Africa (1973). The one other film Guillermin is remembered for today is the disaster film The Towering Inferno (1974). His one other genre entry is the big screen remake of Sheena (1984), which also has a camp bad movie reputation.
---
---