aka Mystery of Monster Island
(Misterio en la Isla de los Monstruos)
Spain/USA. 1981.
Crew
Director/Producer – J. Piquer Simon, Screenplay – J. Piquer Simon, J. Grau & R. Gantman, Based on the Novel Mysterious Island by Jules Verne, Photography – Andres Berenguer, Music – Alfonso Aguello, Alejandro Molloy & Carlos Villa, Visual Effects/Production Design – Emilio Ruiz, Special Effects – Basilio Cortijo. Production Company – Almena Films/Fort Films.
Cast
Ian Sera (Jeff Morgan), David Hatton (Thomas Artelet), Peter Cushing (William T. Calderon), Terence Stamp (Skinner), Gasphar Ipua (Carefinatu), Blanca Estrada (Dominique Blanchard), Ana Obregon (Meg Calderon)
---
Plot
Jeff Morgan says that he is not yet ready to marry his sweetheart Meg, the daughter of millionaire William T. Calderon, because he desires to find adventure. Calderon decides to send Jeff and his tutor, the bumbling Professor Thomas Artelet, on a journey in search of adventure. However, their ship is attacked and sunken by sea creatures and they are washed up on a desert island. Joined by Carefinatu, a native man they rescue from cannibals, and castaway Frenchwoman Dominique Blanchard, they must brave the perils of the island, which include giant monsters, cannibal tribes and ruthless pirates seeking the treasure hidden there.
---
Monster Island comes from Spanish low-budget genre director Juan Piquer Simon. Simon is a terrible filmmaker who has made the other genre likes of The Fabulous Journey to the Center of the Earth (1977), Supersonic Man (1979), Pieces (1983), Slugs: The Movie (1988), Cthulhu Mansion (1990) and The Rift/Endless Descent (1990), all of which are cheap ripoffs of superior genre films.
Monster Island is ostensibly based on Jules Verne's Mysterious Island (1875), although gives the impression that none of the filmmakers has actually read the Verne story. You can tell from the title alone Monster Island – Jules Verne's Mysterious Island was a desert island survival story, which does feature Captain Nemo and The Nautilus (neither of which appear here) but no monsters. In fact, it was not until the fourth film adaptation of Mysterious Island – Mysterious Island (1961) – that monsters started to creep into the story. It feels as though Monster Island has been taken direct from the 1961 film rather than from Jules Verne.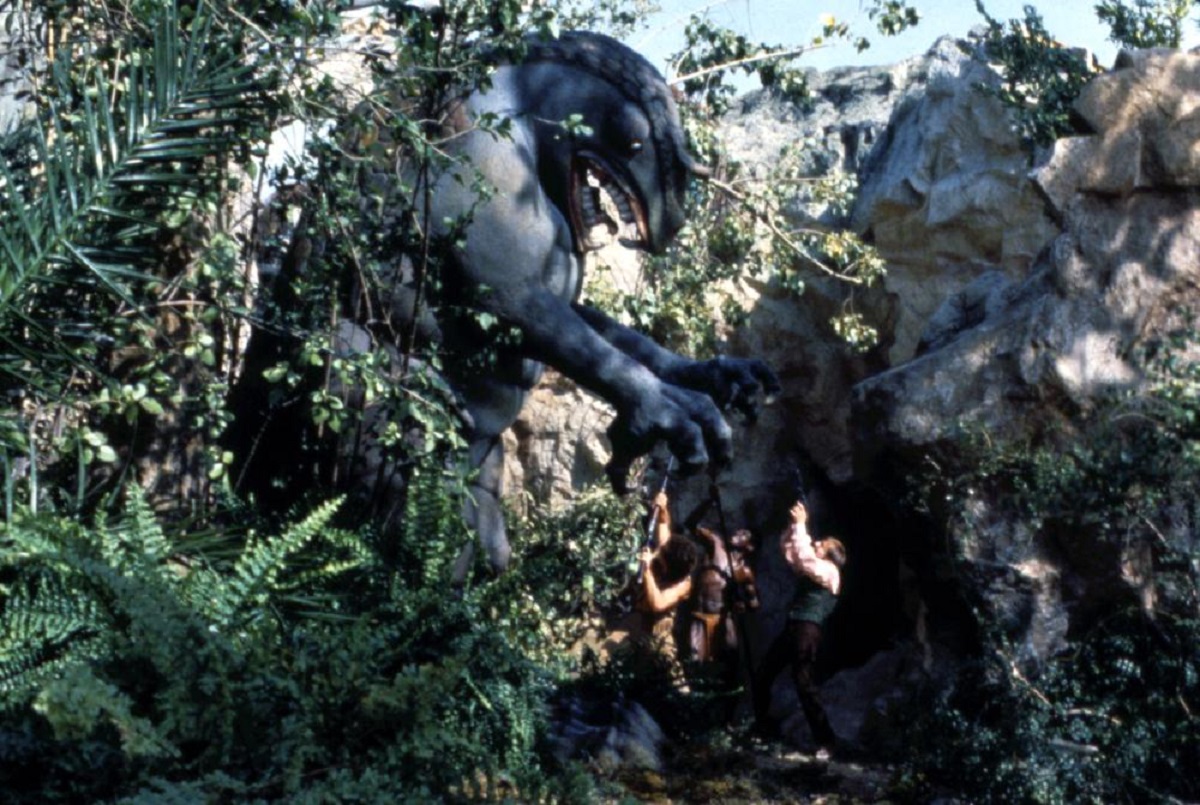 As with all of Juan Piquer Simon's films, the effects are terrible – tatty men-in-rubber-dinosaur suits, seaweed creatures where one can see the pants the extras are wearing underneath, awful Gill Man creatures. The worst part about Monster Island is the constant slapstick tone. There is marching music on the soundtrack and clonking sound effects as people are hit on the head, as well as a shrill slapstick sidekick written in for the journey. Even the building of the hut and defences are conducted as slapstick. There is an amazingly silly climactic battle scene with the good guys warding off the pirates with a catapult that throws coconuts and a hand-cranked wooden tommy gun that fires bananas.
The film reaches a completely unbelievable twist ending that reveals everything that has happened has been a set-up to teach the young hero life lessons. This is something that turns the film more into a version of tv's Fantasy Island (1977-84) than it does Mysterious Island.
Monster Island also toplines Peter Cushing and Terence Stamp but their appearances are limited to a combined total of about ten minutes at the beginning and end of the film, with Stamp's character being dressed in a burnoose and clearly played by someone else for the rest of the time.
Other adaptations of Mysterious Island have included:- the silent Twenty Thousand Leagues Under the Sea (1916) where both 20,000 Leagues and Mysterious Island were condensed into one story; the silent The Mysterious Island (1929); an obscure Russian-made adaptation Mysterious Island (1941); the serial Mysterious Island (1951); Ray Harryhausen's Mysterious Island (1961) with Herbert Lom as Nemo and featuring stop-motion animated giant animals; the Spanish/French/Italian The Mysterious Island of Captain Nemo (1972) with Omar Shariff as Nemo; the 22 episode tv series Mysterious Island (1995) with John Bach as Nemo; and the Hallmark tv mini-series Mysterious Island (2005) with Patrick Stewart as Captain Nemo; The Mysterious Island (2012) with W. Morgan Sheppard as Captain Nemo and involving time travellers; and Journey 2: The Mysterious Island (2012).
---
Trailer here
---