---
Crew
Director – David Twohy, Screenplay – David Twohy & Jim & Ken Wheat, Story – Ken & Jim Wheat, Producer – Tom Engelman, Photography – David Eggby, Music – Graeme Revell, Visual Effects Supervisor – Peter Chiang, Creature Effects Supervisor – Patrick Tatopoulos, Digital Visual Effects – Double Negative Ltd & The Magic Camera Co (Supervisor – Angus Cameron), Miniature Visual Effects – The Chandler Group (Supervisor – Ian Hunter) & Hunter-Gratzner Industries Inc (Supervisors – Hunter & Matthew Gratzner), Special Effects Supervisor – Brian Cox, Production Design – Graham 'Grace' Walker. Production Company – Interscope Communications/Intrepid Pictures.
Cast
Vin Diesel (Richard Riddick), Radha Mitchell (Caroline Fry), Cole Hauser (Johns), Rhianna Griffith (Jack), Simon Burke (Owens), Keith David (Imam), Claudia Black (Shazza), John Moore (Zeke), Sam Sari (Hassan), Firass Dirani (Ali), Lewis Fitz-Gerald (Paris)
---
Plot
The crew of the deep space cargo vessel Hunter-Gratzner are woken from hypersleep as the ship is punctured by micro-meteorites. With the captain killed, junior officer Caroline Fry brings the ship down to a crashlanding on a nearby planet, killing 29 passengers in the process. The handful of survivors are able to tenuously survive on the planet's surface, which is burned bare by three suns. Amongst the party is the lethal serial killer Riddick. As they hunt for the escaped Riddick, they discover there are vicious predatory creatures that live below the surface and that these have slaughtered a prior mining colony. As a twenty-two yearly eclipse plunges the planet into total darkness, the creatures, which have an allergy to light, emerge en masse and start hunting the humans. For their survival, the group take the uncertain step of freeing Riddick who has optical implants capable of seeing in the dark. This means that their survival is now dependent on whether or not they can trust Riddick.
---
David Twohy is shaping up to be one of the most promising genre contributors of the 1990s and beyond. In between action films such as The Fugitive (1993), Terminal Velocity (1994) and G.I. Jane (1996), Twohy regularly impressed as scriptwriter of genre films like Warlock (1989), Waterworld (1995) and Impostor (2002). Even better was the work that David Twohy delivered after assuming the director's chair, beginning with the highly intelligent time-travel effort Timescape/The Grand Tour/Disaster in Time (1992), followed by the alien takeover conspiracy effort The Arrival (1996), and then Pitch Black, the subtle haunted submarine drama Below (2002) and the thriller A Perfect Getaway (2009).
David Twohy is that rarity of a director who makes modest films. Twohy's films are intelligent and unassuming – they are not carried by star power or show-stopping effects razzle-dazzle, instead by drama and intelligent writing. The very lack of these things could well be the reason why David Twohy remains so undervalued as a writer/director. The only other director that one can think of who makes such quietly substantial and intelligent films is David Koepp of The Trigger Effect (1996) and Stir of Echoes (1999).
On the face of it, Pitch Black is not too different from any of a hundred clones of Alien (1979) – a small group of people pitted for survival against a horde of black wasp-like creatures. (If anything, Pitch Black reminds of Screamers (1995) in its setting). However, in execution Pitch Black might be the best of all Alien clones. Unlike almost all other Alien clones, Twohy focuses on character as much as he does the central menace.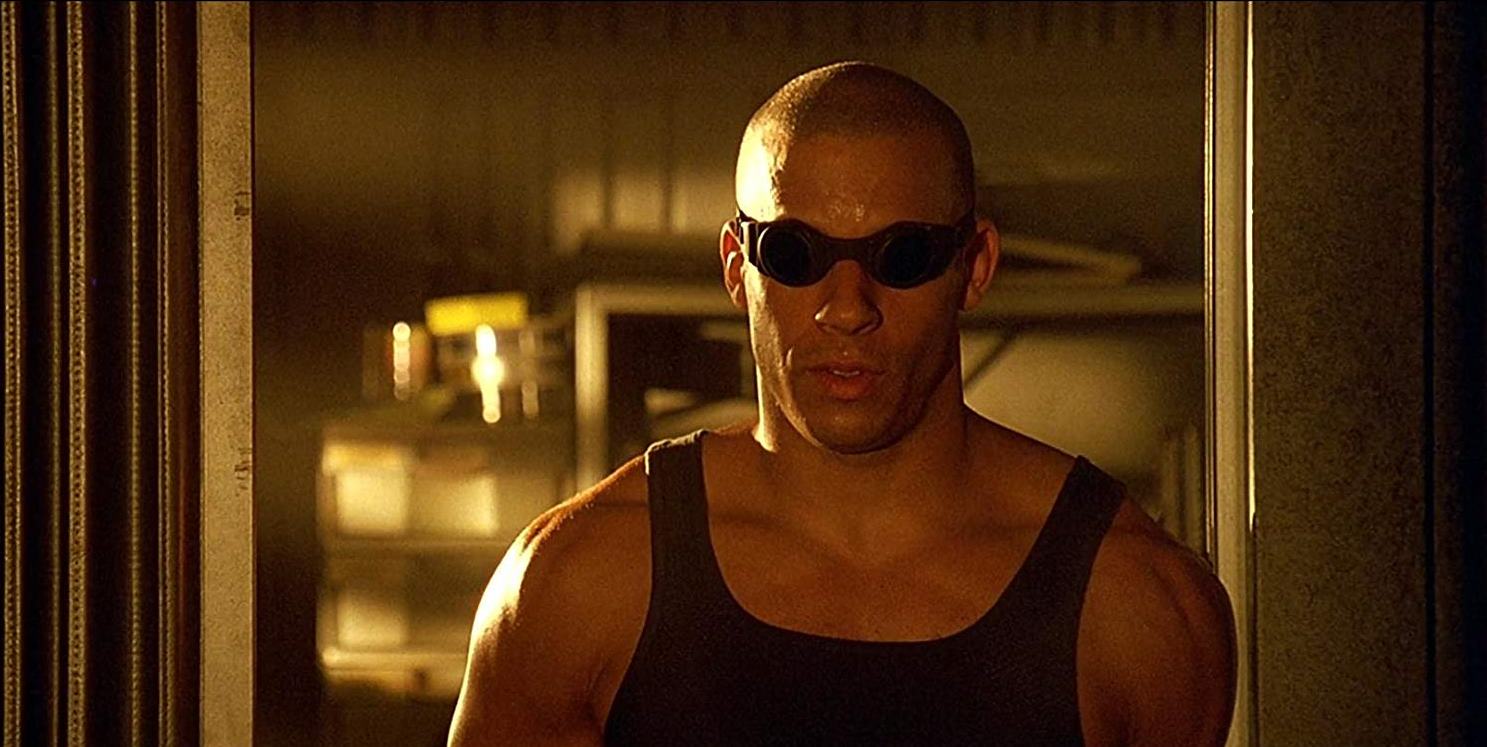 Rather than the faceless complement of victims, Twohy's line-up includes a serial killer, a drug-addicted bounty hunter, an Islamic priest, a girl runaway pretending to be a boy and the group's leader who starts by making the decision to kill the entire passenger list and does not want the position of leadership she is thrust into. The nearest we come to a cliché character is Simon Burke's antique dealer who is mostly played for prissy comic relief. Each character is given a set of flaws and secrets that the situation uniquely brings to the fore. Moreover, the group is cast with unknown faces, something that makes being able to guess who is going to survive a lot less sure.
Of course, the character that ends up captivating is Vin Diesel's serial killer. Diesel, who subsequently went onto become an A-list name on the basis of Pitch Black, gives a performance that seems to itch with the contained lethality of a prowling tiger. He is well served by David Twohy's terse, tight dialogue and the character, its ambiguities and the situation that Twohy sets up with the group dependent on trusting him for survival, becomes utterly compulsive whenever Diesel is on screen.
Pitch Black is one of the few science-fiction films that create a believable alien world. Far too many science-fiction films are too conceptually lazy to ever do anything other than use an Earth-like setting. Twohy never goes as far as having a completely non-Earth like atmosphere but location shooting at the desert mining town of Coober Pedy in Australia – the same locations used in Mad Max Beyond Thunderdome (1985) and Red Planet (2000) – provide a unique look. Twohy bleaches the colour out of the frame to create a sense of arid desolation under alien suns and there is one breathtaking effects shot with the various suns sinking behind the other planets into eclipse. Perhaps if one is to be a stickler they might wonder how an alien species like this might viably work in such an eco-system – why evolution would favour a species that is allergic to daylight on a world that only sees nightfall every 22 years and what prey such a species might find to survive on on such an arid and lifeless world.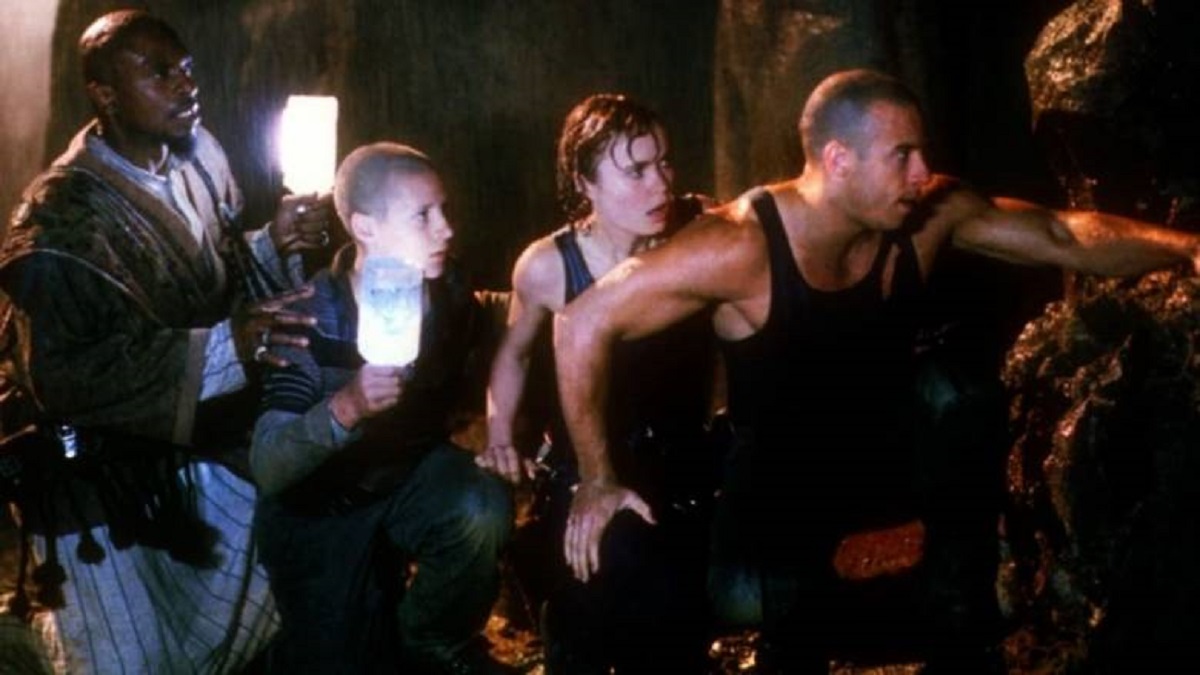 David Twohy does an intensive job directorially. Barely five minutes into the film, he has one riveted to their seats with an enthralling adrenalin-charged crashlanding sequence. The scenes with Vin Diesel stalking various cast members around the planet are intensively sustained – he sneaking up behind Radha Mitchell with a knife, only to anticlimactically cut a lock of her hair; John Moore shooting a survivor thinking it is Riddick, only to move out of frame and reveal Diesel sitting on the lookout post in the background. Indeed, it is a disappointment when Vin Diesel stops hunting and joins the group.
The night journey across the planet hunted by the creatures that are only kept at bay with the circle of torchlight is beautifully sustained. David Twohy has the ability of a great science-fiction writer to take one basic situation and compound it by putting as many twists on it as possible – one character scrambling after a dropped object wrenching the luminescent cables out plunging them into darkness, the arrival of rain putting out the flares and so on. The characters in the film are never allowed a moment's safety or respite. This is the way all science-fiction films should be.
Both David Twohy and Vin Diesel returned with two mostly worthwhile sequels, The Chronicles of Riddick (2004) and Riddick (2013). Twohy also oversaw a 30-minute animated short film The Chronicles of Riddick: Dark Fury (2004), which explains what happens to Riddick between the first two films.
(Winner in this site's Top 10 Films of 2000 list. Nominee for Best Director, Best Original Screenplay, Best Actor (Vin Diesel) and Best Cinematography at this site's Best of 2000 Awards).
---
---