---
Crew
Director – Martha Coolidge, Screenplay – Neil Israel, Pat Proft & Peter Torokvei, Story – Neil Israel & Pat Proft, Producer – Brian Grazer, Photography – Vilmos Zsigmond, Music – Thomas Newman, Special Effects – Syd Dutton, David Stipes & Bill Taylor, Production Design – Josan F. Russo. Production Company – Tri-Star/Delphi III
Cast
Gabe Jarret (Mitch Taylor), Val Kilmer (Chris Knight), Michelle Meyrink (Jordan Cochran), William Atherton (Jerry Hathaway), Robert Prescott (Kent), Jonathan Gries (Laszlo Hollyfeld)
---
Plot
Fifteen-year old genius Mitch Taylor is accepted into an exclusive university program for prodigies as a result of his innovative research work with lasers. With his irreverent roommate Chris Knight, Mitch instead, initially somewhat cautiously, finds more fun turning his talents towards hi-tech hijinks. When they find that their design of a five-watt laser and precision orbital direction finder has been secretly appropriated for the military by their department head Jerry Hathaway, they set out to stop him.
---
A most apt title. Real Genius was another amid the spate of 1980s teen frat rat films that came out after the runaway success of Ivan Reitman's Meatballs (1979) and carried on through the likes of Lemon Popsicle (1979), Stripes (1981), Porky's (1982) and so on. Director Martha Coolidge first found attention with her second film, which fell into this genre, the well-received Valley Girl (1982).
However, to call Real Genius just another frat rat film is like saying The Exorcist (1973) is merely another religious epic. This is more like The Mad Scientist's Club Goes to College. Rather than something like Revenge of the Nerds (1984), which merely centred around various gags laughing at nerds getting comeuppance, this comes with considerable ingenuity. For one, the geeks are portrayed as the heroes of the show, not the butts of pranks. The film is not about laughing at geeks but it is geek humour that comes from geeks and is written to other geeks.
Few other films of this genre conduct their hijinks such sheer invention – the use of coin-sized slices of frozen nitrogen to defraud slot machines; the tightass brown-nose of the show being implanted with a dental radio transceiver and then fooled with voices claiming to be God; and a climax that involves a house being blown apart with popcorn cooked by orbital laser.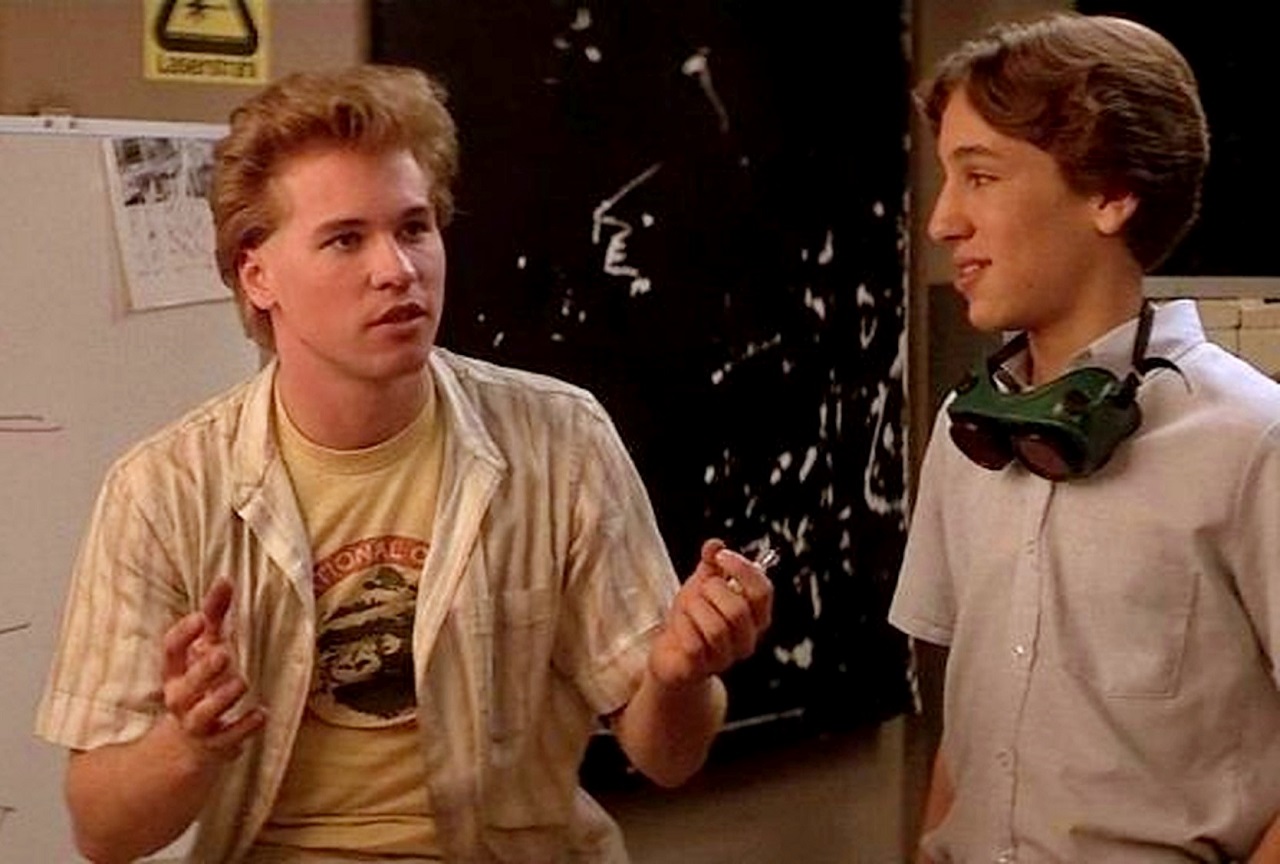 The great surprise is that Real Genius is so entertainingly subversive and gratifying – it rather enjoyably does all the lowbrow hijinks without pandering its hi-tech literacy down to audiences. It even evinces a sweetness to the romance between Gabe Jarret and Michelle Meyrink as the hyper-kinetic Jordan.
In only his second film performance, Val Kilmer gives an anarchic high-charisma performance – he is like a zapped-up and sexier Bill Murray. He embodies a real charisma and anti-authoritarianism and compared to the mostly wooden performances he gives elsewhere, has rarely had such charm. William Atherton plays another of his double-dealing, tightass bureaucrats and has never seemed more wonderfully loathsome.
Martha Coolidge went onto a sporadic directing career after this, mostly in tv with occasional cinematic forays such as the well-received Rambling Rose (1991), Lost in Yonkers (1993), Angie (1994), Out to Sea (1997) and The Prince and Me (2004), as well as one other genre entry, the interesting fantasy film Three Wishes (1995).
---
---