---
Crew
Director – Rod Holcomb, Teleplay – Don Ingalls, Story – Don Ingalls & Chester Krumholz, Based on the Comic Book Created by Jack Kirby & Joe Simon, Photography – Ronald W. Browne, Music – Pete Carpenter & Mike Post, Art Direction – Lou Montejano. Production Company – Universal.
Cast
Reb Brown (Steve Rogers/Captain America), Len Birman (Dr Simon Mills), Steve Forrest (Lou Brackett), Heather Menzies (Dr Wendy Day), Lance Le Gault (Harley), Robin Mattson (Tina Haden), Joseph Ruskin (Rudy Sandrini)
---
Plot
After leaving the US Marines, Steve Rogers travels along the California coast in his panel van to visit Jeff Haden, an old friend of his father's. Along the journey, people try to kill him. Steve is called in by scientist Simon Mills who tells him about an experiment his father started aimed at creating a super-soldier using the hormonal stimulant F.L.A.G. (Full Latent Ability Gain). This was based on his father's DNA and they want Steve's help continuing the project because he has the same DNA but Steve declines. He then finds Haden murdered. Behind this is businessman Lou Brackett and his men who are wanting the missing piece of film that Haden had that contains instructions on how to complete the neutron bomb they are building. Believing that Steve knows where the film is, they succeed in ramming his van off the highway and killing him. Mills and his scientists bring Steve back to life using the F.L.A.G. serum. He finds that he now has superhuman abilities, including great strength and sensory abilities. Persuading him to join them, Mills provides Steve with a hi-tech motorcycle, a bulletproof shield and a costume to become Captain America. When Brackett and his men kidnap Mills's assistant Wendy and Haden's daughter, Steve must go into action as Captain America to stop them detonating the neutron bomb.
---
Captain America is one of the most popular superheroes in the Marvel Comics line-up. Captain American first appeared in 1941, created by Joe Simon and the legendary Jack Kirby, and became a patriotic hero for World War II audiences. The comic-book set up the character of weakly Steve Rogers who had been rejected from the army but was then recruited as part of an experimental program and injected with a super-soldier serum to become Captain America. Thereafter, Captain America fought Nazi villains and after the War went up against Communists. The specificity of the World War II setting limited Captain America's shelf-life and the comic-book was canceled in 1950. However, in 1964, Marvel retconned the Captain America story and had him preserved in ice in the Arctic and thawed out in the present-day to continue his adventures, becoming one of the central members of The Avengers.
Most people are of the impression that Marvel Comics adaptations in the media began around 2000 with the likes of Blade (1998), X-Men (2000), Spider-Man (2002), Daredevil (2003), Hulk (2003), The Punisher (2004), Elektra (2005), Fantastic Four (2005), Ghost Rider (2007), Iron Man (2008), Thor (2011), The Avengers (2012), Guardians of the Galaxy (2014), Ant-Man (2015), Deadpool (2016), Doctor Strange (2016), Black Panther (2018), Venom (2018), Captain Marvel (2019), Black Widow (2021), Eternals (2021), Shang-Chi and the Legend of the Ten Rings (2021) and various sequels to most of these. This was is in fact the second wave of Marvel screen adaptations. (Maybe third if you want to count the various animated series of the 1990s).
Around 1977-9 there was a package of Marvel adaptations on the small screen – these included the tv series The Amazing Spiderman (1977-9), which also had three theatrical films made up out of its episodes with Spider-Man (1977), Spider-Man Strikes Back (1979) and Spiderman and the Dragon's Challenge (1981); the Bill Bixby The Incredible Hulk (1977-81), which also released its pilot as a film with The Incredible Hulk (1977); and a pilot film based on Dr. Strange (1978) that failed to go to series. Amid these, someone also decided to make two tv pilots out of Captain America. Both of these were miserable failures that were widely ridiculed by Marvel Comics fans.
In 1979, the predominating view of screen superheroics was formed by tv's The Six Million Dollar Man (1973-8) and The New Original Wonder Woman (1975-7). In particular, this spurt of interest in Marvel Comics properties emerged out of the big screen success of the Christopher Reeve Superman (1978). These series featured superheroes who had powers but menaces that were invariably mundane, as though the writers and directors of the day were unable to conceive of plots that were anything more than ordinary crime and spy thrillers – the utterly routine plot here about criminals building their own neutron bomb could easily have served as an episode of The Six Million Dollar Man.
This has some decidedly daft plotting – the bad guys spend the entire film trying to kill Steve Rogers, yet no reason is ever established as to why they want to do this. He does not receive the F.L.A.G. serum and become Captain America until after they succeed in killing him and at no point do they demonstrate any knowledge about his father's experiments so why exactly they want to eliminate him becomes a big mystery.
Not many of the abovementioned Marvel tv series did a particularly good job of respecting the basics of the comic-book. One of the essences of Captain America is that he was created as a super-soldier during World War II with the addition of the later retcon where he was frozen and then thawed out to continue on his activities in the present. The film abandons any connection to World War II and has Captain America being created from scratch in the present-day. This Captain America is very much a 1970s superhero – he rides a motorcycle that bursts out the back of a panel van via a rocket launcher that carries it for about four feet (something that is in the comic-book, although only looks absurd on screen), while familiar aspects of the Captain America costume have been downplayed – the shield is little more than a semi-transparent frisbee, the costume (when it turns up around the 70 minute mark) is little more than a spandex motorcycle racer's jumpsuit with a visored stars-and-stripes motorcycle helmet. In fact, this seems less the Captain America of Marvel Comics than it does Captain America by way of Evel Knievel.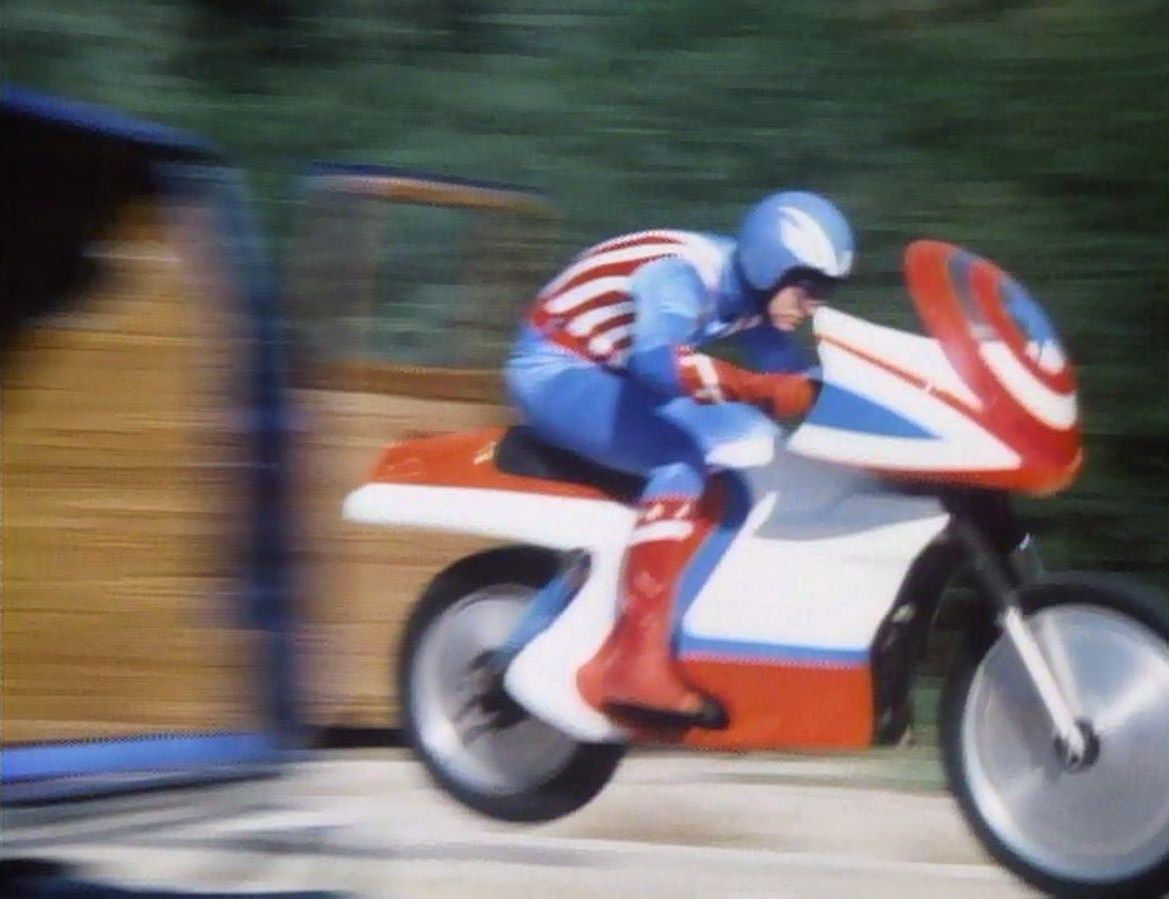 Captain America is largely killed off by Rod Holcomb's direction. In all likelihood, Holcomb obtained the assignment after making his directorial debut with several episodes of The Six Million Dollar Man. The pacing of the show is dismal and plodding. There is something frustratingly insipid to the scenes where Rod Holcomb shows filler shots of Reb Brown's panel van driving along the California coast and the score jumps in with over melodramaticised flourishes trying to make something as mundane as a detour down a country road into the dramatic. The film is padded with helicopter shots of Captain America's motorcycle racing through the desert that go on for several minutes.
The superheroics are so lame that it is hard to think that those responsible would seriously have thought that Captain America would have had any appeal to anybody over the single digit age range. As though this is where the film's pitch lies, the action has been watered down in absurd ways so that Captain America never actually does any violence on screen – he throws people out of a helicopter but they land in a lake below, while in the worst scene, Reb Brown punctures an oil drum while looking on at bad guys skidding and falling over with a big goofy grin. In the film's favour, Reb Brown has a certain lunkheaded amiability as Steve Rogers and projects a heroic decency that works for the film.
A further Captain America tv pilot was made with Captain America II (1979) also starring Reb Brown. Captain America was subsequently remade on the big-screen with Albert Pyun's cheap Captain America (1990) starring Matt Salinger and as the big-budget Captain America: The First Avenger (2011) starring Chris Evans and its sequels Captain America: The Winter Soldier (2014) and Captain America: Civil War (2016), while Evans subsequently played the role in the Marvel Comics team-ups The Avengers (2012), Avengers: Age of Ultron (2015), Avengers: Infinity War (2018) and Avengers: Endgame (2019). There was also an earlier serial version Captain America (1944) starring Dick Purcell. The Captain America story is also told in the animated Ultimate Avengers (2006) and he appears in other Marvel animated films such as Ultimate Avengers II (2006) and Next Avengers: Heroes of Tomorrow (2008).
---
---