---
Crew
Directors – Nick Bruno & Troy Quane, Screenplay – Brad Copeland & Lloyd Taylor, Screen Story – Cindy Davis, Inspired by the Animated Short Film Pigeon: Impossible by Lucas Martell, Producers – Peter Chernin, Jenno Topping & Michael J. Travers, Music – Theodore Shapiro, Visual Effects Supervisors – Robert Cavaleri & Matthew D. Simmons, Animation Supervisors – Joseph Antonuccio, Jeff Gabor & Jeremy Lazare, Production Design – Michael Knapp. Production Company – Blue Sky Studios.
Voices
Will Smith (Agent Lance Sterling), Tom Holland (Walter Beckett), Reba McIntire (Joy Jenkins), Rashida Jones (Marcy Kappel), Ben Mendelsohn (Killian), Masi Oka (Katsu Kimura), Jarrett Bruno (Young Walter), Rachel Brosnahan (Wendy Beckett), Karen Gillan (Eyes), D.J. Khaled (Ears), Matthew J. Munn (Weapons Lab Soldier)
---
Plot
Lance Sterling is the top secret agent in the world. He goes a mission to retrieve a vital piece of equipment from the hands of Japanese arms dealer Kitsu Kimura, during which he goes up against Killian, a terrorist outfitted with a cyborg arm. Back at base, Lance has angry words with the agency's nerdy gadget designer Walter Beckett who swapped some of the gadgets in Lance's suit out for Walter's preference for peaceful, non-violent alternatives without telling Lance. As a result, Walter is fired. However, the item that Lance retrieved is then found to be missing. As Internal Affairs agent Marcy Kappel arrives to arrest him, Lance realises that Killian is using a lifelike facial mask to masquerade as him. Lance flees and heads to Walter's home. Walter had earlier talked about becoming invisible and Lance wants to find how. Lance inadvertently drinks a glass of what he thinks is water, unaware that it contains Walter's biodynamic concealment formula, which proceeds to transform Lance into a pigeon. With Marcy and her agents in pursuit, Lance and Walter head to Mexico to find the whereabouts of Killian and redeem Lance's reputation.
---
Blue Sky Studios has become a popular animation studio since their appearance in the early 2000s with Ice Age (2002). They have had a series of animated hits with the likes of Robots (2005), Horton Hears a Who! (2008), Rio (2011), Epic (2013), The Peanuts Movie (2015) and Ferdinand (2017). On the other hand, I have started to switch off Blue Sky in recent years. Blue Sky have been the primary ones responsible for turning animation from what used to be an enjoyable self-contained film to a franchise based on churning out an endless series of sequels to popular hits. After Blue Sky's influence, animation has become a series of films that shuffle the same characters around in near interchangeable adventures with minimal difference – the Ice Age series, the worst offender among these, is currently ramping up for its sixth entry.
Spies in Disguise is based on the 6:15 minute short film Pigeon: Impossible (2009) by Lucas Martell, which can be found online at YouTube. The rights to the short film were brought up by Blue Sky as the basis for Spies in Disguise. The film marks the directorial debuts of Nick Bruno, a former Blue Sky animator, and Troy Quane, a Blue Sky storyboard artist.
There have surprisingly been a number of spy films featuring talking animals before – from the adventures of Secret Squirrel in The Atom Ant/Secret Squirrel Show (1965-7) to various efforts from the post-Austin Powers era such as the live-action Cats & Dogs (2001), Spymate (2006), G-Force (2009) and the animated likes of Penguins of Madagascar (2014) and Spycies (2019). Of these, the premise in which Will Smith turns into a pigeon seems the most off the wall.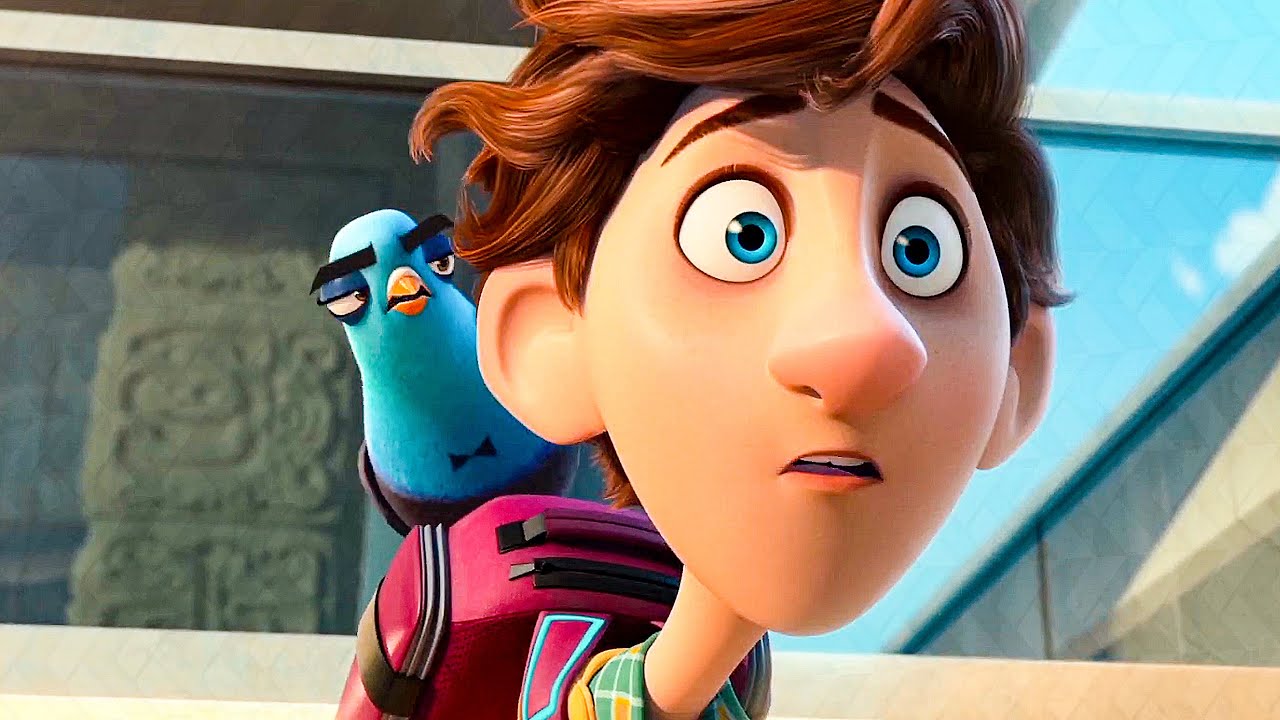 I must admit that I did not have high expectations for Spies in Disguise based on the Blue Sky name. Certainly, it starts in with an energetic sequence with Lance making his way through the assorted heavies lined up in a Japanese villain's headquarters. The sequence is conducted with an enormous degree of energy where Nick Bruno and Troy Quane seem to be having a great deal of fun with a parody of the spy gadgetry and credibility defying stunts. Equally once the film pairs the two central characters together, both Will Smith and Tom Holland seem perfectly cast in their parts such that you could easily imagine the two actors playing the same out in live-action without a single thing changed.
I began to warm to Spies in Disguise as it went on. There is an appealingly madcap chase with a pigeon Will Smith trying to drive a car and all manner of silliness with the built-in weapons and oil slicks. Although the point where the film started to get positively enjoyable for me was the attempts of Will Smith to cross the foyer of a hotel to access the register while followed by the flock of other pigeons that have attached themselves to him, and then of the malarkey in and around a hotel room, involving trying to roll a very fat tranquilised Japanese man up against the door, to a nervous Walter trying to escape across the balcony ending with him being dragged up and down beneath the elevator, and one of the pigeons swallowing a gadget pen and spraying everywhere with a mass of pink goo.
There are other fast paced and highly enjoyable sequences racing through the canals of Venice – a sequence not dissimilar to the one in the aforementioned Penguins of Madagascar – and during the climactic battle in the villain's lair. The film has such an energetic, madcap pace to it that it is exhausting trying to keep up. I enjoyed this far more than I was expecting to and would have to say it is one of Blue Sky's best films yet. All hope is not lost for Blue Sky after the interminable Ice Age sequels.
---
---