---
USA. 2012.
Crew
Director – Jason Bourque, Screenplay – David Ray & Jeff Renfroe, Producer – Oliver De Caigny, Photography – Mahlon Todd Williams, Music – Michael Neilson, Visual Effects – GFZ Studios Inc (Supervisors – Geoffrey Anthony & Zachary Mallet) Special Effects Supervisor – Rob Paller, Production Design – Paul McCulloch. Production Company – Two 4 the Money Media/Marvista Entertainment/Syfy.
Cast
Esai Morales (Tom Foster), Ona Grauer (Lieutenant-Commander Emma Peterson), MacKenzie Porter (Cloe Peterson), Jared Abrahamson (Wyatt Foster), Martin Cummins (Jacob Stinson), Jay Brazeau (Dimitri Kandinsky), Matty Finochio (Ben Jefroe), Michelle Harrison (Dr Carolyn Gates)
---
Plot
The US Air Force detects an unidentified object in the atmosphere and shoot it down. Two large chunks come down over Seattle, one landing in the harbour and one striking a mall. Former NASA scientist Tom Foster and his fiancee Emma Peterson, a lieutenant-commander with the Disaster Management Agency are nearby with their two teenage children as the second piece hits. The shard that fell in the harbour starts emitting a strange spout of smoke that wreaks havoc with the weather. Emma is pressed into action and recommends evacuation of the area but her superior Jacob Stinson demands the disaster be contained. Meanwhile, Tom joins the scientists examining the debris. It soon becomes apparent that meteorite may be of extra-terrestrial origin and contains an unknown substance that rapidly absorbs water. The shards start creating twisters, lightning, windstorms and earth tremors. As they search for the origins of what is happening, it is realised that the shards are causing a massive and unstoppable chain reaction that could destroy the earth.
---
Seattle Super Storm is another of the low-budget disaster movies made for the Syfy Channel. Others of these include The Black Hole (2006), Meltdown: Days of Destruction (2006) , NYC: Tornado Terror (2008), Lava Storm (2008), Annihilation Earth (2009), Ice Twisters (2009), Megafault (2009), Polar Storm (2009), Arctic Blast (2010), Ice Quake (2010), Meteor Storm (2010), Quantum Apocalypse (2010), Stonehenge Apocalypse (2010), Behemoth (2011), Collision Earth (2011), Earth's Final Hours (2011), Mega Cyclone (2011), Metal Tornado (2011), Seeds of Destruction/The Terror Beneath (2011), Miami Magma (2011), Super Eruption (2011), Super Tanker (2011), 2012 Ice Age (2011), Alien Tornado (2012), 500 MPH Storm (2013), Jet Stream (2013), 100° Below 0 (2013), Stonados (2013), Asteroid vs Earth (2014), Christmas Icetastrophe (2014), Crystal Skulls (2014), Firequake (2014), LA Apocalypse (2014), San Andreas Quake (2015), Stormageddon (2015), Geo-Disaster (2017) and Oceans Rising (2017).
Seattle Super Storm churns through all of the formula of the Syfy Channel disaster movie. There are all the petty human dramas, familiar conflicts, the potted pieces of self-contained drama among the B characters designed to pad out the running time, including the cliche of the deranged military commander whose single-minded determination on one course of action endangers everything, before a wave of the magic wand left field solution to the disaster involving seeding the storm with a handy supply of heavy water.
There are some prize B movie lines such as Jared Abrahamson's recognition of his soon-to-be stepsister Mackenzie Porter's abilities: "If the fate of the world rests on a hybrid-driving hippie, I"d want it to be Cloe." The film is noted for a more outlandish raison d'etre than usual for these films – the disaster is caused by what is thought to be a UFO shot down in the ocean by the Air Force, before this is revealed to be deadly Soviet oxide-devouring weapon that was fired into space.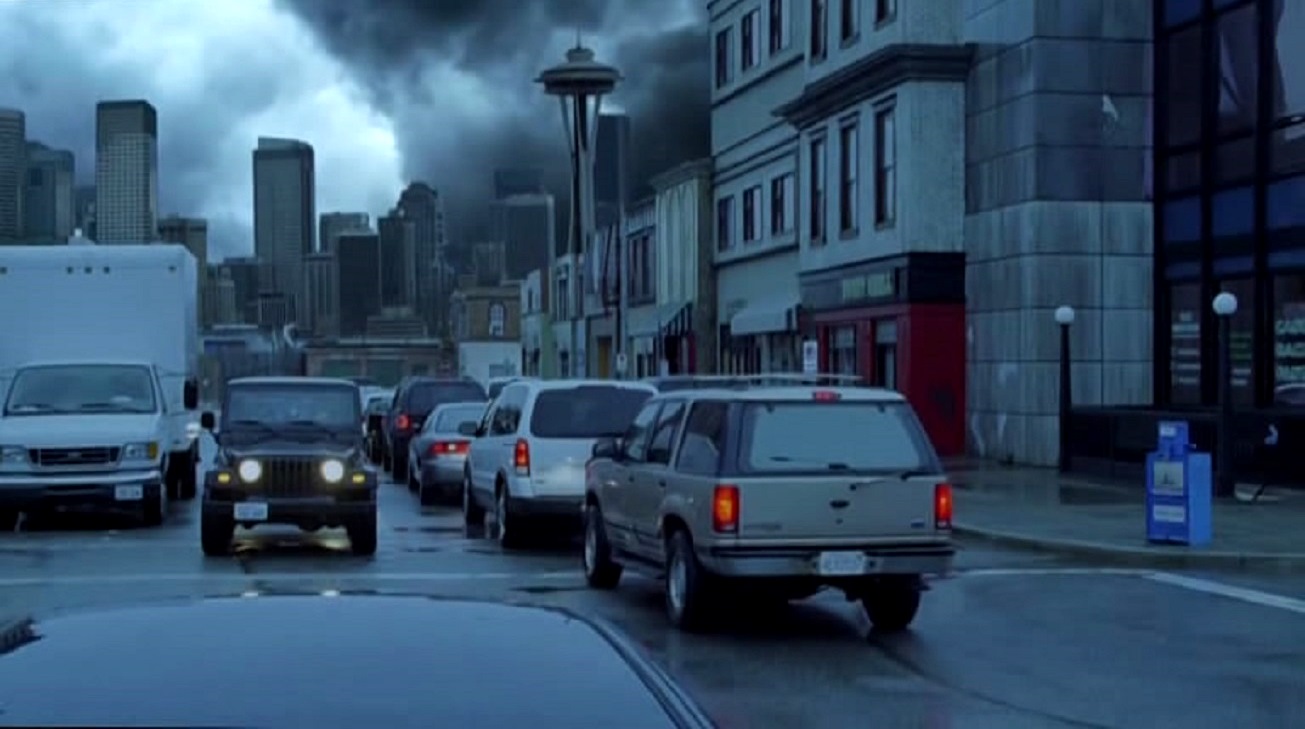 What is perhaps notable about Seattle Super Storm is how cheap a disaster movie it is. For one, it has not been shot in Seattle but Vancouver. Even then, most of the scenes with people witnessing lightning, storms and the debris coming down look like they have all been filmed on the same stretch of street. The effects are noted for their cost-cutting economy in managing to avoid all but a bare minimum of scenes of mass destruction. There are some cheap CGI twisters, waves and lighting and some scenes with a few extras (naturally all on the one stretch of street) pretending to be blown about. The film's one big set-piece is the toppling of the Space Needle – an effect so unconvincing that the two teenagers manage to drive a matter of meters away from the impact without being affected.
Director Jason Bourque has made a seeming career out of low-budget disaster movies, having also been responsible for Wildfire 7: The Inferno (2002), Dark Storm (2006), Doomsday Prophecy (2011), Stonados (2013) and Meteor Assault (2015), and other genre films such as Maximum Surge (2003), Termination Point (2007) and Crash Site (2011).
---
Trailer here
---