---
Crew
Director/Producer – Tsui Hark, Screenplay – Jeff Black & Charles Cain, Story – Julien Carbon, Laurent Courtaud & Tsui Hark, Photography – Horace Wong Wing Hang & William Yim Wai Lan, Music – J.M. Logan, Visual Effects – Cinefex Workshop Ltd (Supervisor – Koan Hui), Production Design – Bill Lui Cho Hung, Action Choreography – Yuen Wo Ping. Production Company – China Star Entertainment Group/One Hundred Years of Film/Filmworkshop/Destination Films.
Cast
Andy On (Han Fung/Black Mask), Teresa Maria Herrera (Dr Marco Leung), Tobin Bell (Moloch), Scott Adkins (Lang), Tracy Elizabeth Lords (Chameleon), Jon Polito (King), Sean Marquette (Raymond Martinez), Tyler Mane (Thorn), Andrew Bryniarski (Iguana), Rob Van Dam (Claw), Oris Erhuero (Wolf), Robert Bonecrusher Mukes (Snake)
---
Plot
Zeus, the giant brain the runs The Shadow Group, orders one of its operatives Lang to eliminate the renegade Han Fung, who operates as the masked hero Black Mask. Black Mask is seeking the help of genetic scientists the world over in search of a cure for his condition, but Lang's people start eliminating the scientists. At the same time in B City, the scientist Moloch is conducting an experiment on five world-famous wrestlers using a genetic formula that transforms them into various animals. However, he has not told them that the formula creates uncontrollable mutations. One of the wrestlers Iguana goes crazy. Black Mask intercedes. During their fight, Iguana elects to fall from the top of a building rather than become a beast person. Moloch then shoots Black Mask with the drug, causing him to start changing into a beast person too. Black Mask abducts the geneticist Dr Marco Leung ahead of Lang's assassins and appeals to her to stop the mutation.
---
Black Mask (1996), a masked superhero film along the lines of tv's The Green Hornet (1967) and conducted with high-energy Hong Kong martial arts, was a modest hit. It received attention in the West when it was released in a dubbed English-language version in 1999 in order to capitalise on star Jet Li's newfound fame on American shores. Black Mask 2: City of Masks is a sequel. Jet Li is absent this time, as also is director Daniel Lee. Here the director's chair has been taken over by legendary Hong Kong director/producer Tsui Hark, who produced the original.
Black Mask 2: City of Masks appears to have made been made more for American audiences than it has for Hong Kong audiences. The film is an American co-production, written by American writers and Tsui Hark has imported some minor American actors including Tobin Bell, Jon Polito, Andrew Bryniarski, former underage porn star Traci Lords and WWF wrestler Rob Van Dam. The sequel has also been granted a much larger budget than the original had.
Moreover, while the first Black Mask was not fantastic beyond its basic explanation of the hero, Black Mask 2: City of Masks has been pumped up into more of an outright comic-book superhero film. (Indeed, this Black Mask pays little attention to the original – there is no mention of Black Mask's origin as a renegade soldier and he is now given a genetic condition that he must find an antidote to, while there is also the addition of a giant evil brain and its organisation who are hunting him for reasons unspecified). Tsui Hark seems to have had the peculiar (and conceptually awkward) gimmick of combining standard Hong Kong martial arts and acrobatics with comic-book superheroics, mutant monsters and WWF wrestling.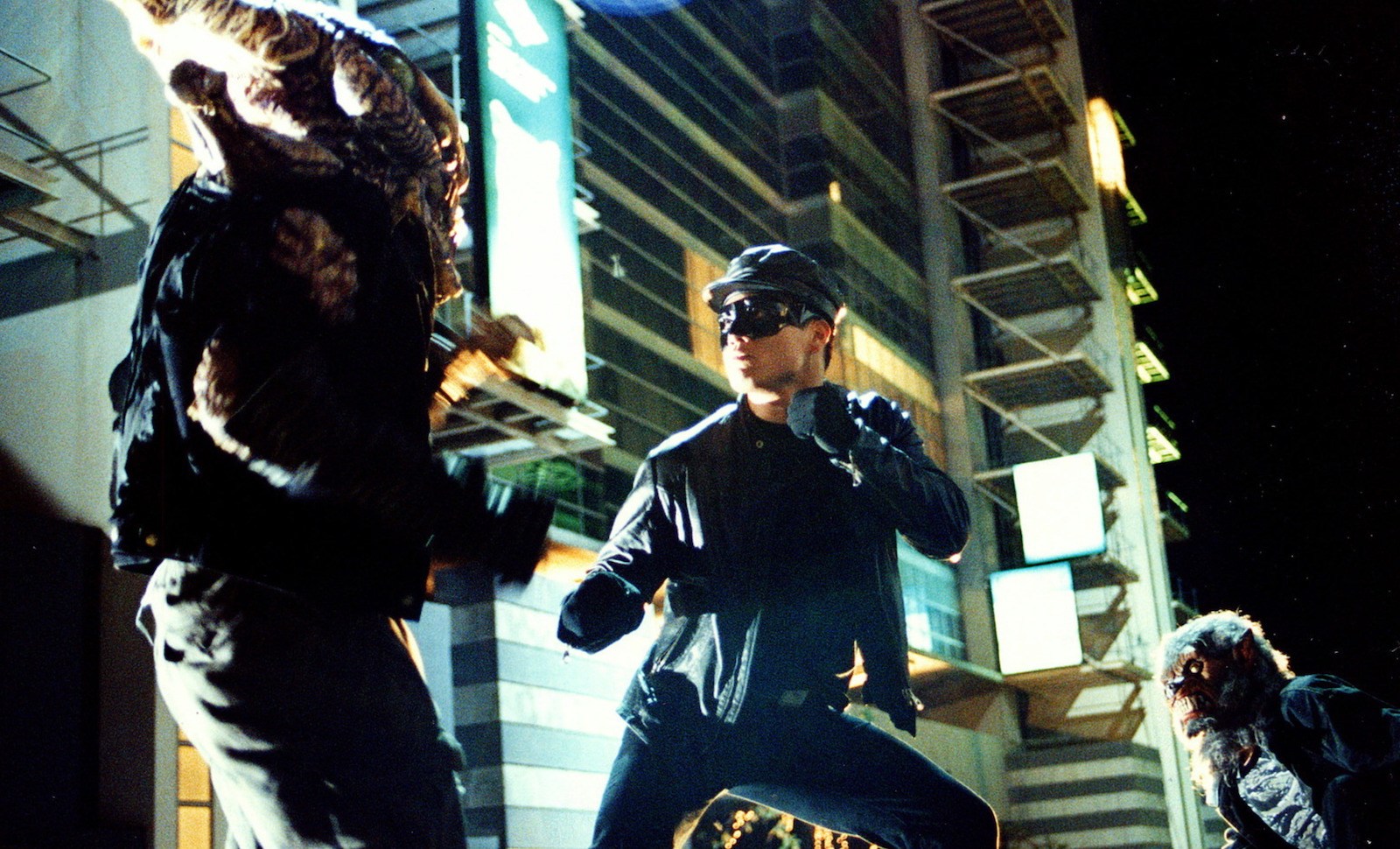 Certainly with Tsui Hark in the director's chair, Black Mask 2: City of Masks is an exhilarating film. This is immediately the case from the opening moments with Andy On being pursued by mercenaries and rolling under an SUV, smashing through its window and jumping onto the roof and up into the trees in rapid succession. It is however a film that has almost entirely been constructed as a series of action sequences rather than any coherent plotline. The subtitle City of Masks, for example, has no meaning in the film – the only person who ever wears a mask is the title character. Almost every single action – from Andy On moving across a room to rolling over a bed – takes places as some kind of martial arts move. Some of the CGI effects are a little flat and the film is surprisingly unevenly edited in a number of places.
However, Tsui Hark eventually blends the martial arts acrobatics and mutant superheroics into some way-out set-pieces – battles with a snake creature; a fight that takes place across the backs of a herd of elephants in the middle of the street; Andy On battling Traci Lords' chameleon creature; the climactic showdown with the various combatants flying, twirling and punching one another in between the struts and arches of a stadium; the final showdown where Andy On melts the villain and a statue into one fused metal lump; and in particular the battle with a spider mutant that takes place halfway up the sides of a mirrored skyscraper with the spider leaping between buildings and even enwrapping Andy On in a cocoon. In the title role, newcomer Andy On certainly has a much more polished and naturally charismatic screen presence than the perpetually wooden Jet Li did in the original.
Tsui Hark's other genre films as director are:- The Butterfly Murders (1979), We're Going to Eat You (1980), Zu: Warriors from the Magic Mountain (1983), Aces Go Places III: Our Man from Bond Street/Mad Mission III: Our Man from Bond Street (1984), Green Snake (1993), Butterfly Lovers (1994), Zu Warriors/The Legend of Zu (2001), Missing (2008), Detective Dee and the Mystery of the Phantom Flame (2010), Flying Swords of Dragon Gate (2011), Young Detective Dee: Rise of the Sea Dragon (2013), Journey to the West: Demon Chapter (2017) and Detective Dee: The Four Heavenly Kings (2018). Tsui Hark has also produced A Chinese Ghost Story (1987), The Laser Man (1988), Roboforce/I Love Maria (1988), A Chinese Ghost Story II (1990), Swordsman (1990), A Terracotta Warrior (1990), A Chinese Ghost Story III (1991), The King of Chess (1991), New Dragon Gate Inn/Dragon Inn (1992), Swordsman II (1992), Iron Monkey (1993), The Magic Crane (1993), Swordsman III: The East is Red (1993), Wicked City (1993), Burning Hell in Paradise (1994), Black Mask (1996), A Chinese Ghost Story: A Tsui Hark Animation (1997), Master Q (2001), Vampire Hunters/The Era of Vampires (2002), Sword Master (2016) and The Thousand Faces of Dunjia (2017).
---
---