---
USA. 1986.
Crew
Director/Screenplay – Alan Rudolph, Producers – David Blocker & Carolyn Pfeiffer, Photography – Toyomichi Kurita, Music – Mark Isham, Songs – Marianne Faithfull, Makeup – Edward Ternes, Production Design – Steven Legler. Production Company – Island Alive/Terry Gunwood.
Cast
Kris Kristofferson (John 'Hawk' Hawkins), Robert Carradine (Coop), Lori Singer (Georgia), Genevieve Bujold (Wanda), Joe Morton (Solo), Divine (Hilly Blue)
---
Plot
Former policeman John 'Hawk' Hawkins is released from jail after serving an eight-year sentence for his killing of a crime lord. He returns to his native town of Rain City and moves in at the back of his friend Wanda's cafe while looking for work. At the same time, the innocent Georgia, her boyfriend Coop and their infant child come to the city and park their house truck outside the cafe. In need of money, Coop soon falls into a life of petty crime. He becomes increasingly more ambitious, unaware of the danger he is creating for himself in challenging the local crimelord Hilly Blue. Meanwhile, Hawk befriends and falls in love with Georgia, who has become lonely on the nights that Coop leaves her to go out.
---
For a time during the 1980s, Trouble in Mind almost became a film of minor cult status, although has languished forgotten since then. The film was made by Alan Rudolph, an interesting director who has made the likes of Roadie (1980), Choose Me (1984), Mortal Thoughts (1991), Mrs Parker and the Vicious Circle (1995) and Afterglow (1997) and a number of genre entries (see below).
With Trouble in Mind, Alan Rudolph is making a Film Noir. Although, what he is making is clearly a modern film noir where he is more interested in the moody internal arcs of the characters than in any external thriller-type plot. What makes the film interesting and included here is the way that Rudolph takes his cue from Blade Runner (1982) in linking film noir to a downbeat future. The milieu the film takes place in is interestingly left unstated but leaves one with the distinct impression that this is a near-future setting. The moodily rain-soaked location of Rain City is in actuality contemporary Seattle but the background has been dressed with ever-present militia and protestors, vaguely futuristic cars, wacky New Wave-styled fashions and hairdos, and a series of background signs in Japanese.
Despite the clear ambition, Trouble in Mind amounts to surprisingly little. The futuristic setting is of no importance to the story whatsoever. Even so, the setting becomes more interesting than the film itself. In the central role, Kris Kristofferson walks through in granite mien, eyes narrowed and with dialogue that almost grates as it forces its way out through his pinched mouth. When Lori Singer calls Kristofferson "a good man who fell into bad luck," there is such a stony lack of emotional centre to the film that such a comment falls on laughing ears.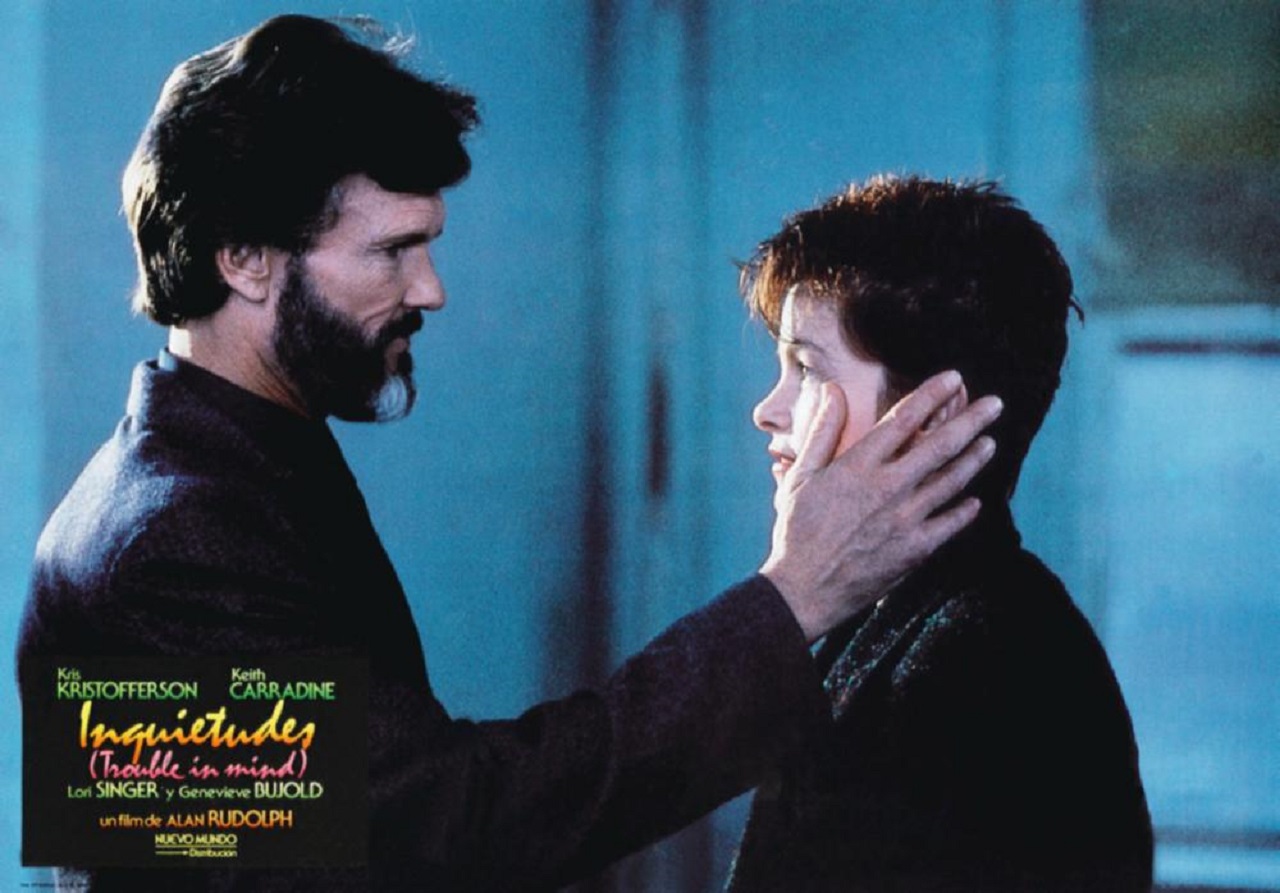 Alan Rudolph's direction is equally dour and uninteresting. The plot is not tight enough to hold everything together and all that leaves is the loosely sketched character interactions. Far more likeable is the elusive sense of humour to the film – like an hilarious doleful song performed by Marianne Faithfull called Love is in Your Pants. Infamous female impersonator and John Waters star Divine, for the first time seen on screen out of drag (and shortly before he died), gives a surprisingly good performance as the silky-voiced crime lord Hilly Blue. However, it is an uninteresting film; Alan Rudolph gets so caught up in the dour, melancholy mood that he noirs the film out of existence.
Director Alan Rudolph later returned to the same vaguely futuristic noir milieu with different characters in a quasi-sequel Equinox (1992). Rudolph's other films of genre interest are:– the obscure Premonition (1972) about students who take a drug that creates precognitive visions; the gory psycho film Barn of the Naked Dead/Terror Circus/Nightmare Circus (1973), Endangered Species (1982) about the cattle mutilation phenomenon, the appealing afterlife romance Made in Heaven (1987) and the Kurt Vonnegut adaptation Breakfast of Champions (1999).
---
Trailer here
---