---
Crew
Director/Screenplay – Daniel Barnz, Based on the Novel by Alex Flinn, Producer – Susan Carsonis, Photography – Mandy Walker, Music – Marcelo Zarvos, Visual Effects Supervisor – Kevin Quatman, Visual Effects – Mr X, Inc., Special Effects Supervisor – Ryal Cosgrove, Makeup Effects – Alterian, Inc., Makeup Supervisors – C.J. Goldman & Jamie Kelman, Production Design – Rusty Smith. Production Company – CBS Films/Storefront Pictures.
Cast
Alex Pettyfer (Kyle Kingson), Vanessa Hudgens (Lindy Taylor), Mary-Kate Olsen (Kendra), Neil Patrick Harris (Will), Lisa Gay Hamilton (Zola Davies), Peter Krause (Rob Kingson), Erik Knudsen (Trey), Roc LaFortune (Lindy's Father), Dakota Johnson (Sloan)
---
Plot
At Buckston high school, Kyle Kingson stands for the Green Committee, even though he has no interest in green politics. His election campaign is based on voting for him because he is rich, good-looking and the son of a tv news anchor. During the campaign, he humiliates his rival Kendra, a Gothed-out witch, calling her ugly in front of everybody. She casts a spell on him and Kyle suddenly finds that his appearance has been transformed into something hideous with scars, tattoos and sores all over his body. Kendra tells him that he has one year to get a girl to say "I love you" or the curse becomes permanent. Kyle's father gets him an apartment and provides a maid and tutor but soon neglects to come to see him. His face hidden, Kyle begins to follow Lindy Taylor, a girl from school. He is witness as her drug addict father gets into a dispute with a dealer that ends with the dealer shot. Kyle snatches Lindy away and forces her father to send her to stay at his apartment ostensibly for her own protection. There she gradually thaws and the two become friends, she unaware that the repulsive Hunter, as he calls himself, is Kyle. He starts to fall for her but as his deadline approaches, he despairs whether he will get her to do anything more than regard him as a friend.
---
The fairytale came back onto the big screen in a big way in 2011-3 and beyond. Screens were deluged with a host of titles that give classic fairytales an adult spin with the likes of Red Riding Hood (2011), Mirror Mirror (2012), Snow White and the Huntsman (2012), Hansel & Gretel: Witch Hunters (2013), Jack the Giant Slayer (2013), Beauty and the Beast (2014), Maleficent (2014), Cinderella (2015) and others, as well as the tv series Grimm (2011-7), Once Upon a Time (2011-8) and Beauty and the Beast (2012-6).
Most of these seemed to be trying to spin the original fairytales in a way that transformed them into the next Twilight (2008). Red Riding Hood was directed by Twilight's Catherine Hardwicke, for instance, while Kristen Stewart was cast in Snow White and the Huntsman. Purportedly, the casting director for Beastly was given the requirements that they find "another Robert Pattinson". As opposed to these other modernised fairytales, which retell them in adult terms, Beastly falls into a type of fairytale adaptation that we saw a few years ago with the likes of A Cinderella Story (2004) and Sydney White (2007) that rewrote the classic fairytales for modern teenagers, transplanting the originals into the realm of the high-school.
The idea of a high school take on Beauty and the Beast had me cringing before I sat down to watch Beastly. As it opens, the film seems to aim for a certain poster pin-up adulation – images of a buffed and bare-chested Alex Pettyfer doing push-ups, not merely wall but entire building-sized fashion imagery all over the city. As Alex Pettyfer stands up before the school to deliver his campaign speech 'Defy the Suck' and asks to be voted for because he is "rich, popular and has a famous new anchor dad," you wonder whether Beastly is treading a line that seems non-cognisant of the inherent ironies – that despite a theme about the superficiality of wealth, the hero casually happens to forget his father has a $5 million lake house to whisk the heroine away to; that despite being a film about finding love in the ugly that it is entirely populated by people who are chosen for their good looks. This is after all a film that casts the embodiment of ugly with Mary-Kate Olsen and asks us to accept Vanessa Hudgens as a supposedly plain, ordinary girl.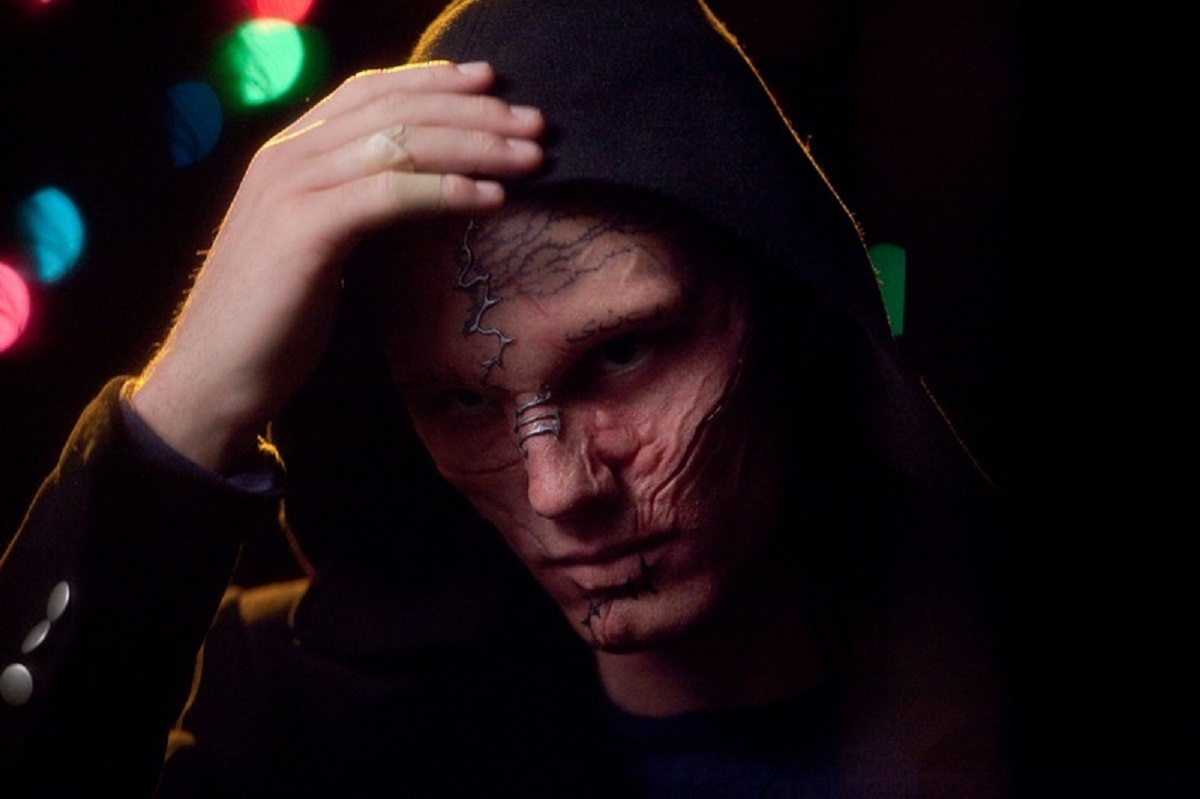 The surprise is that Beastly manages to make it work. There is a mild cleverness to the way it transposes Beauty and the Beast into modern high-school terms. Almost all versions of Beauty and the Beast focus on Beauty as she is drawn into the Beast's realm; here the story becomes more the fantasy arc of the character who receives a curse that humiliatingly reduces them from their station to teach them the nature of hubris.
Rather than Beauty voluntarily entering the Beast's realm because of the transgressions of her father (as in the fairytale original), the film invents a story about the Beast stalking and then taking her away for her supposed safety due to her father's involvement in a drug deal gone wrong (something the script skates over a little too quickly for credibility's sake). The Beast's castle has been replaced by an urban apartment. He doesn't cultivate roses, although does present one to his date because they are out of orchids, while he later builds his own glasshouse on the apartment roof.
Beastly tends to lay on with a spade the theme that good looks are only skin deep and that success and wealth mean nothing. You have to accept the film on its own terms. Do so and it is a surprisingly sincere tale. I was expecting Beastly to be nothing more than a variation on the other Alex Pettyfer vehicle of a couple of weeks before I Am Number Four (2011), a film that strained painfully to find something to say, failed to do so and settled for empty poses and cliches instead.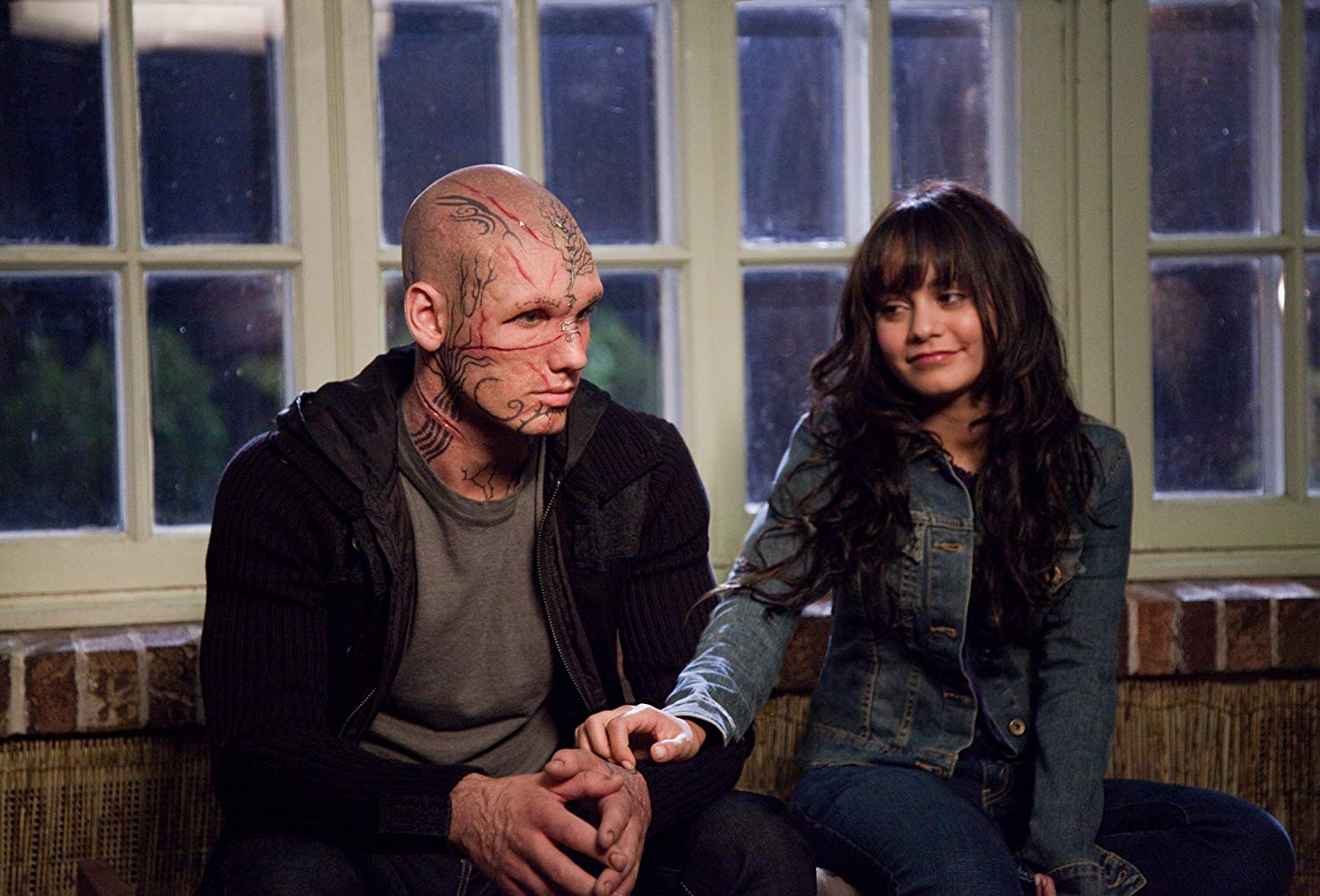 There is a soulful depth to Daniel Barnz's direction that makes far more out of the lightweight material than you might think. There is a warmth to the way Alex Pettyfer and Vanessa Hudgens come together, despite the fact you can see the film wheeling all the big dramatic contrivations to keep them apart into place (many of which are far too easy – he at one point prepares to step aside without saying anything because he merely thinks she would prefer to go on a school trip to Machu Picchu). I am yet undecided if Alex Pettyfer is anything more than handsome teenage pretty boy but he does okay in the central role. That said, he has the entire show stolen out from under him by a wryly sarcastic Neil Patrick Harris.
As a genre fan, one must also take exception with Neil Patrick Harris's potted description of Devil Girl from Mars (1954) wherein he claims that aliens came to Earth to abduct nubile teenage girls whereas in fact it was an alien woman who came to Earth to abduct fertile men to help repopulate the all-woman society on Mars.
(Nominee for Best Supporting Actor (Neil Patrick Harris) and Best Makeup at this site's Best of 2011 Awards).
---
---