---
Crew
Director – Brad Silberling, Screenplay – Deanna Oliver & Sherri Stoner, Based on the Cartoon Character Created by Joseph Oriolo & Syd Reit, Producer – Colin Wilson, Photography – Dean Cundey, Music – James Horner, Visual Effects – Industrial Light and Magic (Supervisor – Dennis Muren), Animation Supervisors – Eric Armstrong & Phil Nibbelink, Special Effects Supervisor – Michael Lantieri, Production Design – Leslie Dilley. Production Company – Amblin/Universal/Harvey Entertainment Co.
Cast
Christina Ricci (Kathleen 'Kat' Harvey), Bill Pullman (Dr James Harvey), Cathy Moriarty (Carrigan Crittenden), Eric Idle (Dibs), Amy Brenneman (Amelia Harvey), Garrette Ratliffe Henson (Vic), Jessica Weston (Amber)
Voices
Malachi Pearson (Casper), Joe Nipote (Stretch), Brad Garrett (Fatso), Joe Alaskey (Stinkie)
---
Plot
Carrigan Crittenden receives the deed to a rundown old manor in Friendship, Maine in her father's will. She goes to throw it away as worthless but discovers it has a treasure map written on it. However, when she and her assistant Dibs arrive at the house in search of the treasure, they are driven out by three evil and obnoxious ghosts Stretch, Stinkie and Fatso. Also living there is the kindly young Casper. Casper sees a tv item on Dr James Harvey who claims to be a therapist to the dead and falls for Harvey's teenage daughter Kat. Casper moves Carrigan's tv, prompting her to see the item and he inspired to hire Dr Harvey to clear the house. Once inside the manor, Kat, who lacks friends because of her father's constant moving around, befriends Casper. However, her attempts to help Casper find who he used to be, come up against Carrigan's ruthless greed.
---
Created by Joe Oriolo and Sy Reit, Casper the Friendly Ghost first appeared in a series from cartoons from Paramount. There were 55 of these cartoons made between 1945 and 1949, although Casper's life didn't begin proper until the character was turned into a children's comic-book character by Harvey Comics beginning in 1949.
This big-budget live-action film adaptation could be aptly compared to its title character – cute, but insubstantial. The film gives the appearance of having been construed more as a shrewd collusion of the peoples involved than as any artistic exercise – Steven Spielberg is there as Executive Producer because the film is cute; the digital effects team appear to be there simply because they can do it; and the commercial tie-in people are in on the act for merchandising opportunities.
However, other than said influences conducting their various businesses, the film lacks anything of distinction. It works efficiently for the most part. The effects work is expectedly very good. And Christina Ricci, caught just between being the great young find of the Addams Family films and a breakout indie actress, plays fairly well in a role that is beneath her.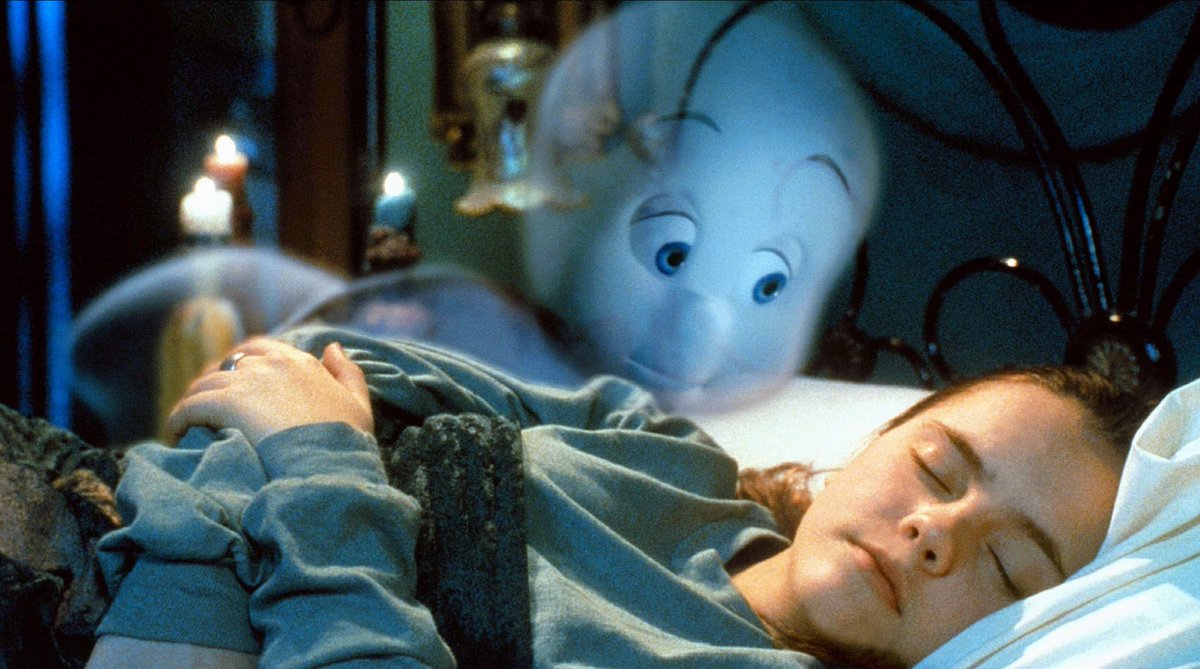 But even before it arrives at its climax, Casper's slight charms have mostly run out. It is impelled by loud and noisy slapstick, although the pace runs to a halt about two-thirds of the way through (about the time the laboratory is discovered). Throughout, the production design team appear to have bent over backwards to avoid any traditional haunted house look. The cupolas and lanterns seem so over designed, so obviously intended to impress that the effect is absurd. Indeed, the sets seem so cluttered with self-conscious ornamentation they often cramp the action – like a set-piece several minutes long with a chair descending to the laboratory that involves passig through an automated shaving, showering and powdering system. Once in the laboratory, the resurrection machine for no apparent reason, other than design flourish, is buried under water and activated by a vast steam power system.
The film's most memorable aspect are the amusing cameos – when the ghosts possess Bill Pullman, they transform his face in a mirror and he momentarily turns into Clint Eastwood, Mel Gibson and the Cryptkeeper from Tales from the Crypt (1989-96). There is also an amusing gag with Dan Aykroyd rushing out of the house in his Ghostbusters (1984) uniform yelling "Call somebody else."
A number of direct-to-video Casper movies were subsequently spun out by children's entertainment specialists Saban Entertainment with Casper: A Spirited Beginning (1997), Casper Meets Wendy (1998) and Casper's Haunted Christmas (2000).
Director Brad Silberling next made the angel romance City of Angels (1998), the children's fantasy Lemony Snicket's An Unfortunate Series of Events (2004) and the remake of the tv series Land of the Lost (2009).
---
---