aka A Christmas Carol
---
Crew
Director/Producer – Brian Desmond-Hurst, Screenplay – Noel Langley, Based on the Novel A Christmas Carol by Charles Dickens, Photography (b&w) – C. Pennington-Richards, Music – Richard Addinsell, Art Direction – Ralph Brinton. Production Company – Renown Pictures.
Cast
Alistair Sim (Ebenezer Scrooge), Mervyn Johns (Bob Cratchit), Michael Dolan (Ghost of Christmas Past), Francis De Wolff (Ghost of Christmas Present), George Cole (Young Scrooge), Michael Hordern (Jacob Marley), Roddy Hughes (Fezziwig), Rona Anderson (Alice Fezziwig), Carol Marsh (Alice Scrooge), Glyn Dearman (Tiny Tim), C. Konarski (Ghost of Christmas Yet to Come)
---
Plot
On Christmas Eve, miserly businessman Ebenezer Scrooge, who sneers "Bah humbug" to all Christmas spirit, receives a visit from three ghosts – of Christmases Past, Present and Yet to Come – who show him the sentiment he missed in the past and the dire consequences in store if he does not repent of his ways.
---
This is generally regarded as the best of the numerous screen adaptations of Charles Dickens' A Christmas Carol (1843). One's personal favourite is A Christmas Carol (1999) but Scrooge 1951 is still a well worthwhile adaptation.
This version is one of the best written of the adaptations, spending more time exploring Scrooge's past than any other screen adaptation to date. This does have a tendency to slow the film down at some points – and there are some scenes, like a long one with several Cockney char ladies sitting around debating over who gets Scrooge's belongings, that could have been cut altogether. However, Charles Dickens's dialogue remains largely intact and comes with an often incisive bite on screen. Here, Alistair Sim gives a nicely misanthropic performance as Scrooge.
The film is also nicely directed – the appearances of Marley and Christmases Past and Yet to Come verge on horror. Most other versions tend to build extravagant and colourful sets but this version contrarily plays the story out with a tightly packed, downbeat authenticism that is considerably closer to the reality of the era. The black-and-white photography adds an additional realism.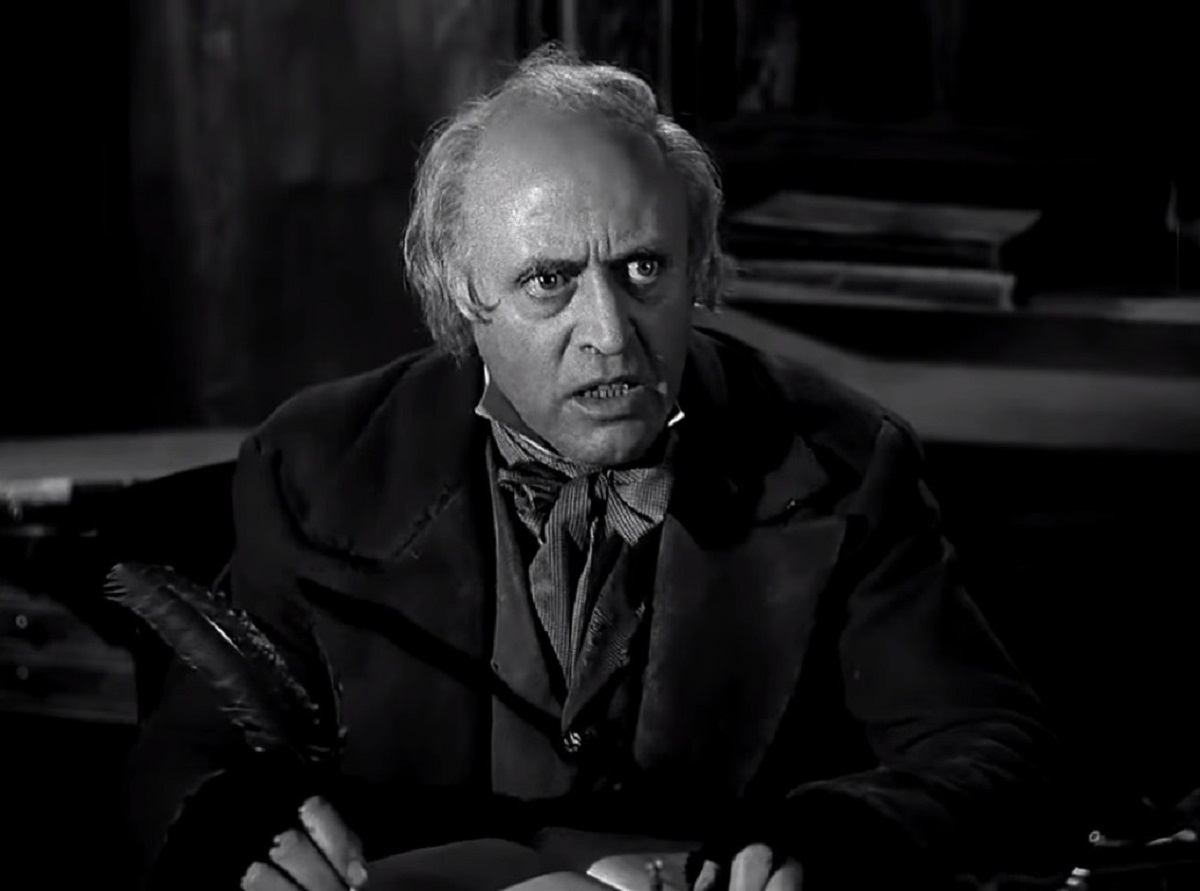 The film notedly takes a much more Christian interpretation of A Christmas Carol than any other version – the point is made by Christmas Present that Scrooge is obtaining a specifically Christian redemption in his turning from his ways and Tiny Tim hopes in seeing his disfigurement that people will be made to think of "He who healed cripples."
Other adaptations of A Christmas Carol include:– a number of lost silent adaptations made respectively in 1901, 1908, 1910, 1913, 1916, 1923 and 1928. Sound versions include:– Scrooge (1935), a British sound version with Seymour Hicks as Scrooge; A Christmas Carol (1938), an American version with Reginald Owen; a Spanish adaptation (1947); Scrooge (1970), a British-made musical adaptation starring Albert Finney; a short animated version A Christmas Carol (1971) from animator Richard Williams; Mickey's Christmas Carol (1983), a 25 minute animated short from Disney where the Scrooge role was played by Scrooge McDuck and Mickey Mouse was cast as Bob Cratchit; the modernized updating Scrooged (1988) with Bill Murray; The Muppet Christmas Carol (1992), which enacted the tale with the Muppets and starred Michael Caine as Scrooge; a British-German animated adaptation Christmas Carol: The Movie (2001); the conservative-backed An American Carol (2008) where a liberal filmmaker is persuaded of their ways; the animated Barbie in A Christmas Carol (2008); and Robert Zemeckis's motion-capture animated A Christmas Carol (2009) starring Jim Carrey. TV adaptations include A Christmas Carol (1943), a 60 minute live version, which was apparently one of the first ever experimental tv broadcasts; The Christmas Carol (1949), a half-hour American adaptation starring Taylor Holmes; A Christmas Carol (1950), a British adaptation starring Bransby Williams; A Christmas Carol (1953), a half-hour American adaptation starring Noel Leslie; a German production (1960); Carol for Another Christmas (1964), a production written by Rod Serling as a United Nations Special that updated the tale as an anti-war parable; a Canadian production Mr Scrooge (1964); A Christmas Carol (1977), a British production starring Michael Hordern; Scrooge (1978), a Canadian production starring Warren Graves; Rankin-Bass's one-hour animated adaptation The Stingiest Man in Town (1978); An American Christmas Carol (1979), starring Henry Winkler, which updated the story to the Depression era; Skinflint: A Country Christmas Carol (1979), starring Hoyt Axton, a bizarre American adaptation populated entirely by Country and Western singers; A Christmas Carol (1981), an American adaptation starring William Paterson; A Christmas Carol (1982), an American adaptation starring Richard Hilger; A Christmas Carol (1984), a lavish British-made production starring George C. Scott; a French tv adaptation (1984); Blackadder's Christmas Carol (1988), a sardonic take on the story using the characters from the popular British tv series Blackadder (1983-9); Scrooge: A Christmas Sarah (1990), a British version that cast Scrooge as a woman (Sarah Greene); A Christmas Carol (1994), a British-made ballet adaptation; A Christmas Carol (1997), an American-made animated adaptation; Ebenezer (1997), a bizarre American adaptation that recast the tale as a Western starring Jack Palance; Ms. Scrooge (1997), an American version that also cast the role with a woman (Cicely Tyson); A Christmas Carol (1999), an American production starring Patrick Stewart; A Christmas Carol (2000), a modernized adaptation where Scrooge (Ross Kemp) was a petty loanshark; A Diva's Christmas Carol (2000) with Vanessa Williams as a self-absorbed pop singer; Scrooge and Marley (2001), a one-hour adaptation starring Dean Jones; Hallmark's sex-reversed A Carol Christmas (2003) starring Tori Spelling; Hallmark's musical adaptation A Christmas Carol (2004) with Kelsey Grammer; the Italian-made A Christmas Carol (2004); the modernized Karroll's Christmas (2004) starring Tom Everett Scott; the Doctor Who tv special A Christmas Carol (2010) where a time-travelling Doctor becomes the Ghosts of Christmases Past and Present to intergalactic miser Michael Gambon; the low-budget Canadian-made A Christmas Carol (2015); the dark adult BBC mini-series A Christmas Carol (2019) starring Guy Pearce; and the modernised musical Spirited (2022) starring Ryan Reynolds. Also of interest is The Man Who Invented Christmas (2017) about Charles Dickens and the writing of A Christmas Carol.
---
---