USA. 1960.
Crew
Director – Norman Taurog, Screenplay – Edmund Beloin & Henry Garson, Based on the Play by Gore Vidal, Producer – Hal Wallis, Photography (b&w) – Loyal Griggs, Music – Leigh Harline, Photographic Effects – John P. Fulton, Process Photography – Farciot Edouart, Makeup – Wally Westmore, Art Direction – Hal Pereira & Walter Tyler. Production Company – Wallis-Hazen Productions/Paramount.
Cast
Jerry Lewis (Kreton), Joan Blackman (Ellen Spelding), Earl Holliman (Conrad), Fred Clark (George Spelding), John Williams (Delton), Lee Patrick (Rheba Spelding), Gale Gordon (Bob Mayberry)
---
Plot
Kreton, a school pupil from the planet X-47, is found by his teacher joyriding in his flying saucer in Earth's upper atmosphere. Sentenced to write out "I will not visit Earth" ten million times, Kreton instead steals a flying saucer and returns to Earth, coming down in Richmond, Virginia. He has been intending to observe the Civil War but discovers that he has arrived a hundred years too late. Kreton arrives at the home of Mayor Spelding who is determined to prove that flying saucers do not exist. Invited to stay with the Speldings, Kreton's powers and his innocence in the ways of Earth culture cause a great many problems.
---
Visit to a Small Planet was the first occasion upon which the theme of the alien visitor was played for comedy on film. One must remember that Visit to a Small Planet came at the end of a decade where science-fiction had gotten very wound up and fearful about the threats posed by all things alien who perpetually seemed on the verge of trouncing humanity – The Thing from Another World (1951), The War of the Worlds (1953) – or stealing their bodies – Invaders from Mars (1953), Invasion of the Body Snatchers (1956). It is almost certain that Visit to a Small Planet inspired the same comedic mix of straight people trying to deal with a wacky alien visitor that we saw soon after in tv's My Favorite Martian (1963-6). My Favorite Martian in turn led to other tv treatments such as Mork and Mindy (1978-82), ALF (1986-90) and 3rd Rock from the Sun (1996-2001) and films like My Stepmother is an Alien (1988) and What Planet Are You From? (2000).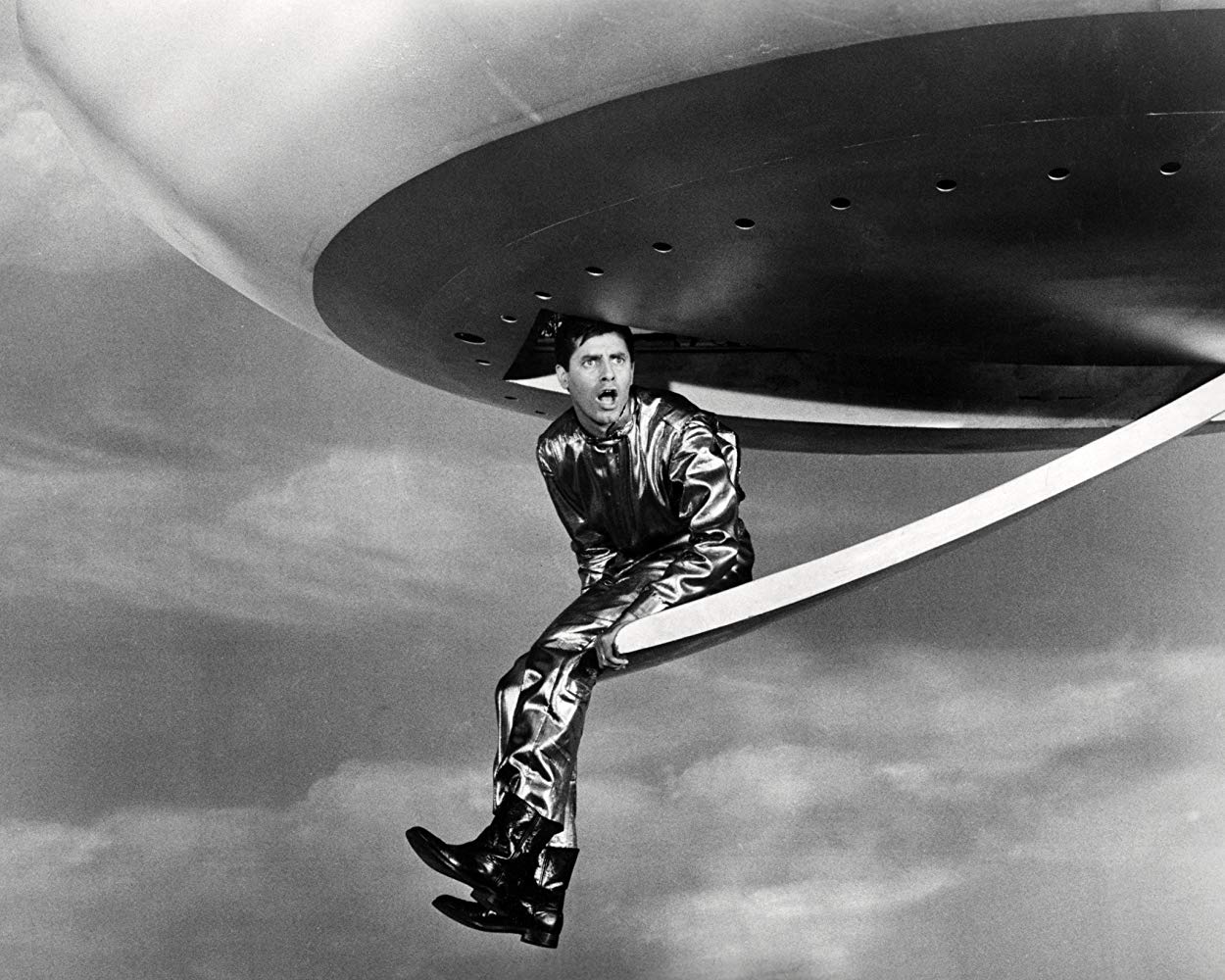 The film started out as a satirical play Visit to a Small Planet (1957) by the famous essayist and novelist Gore Vidal, who is probably best known as the author of Myra Breckinridge (1968). Of course, when it came to the film adaptation, Visit to a Small Planet was turned into a vehicle for Jerry Lewis. Lewis was the height of his success in the late 1950s/early 60s with films like The Delicate Delinquent (1957), The Sad Sack (1958), The Geisha Boy (1958), The Bellboy (1960), Cinderfella (1960), The Ladies Man (1961), The Nutty Professor (1963) and Way … Way Out (1966).
Gore Vidal wrote the original play as a satire on the Cold War and the Communist witch hunts of Senator Joseph McCarthy, including a latter half where Kreton, having missed the Civil War, decides to start his own war and causes chaos with weapons of mass destruction. In the film version, the satire went out the window and the film became a purely physical comedy set around Jerry Lewis's slapstick tumblings. Indeed, it is hard to work out going by the finished film even what Gore Vidal was trying to satirize. (Vidal was later vocal about his dissatisfaction with the film version).
Though usually maligned, Visit to a Small Planet remains a likeable piece of slapstick foolery. Jerry Lewis's nonsensical bumblings are bizarre to watch, culminating in some inspired moments imitating the antics on a tv cigarette commercial, walking around the ceiling after drinking a glass of bourbon or casually blowing out electric lights before he goes to sleep. Norman Taurog, a light comedy director best known for a host of Elvis Presley films and genre efforts like Dr Goldfoot and the Bikini Machine (1965), runs the proceedings with a non-stop pace and lightning speed timing that manages to leave the gags hitting so often that he counters the lack of any real plot.
The cast play the nonsense with comparable deadpan, among which Joan Blackman provides a good deal of plain likeability. The film provides an amusing look in on the Beat Generation wherein Jerry Lewis's absurdities – playing the bongos by remote control and levitating tables – are seen as even more mind-bending than the thought of rebellion.
---
Trailer here
Full film available online here:-
---