---
Crew
Director/Screenplay – Woody Allen, Producers – Letty Aronson, Lucy Darwin & Gareth Wiley, Photography – Remi Aderfarasian, Visual Effects – The Moving Picture Company (Supervisor – Martin Hobbs), Special Effects – Effects Associates Inc, Production Design – Jim Clay. Production Company – BBC Films/Thema Production SA/Jada Productions
Cast
Jonathan Rhys Meyers (Chris Wilton), Scarlett Johansson (Nola Rice), Emily Mortimer (Chloe Hewett Wilton), Matthew Goode (Tom Hewett), Brian Cox (Alec Hewett), Penelope Wilton (Eleanor Hewett), James Nesbitt (Detective Mike Banner), Ewen Bremner (Inspector Dowd), Margaret Tyzack (Mrs Eastby), Rupert Penry Jones (Henry)
---
Plot
Chris Wilton comes from a poor Irish family but obtains a job as an instructor at an exclusive London tennis club. There he befriends one of his clients Tom Hewett and is invited to meet Tom's well-to-do family. Chris and Tom's sister Chloe become lovers and Tom's father starts to groom Chris for an executive job at his firm, with an eye towards Chris marrying Chloe. At the same time, Chris becomes attracted to Tom's girlfriend, aspiring American actress Nola Rice. Chris and Nola have sex once before Tom splits up with Nola and she returns to the US. Chris and Chloe are duly married. Chris then bumps into Nola after she returns to London and the two begin a passionate affair. Meanwhile, Chloe is determined to get pregnant. Chris keeps promising Nola that he will leave Chloe but is aware this will also mean leaving the life of privilege he has become accustomed to. Things start going wrong – Chloe keeps failing to become pregnant, only for Nola to then discover that she is. As the complications of his life escalate, Chris begins to contemplate murder.
---
Woody Allen has become a cinematic legend, directing, writing and usually starring in some 40 odd films between What's Up, Tiger Lily? (1965) and the present. Throughout all of these, he has always affected his own unique blend of awkward self-effacing humour. Allen peaked in the 1970s with films like Annie Hall (1977), Manhattan (1979) and Stardust Memories (1980). Into the 1990s and beyond, Woody Allen's popularity seems to have waned with the general consensus being that his work has lost the lustre that it once had. That said, during this time Woody Allen has still made more excellent films – Manhattan Murder Mystery (1993), Bullets Over Broadway (1994), Mighty Aphrodite (1995), Sweet and Lowdown (1999), Small Time Crooks (2000) Vicky Cristina Barcelona (2008) – than he has made works that have not quite come off – Alice (1990), Shadows and Fog (1991), The Curse of the Jade Scorpion (2001), You Will Meet a Tall Dark Stranger (2010).
It seems just about every second Woody Allen film that comes out these days is greeted with the comment "A return to form for Allen," even if the body of evidence would suggest that Allen is not making any more flops now than he has at any other point. This was especially so in regard to Match Point, which may well be Woody Allen's strongest film in several years. (Allen himself has called Match Point the best film he has ever made).
In the mid-00s, Allen moved his production base away from New York City, where he has shot almost every film he has ever made, to England and various European locations, citing the difficulties in getting a film made in the US without creative interference. The English locations – of which Allen takes a number of opportunities here to show off as a picture postcard location – seem to have reinvigorated Allen.
To the contrary, Match Point is not so much a "strong return to form for Allen" so much as it is a change of direction for Allen. It is similar to the rest of his work in the sense that Woody Allen is still centring his films around well-to-do upper-class families and anguish over adultery that have become his favourite preoccupations throughout the 1990s – here he has merely substituted New York's rich elite for London's. On the other hand, with Match Point Allen veers away from comedy for one of the few times in his career and tells a morality play.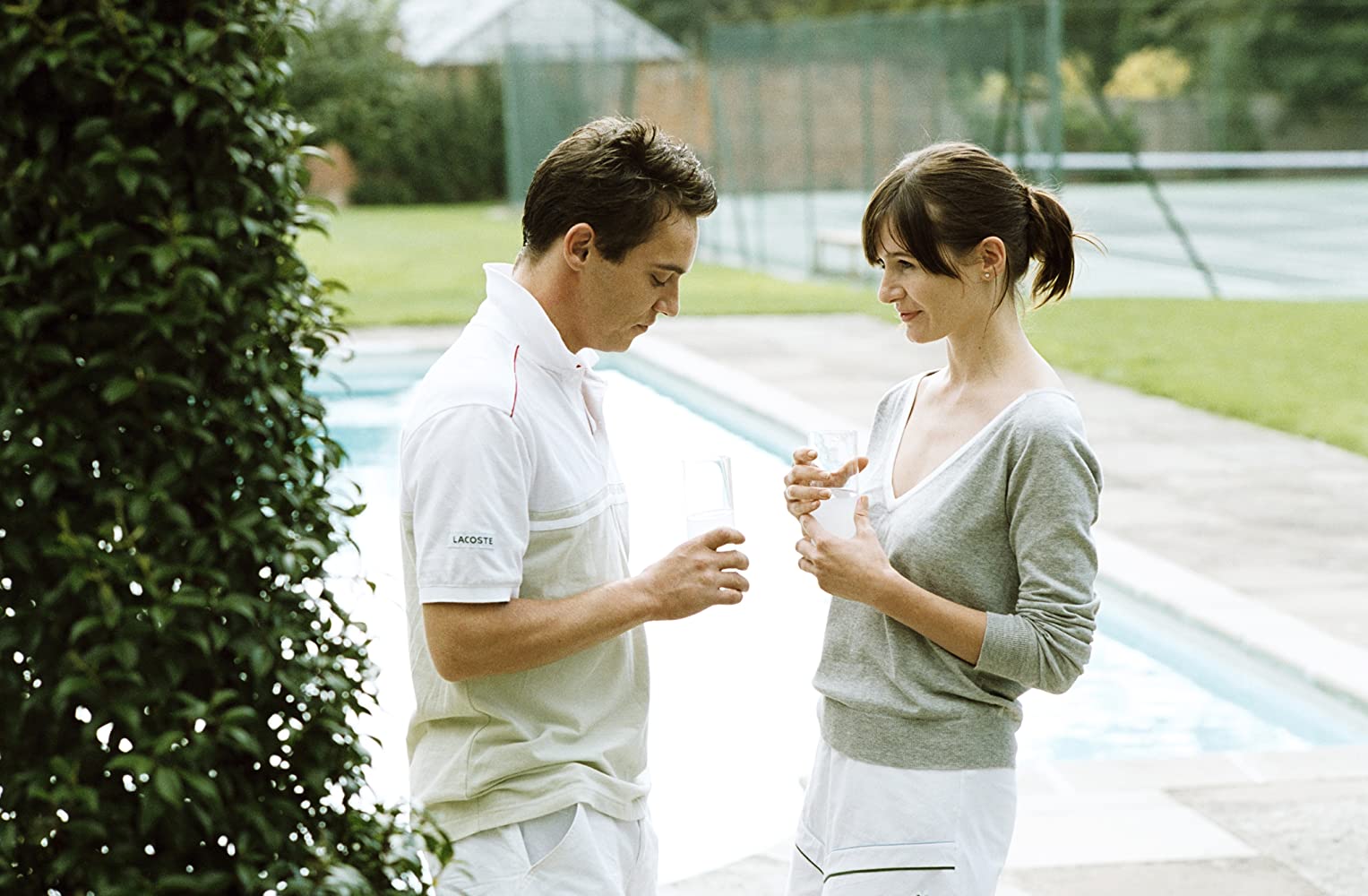 The shadow of Fyodor Dostoevsky's Crime and Punishment (1866) hangs over Match Point – Jonathan Rhys Meyers is even seen reading a copy of Crime and Punishment at one point. Like Crime and Punishment, Match Point has a poor protagonist who engages in an act of murder, believing in the moral justification for his actions. (Unlike Dostoevsky and Crime and Punishment, Woody Allen is more interested in the amorality of Jonathan Rhys Meyers' character and does not engage in redeeming him or showing him wracked by guilt as Dostoevsky did). The eventual murder – which in both works includes the elimination of an innocent party as a witness – also has many similarities to Crime and Punishment.
It should be noted that the story of a man who is drawn between his wife and a woman he is having an affair with and is eventually driven to murder lest his guilty secret come out also appeared in one of the stories in Woody Allen's earlier Crimes and Misdemeanors (1989), while Allen told a very similar story about murder and conscience in his subsequent also London-set Cassandra's Dream (2007).
Match Point takes its time to get into full stride – at 124 minutes, it is also the longest film that Woody Allen has made to date – but the last half of the film is one where Allen eventually comes to impress considerably. Allen takes great delight in a resolution that deliberately plays against expectation [PLOT SPOILERS] – the same thing he did in The Purple Rose of Cairo (1985) in opting for a deliberately downbeat ending – by introducing two detectives (James Nesbitt and Ewen Bremner) and having them stumble upon Jonathan Rhys Meyers' guilt, only for Allen to then play against classical thriller convention by having them decide otherwise.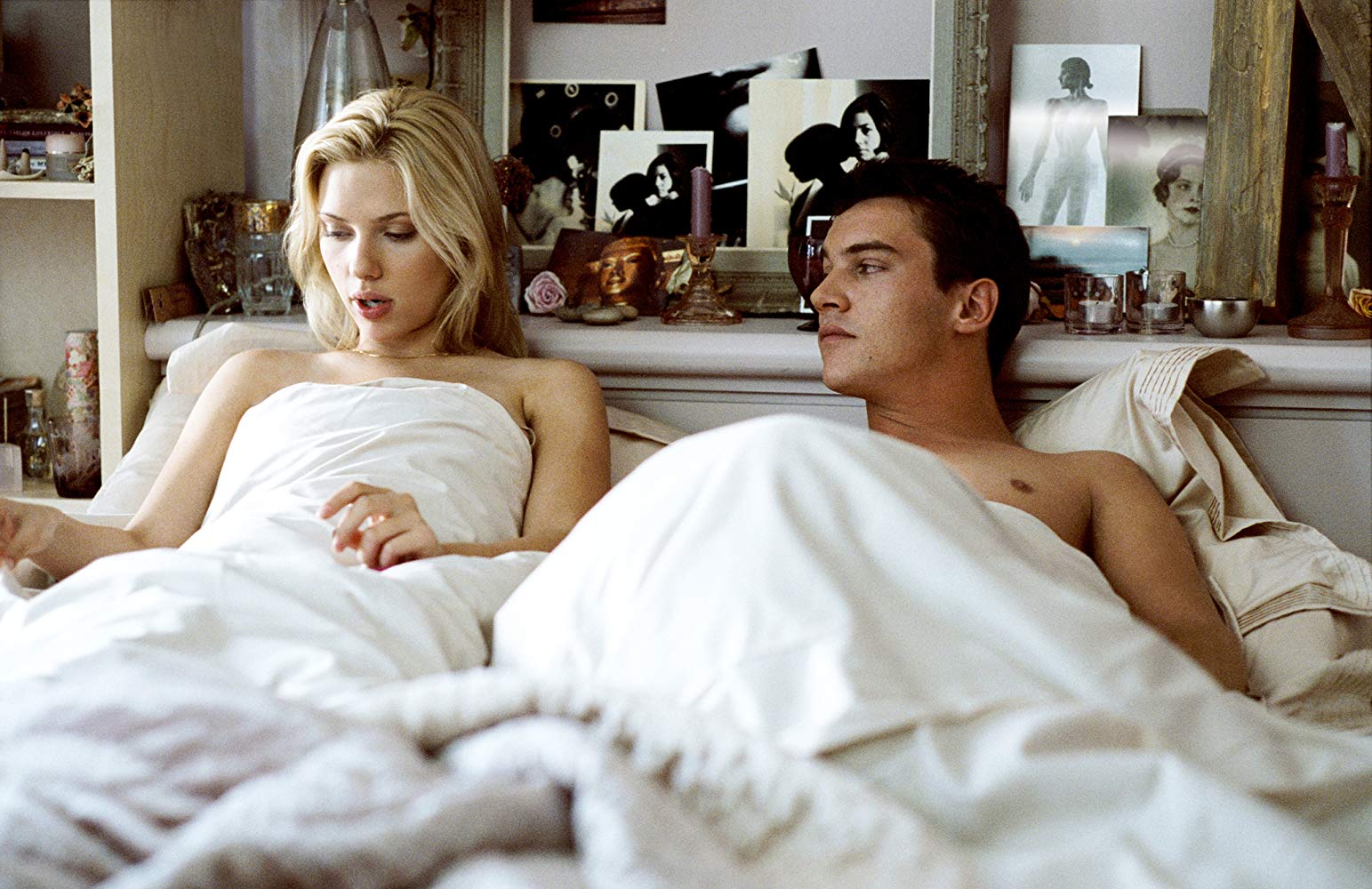 Match Point does hold a minor fantastique element with Jonathan Rhys Meyers encountering the ghosts of his murder victims in one scene. This scene is not unakin to Love and Death (1975) – where Allen also notedly parodied Dostoevsky and Russian literature – in which a ghost appeared to Allen's character with portents but the advice proved ineffectual. Likewise here, the ghosts appear and offer a grim portent that Jonathan Rhys Meyers must heed his conscience and pay for his crimes, only for this to turn out not to be the case at all.
As always, Woody Allen manages to obtain some great casting. Jonathan Rhys Meyers plays with a handsomely cool arrogance – a part that Rhys Meyers' with cold blue eyes pulls off the perfection. All the others play well, especially Penelope Wilton who often steals a number of scenes. However, the most captivating performance of the show comes from Scarlett Johansson. Johansson presents a complex, well-rounded character and captivates the entire show whenever she is on screen. She is clearly someone that Woody Allen is enamoured with – he also cast her in his two subsequent films. Here he allows Johansson to entirely sizzle during the charged table tennis game where he introduces her and presents a number of her other scenes with an eroticism that he has never shown with any of his other actresses.
Woody Allen's other films of genre note are: Play It Again Sam (1972), Everything You Always Wanted to Know About Sex * But Were Afraid to Ask (1972), Sleeper (1973), Love and Death (1975), A Midsummer Night's Sex Comedy (1982), Zelig (1983), The Purple Rose of Cairo (1985), New York Stories (1989), Alice (1990), Shadows and Fog (1991), Mighty Aphrodite (1995), Everyone Says I Love You (1996), Deconstructing Harry (1997), Scoop (2006), Midnight in Paris (2011), To Rome with Love (2012) and Magic in the Moonlight (2014).
(Winner in this site's Top 10 Films of 2005 list. Nominee for Best Original Screenplay, Best Actor (Jonathan Rhys Meyers) and Best Actress (Scarlett Johansson) at this site's Best of 2005 Awards).
---
---