---
Crew
Director – Tony Randel, Screenplay – Christopher DeFaria & Antonio Toro, Inspired by the Novel Amityville: The Evil Escapes by John G. Jones, Producer – Christopher DeFaria, Photography – Christopher Taylor, Music – Daniel Licht, Visual Effects – VCE (Supervisor – Peter Kuran), Makeup Effects – Kurtzman, Nicotero, Berger EFX Group, Production Design – Kim Hix. Production Company – VPS/Republic Pictures.
Cast
Shawn Weatherly (Andrea Livingstone), Stephen Macht (Jacob Sterling), Damon Martin (Rusty Sterling), Megan Ward (Lisa Sterling), Jonathan Penner (Dr Leonard Stafford), Nita Talbot (Iris Wheeler), Dean Cochran (Andy)
---
Plot
Architect Jake Sterling returns home to L.A. from New York, bringing back an antique clock he found while demolishing houses at Amityville. Soon bizarre happenings begin to occur. Jake's son Rusty is suspected by police of killing neighbourhood dogs and setting hedges on fire. Meanwhile, Jake's teenage daughter Lisa starts going out dressed to kill. A neighbourhood occult expert identifies the clock as once having belonged to the Satanist Gilles de Rais. As Jake succumbs to obsessive behaviour, his housekeeper and live-in lover Andrea Livingstone try to fight the clock's influence.
---
This was the sixth film spun out of the Amityville Horror hoax. The Amityville Horror (1979) had been quite a hit when it came out, made even more so with the fascination with the claims that it was based on a true story – something that was pulled apart in later years and several participants admitted to being a hoax. The popularity saw several sequels and a host of other films using the Amityville name in their title that are still being made over forty years later. (See below for other titles).
By now the connections to the original claims made by the Lutz family about having lived in a real-life haunted house had run thin and this film doesn't bother to even set itself in the haunted house or in Amityville (or even New York state) but limits itself to the exceedingly slight connection of a clock taken from the Amityville house before it was demolished for housing tracts. (In real life, the so-called Amityville house is still standing). It is a spurious gimmick in order to spin out another entry in a horror franchise but one that works to the film's favour, for it can be observed that the Amityville series becomes far more enjoyable when the sequels stop trying to pose as real-life exposes and start acting as outright horror films.
Amityville 1992: It's About Time is not tongue-in-cheek but it never takes proceedings entirely seriously either – it more sets out to be a jolly carnival ride. It is well put together by director Tony Randel. The film works best when playing on the psychology of the characters – Stephen Macht turning brooding and obsessive and who, in one whacked-out scene, pulls a gun on Jonathan Penner accusing him of fucking Shawn Weatherly; Megan Ward's transformation from bubbly teen to out-to-kill temptress luring her boyfriend to his death. There is weird play between rooms that open into the past, goo that appears in people's bed one minute and not the next, and the evil clock that starts burrowing its cogs and screws into the walls of the house.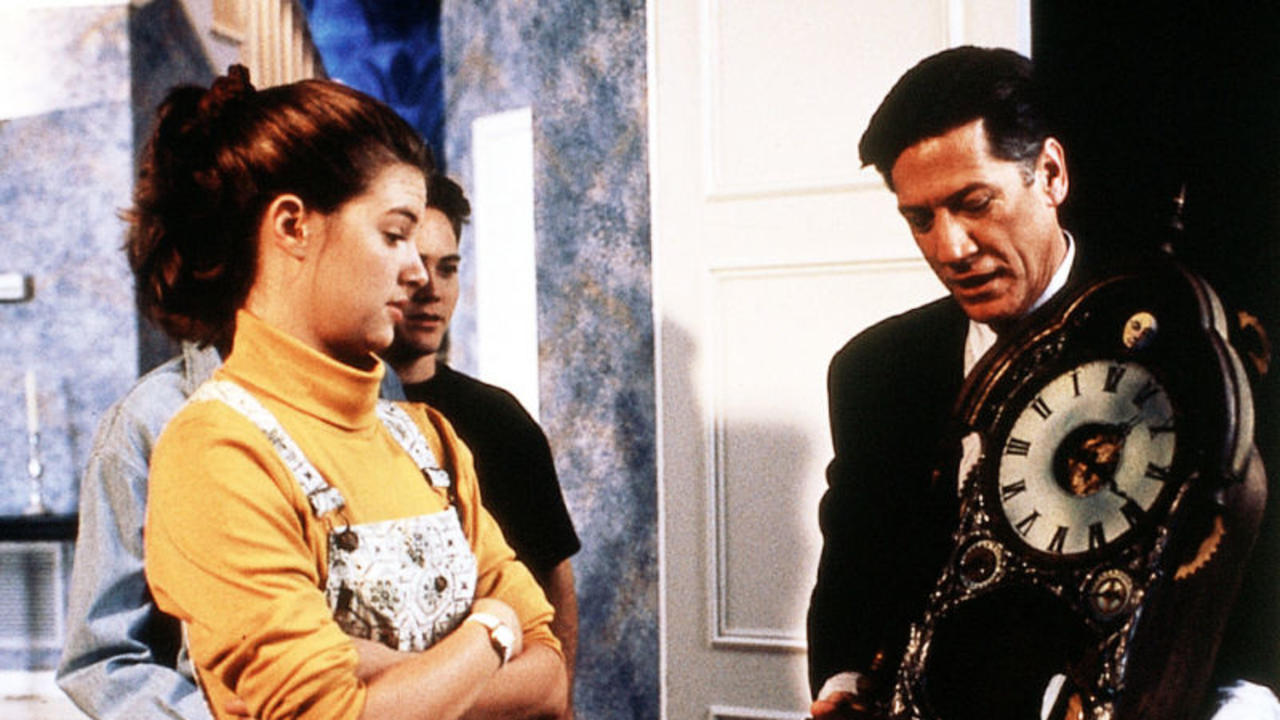 The film gets much sillier when it is required to rely on the usual barrage of slime and makeup effects, it falling down here because these are not particularly good. Especially poor is the body that comes out of the bath after Jonathan Penner and, in particular, the silly scene where Megan Ward's boyfriend is melted down to a flattened face in a puddle of goo. Mostly though, the film is enjoyably enthusiastic fun.
The other Amityville films are:– The Amityville Horror (1979), Amityville II: The Possession (1982), Amityville 3-D (1983), The Amityville Curse (1989), Amityville: The Evil Escapes (1989), Amityville: A New Generation (1993), Amityville: Dollhouse (1996), The Amityville Haunting (2011), The Amityville Asylum (2013), Amityville Death House (2015), Amityville Playhouse (2015), The Amityville Legacy (2016), Amityville: No Escape (2016), Amityville Terror (2016), Amityville: Vanishing Point (2016), Amityville Exorcism (2017), Amityville: The Awakening (2017), The Amityville Murders (2018), The Dawn (2019), Amityville Island (2020) and Witches of Amityville Academy (2020). The Amityville Horror (2005) was a remake of the original. There have been several documentaries Amityville 2000/The Amityville Horror: 25 Years Later (2000), The Real Amityville Horror (2005) and Amityville: The Final Testament (2010), which tried to examine what happened in the house, while the parapsychological investigation into the house is also featured in The Conjuring 2 (2016).
Tony Randel's other genre films are:– Hellbound: Hellraiser II (1988), Children of the Night (1991), Ticks (1993), Fist of the North Star (1996), Rattled (1996), One Good Turn (1996), The Double Born (2008) and The Hybrids Family (2015).
---
---