---
Crew
Director – Anthony C. Ferrante, Screenplay – Jose Prendes, Producer – David Michael Latt, Photography – Ben Demaree, Music – Alan Howarth, Visual Effects Supervisor – Joseph J. Lawson, Makeup Effects – Gage Hubbard & Greg Lightner, Production Design – Vincent Albo. Production Company – The Asylum.
Cast
Dee Wallace (Lilith), Stephanie Greco (Gretel Grimm), Brent Lydic (Hansel Grimm), Sara E. Fletcher (Jane), Jasper Cole (John), Frank Giarmona (Bobby), M. Steven Felty (Sheriff Woody Meckes), Clark Perry (Kevin), Trish Coren (Ruby Lemiers), Steven Hanks (Brandon Grimm), Adrian Bustamante (Deputy Jerry Carter), Lydia Woods (Dana)
---
Plot
In small town of Kendlewood, Gretel Grimm works at The Gingerbread House, a bakery run by Lilith. That evening, Gretel's father announces to Gretel and her brother Hansel that he is going to marry Ruby and is intending to sell up the family house so that they can go travelling. Hansel, a stay-at-home slacker, melts down at the thought of having to move out and runs into the woods. Gretel runs after him and finds Hansel having twisted his ankle. The two seek refuge at a nearby house in the woods, which turns out to be owned by Lilith. She welcomes them in but in the morning, they discover that they have been made prisoners. They are placed with several other missing people that Lilith and her two brutish sons keep chained up in the basement, fattening them up so that their flesh can be used in Lilith's special meat pies.
---
The Asylum is a company that specialises in 'mockbusters' – low-budget films that attempt to copy the titles of more successful big-budget studio releases, being released at the same time to exploit the other film's publicity campaign, not to mention seek to fool unsuspecting browsers into thinking they are watching the other film. The Asylum's mockbusters have included the likes of The Da Vinci Treasure (2006), Pirates of Treasure Island (2006), Snakes on a Train (2006), I Am Omega (2007), Transmorphers (2007), Allan Quatermain and the Temple of Skulls (2008), The Day the Earth Stopped (2008), Death Racers (2008), 100 Million BC (2008), Sunday School Musical (2008), The 18 Year Old Virgin (2009), Paranormal Entity (2009), The Terminators (2009), Almighty Thor (2011), Battle of Los Angeles (2011), Abraham Lincoln vs. Zombies (2012), Age of the Hobbits (2012) and Atlantic Rim (2013), among others.
The early 2000s saw a spate of theatrically released adult fairytale adaptations with the likes of Red Riding Hood (2011), Mirror Mirror (2012), Snow White and the Huntsman (2012), Jack the Giant Slayer (2013) and Maleficent (2014). With the original stories in public domain, The Asylum readily leapt aboard and offered up their own cheap copies with the likes of Grimm's Snow White (2012), Jack the Giant Killer (2013), Sleeping Beauty (2014) and Little Dead Rotting Hood (2016).
Hansel & Gretel was another mockbuster released at the same time as the theatrically-released Hansel & Gretel: Witch Hunters (2013). It promptly becomes the best of The Asylum's low-budget modernised fairytales. While their other fairytale adaptations were all over the map attempting to find some cheap modern equivalent of the story, this sticks to the basics and essentially gives us Hansel and Gretel by way of The Texas Chain Saw Massacre (1974). Some of the film's modern interpolations are amusing – like the opening scenes that recast Hansel as a live-in-his-room videogame junkie who runs off into the woods after having a meltdown upon learning that his father is going to sell the family home.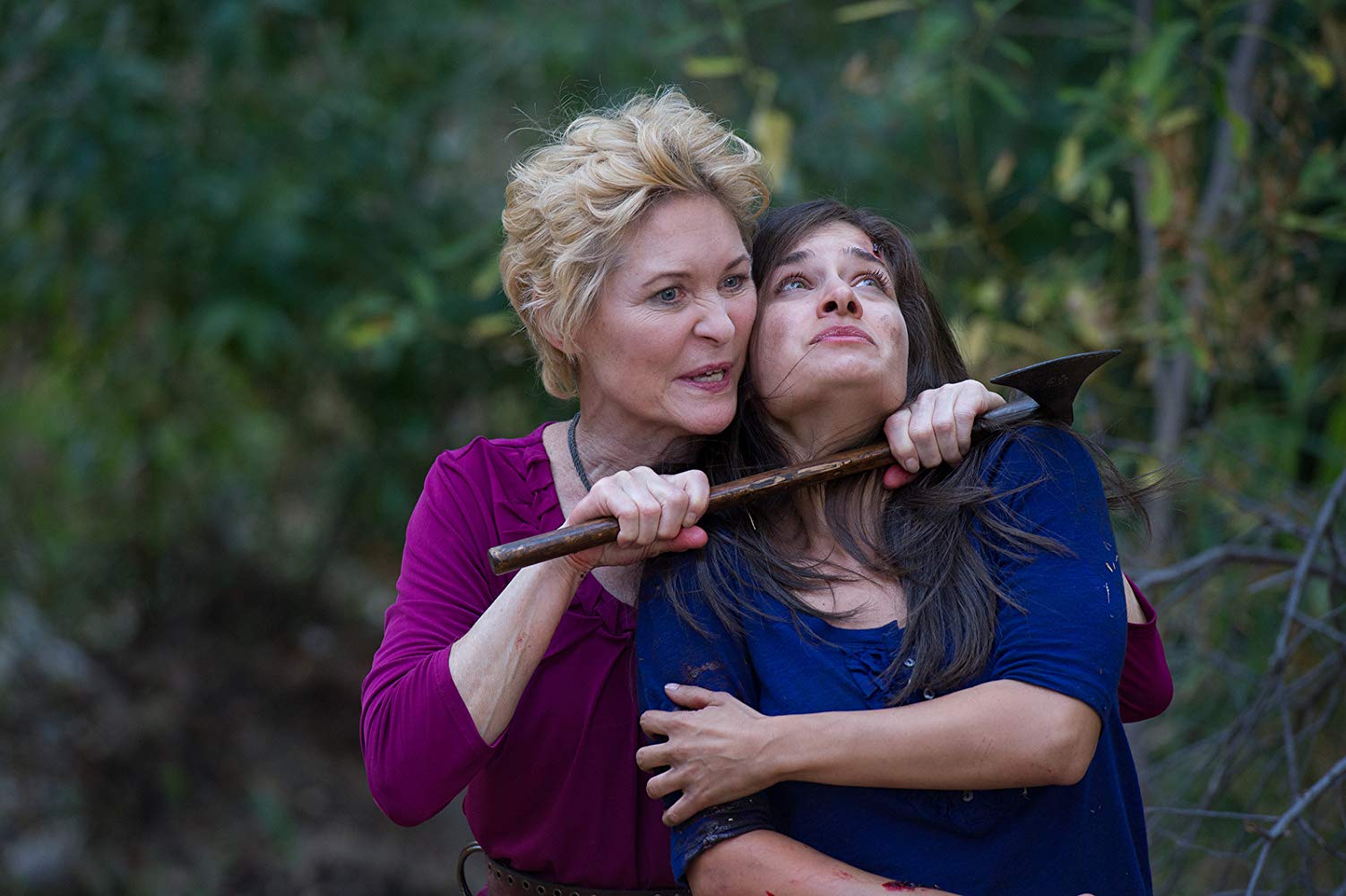 Anthony C. Ferrante was also the director of The Asylum hit Sharknado (2013), which was released seven months later the same year as this. Ferrante goes for horror movie effect with highly entertaining regard. The influence of Texas Chain Saw is clearly evident in the scenes with Dee Wallace's two hulking imbecilic sons and a not dissimilar design scheme for the insides of the house. The film is filled with various scenes where the imprisoned victims are chained and manacled up, cut to pieces, where Stephanie Greco is imprisoned inside a bag or with various girls being tied up in their underwear and threatened. The most entertaining scenes are the ones where Hansel (Brent Lydic) gets Lilith's candies all over his skin, starts eating them and finds them so delicious that he starts eating the flesh they are stuck to and then tearing out his intestines. At the same time, Sara E. Fletcher is trapped in a room of razor wire that slices her skin and body parts off every way she turns.
The film's ace is Dee Wallace, a genre regular who was cast in mom roles ever since E.T. – The Extra-Terrestrial (1982) and more recently grandmother parts. Wallace takes the opportunity to pulls all stops out and go completely nuts in the role – all considerably to the film's entertainment value. Not to mention that she gets assorted scenes shoving pitchforks and machetes into victims and bashing heads in with rolling pins.
The Asylum made a sequel with Hansel vs Gretel (2015) where the only returnee was Brent Lyric as Gretel.
Other film versions of the Hansel and Gretel story include:– two West German versions made in 1954, Hansel and Gretel: An Opera Fantasy (1954), Cannon's Hansel and Gretel (1987), Witchslayer Gretl (2012), Hansel and Gretel (2002), Hansel and Gretel Get Baked (2013), Hansel and Gretel: Warriors of Witchcraft (2013), Tommy Wirkola's ridiculous Hansel & Gretel: Witch Hunters (2013) and Osgood Perkins' remarkable adult Gretel & Hansel (2020). None of these were as astonishing as Matthew Bright's amazing modernisation Freeway II: Confessions of a Trickbaby (1999). Also worth checking out is Francois Ozon's modernised Criminal Lovers (1999), which reinterprets the fairytale as a gay love story.
Anthony C. Ferrante is a former writer for Fangoria magazine and a makeup effects supervisor who has worked on numerous B horror films such as The Dentist (1996), Faust: Love of the Damned (2000) and Arachnid (2001), among others. He made his directorial debut with the haunted house film Boo (2005), and went onto Headless Horseman (2007), Forgotten Evil (2017) and Zombie Tidal Wave (2019). Ferrante's most famous work was the bad movie hit of Sharknado (2013) and sequels Sharknado 2: The Second One (2014), Sharknado 3: Oh Hell No! (2015), Sharknado: The 4th Awakens (2016), Sharknado 5: Global Swarming (2017) and The Last Sharknado: It's About Time (2018).
---
---