---
Crew
Director – Rod Daniel, Screenplay – Steven L. Bloom & Lorne Cameron, Story – Lorne Cameron, Producers – Brian Grazer & David Valdes, Photography – Jack N. Green, Music – Miles Goodman, Production Design – Dennis Gassner. Production Company – Imagine Entertainment.
Cast
Dudley Moore (Dr Jack Hammond), Kirk Cameron (Chris Hammond), Sean Astin (Trigger), Patrick O'Neal (Larry Armbruster), Micah Grant (Rick Anderson), Catherine Hicks (Amy Lachan), Margaret Colin (Ginnie Armbruster), Camille Cooper (Lori Beaumont), Bill Morrison (Earl)
---
Plot
Teenager Chris Hammond's best friend Trigger shows him a potion that was discovered by his archaeologist uncle. The potion is used among the Indians and allows people to swap minds for healing purposes. Chris and Trigger go to try the potion but it is mixed up with a Tabasco bottle. Chris's straight-laced father Jack sprinkles some of this in his Bloody Mary, only to then find that he and Chris are now in one another's bodies. In his father's body, Chris has to fake being a top surgeon and deal with the pompous hospital politics, while Jack has to suffer the complications of school life and teenage dating.
---
Like Father, Like Son was one among the spate of bodyswap comedies that came out over the 1988-89 period. Others included the likes of Big (1988), 18 Again (1988), Vice Versa (1988), Chances Are (1989) and Dream a Little Dream (1989). Like Father, Like Son is the only one among these that did not bother with the whole bittersweet, wistful thing and played itself as an out-and-out comedy and as a result it comes with a far greater vitality and sense of fun than most of the others did.
The pairing of Dudley Moore and Kirk Cameron, who was then riding on the success of tv's Growing Pains (1985-92) and had not yet become a squeaky clean Christian, is far better than one might think. In fact, there are times Like Father, Like Son becomes downright hilarious thanks to the fine sense of comic timing from director Rod Daniel.
Dudley Moore has some wonderfully foolish scenes – smoking a cigarette for the first time in a starchy conference; accidentally setting a couch on fire during a seduction attempt; his reactions to watching MTV; and some hilarious scenes as he attempts to affect teen idiom. Moore was clearly having the most fun he has before a camera in some time.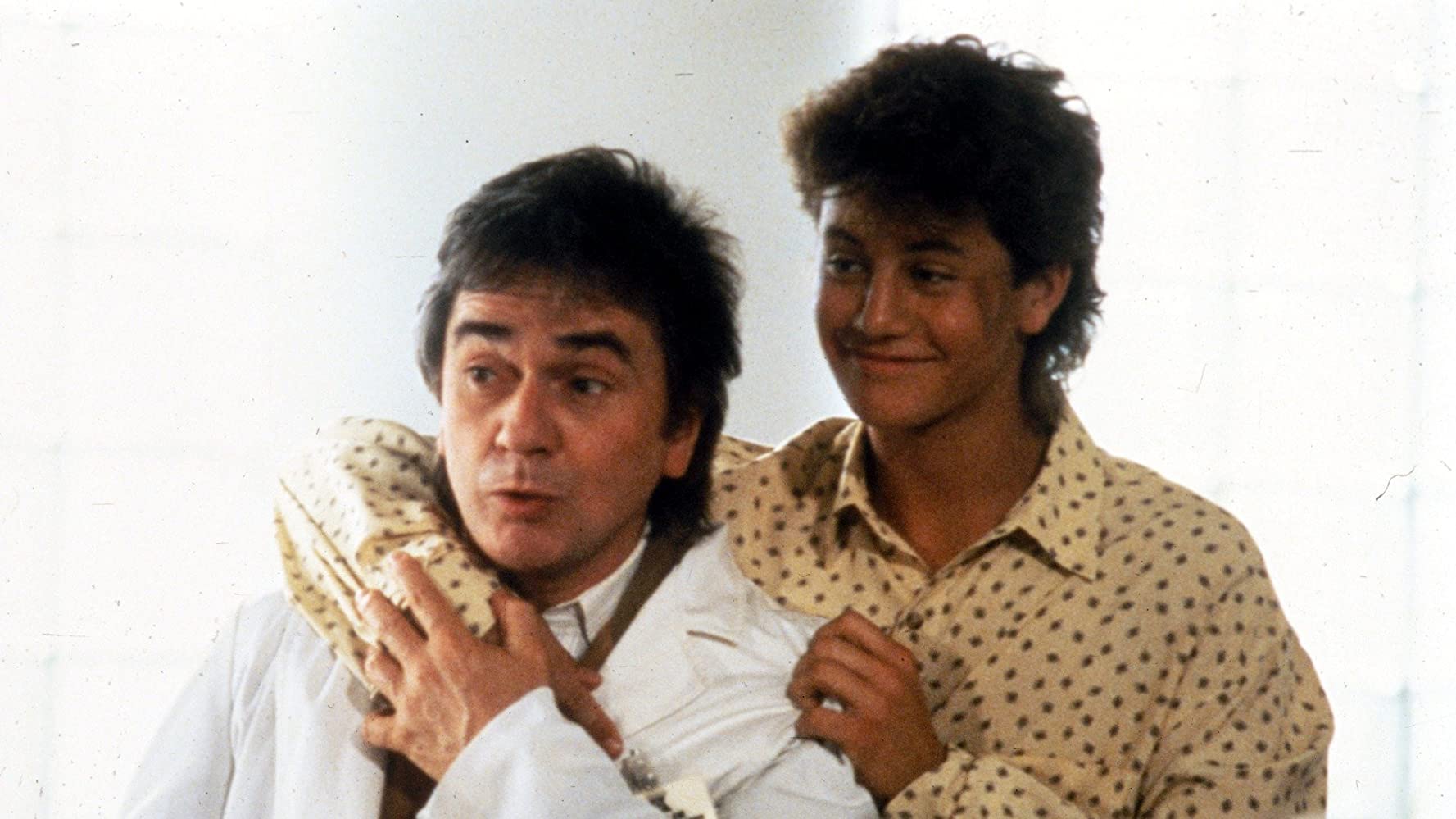 Kirk Cameron remains somewhat nebbish when playing himself, but gets right into the fun when he gets to play the adult in the child's body – dressing down Dudley Moore for coming back drunk or turning to point with perfect moralistic righteousness, "He did it," at a classroom culprit. There are pieces that are merely silly and Kirk Cameron's sentimental tribute to his father at the end hits too mawkish a note but mostly Like Father, Like Son is a rather likeable film.
Director Rod Daniel worked in comedy television for most of his career between the 1970s and early 2000s. He had previously had a success with his theatrical debut as a director, the Michael J. Fox hit Teen Wolf (1985). He directed sporadic other theatrical films with K9 (1989), The Super (1991) and Beethoven's 2nd (1993) but no other genre works. Screenwriter Lorne Cameron later went on to writes works such as First Knight (1995), Justice League of America (1997), The Extreme Adventures of Super Dave (2000), Brother Bear (2003), Over the Hedge (2006) and The Nut Job (2014). This was also the first film produced by Ron Howard and Brian Grazer's Imagine Entertainment.
---
Trailer here
---