---
Crew
Director/Screenplay – Neil Burger, Based on the Short Story Eisenheim the Illusionist by Steven Milhauser, Producers – Brian Koppelman, David Levien, Michael London, Cathy Schulman & Bob Yari, Photography – Dick Pope, Music – Philip Glass, Visual Effects – Universal Production Partners (Supervisor – Viktor Muller), Special Effects – Vulcan Effects (Supervisor – Roman Tudzaroff), Production Design – Ondrej Nekvasil. Production Company – Bob Yari Productions/Koppelman-Levien-Michael London/Contagious Entertainment.
Cast
Edward Norton (Edward Abramovitch/Eisenheim the Illusionist), Paul Giamatti (Chief Inspector Walter Uhl), Jessica Biel (Countess Sophie von Teschen), Rufus Sewell (Crown Prince Leopold), Edward Marsan (Josef Fischer), Aaron Johnson (Young Eisenheim), Eleanor Tomlinson (Young Sophie)
---
Plot
19th Century Vienna. Police chief Walter Uhl goes to arrest the stage magician Eisenheim the Illusionist on the orders of Crown Prince Leopold. Before the Crown Prince, Uhl recounts Eisenheim's story. Eisenheim, who was born Edward Abramovitch, appeared out of nowhere and became a sensation on stage with his dazzling illusions. Crown Prince Leopold came to a performance and offered up his companion Countess Sophie von Teschen when Eisenheim called for a volunteer. What Leopold did not know was that Sophie and Eisenheim were childhood loves. Afterwards they took the opportunity to renew their love in secret. Sophie did not want to marry Leopold and she and Eisenheim made plans to run away. After she refused the prince's demands to marry, he flew into a rage. Her murdered body was later found. Eisenheim was distraught and soon after began to change the nature of his performance from stage illusions to spiritualism, conjuring the ghosts of the dead on stage. Eisenheim then conjured up the ghost of Sophie and she began to make veiled accusations that she had been murdered by the prince, which began to cause political ripples that threatened the crown.
---
In one of those peculiar convergences upon a particular theme that seem to happen with regularity in cinema, 2006 brought two different films about Victorian-era stage magicians. The Illusionist came out only two months before Christopher Nolan's The Prestige (2006). Of these, The Prestige enjoyed a more high-profile release, while The Illusionist floated around the arthouse circuit. Both films have surprising convergences of theme – rivalries concerning stage magicians in late 19th Century Europe (Hugh Jackman and Christian Bale competing over the secret of a trick in The Prestige; Edward Norton and Rufus Sewell competing for the love of Jessica Biel here) and a plot that in effect acts as a conjuring trick where the magician(s) pull an illusion over the eyes of their rival. Both films also show the magicians adopting a disguise with a bowler hat and fake beard. (In an even odder coincidence, a few months later also saw Next (2007), which also featured Jessica Biel, and starred Nicolas Cage as a stage magician whose abilities were real).
The Illusionist came from writer/director Neil Burger who previously debuted with Interview with the Assassin (2002), a mockumentary that purported to interview the aging assassin that fired the bullet that killed President Kennedy. (On the basis of The Illusionist, Neil Burger was at one point selected to direct The Chronicles of Narnia: The Voyage of the Dawn Treader (2010), although was eventually passed over).
The Illusionist has certainly been put together with a good deal of production polish. The locations (in the Czech Republic) and set dressings are all in perfect period and the costuming immaculately pressed. The film is beautifully lit in colours that have been muted so that the film almost takes place in an autumnal sepia tone (Dick Pope's work was nominated for that year's Academy Award).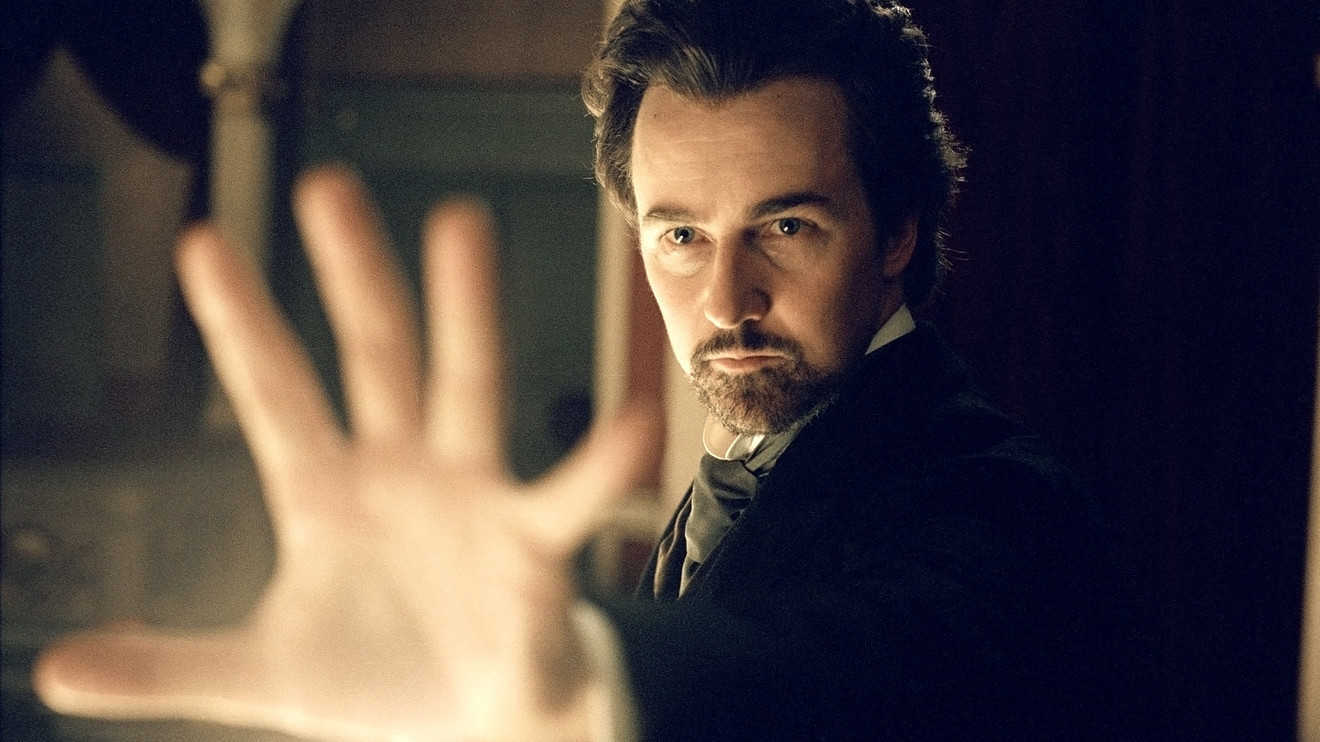 Neil Burger also brings together an impressive cast including Edward Norton who is shaping up to be one of the best actors of his generation in films like Primal Fear (1996), The People vs Larry Flynt (1996), American History X (1998) and Fight Club (1999); Paul Giamatti whose star has started to flourish in recent years with acclaimed roles in films like American Splendor (2003) and Sideways (2004); Jessica Biel, an actress on the verge of major stardom, who has been appointed titles like Sexiest Woman Alive in the last couple of years; and British actor Rufus Sewell who has grown from being merely a handsome youthful face into an increasingly underrated actor in various supporting roles of recent.
With all of this arranged in terms of period production flourish and a worthwhile cast, The Illusionist should have been a fine costume drama. Only it fails to come to life. You can see that Neil Burger is trying to do something – he wants to draw us into a romantic story between two childhood loves meeting again as adults; he wants to cast a black-hearted villain opposing them and makes us feel shock at the social privilege that the monarchies of the era allowed; he wants to dazzle us with the enigmatic mystery of Edward Norton's illusionist; and wants the story to act in effect like a conjuror's trick that makes us look one way before he pulls a surprise from the other direction to amaze us with what is really happening. And while you can see what Neil Burger is trying to do, none of these things particularly work.
The love story, either with the two as children or their meeting again as adults, fails to ever seem like a passionate quest where you will weep at the obstacles and gladden at the outcome. Jessica Biel passes through the film as not much more than the equivalent of a woman who turns up to a ball as window dressing on the arm of a celebrity – she is beautiful but rarely displays any more than that.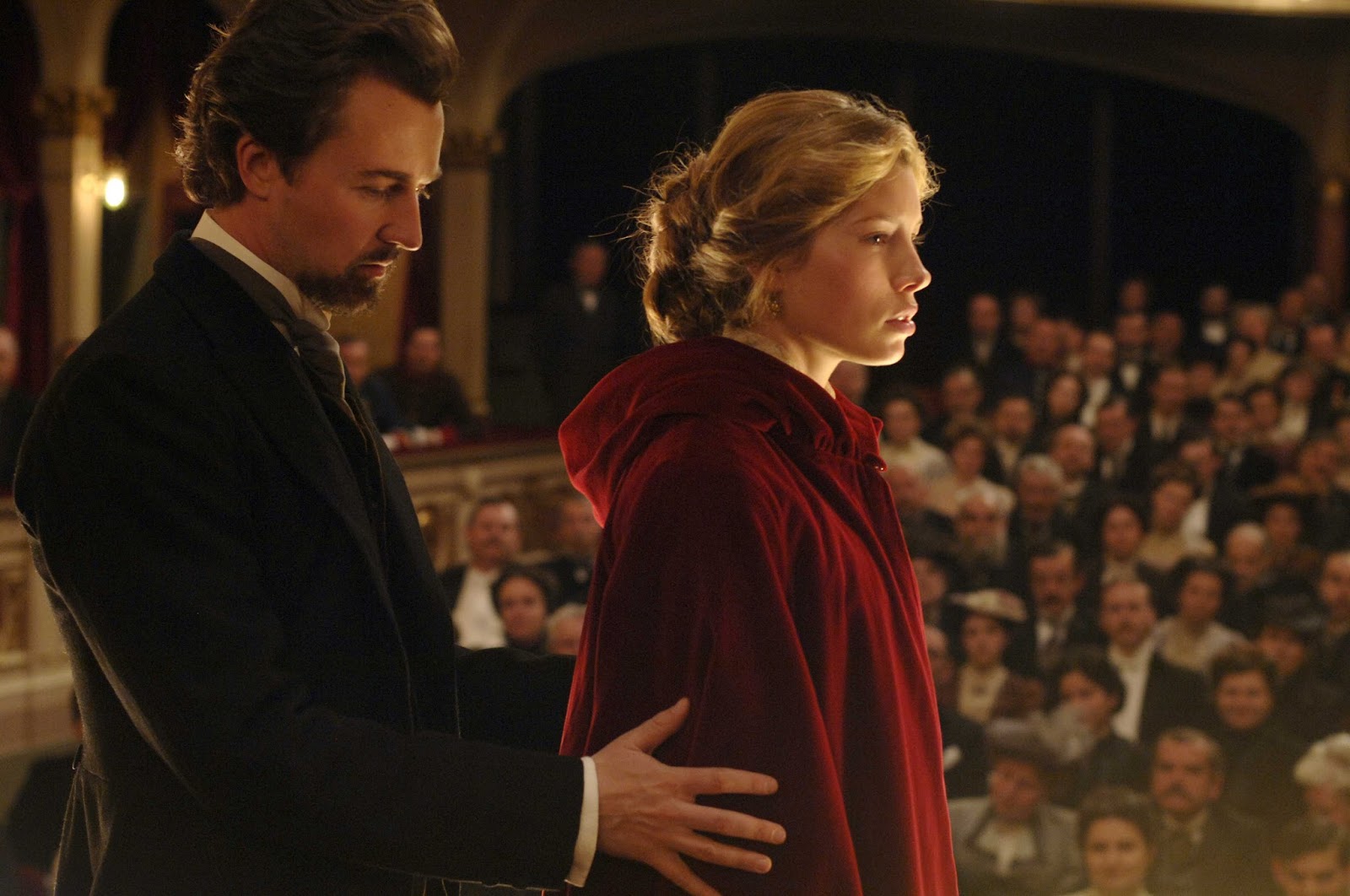 Edward Norton, though he is a fine actor in most of his roles to date, never seems to inhabit the role of Eisenheim. What this role should have been was something like Robert Powell's performance as the enigmatic magician in the underrated Australian film Harlequin (1980) where we saw a figure of both sinister and sympathetic charisma who wielded an uncanny influence (that may have included real magical powers) on the people around him. Edward Norton brings a certain gravitas when he is on stage but Eisenheim is a character that seems lacking in any kind of darkly ambiguous charisma. Paul Giamatti seems perfectly cast in a role that requires his jowly features to look downcast and dogged – but even he cannot bring to life a role (that of the plodding but diligently honest police detective in a corrupt regime) that has been conceived and written by the numbers.
Certainly, The Illusionist gains its life whenever Rufus Sewell and Edward Norton are squaring off against one another – especially in the scene where Norton humiliates the prince with a trick involving a sword attached to the floor. It is in these character tensions that we see what The Illusionist should have been – a battle of wills between rival personalities. However, though Rufus Sewell gives a fine performance, we are not sure why we should hate him. It is rumoured that he enjoys cruelty and may have been implicated in the murder of other women, but we see nothing of this other than a single scene where he gets angry when Jessica Biel refuses to marry him. What we in effect have is a villain where there seems no overt reason (on screen at least) beyond the fact that he also lays claim to wanting Jessica Biel and the associations of monarchist privilege that we should hiss and boo him. In regard to the fate he receives, this doesn't seem enough.
This brings us to the twist in the tale, which is the single most irritating aspect about The Illusionist. [PLOT SPOILERS] Here we find that the prince's murder of Jessica Biel and the stage show where her ghost is seen to be coming back to point out her murderer was an elaborately staged illusion to point guilt to Rufus Sewell and drive him to suicide so that Biel can be free of the prince's demands and be with Edward Norton. While this was an ending that had some audiences amazed, this author successfully predicted it coming well in advance. Some of the giveaway clues – like seeing the man that Edward Norton is talking to at the train station suddenly turn up as the coroner – make it extremely obvious that what we are seeing is not all that it seems.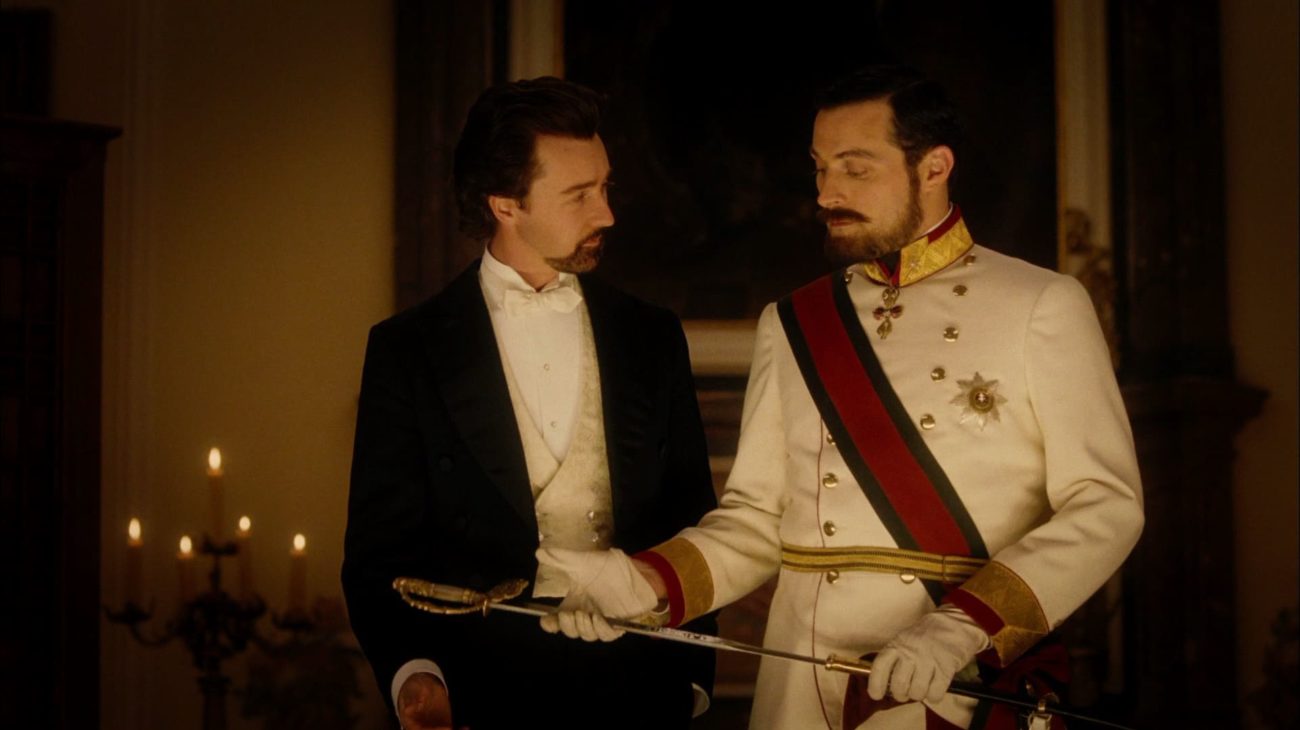 Moreover, it is a corny and dramatically contrived twist – one that surely requires holographic technology that is absurdly advanced for the era and a good deal of reliance on things improbably happening one way instead of another. On a wider level, it is also an ending that is morally troubling. What it in essence says is that in the name of true love coming together, it is acceptable that a rival should be blamed for a murder of which they are innocent and driven to a point where they feel that suicide is the only option. For all the big romance that The Illusionist throws up, this is an ugly downside to have to portray as the price of it, especially considering that the film never does enough to make Rufus Sewell's villain deservous of such fate.
The Illusionist should not be confused with Sylvain Chomain's superb animated film of the same title The Illusionist (2010).
Director Neil Burger subsequently went onto make the Iraq War veterans film The Lucky Ones (2008) and The Upside (2017). He stayed in genre material with Limitless (2011) in which Bradley Cooper finds a drug that provides vastly expanded mental powers; Divergent (2014), the first film in the Young Adult dystopian series; and the generation ship film Voyagers (2021).
(Nominee for Best Musical Score at this site's Best of 2006 Awards).
---
---