---
Crew
Director – William Brent Bell, Screenplay – William Brent Bell & Matthew Peterman, Producers – McG, Matthew Peterman, Peter Schlessel & James Stern, Photography – Alejandro Martinez, Music – John Frizzell, Visual Effects – Custom Film Effects (Supervisor – Mark Dornfeld), Pixel Liberation Front (Supervisor – Kent Seki), Special Effects Supervisor – David K. Nami, Production Design – Bruton Jones, Videogame Consultant – Cliffyb. Production Company – Hollywood Pictures/Spyglass Entertainment/Endgame Entertainment/Wonderland Sound and Vision/Stay Alive Productions.
Cast
Jon Foster (Hutch), Samaire Armstrong (Abigail), Frankie Muniz (Swink), Sophia Bush (October), Jimmi Simpson (Phineus), Wendell Pierce (Detective Thibodeaux), Adam Goldberg (Miller Banks), Rio Hackford (Detective Charles King), Milo Ventimiglia (Loomis Crowley), Maria Kalinina (Countess Elizabeth Bathory)
---
Plot
Hutch is shocked when he learns that his good friend and videogame buddy Loomis has been found hung and Loomis's two roommates murdered. At the funeral, Loomis's sister gives Hutch a copy of 'Stay Alive', the test version of a new videogame that Loomis was playing when he died. Examining the game, Hutch is puzzled to find that Loomis's character died in exactly the same way that Loomis did. Hutch and several other friends sit down to play 'Stay Alive'. Inside the game environment, they enter creepy mansion of Garouche, which is based on the legend of the notorious Countess Elizabeth Bathory. Each of them then find that when they die inside the game environment this death is enacted on them in the real world. Hutch realises that Elizabeth Bathory's spirit has somehow managed to incarnate inside the computer game. They must find where her body lies in order to save their lives.
---
Stay Alive is another variant on the deadly video or computer game. We saw a heap of these films a few years ago with the likes of Nightmares (1983), Arcade (1994), Brainscan (1994) and Spy Kids 3-D: Game Over (2003). Stay Alive is a variant that incorporates the survival horror games that appeared in the late 1990s – indeed, the game environment in the film feels like it is borrowed from the unworldly feel of Silent Hill (1999). Unlike many of the other abovementioned depictions of videogames and virtual reality, the filmmakers have made an effort to create realistic gameplay – thus no players feeling pain when their characters are hit. To this extent, there is even a videogame adviser on the end credits.
It is a shame that the producers and creators of Stay Alive could not have obtained a script or historical adviser as well. The film has the decidedly out-there premise of the real-life Countess Bathory having been reincarnated inside a videogame. Countess Elizabeth Bathory was a Hungarian noblewoman who was arrested in the year 1610 for having killed some 600 young girls. Among other things, it was claimed that she used to kill young virgins and bathe in their blood in the belief that it would cause her to remain youthful.
The Elizabeth Bathory story has been influential on the genesis of the vampire myth. Variations on the Countess Bathory story have appeared on film a number of times before in the likes of Countess Dracula (1971), Daughters of Darkness (1971), Immoral Tales (1974), Eternal (2004), Hellboy Animated: Blood and Iron (2007) and Metamorphosis (2007), as well as the historical accounts of Bathory (2008) and The Countess (2009).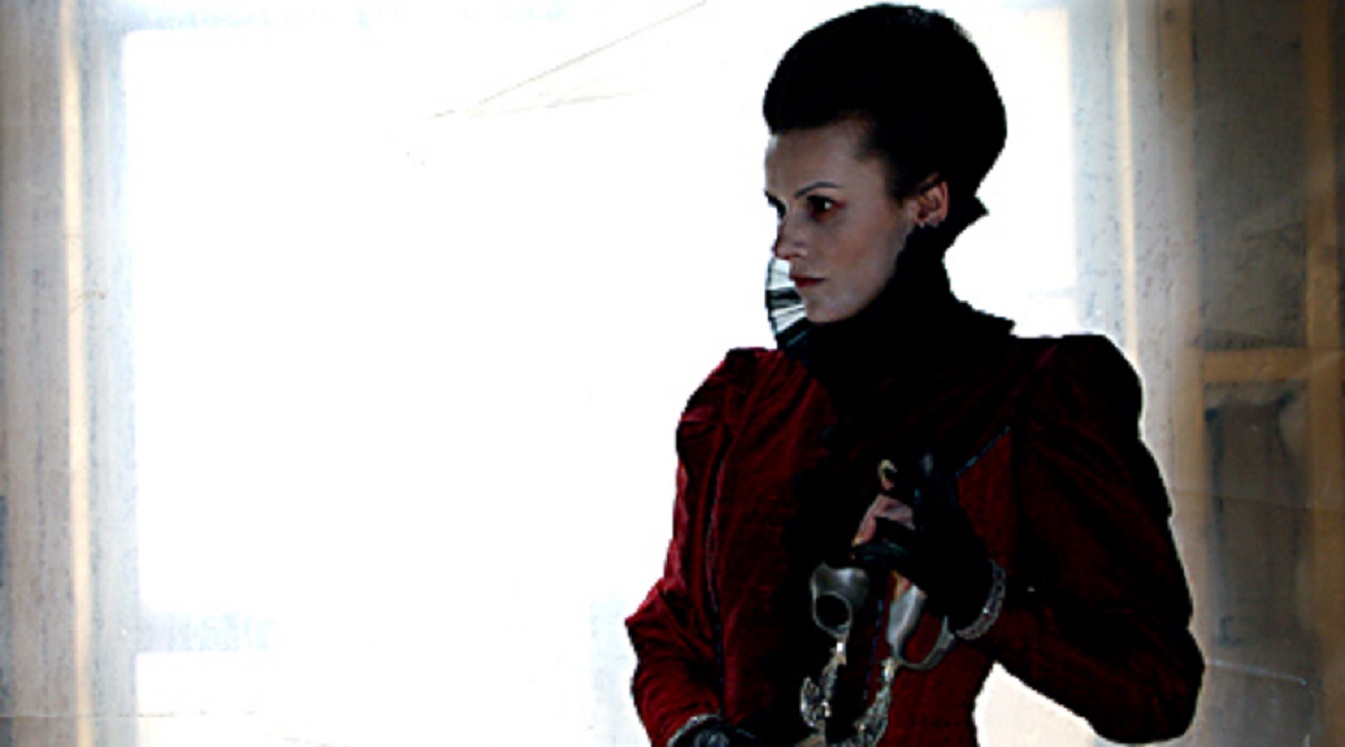 In Stay Alive however, Countess Bathory is merely a name that has just been appropriated as some generic evil. There is not even any mention of her blood-bathing habits. More importantly, there is no explanation as to what a 16-17th Century Hungarian noblewoman is doing reincarnated in a computer game. For that matter, one of the most gaping plot holes throughout is that we never even learn what the person or agency behind the Stay Alive computer game was. Although the most gaping hole in the film is it somehow rewriting Elizabeth Bathory's story from 17th Century Hungary to now make her a plantation owner in 19th Century New Orleans. If a film uses an historical character but blurs their history by 200 years and half a world, why not come up with an original fictional character as people in the audience (like this author) are going to notice these minor details that filmmakers are assuming that everybody else is too stupid to know about?
Such idiocy can be fairly much expected however when one sees the name of McG on the credits as a producer. McG, the director of the Charlie's Angels films and Terminator Salvation (2009), makes empty-headed films that consist only of hiply affected style. For all the film's having a credited game adviser, there is not anything novel or particularly interesting that Stay Alive does with the deadly computer game premise. The one idea it does have – the outlandish one of Elizabeth Bathory inside a videogame – it fails to do anything with. All the film comes out as is a variation of A Nightmare on Elm Street (1984) transferred inside a computer game where a malevolent force hunts a group of teens/twentysomethings who die in reality when they are killed inside the dream/virtual environment.
Director William Brent Bell creates little in the way of atmosphere – everything is generic, the few things that vaguely approximate scares seem to be appropriated from modern Japanese horror films with evil-looking girls and things crawling about with hair across their face. Most of the cast are anonymous teen faces – although, Jimmi Simpson plays with a geeky enthusiasm and obnoxiousness that one wishes would have worn off on the other actors.
This was the second film of director William Brent Bell. Bell subsequently went onto the success of the Found Footage exorcism film The Devil Inside (2012), followed by the werewolf film Wer (2013), The Boy (2016) about a sinister doll and its sequel Brahms: The Boy II (2020), the ghost story Separation (2021) and Orphan: First Kill (2022).
---
---