---
Crew
Director – Richard Donner, Screenplay – David Mickey Evans, Producer – Lauren Shuler-Donner, Photography – Laszlo Kovacs, Music – Hans Zimmer, Visual Effects – Apogee Productions (Supervisor – Peter Donen), Special Effects Supervisor – Matthew A. Sweeney, Creature Effects Supervisor – Kevin Yagher, Big Buffalo Creature Effects Supervisor – Rick Lazarini, Production Design – J. Michael Riva, Radio Flyer Conceptualist – Michael Scheffe. Production Company – Stonebridge Entertainment/Donner-Schuler-Donner Productions/Columbia.
Cast
Elijah Wood (Mike Wright), Joseph Mazzello (Bobby Wright), Lorraine Bracco (Mary Wright McKenna), Adam Baldwin (The King), John Heard (Sheriff Daugherty), Tom Hanks (Older Mike), Ben Johnson (Geronimo Bill), Robert Munic (Older Fisher)
---
Plot
After their father fails to return from Vietnam, Mike Wright, his younger brother Bobby and their mother move to California. Soon after, their mother meets and marries a motor mechanic who likes to be called The King. Mike then discovers that The King is beating Bobby. Guided by the prescient dreams from a buffalo, the two boys start building Radio Flyer, the trolley they were given for Christmas, into a flying machine so they can fly away and escape.
---
When Steven Spielberg became a name synonymous with childhood innocence, some of the dissenting voices complained that Spielberg's paeans to childhood did not encompassed the full range of adolescent emotions, that for many childhood was filled with less rosy emotions and often with terrors. That is something that Radio Flyer attempts to redress, while at the same time taking on the interesting challenge of telling a less-than-rosy story using the emotional language of Spielberg.
Dealing with such grim realities as child abuse is not something that would seem at face value to easily settle with the typical lyrical escapism of Spielberg. Moreover, the solution that Radio Flyer posits – of simply being able to fly away from childhood troubles – is certainly no more than a child's solution. Nevertheless, the paean to childhood innocence that Radio Flyer offers up is one that films rarely get inside as well as this does. The childhood adventures – collecting frogs, trying to jump from a roof using an umbrella as a parachute, the belief that a cape provides super-strength, kitchen cooking exploits – are ones that could hit a universal chord with almost any childhood.
However, when it comes to its fantasy element, Radio Flyer seems less sure of itself – a puzzle as the film is directed by Richard Donner who made Superman (1978), which contains a near perfect evocation of America's lost childhood. Donner does not quite know where to integrate the fantasy. The sense of prescience, of Joseph Mazzello heading toward something momentous about to happen, is certainly well achieved.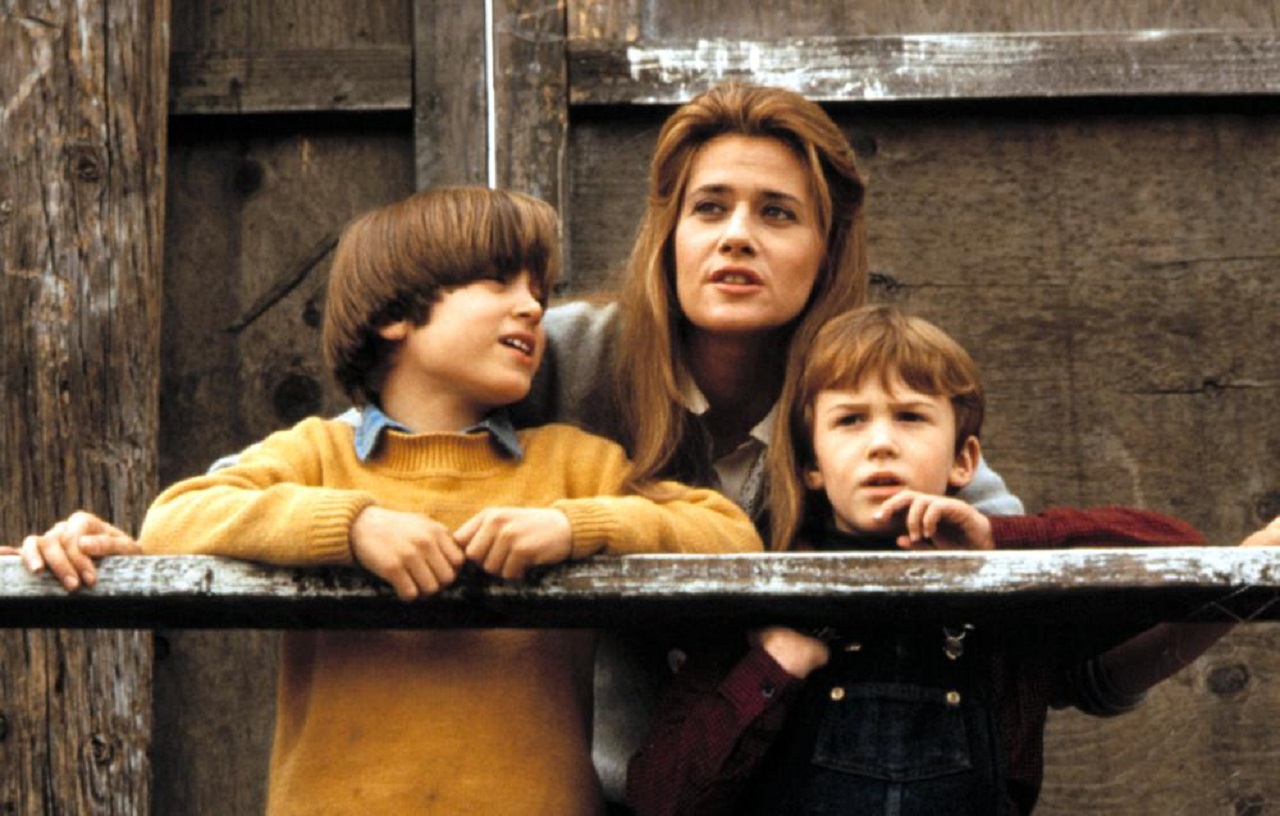 The image of the talking buffalo is a remarkable one but one is also puzzled by it as the buffalo seems to have no symbolic context in the film. Perhaps the most disappointing aspect is when Bobby finally gets to fly away and the unlimited transcendent thrust of the film is severely undercut by the banal revelation that he has only flown first to Geronimo Bill's Western theme park and then off around the world.
For children's films, flight directly symbolises freedom and Radio Flyer's failure of imagination is that it never imagines a significantly big enough place for Bobby to fly to. The film reminds a good deal of the delightful The Boy Who Could Fly (1986), which succeeded in preserving its sense of wonder by never specifying where its title character flew to, merely that he did. Nevertheless, like all works about children who desire to fly – Peter Pan (1953), Mary Poppins (1964) and The Boy Who Could Fly – Radio Flyer emphasizes the essential necessary ingredient, that the wish to fly is something that will come true if it is wished upon with a child-like faith that has not been blighted by or rejects the demands of rationality that come with the adult world.
Director Richard Donner has made a number of other genre films:– the classic Anti-Christ film The Omen (1976), Superman (1978) based on the comic-book superhero, the fine Mediaeval romantic fantasy Ladyhawke (1985), the updated Dickens tale Scrooged (1988), the paranoia comedy Conspiracy Theory (1997), the dull Michael Crichton time travel film Timeline (2003) and Superman II: The Richard Donner Cut (2006), his originally intended edit of Superman II (1980), which he had been removed from after much in-fighting with the producers.
---
---