---
Crew
Director – Russell Mulcahy, Screenplay – David Koepp, Based on the Stories by Maxwell Grant [Walter B. Gibson], Producers – Will Baer & Martin & Michael S. Bregman, Photography – Stephen H. Burum, Music – Jerry Goldsmith, Visual Effects Supervisor – Allison Savitch, Visual Effects – Fantasy II Film Effects, Digital Effects – R. Greenberg Associates, Miniatures – Stetson Visual Services, Special Effects Supervisor – Albert Delgado, Makeup Effects – Carl Fullerton, Production Design – Joseph C. Nemec III. Production Company – Universal.
Cast
Alec Baldwin (Lamont Cranston/The Shadow), Jone Lone (Shiwan Khan), Penelope Ann Miller (Margo Lane), Peter Boyle (Moe 'Shrevvy' Shrevnitz), Jonathan Winters (Commissioner Wainwright Barth), Tim Curry (Farley Claymore), Ian McKellen (Reinhardt Lane), Sab Shimono (Dr Roy Tam), Brady Tsumtani (The Tulku)
---
Plot
Tibet in the 1920s. The warlord Yingko, who is in reality the American Lamont Cranston, runs an opium empire with a brutal hand. He is then abducted and taken to meet the mystic The Tulku who tells Cranston that he is going to teach him how to turn his dark shadow towards fighting evil. Seven years later in New York City, Cranston now operates as the mysterious Shadow in a black cape and with his face hidden behind a fedora and bandana. The Shadow has great powers of mind control, including being able to mentally cloud his presence from the minds of the criminals he fights. Cranston now finds his equal in Shiwan Khan, a descendant of Genghis Khan who intends to finish the job his ancestor failed to do – take over the world – with the aid of a new discovery, the atomic bomb. As Cranston steps up to fight Shiwan Khan, he finds that Khan has mental powers that rival his own.
---
The Shadow is one of the genuine original Dark Avengers – the character even predates Batman and is said to have influenced Batman creator Bob Kane. The Shadow first appeared on the radio in 1930 (although only initially as a sinister narrator, becoming a full-fledged drmataic character in 1937 and initially voiced by no less than Orson Welles) and then in a long-running series of pulp novels (325 books between 1931 and 1949). The Shadow appeared in several films – The Shadow Strikes (1937), International Crime (1938), The Shadow Returns (1946), Behind the Mask (1946) and The Missing Lady (1946), as well as a serial The Shadow (1940) and Invisible Avenger/Bourbon Street Shadows (1958), which was made as a tv pilot but released to theatres. After the radio show ended in 1954, The Shadow seemed to disappear from public memory, bar intermittent appearances in DC Comics superhero canon.
This film was the culmination of a promised Shadow revival that has been touted off and on for the greater part of last ten years – Robert Zemeckis, well before his Back to the Future (1985) triumph, was a long-time contender as director, while Sam Raimi also attempted to gain the rights. It finally took the success of the Tim Burton Batman (1989) to launch The Shadow back as a go-project, with the directorial chores finally going to Russell Mulcahy, best known for Highlander (1986).
The resulting film was disliked by most Stateside genre reviewers and did poor box-office. Which is a shame as The Shadow mythos has much to it and the film is not at all a bad one. Although owing an undeniable debt of inspiration to the cinematic Dark Knight fad inspired by Batman (1989), The Shadow is certainly one of the best of the post-Batman dark avenging superhero films. It never quite inhabits the same dark recesses that the Tim Burton Batman films did – it never takes us along with it into the darkness that inhabits men's souls, it only talks about it. As a result, The Shadow is more of a comic-book adventure than ironically the Batman films were – it moves more like Raiders of the Lost Ark (1981) than the Tim Burton Batman.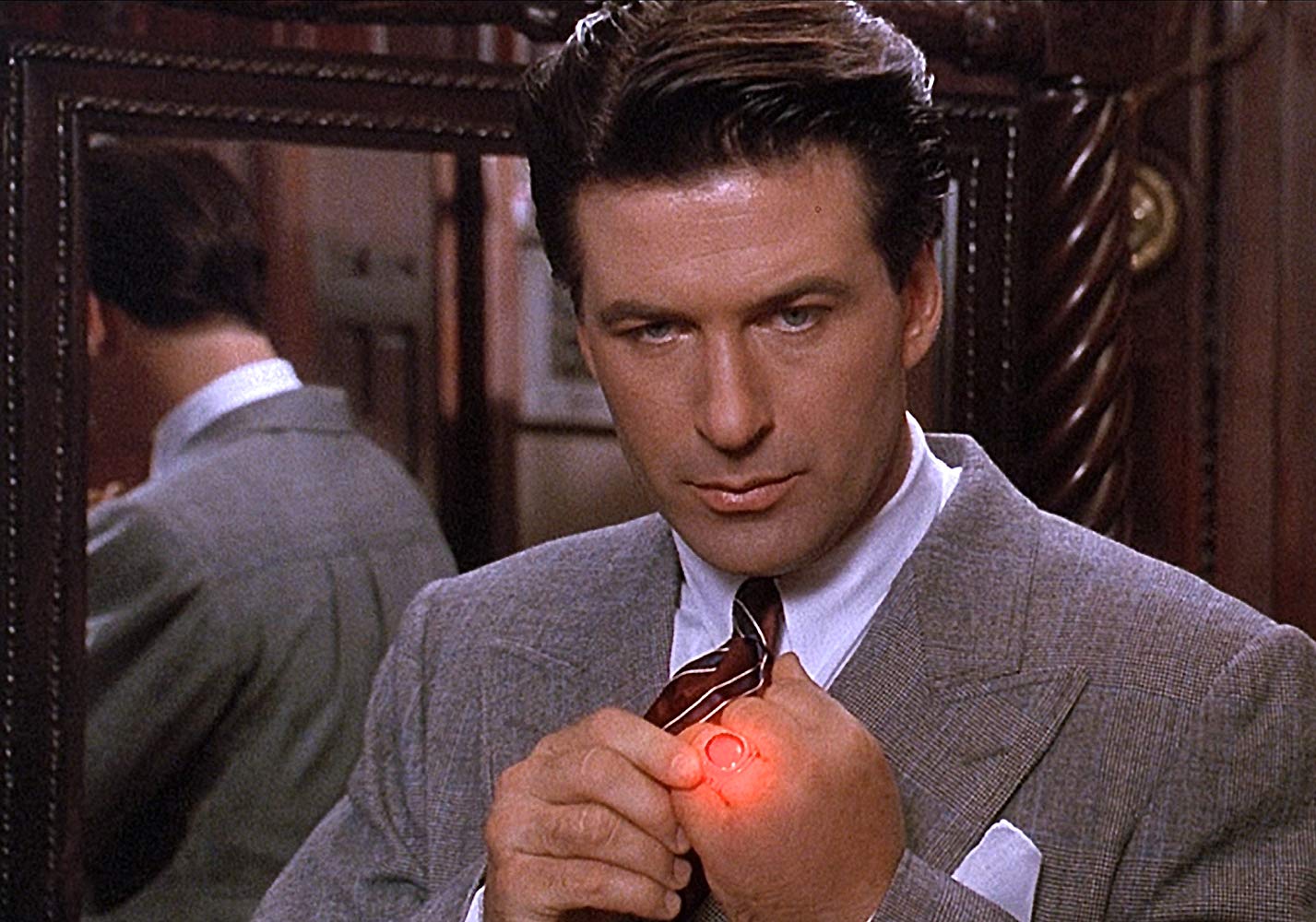 The Shadow has been put together with much care and attention. It is a surprisingly long film – over two hours. Russell Mulcahy creates some wonderful visual images – there is one perfect shot that could have been taken direct from a comic-book panel where The Shadow turns on the stairs before heading up into the rest of the hotel and a huge cape billows up around behind him. There are fabulous effects of the Shadow moving about in digitized blurs and transforming back into Alec Baldwin, of living daggers and billboards coming to life, and one superb piece where an entire hotel manifests out of thin air. Jerry Goldsmith turns in a wonderfully haunting score.
The script comes from David Koepp, best known for writing films like Jurassic Park (1993), Mission: Impossible (1996), Spider-Man (2002) and War of the Worlds (2005), and later as director of films such as The Trigger Effect (1996), Stir of Echoes (1999), Secret Window (2004), Ghost Town (2008) and Premium Rush (2012). Koepp displays a love for the paraphernalia of juvenile spy fiction – invisible ink messages, a network of compressed air message tubes around the city, streetwise spies, an ordinary alleyway whose dirty walls and fire-escapes turn around to reveal the entrance to a secret hideout. The production design is rich and opulent, especially the interiors of Cranston's house and the Monolith hotel, while the 'exteriors' create a dark stylized version of 1930s New York.
Alec Baldwin does well, bringing out the expression of tightly controlled anger that he can do well. Although, when it comes to the rest of the role, Baldwin is not as expressive as it needs him to be – he certainly lacks conviction in the part of Yingko. Penelope Ann Miller is annoyingly vapid – too much of a modern woman – and Tim Curry irritatingly craven.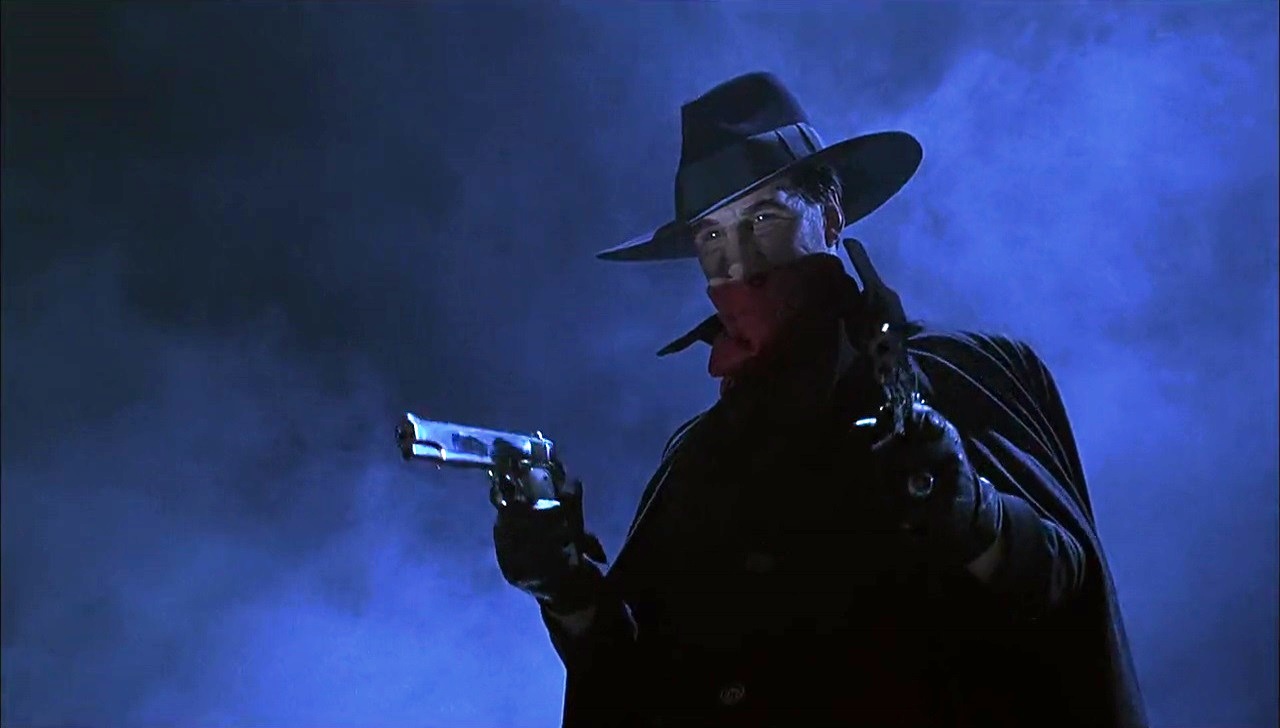 However, the film has a great performance from John Lone, known for excellent work in films like Iceman (1984), The Year of the Dragon (1986), The Last Emperor (1987) and M. Butterfly (1993). John Lone is an actor who has never been the major star he is eminently capable of being but who never fails to command the show every time he appears in a film. The role of Shiwan Khan is one that could have gone one-note but Lone makes it at turns dangerous, monomaniacal and genial. He gets some great lines – "I would no more destroy you than I would a Rembrandt" – and handles them beautifully. The screen lights up whenever he and Alec Baldwin are placed up against each other.
Russell Mulcahy's other films of interest have been:– the killer boar saga Razorback (1984); Highlander (1986) and Highlander II: The Quickening (1991); Ricochet (1991), a psycho-thriller about an ex-con seeking revenge; Talos the Mummy/Tale of the Mummy (1998); the serial killer thriller Resurrection (1999); the tv mini-series remake of On the Beach (2000); the tv mini-series remake of Jules Verne's Mysterious Island (2005); the adventure tv mini-series The Curse of King Tut's Tomb (2006); Resident Evil: Extinction (2007); and The Scorpion King: Rise of a Warrior (2008). Mulcahy also wrote/produced the killer shark film Bait (2012).
(Winner for Best Musical Score, Nominee for Best Director (Russell Mulcahy), Best Supporting Actor (John Lone), Best Cinematography, Best Special Effects and Best Production Design at this site's Best of 1994 Awards).
---
---