---
USA. 1992.
Crew
Director – Robert Zemeckis, Screenplay – David Koepp & Martin Donovan, Producers – Steve Starkey & Robert Zemeckis, Photography – Dean Cundey, Music – Alan Silvestri, Visual Effects – Industrial Light and Magic (Supervisor – Ken Ralston), Special Effects Supervisor – Michael Lantieri, Makeup Design – Dick Smith, Makeup Effects Supervisor – Kevin Haney, Body Effects Design/Creation – Alec Gillis & Tom Woodruff Jr, Production Design – Rick Carter. Production Company – Universal.
Cast
Meryl Streep (Madeleine Ashton), Goldie Hawn (Helen Sharp), Bruce Willis (Dr Ernest Menville), Isabella Rossellini (Lisle von Rhumans)
---
Plot
Ever since they were children, Hollywood star Madeleine Ashton and novelist Helen Sharp have had an intense rivalry, largely due to Madeleine having stolen all of Helen's boyfriends. As Madeleine nears her 50th birthday, she begins to feel that she is over the hill. She is then invited to join a secret group that offers an immortality/rejuvenation serum. Taking the serum, Madeleine finds her aging reversed and that she is looking young again. However, Helen has also taken the serum and this becomes a means for the two of them to renew their rivalry. As the two fight, the serum allows their bodies to sustain massive damage without killing either of them.
---
Death Becomes Her was made by director Robert Zemeckis just after his big successes of Back to the Future (1985) and sequels and Who Framed Roger Rabbit? (1988), but received a middling reception both critically and from the public. Zemeckis has usually delivered films that have been hits but this is one that tends to get overlooked in his oeuvre. Of course, Zemeckis bounced back with his next film, the massively acclaimed hit of Forrest Gump (1994).
Death Becomes Her is a black comedy that is scathing of Hollywood, or more so of the Beverly Hills lifestyle and of the celebrity obsession with age and beauty. The stars involved give a series of amazingly self-effacing performances – cocky he-man action star Bruce Willis, for instance, plays minus toupee in a cowardly and unflattering role that is at opposite extremes of the type of performances he was known for up to that point.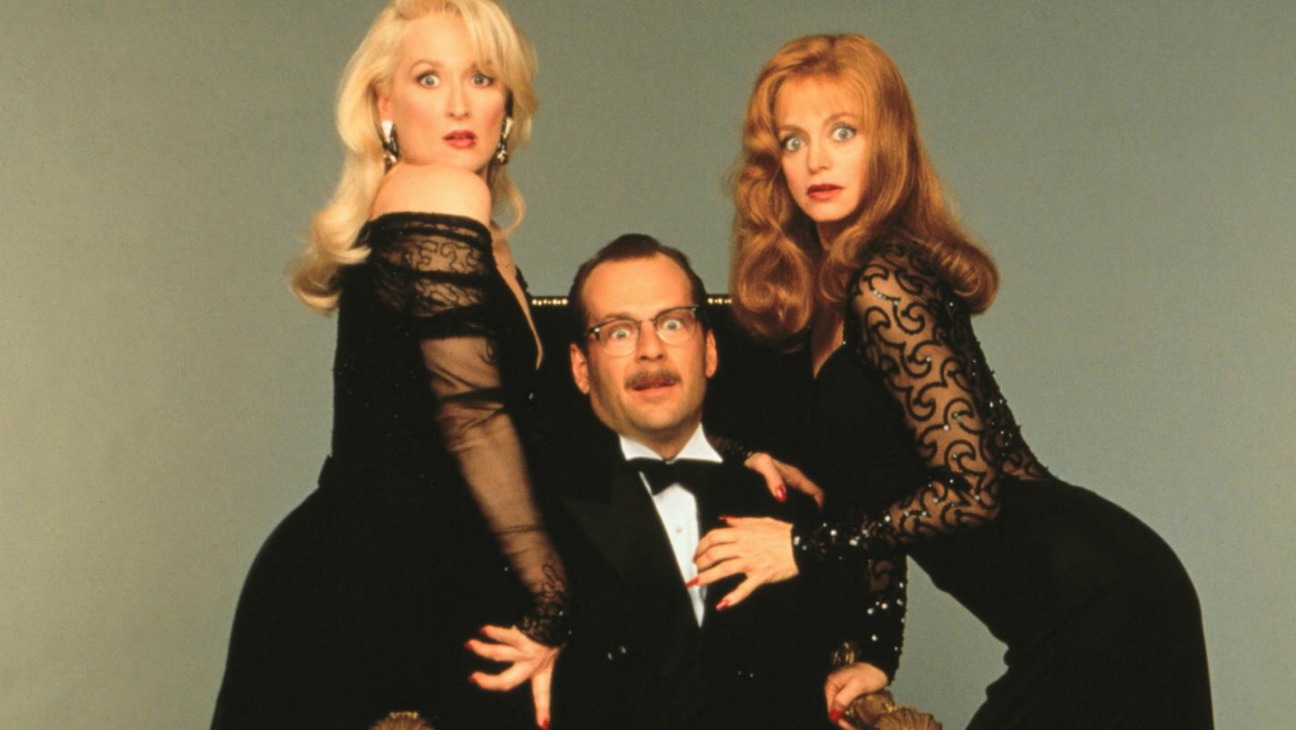 Most unflattering of all is the performance from Meryl Streep. Streep, darling of the Awards committees she is and all, tends to fall disastrously flat on her face whenever she attempts comedy – witness the abomination made of Fay Weldon's She-Devil (1989). Here Robert Zemeckis succeeds extremely well in tying her performance to the material and she gives a deliberately vain and unattractive performance that digs at youth and collagen treatment-obsessed celebrities with a particularly scathing regard.
Goldie Hawn is well matched against Streep – she has a scene in a red dress seducing Bruce Willis that really makes one sit up in their seats and take notice. She and Streep have considerable fun upstaging one another in a mutual battle of bitcheries. Although the show is stolen from under them by Isabella Rossellini in a minor role. Playing with a clipped Teutonic harshness and an OTT excess that belongs in silent films – in fact, her performance reminds somewhat of Rotwang in Metropolis (1927) – and draped variously only in a single strip of silk around her neck or a necklace and a series of coy camera angles, Rossellini captures attention completely whenever she is on screen.
The film itself though is considerably more uneven. Sometimes Zemeckis's black farce hits the nail bang on the head, but other times – the scenes at the hospital and especially the climax with Bruce Willis hanging from a drainpipe on the roof – it feels overblown. The party scene with throwaway cameos, showing Elvis, Marilyn Monroe, Jim Morrison, Andy Warhol and James Dean to be rejuvenates, is amusing but fails to hit the note it should.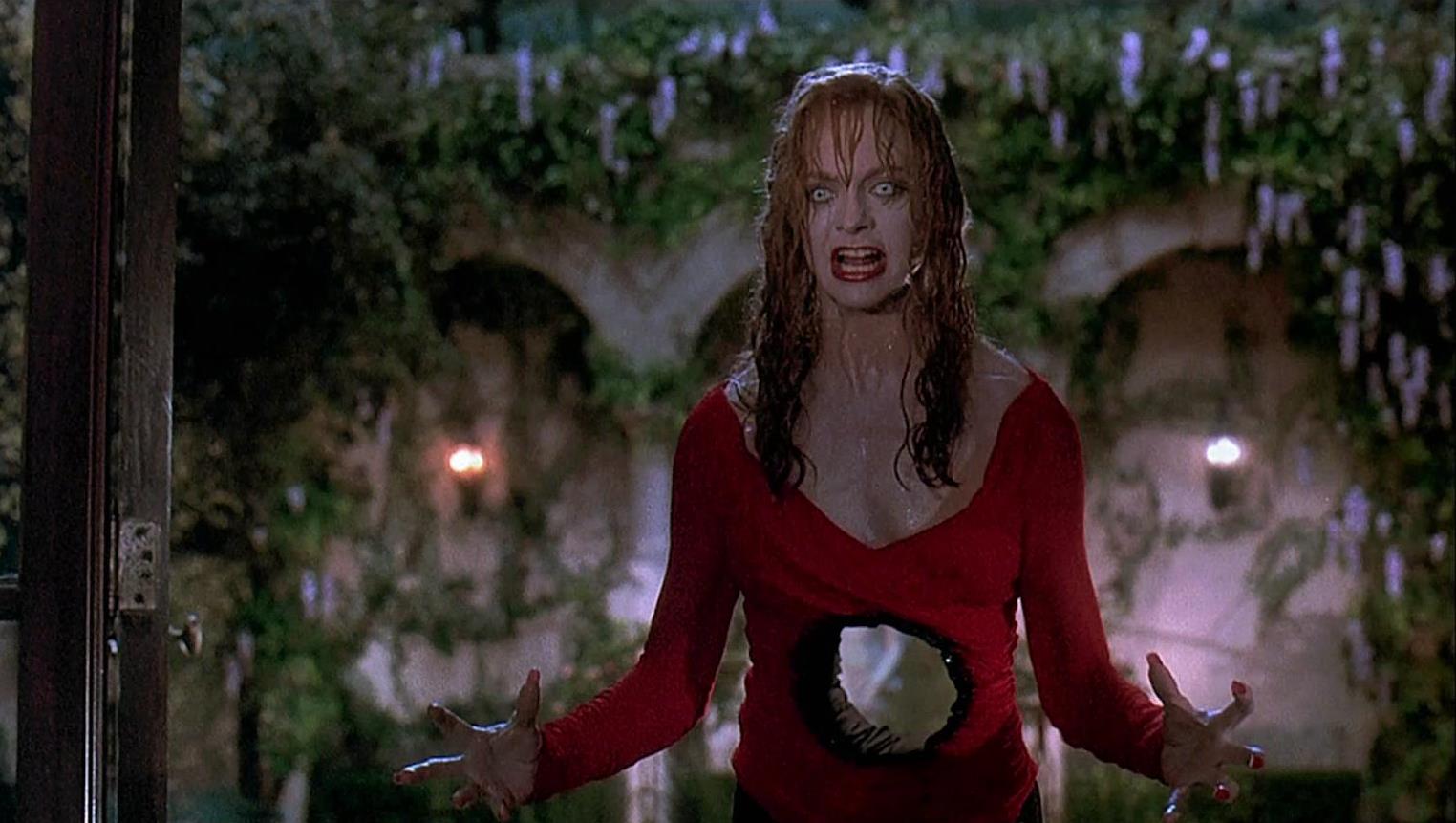 Robert Zemeckis loves to make films that showcase the cutting edge of effects technology – the blend of live-action and animation in Roger Rabbit, the digital mingling of actors with the real world news footage in Forrest Gump (1994) and Contact (1997), the feature-length usage of motion-capture animation in The Polar Express (2004), Beowulf (2007) and A Christmas Carol (2009). The special effects sequence here are outstanding, with Zemeckis using CGI to allow Meryl Streep to walk about with her head on backwards and to add several hundred pounds weight to Goldie Hawn and show her walking about with a gaping hole through her chest.
Robert Zemeckis's other films as director include Romancing the Stone (1984), Back to the Future (1985), Who Framed Roger Rabbit? (1988), Back to the Future Part II (1989), Back to the Future Part III (1990), Forrest Gump (1994), Contact (1997), What Lies Beneath (2000), Cast Away (2000), The Polar Express (2004), Beowulf (2007), A Christmas Carol (2009), Flight (2012), The Walk (2015), Allied (2016), Welcome to Marwen (2018), The Witches (2020) and Pinocchio (2022). Zemeckis has also produced a large number of other genre films including the Tales from the Crypt (1989-96) cable tv horror anthology series, the two film spinoffs Tales from the Crypt Presents Demon Knight (1995) and Tales from the Crypt Presents Bordello of Blood (1996), Peter Jackson's The Frighteners (1996), the voodoo film Ritual (2002), the the CGI-animated Monster House (2006) and Mars Needs Moms (2011), Real Steel (2011), the tv series' Manifest (2018-22) about a planeload of temporally displaced passengers and Project Blue Book (2019-20) about the US Air Force's true life UFO investigation department and the robot film Finch (2021). Zemeckis was also a producing partner in Dark Castle Entertainment, which have made a number of horror films including House on Haunted Hill (1999), Thir13een Ghosts (2001), Ghost Ship (2002), Gothika (2003), House of Wax (2005) and The Reaping (2007).
---
---