---
USA/Australia. 2010.
Crew
Director – Zack Snyder, Screenplay – John Orloff & Emil Stern, Based on the Guardians of Ga'Hoole Books by Kathryn Lasky, Producer – Zareh Nalbandian, Music – David Hirschfelder, Animation Director – Eric Leighton, Visual Effects – Animal Logic, Production Design – Simon Whiteley. Production Company – Warner Brothers/Village Roadshow Pictures/Animal Logic.
Voices
Jim Sturgess (Soren), Emily Barclay (Gylfie), Ryan Kwanten (Kludd), Helen Mirren (Nyra), Anthony LaPaglia (Twilight), Geoffrey Rush (Ezylryb/Lyze of Kiel), Joel Edgerton (Metal Beak), David Wenham (Digger), Miriam Margolyes (Mrs Plithiver), Adrienne DeFaria (Eglantine), Hugo Weaving (Grimble/Noctus), Abbie Cornish (Otulissa), Sam Neill (Lord Allomere), Leigh Whannell (Jatt), Angus Sampson (Jutt), Richard Roxburgh (Boron), Deborra-Lee Furness (Barran)
---
Plot
The young owling Soren dreams of the myths of the mighty owls of Ga'Hoole. While trying to teach themselves to fly, Soren and his brother Kludd fall out of the tree where they and their family live. Unable to fly back up, they are captured and taken to the St Aeoligus Academy for Orphaned Owls. This is led by Metal Beak, who hides his scarred face behind a metal mask, and his mate Nyra who calls themselves the Pure Ones and are attempting to build an owl army. Soren and another young girl owl Gylfie that he stands up to protect are consigned to be scavengers. Kludd refuses to join them and is chosen for the army where Nyra grooms him for a special position. Soren and Gylfie avoid the attempts to 'moonblink' the other owls – forcing them to stare at the moon so long that they become dazed and forget who they are. They are aided by Grimble, a rebel among the Pure Ones, who teaches them to fly. They are discovered and Grimble sacrifices himself so they can go free, telling them to find the Guardians of Ga'Hoole and stop the coming war the Pure Ones are planning. Joined by others along the way, Soren sets out on an arduous quest to find the Great Tree of Ga'Hoole and discovers that his heroes are not mythical figures at all.
---
Zack Snyder is one of the smartest and most promising genre talents to emerge in the 00s. Snyder first appeared as director with Dawn of the Dead (2004), which disappointingly remade the George A. Romero classic and, if nothing else, was a popular hit and brought about the massive revival of zombie films in the 00s. Snyder found his stride with 300 (2007), an extraordinarily fantasticized depiction of an historical battle, adapted from a Frank Miller graphic novel. Zack Snyder is clearly one of the new generation who have been raised knee-deep in comic-book culture. He subsequently went on to film one work that had long been considered unfilmable, Alan Moore's cult graphic novel Watchmen (2009).
Snyder subsequently went onto make Sucker Punch (2011), Man of Steel (2013), Batman V Superman: Dawn of Justice (2016) and Justice League (2017), plus his extended cut of the latter with Zack Snyder's Justice League (2021), and the zombie film Army of the Dead (2021). He also wrote/produced 300: Rise of an Empire (2014) and produced Suicide Squad (2016), Wonder Woman (2017) and Aquaman (2018).
In the last few years, we have seen a fad of live-action directors' crossing over into animation. Richard Linklater led the way with the hand-drawn Waking Life (2001) and A Scanner Darkly (2006), while Robert Zemeckis popularised the performance capture process, allowing a blurring of the line between animation and live-action, with The Polar Express (2004), Beowulf (2007) and A Christmas Carol (2009). Other directors have leapt on board, including George Miller with Happy Feet (2006) and sequel, Ari Folman's Waltz With Bashir (2008), Rob Zombie with The Haunted World of El Superbeasto (2009), Gore Verbinski's Rango (2011) and Steven Spielberg's The Adventures of Tintin (2011), while other works like James Cameron's Avatar (2009) exist in some peculiar twilight zone between live-action and animation.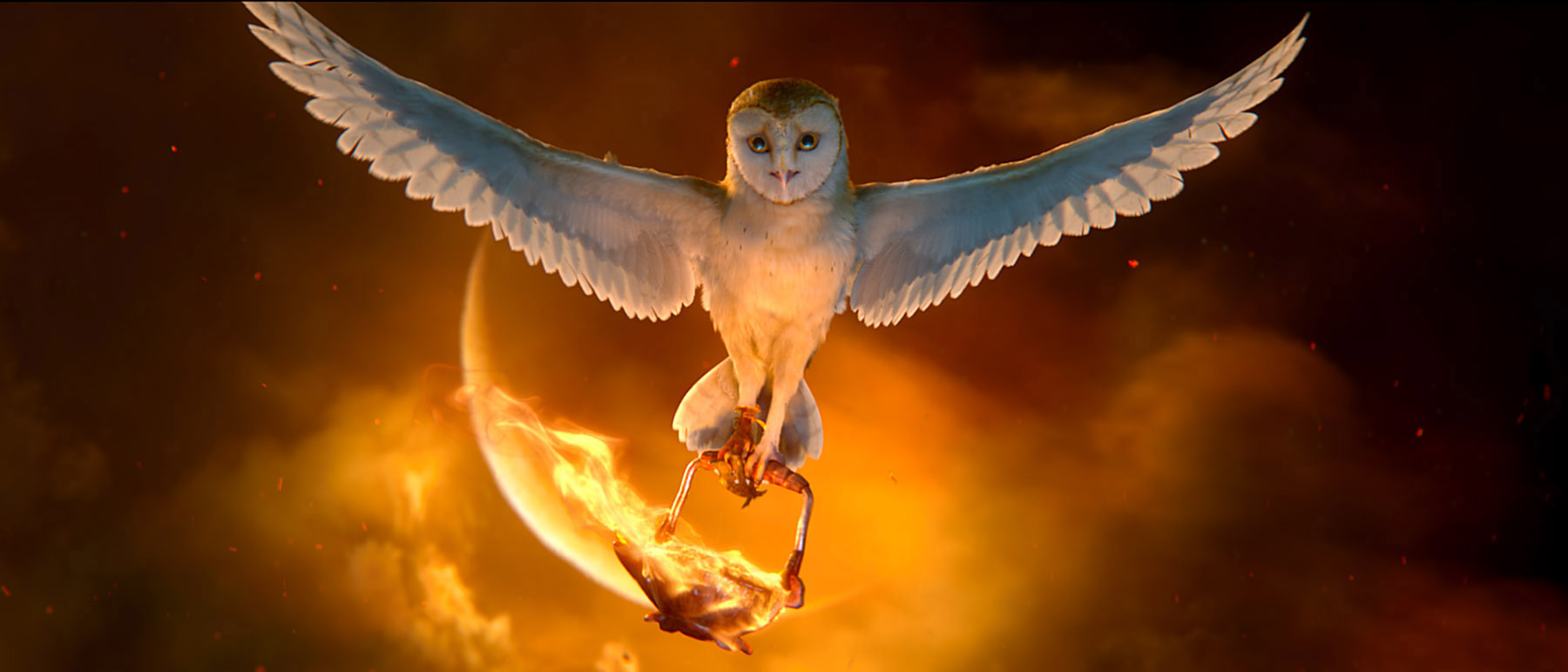 Zack Snyder makes Legend of the Guardian: The Owls of Ga'Hoole in collaboration with the Australian visual effects company Animal Logic who previously produced Happy Feet for George Miller. The film is adapted from the Guardians of Ga'Hoole series by American author Kathryn Lasky, which runs to fifteen books published between 2002 and 2008. The film is principally adapted from the first book Guardians of Ga'Hoole 1: The Capture (2002) and about half of the second Guardians of Ga'Hoole 2: The Journey (2003).
The very name of Zack Snyder attached immediately gives Legend of the Guardian: The Owls of Ga'Hoole a different buzz to any other talking animals film. The preview audience I attended seemed filled as much with the expected family crowds as it did with enthusiastic fanboys. Indeed, the Zack Snyder name seems to suddenly give what in all other circumstances would be seen as a standard talking animals animated effort a massive injection of fanboy street cred.
Expectedly under Zack Snyder's hand, Legend of the Guardian: The Owls of Ga'Hoole emerges as an exquisitely made film. Every background and landscape holds a dazzling richness, while every feather of the owls and stroke of their wings holds a crystalline clarity of depth. Zack Snyder fills the film with visually stunning moments – the owls swooping and diving into the screen, their faces in bared confrontational closeup and especially Soren's breathless flight up into the eye of the storm where we can see every droplet of water in stilled slow motion.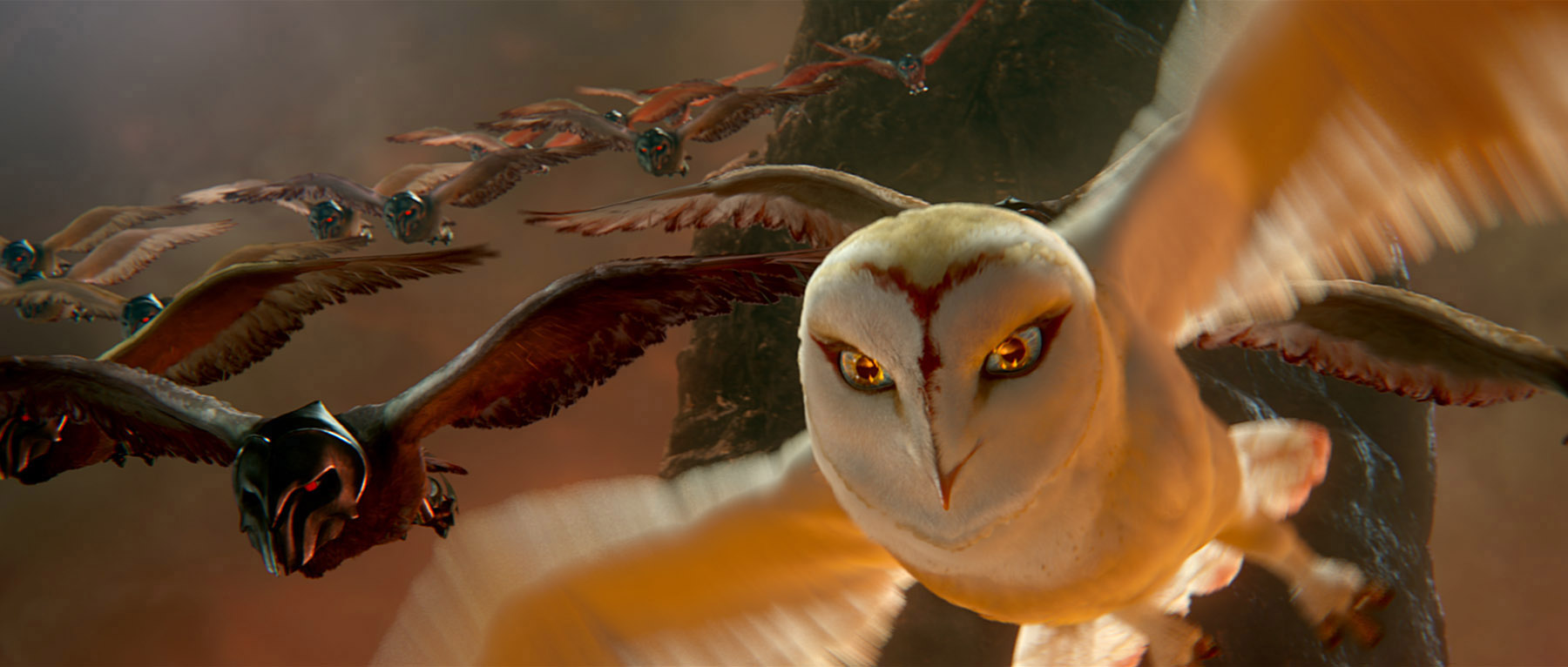 Legend of the Guardians is also one of the first films since Avatar to have employed the 3D environment with artistic flourish and beauty rather than exploited it as the latest gimmick to jump aboard and use it for nothing more than popping a few novelty items out of the screen at an audience. The result feels like an animated talking animals film that is made for adults more so than it has been for children. A Pixar or a Disney version of the film would almost certainly have played far more to the humour angle and amplified the cute comedy-relief sidekicks to a more prominent position, whereas Zack Snyder treats the film more as an animated equivalent of an epic fantasy adventure in the vein of The Lord of the Rings. The action scenes comes with a lethal kick that heads well out of the usual G-rated softness – we see owls going into action with steel-tipped claws and swords and killing one another. Nor is there the usual niceness and watering down of the owls' dietary habits for kiddie consumption.
On a story level, Legend of the Guardian: The Owls of Ga'Hoole remains slightly the lesser. The film adopts a familiar mythological arc, although never fully inflates it in the way one feels that the film should have. The complaint might be that the story seems hurried at times – there are far too many supporting characters on screen and we never get to know or differentiate all of them. Zack Snyder has a reputation for remaining exceedingly faithful to the source works he adapted – scrupulously so on 300 and Watchmen, less so on Dawn of the Dead and we won't get started on his venture into DC superheroes.
One of the stranger things he does here is to retain the Australian setting of the books. No particular problem with this but it is a little bewildering sitting down in a multiplex on the North American continent and being greeted with a barrage of chirpy Australian accents coming from the screen – even British actor Jim Sturgess goes Aussie in the lead role of Soren. Almost any other mainstream film would have ignored this fact and recast the voice roles with standard American voices whereas Snyder contrarily embraces it. Like Happy Feet, the film appears to have employed almost every actor available from the Australian Screen Actors' Guild and features an impressive line-up of talent.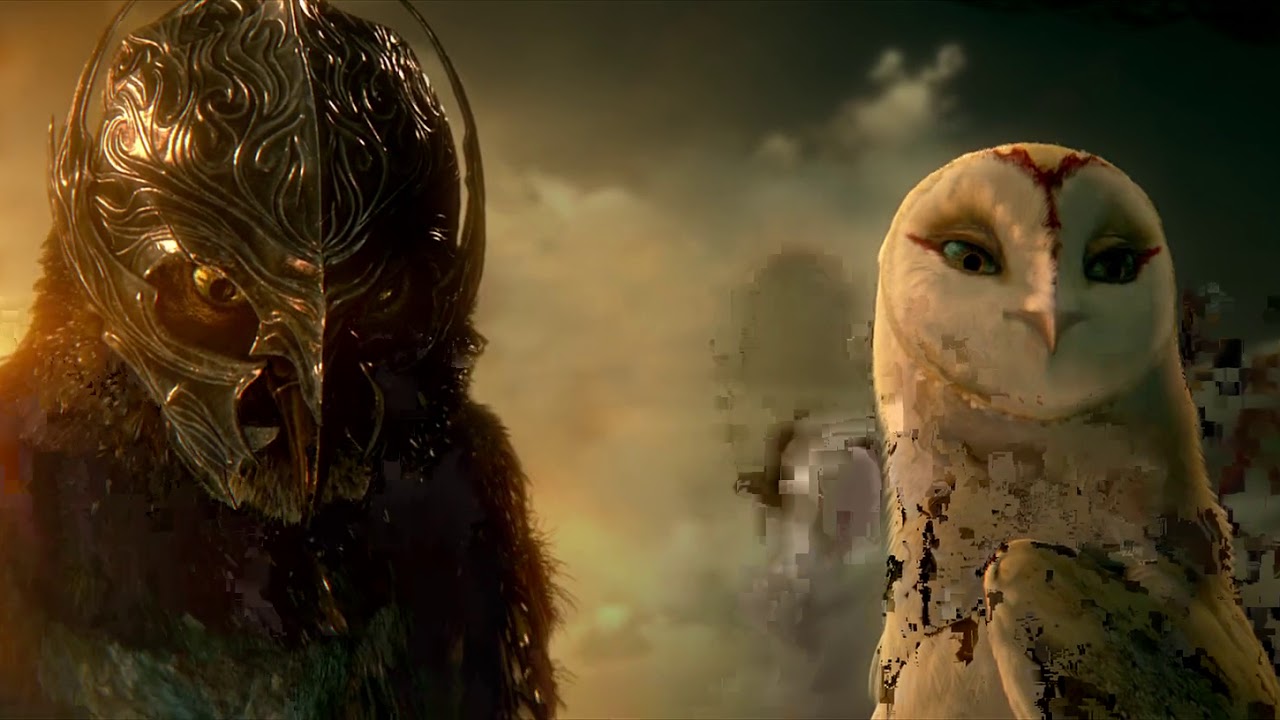 It has been a surprise that there have been no other talking owl films before – with their large eyes, they surely seem a natural for anthropomorphic treatment. There has been the odd talking owl turn up in animated films like The Secret of N.I.M.H. (1982) – a film whose mythic arc has some similarities to Legend of the Guardians – and The Rescuers (1977). The closest we get is the Parliament of Owls in the live-action The Chronicles of Narnia: The Silver Chair (1990).
If there is any talking animals animated film that you could compare Legend of the Guardians to it might be Watership Down (1978), a work that traced a similar heroic journey among a small group as they went on a quest. Both films hold a sense of mythopoeia that creates the world their characters inhabit as one of living breathing depth, even if Legend of the Guardians never pumps it up with the imaginative richness that Watership Down did. If anything, many of the elements – a young hero raised on stories of great battles, an evil warlord who hides his deformed features behind a mask, the hero who learns to fly by his inner instinct, the family member corrupted to the dark side – makes Legend of the Guardian: The Owls of Ga'Hoole remind more of Star Wars (1977) – although it is hard to believe that "Trust your gizzard" will ever have or attain the same ring as "Trust the Force, Luke."
---
---